Davey Richards
Wesley David Richards
Birthdate: 03/01/1983 (age 32)
Height: 5'8"
Weight: 208 Ib
He is best known for his time in Ring of Honor,...
Read More »
[Show: TNA Impact!] [Location: Orlando, FL] [Date: 6/12/14] [Airing live on Spike TV]
Welcome to Impact, we get a video package of MVP saying there will be blood tonight. Our TNA World Heavyweight Champion Eric Young comes to the ring. He calls out MVP, who comes out. MVP says that he will beat him Slammiversary for that TNA title. EY says that MVP needs to show the respect that he deserves. EY has one request, and that is a fair fight. That is all he wants. MVP says he cannot gurantee that and King has some anger issues, there are just not guarantees in life. EY says if he get's beat fairly then fine, but if he is screwed out of the title then that is a garbage and he will do anything to make sure that will not happen. MVP says that he can pick their match, but EY has to beat the three of them tonight. King calls him a chump. EY says he will damn sure try to beat them. King interrupts, but MVP grabs the microphone from him. MVP says if EY can beat two of them tonight then he can choose the stipulation. EY says he should not beat MVP, he should not be champion, but he knows that MVP is not man enough to take it from him. MVP says fair enough and Bobby Lashley Vs. EY is next!
-Commercial Break-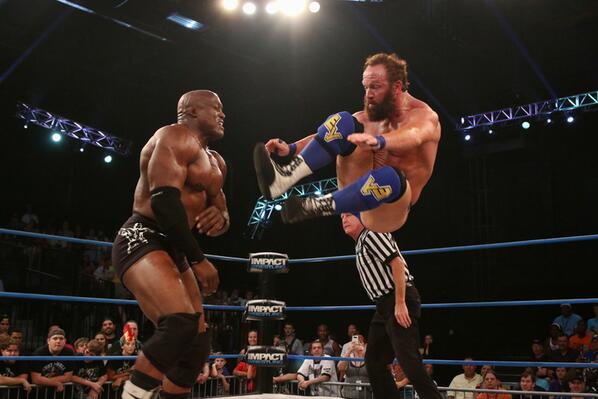 Bobby Lashley Vs. EY
EY slides out the floor and puts the right hands to Lashley. Back in the ring, Lashley throws him into the corner and lands the right hands. Lashley nails a spear in the corner, he follows it up with a back body drop. Lashley misses an elbow drop, EY with stiff right hands. He is thrown into the corner, EY sneaks out and lands a clothesline for a near fall. EY sends him into the corner, 1, 2 and 3. EY with a shoulder block, but is caught and EY is sent to the floor. Lashley sends him back first into the apron, he sends EY into the steel steps. Lashley suplexes him on the floor. Back in the ring we go, Lashley hits a torture rack, but EY slides out and he shoots off the ropes right into a clothesline by Lashley. Lashley with a reverse torture rack, EY once more slides out and rolls him up for a near fall. EY with another roll up for 2, he nails a drop kick. EY lands a big boot, he goes to the top rope, he goes for a crossbody, but caught and Lashley hits a big power slam for the win. 
Winner: Lashley
After the match,  Lashley beats him down even more. However, Samoa Joe comes out to make the save, he clears house and sends Lashley to the floor.
Willow does a backstage promo about Bram and Magnus, he says he will take the fight to them. Yeah...
-Commercial Break-
We see EY getting checked out by a doctor, he is having back problems.
Samoa Joe is talking backstage, he hypes Bobby Lashley, he says he know who Lashley is, and that is his next victim.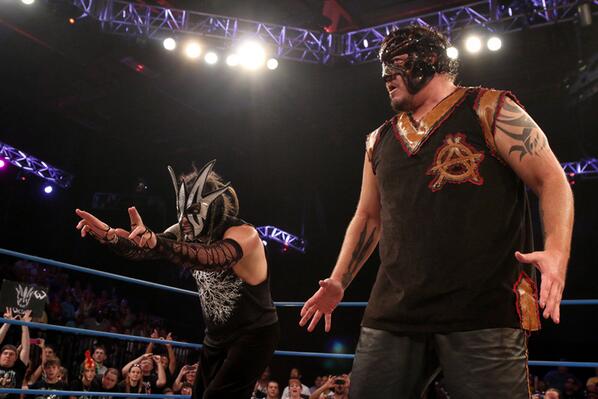 Bram and Magnus make their way out to the ring. Magnus says if Bram is by his side then they are unstoppable. Bram says that now Willow knows who the real Magnus is. Here comes Willow, he says that he is the dangerous one, he is from Jeff Hardy's emagination. He breaks out a Hardy chant. Good god man. He says that where Jeff Hardy cannot go, Willow can. Magnus says that he does not have an alter ego, but he does have Bram. They will face off this Sunday, Bram wants to know if he will bring out Jeff Hardy? He says that they are two very dangerous people, Willow says you never know who will show up and he says that WE will take you out. Magnus wants to know who we are? Willow does knock, knock joke and brings out Abyss. A brawl breaks out and Willow along with Abyss stand tall in the ring.
-Commercial Break-
The Bro-mans come out for their match, but the Menagerie come out as well.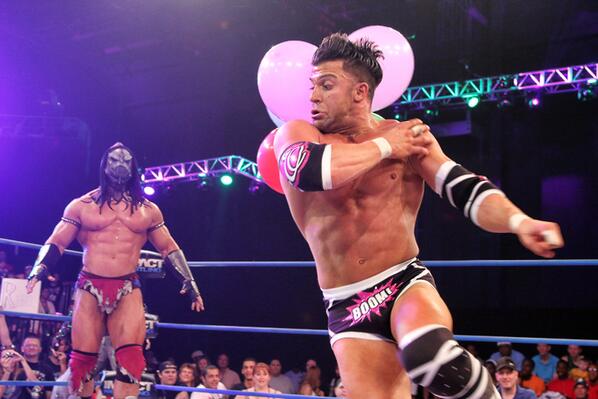 Knux with a back body drop then lands a big leg drop. Rebell distracts Jesse and The Freak scares him off. Robbie with right hands to Knux, but Crazy Steve distracts him. Knux with a big boot, a crossbody. Robbie trips him and lands uses the ropes to his advantage. Robbie goes to the top rope where he lands a clothesline. Robbie once again get's distracted by Steve, Knux with a big right hand then a back body drop. He hits a splash in the corner, he follows it up with a powerbomb for the win.
Winner: Knux