1.

Tommy End (Aleister Black)
Today, we're highlighting the early careers of some of our favorite WWE Superstars. Beginning with Aleister Black FKA Tommy End, it has been stated (but not verified) that he grew up competing in kickboxing and karate. It'd make sense though, considering how often he incorporates kicks in to his moveset. What can be confirmed however, is that the motivation for much of his dark persona stems from his father growing up in a religious cult. He made his wrestling debut in 2002, spending the first few years working primarily in his home country of Holland, as well as Germany.
Gaining more experience, interest in Tommy End grew, and he was soon booked all over Europe. In 2010, he made his first known US appearance in CZW. Working all over the world, from America, to Europe, to Japan, he claimed a good haul of championships. For some reason I always thought he was a Ring of Honor guy? But there's no proof of it. So til I made this, I was somehow mistaking him for someone I'd seen a few years back while watching ROH. Just to be sure, we know in America he's worked for CZW, Progress, PWG and Evolve. In mid-2016, he was signed to WWE with the new ring name Aleister Black for live events. He wrestled for the last time as Tommy End in a losing effort to Neville in a standalone match at the WWE UK Championship tournament.
With more tattoos and experience, Aleister Black is sure to entertain us for a fair few more years. His finisher the "Black Mass", is one of the most reliably devastating in the entire industry. He is surely destined for greatness, once it comes knocking on his door.
---
Bayley's past is well-documented, but for those who don't know what she did before arriving in NXT? This one's for you. She began her career eleven years ago at the age of 18. Citing many talents as influences (too long to list!), it's easy to understand how passionate she is about wrestling. Trained by Jason Styles in Big Time Wrestling, she continued on to the independent scene for the next four years as Davina Rose.
In late 2010, she met her mentor and former Straight Edge Society member Serena Deeb. This would've been of great help to her, getting lessons from a mentor who'd worked in WWE's developmental system for several years. But to get noticed by WWE, I'm assuming (but cannot confirm) it was her work with the Shimmer Women Athletes promotion. She was booked on ten volumes in a row before signing to NXT, wrestling initially under a mask. Luckily, with her trainer's advice not to "smile too much", along with Serena sharing her wrestling acumen, she transformed in to "The Hugger" we all know and love (or hate) today. This WWE produced video explains it better from Bayley's point of view.
---
3.

Blaster Lashley (Bobby Lashley)
The only two things that Lashley has changed over the years? His name and attire. But you know? It's possible we may never have seen him in WWE, because in 2003 he was training to become part of the wrestling team for Team USA in the Olympics. Unluckily, before it could happen, he sustained a knee injury while diving for cover during an armed bank robbery. The required surgery forced him out of Amateur Wrestling for good, and so he had no choice but to pursue another career.
Blaster Lashley was such a freak of nature that he didn't last long in OVW. As green as can be, he joined the stable Bolin Services with Ken Doane and Mike Mondo (Kenny & Mikey of the Spirit Squad). Wearing camo pants and dog tags, his initial look painted him like when he served in the army. And in less than a year, Lashley went from signing a development contract, to making his SmackDown debut in a match with Simon Dean.
As a natural, WWE was willing to risk shining the spotlight on him as soon as possible. Another year went by, and Lashley had not only been a King of the Ring finalist, but he'd won the United States Championship and began challenging for the World Championship. By the end of 2006, he celebrated as the new ECW World Heavyweight Champion .. much to the dismay of ECW loyalists. Not many can claim to have risen as meteorically as Lashley.
---
4.

Drew Galloway (McIntyre)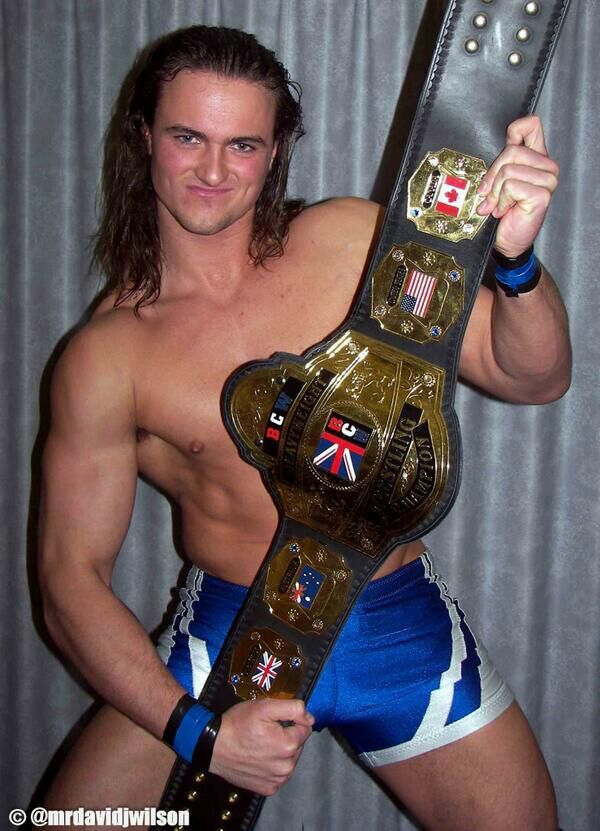 We always talk about how Drew McIntyre transformed himself after his first run in WWE, to prove he has what it takes to be a top star. But what we don't hear about, is how he got to WWE to begin with. Wanting to train to be a wrestler at the age of 15, his parents said they would only support him if he put as much effort in to his studies. And young Galloway did, as he earned a Master's Degree in criminology.
As a Scotsman, it wasn't so easy to find a great wrestling school. So his parents made the sacrifice of moving the family all the way down to Portsmouth in the south of England, so Drew could train with the Frontier Wrestling Alliance academy. During his time there, he gained some training from better known wrestlers such as Doug Williams, Alex Shane and Paul Burchill. He spent the next six years of his career working the independent scene. Unlike Lashley, McIntyre had to really earn his stripes to get noticed. Some of the biggest names he wrestled on the way to WWE include: The Honky Tonk Man, Marty Jannetty, D'Lo Brown, Sheamus, Go Shiozaki, Tyson Kidd, Danny Burch and Wolfgang.
What likely gained him the momentum to be signed to WWE's development territory FCW, was his long heated rivalry with Sheamus all over the UK. It continued on in to FCW as well, before they were both called up to the main roster in 2009. Ten years ago, within a month of debuting, Mr. McMahon labelled Drew as "The Chosen One", a future World Champion in the making. We're still waiting for that prophecy to be fulfilled .. but at least it's looking more likely than ever.
---
5.

Fergal Devitt (Finn Balor)
Fergal Devitt took an astonishing fourteen years to make it to WWE. He began touring as a wrestler in 2000, and only two years in to his career, opened up a wrestling school called NWA Ireland. As a trainer, he helped to kick-start the careers of Tucker, NXT UK's Jordan Devlin, and 'The Man' Becky Lynch. Impressing many promoters over the next few years caught the eye of New Japan, and he was soon signed to a contract in 2006. Before his death, Prince Devitt wrestled as the Pegasus Kid and drew comparisons to Chris Benoit.
In 2006, Devitt turned heel by becoming the only longstanding gaijin member of Jushin 'Thunder' Liger's Control Terrorism Unit stable. After picking up a string of losses, he saved himself from being forced out of the group by picking up the pin fall in a tag match with partner Liger. After CTU disbanded in 2007, he formed a tag team with Minoru Suzuki called "Prince Prince". They won the IWGP Junior Tag Team Championship in early '08.
He continued working in the junior tag team division for the next few years, teaming with Ryusuke Taguchi as Apollo 55 after Suzuki moved on. In 2010, Devitt won his first major tournament with a victory over Kota Ibushi in the finals of the Best Of the Super Juniors. He went on to defeat Naomichi Marufuji to earn the IWGP Junior Heavyweight Championship. While he gained much credibility in the junior divisions, it was founding and leading the Bullet Club which skyrocketed his popularity. This caught WWE's eye, and within a year of forming the stable? He signed with WWE and reported to NXT.
---
6.

Alexis Laree (Mickie James)
On the way to becoming a wrestler, Mickie James made a living by dancing and posing for pornographic photographs; which found their way online years ago. The details of this time of her life are unknown, as it's not something she likes to discuss (keeping it in the past). Being the oldest on this list, she debuted in 1999 under her former stage name and middle name Alexis Laree.
After working a few matches, as well as managing the likes of Tommy Dreamer, she joined Dory Funk Jr's training school and the ECW dojo. She also trained at schools ran by Bobby Eaton and Ricky Morton, as well as Ring of Honor in 2002. What made her stand out though? Was the work she did with TNA Wrestling. Her first big break was in 2003, when she teamed with Amazing Red against Kid Kash and Trinity. She was also known for spending time in ROH with the tag team AJ Styles & Amazing Red.
But what really put her over the top was the endorsement from Raven. As the first member recruited to his new stable 'The Gathering', Laree enjoyed time in the spotlight feuding with the NWA World Champion Jeff Jarrett. Julio Dinero, Cassidy Riley and CM Punk also joined the group to put an end to Jarrett. Laree showed her guts as the only woman to ever compete in a Clockwork Orange House of Fun match (Raven's brainchild). She also had a fireball spat at her by Father James Mitchell. After two years of sending tapes in to WWE, she finally got her wish by being signed to OVW. Near the end of her tenure, she was wrestling men like Mike Mondo and Bobby Lashley before being called up for her memorable "super fan" feud with Trish Stratus.
---
The wrestling world enjoyed fifteen years of Ricochet before he landed in NXT. He can lay claim to championships from all over the world. His other aliases include the masked Helios, Prince Puma, and King Ricochet. As early as 2006, he is known for having a long-standing rivalry with current AEW wrestler Chuck Taylor. What is interesting, is that The Rock has followed his work for years. Here's a tweet The Rock sent out as a reply to Ricochet  praising him in 2016:
"Came across this amazing post from a man who's out there grindin' and chasing that greatness. Thank you so much @kingricochet for your kind words. I'm a lucky dude to have had the success I did in the world of pro-wrestling. A world that I grew up in and will forever be in my blood. I'm honored to be your inspiration as you go down that long hard road for success. Remember these important things: Always stay above the garbage of backstage politics and always give the audience what they want.

Whether you're a heel or baby face – going over or doing a job. Doesn't matter.. always give them what they want. And most important.. HAVE FUN! Wish you all the success in the world brother and hope you become a big star in our business. I've seen a few of your matches – you're an incredibly gifted/athletic worker. Keep workin' hard and chasing your greatness. And I thought I was cool doing a little candy ass forward roll into an arm bar."

---
8.

Heidi Lovelace (Ruby Riott)
She's come a long way since the Heidi days. As a beloved babyface, it's funny to see how much she's changed in personality and appearance. After only two years of wrestling, she was signed to OVW and Shine, regularly working with recently signed AEW talent Taeler Hendrix. Only four months in to her OVW stint, she won the Women's Championship from Taeler, before losing it two months later to Taryn Terrell. OVW was the developmental territory for TNA Wrestling, but Heidi did not interest in becoming a Knockout.
At the end of her OVW career, she moved on to Chikara in 2013, and World Wonder Ring Stardom in 2015. Proving her worth, Heidi signed with NXT in late 2016 at the age of 26, becoming Ruby Riot(t). While her character still needs work, there is no denying her natural ability in the ring. She's capable of working with anyone and making them look good. This is why she was partnered with Liv Morgan and Sarah Logan, as she could mentor them and improve their wrestling ability. Her quick rise through the industry is telling of how talented she is. The fact she's sidelined after WWE split up The Riott Squad, could almost be considered a travesty.
---
Samoa Joe's ROH, TNA, and WWE careers are well-documented, so I'd like to go back even further. As a quick learner, Seanoa worked his first match a few months in late 1999, after graduating from the UIWA West Coast Dojo. Noticing his natural talent, former WWE development territory UPW signed him to a deal in 2000. It's funny to think it took him another fifteen years to sign a proper WWE contract.
Working for UPW, his first feud was with another rookie you might have heard of .. his name was John Cena. The earliest video most fans would've seen of him of Joe, was his match with Essa Rios on WWF Jakked. Despite capturing the UPW Championship and becoming the longest reigning title holder, he was told by Bruce Prichard and Jim Ross that he'd have no future in wrestling. Boy were they wrong! In response to this, Joe traveled to Japan to work in Pro Wrestling Zero-One for a year. He didn't officially win any titles, but gained a ton of experience working on their biggest shows in tournaments. After being asked to take on a gimmick, he left the promotion to return home to the United States.

Originally booked for just one match against Low-Ki, Joe impressed ROH officials so much they signed him to a full-time deal. And the rest is history. There was a great deal of uncertainty in his early career, but luckily ROH took this young kid and made him an undefeated killing machine. Aside from WWE's main roster (there's time yet), Joe has dominated everywhere he's been. Could he go one further by earning a world championship in WWE? It's highly possible, let's keep our fingers crossed.
---
Finding early pics of Shinsuke Nakamura isn't easy. If you happen to know any from before '04? Please share it in the comments. Debuting in 2002, Nakamura quickly became known as a super rookie. He wasn't the only one though, as New Japan dubbed him, Katsuyori Shibata, and Hiroshi Tanahashi the new "Three Musketeers" (pictured above).
Something you might not know, is Nakamura was involved in five MMA fights. With a record of 3 wins and 1 loss (& 1 no contest), it's safe to say he has natural fighting ability. Punching above his weight, Shinsuke became the youngest IWGP Champion of all time (23) when he defeated Hiroyoshi Tenzan at Battle Final 2003. And after holding it for two months, he only lost it due to injuries forcing him to vacate. Upon his return, he failed to reclaim the title. So instead, he teamed up with Tanahashi to win the IWGP Tag Team Championship. They spent much of 2015 defending the belts in Japan and Mexico.
But what was the making of Nakamura? Well, I like to believe it started with his match against Brock Lesnar. After leaving WWE, Lesnar went to Japan to claim the IWGP Heavyweight title. And his first defense? Was against former champion Nakamura. The loss served as a wake up call to Shinsuke, as he felt there was much more learning to do. Wanting to improve his skills, he left New Japan to travel to Brazil, Russia and Mexico. Not only that, but he would train in Lesnar's gym to build muscle mass. NJPW's president Simon Inoki suggested he could work for WWE to gain experience, but he needed to be recalled after Lesnar left. The excursion was just what the doctor ordered, as he came back bigger, and better than ever before.
---
Conclusion
This has been a different kind of article for me. I feel like sometimes we miss out on crucial details of wrestler's careers. It's been interesting learning about the hard work some of the current roster have had to endure to make it. They appear on our TV's, and often we have no idea of their sacrifices, the dedication, and the moments which mold them in to what we see today. WWE may change things about them, but the talents always draw from the core experiences they learned in their early careers.
Perhaps you're an enthusiast and knew all this already? If so, perhaps you can expand on some? And if you didn't any of this? I hope it's been informative. Out of those listed, I think Bobby Lashley has changed the least, while the biggest transformation is easily Drew McIntyre. To bring this to a close, I'd like to ask if you'd enjoy seeing more of these? And if so, who would you like to see profiled next? If I do make a follow-up, I'll consider your choices. Have a nice day wherever you may be, and thank you very much for reading.