Writing this on request from someone who commented on one of my articles. What I don't like about making a list like this is that we are secretly wishing someone gets demoted from the main roster for our own benefit, while we can only hope it rejuvenates their career. Not my idea for the article .. but I'll give it a shot regardless.
After looking through Raw and Smackdown, I found 11 former NXT superstars (one tag team) who I believe should make a return to NXT so they can work on themselves and perhaps claim championship gold. And no .. I'm sorry. Before you rush ahead to find Roman Reigns .. let me leave you a little spoiler; he's not there!
---
Aiden English
Since his tag team partner Simon Gotch of The Vaudevillains was released he's been used as a jobber on Smackdown. The problem being that the tag team only got over with NXT audiences and crashed miserably when it was brought to the main roster. Through no fault of his own, the team was buried harder than well .. a corpse, thanks to Simon Gotch almost killing Enzo Amore in a #1 contenders match. He needs to go back to NXT to refine himself as a credible superstar, and preferably without the singing.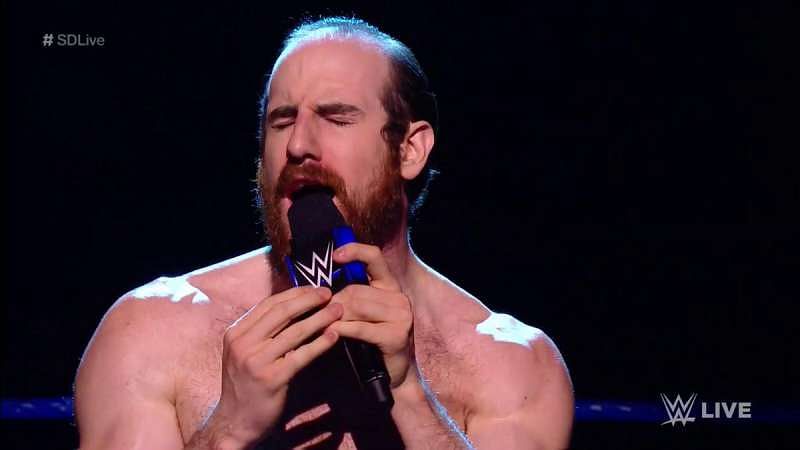 ---
Apollo Crews
Gah .. it kills me how much potential this kid has. He's got charisma, but with no character to work with he kinda stands there smiling goofily despite playing the heel with Titus O'Neil. He's a victim of being pushed to the main roster too soon, he should never have been promoted as he had plenty of opponents to work with in Bobby Roode, Drew McIntyre, Hideo Itami, Kassius Ohno, and others who would have made him look like a million dollars.
I could see him in NXT paired with The Velveteen Dream. He's shown he can play a character who likely needs the backup from a heavy. The most important thing .. is to turn Apollo full heel and fine him for smiling; he needs to come across like a badass dude. He's too happy being average for my taste.
---
Bo Dallas
I feel bad for Bo for a few reasons. Firstly, his real-life brother lives the high life as Bray Wyatt in the main event scene. Secondly, I feel like I was the only person who loved his inspirational gimmick .. but it didn't get over like I hoped. I hyped him up .. I predicted great things, but nothing happened. I noticed he put on a lot of weight after moving up from NXT (where he did great things as NXT Champion), which likely didn't sit well with management.
Not only that .. but I feel like going back to NXT wouldn't do much for his career either. If he decides to stay in WWE it's his best option, but he really needs to do a Cody Rhodes on it and leave quickly while he's young. He needs to prove his worth to the company, because at the moment all he does is sit on the sidelines as a jobber to the stars. He's better than this .. we've seen it. I'd like to see Bo Dallas inspire the world with his own talent.
---
Curtis Axel
Another lost cause? Like Bo, Curtis Axel has the family history and pedigree to be more than he is. He only got reactions by joining Damien Sandow in the parody act of Randy Savage and Hulk Hogan .. but would his father and grandfather be proud of that? Hell no. It's either back to NXT or leave .. before it's too late to prove he can be anything more than a joke. He's not bad in the ring, but he certainly needs to find something to sink his teeth into which will make his performances memorable to all.
---
Dana Brooke
Another talent I saw potential in, but I feel like she was promoted too soon. In NXT, she proved herself as a solid enforcer, but never came close to winning the Women's title. Raw and Smackdown have Alexa Bliss & Charlotte, two strong heel characters who fit the mold the company is looking for, while Dana struggles to make an impact on the microphone. She's a little sloppy in the ring too, so what better way to build to a re-introduction in 2018 by having her tangle with the likes of Asuka, Ruby Riot, Nikki Cross and Ember Moon in NXT?
---
Darren Young
He's currently injured .. but let's face it, he was only getting reactions due to Bob Backlund doing crazy things in his corner. Personally I don't see any potential in him, he's never shown anything which I deem worthy of being labelled main roster material. Stranger things have happened though, just look at Jinder Mahal. He has to step up his game, and I think the only place he can have a future is back in his old stomping grounds of NXT.
---
Heath Slater
This was a difficult choice for me .. but hear me out. While Slater is undoubtedly one of the more entertaining mid-carders in WWE, it would be really, really difficult to take him seriously in the main event scene of Raw or Smackdown. You think taking Jinder Mahal seriously is hard? Give Heath Slater the Universal title and watch the uproar. He's done way too many silly things to be taken seriously, much like a Santino Marella. It would be like putting the WWE title on Eugene or Doink The Clown.
While Rhyno is sidelined with politics, I think it's the best time to send Slater back to NXT for a repackage. Have him abandon the comedy character, alter his image, and get him working as a serious heel for six months. He's got the talent to draw heat with the Full Sail crowd if done correctly. It would take time though .. and good booking to make it work. He might need to form a faction as well; he would make a great teacher to the young guys.
---
Nia Jax
I'm so disappointed by Jax. The problem is .. you have a monster like her on Raw while Alexa Bliss fights Bayley for the Women's title. Why? Because she's not scary enough. She's not monstrous enough. If she were anything like Braun Strowman she would be Raw Women's Champion by now. Part of it is her attire, part of it is her entrance, and the other part is how she's booked. She shouldn't be getting beat by girls like Bayley in singles competition with no interference. She doesn't come across as intelligent enough to guide her own career, so she needs a manager to cover her weaknesses.
A much bigger problem is the fact she's related to The Rock, Roman Reigns, The Usos, and Rikishi. Would WWE demote her back to NXT? I can't see it .. there's definite bias for talent related to the Anoaʻi  family. She needs it though .. Nia needs to go back to NXT and take the division over so Asuka can move up. Asuka's believable as Raw or Smackdown Women's Champion .. whereas Nia Jax is only good enough for NXT. The proof is that she sits on the sidelines doing nothing while 1) Alexa Bliss & Bayley cringe it up in their poorly written feud, and 2) Asuka pins both Ruby Riot and Nikki Cross at the same time at NXT Takeover: Chicago. WWE moved her up at least a year too soon.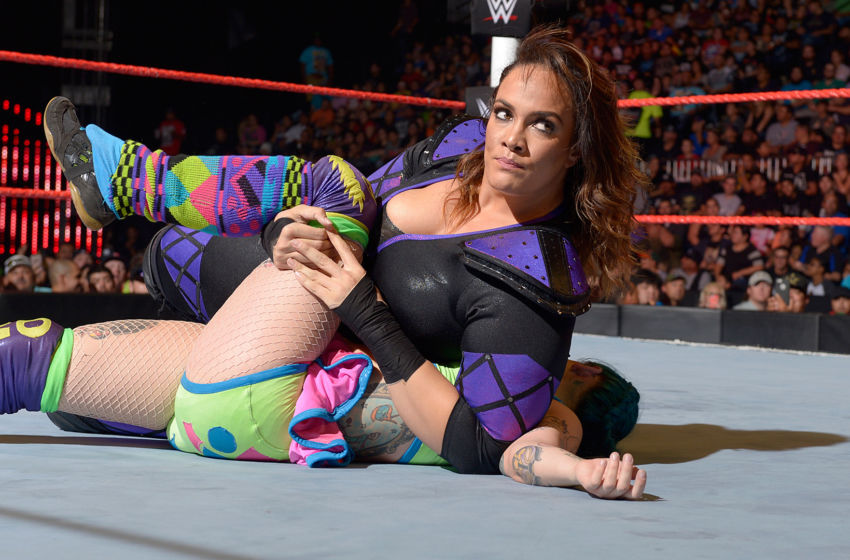 ---
The Ascension
Disgusting. I just don't know what else to say about the way they've been booked since their glory days in NXT. This is a proper tag team with chemistry who've been buried so hard they linger around the Earth's core. The change of image killed their momentum .. there was much hype for this team as they are solid workers with chemistry which improved week-by-week. Ok, so they might not be the most entertaining to look at, but they gained the respect of everyone as the most dominant NXT Tag Team Champions ever.
And there lies another problem .. how could you send them back to NXT with the likes of The Authors Of Pain running around? Would The Ascension have to turn face? Would they need help from a manager? Perhaps I'm the only one intrigued by the concept of the most dominant NXT Tag Team Champions returning to re-claim their gold from an undefeated team lead by Paul Ellering? Would they be buried again? Or allowed to show what they can do to the world? I'd love to see to if WWE can somehow salvage this team as it feels cruel not to use them in some capacity.
---
Titus O'Neil
The managerial art form is said to be lost on this generation of wrestling. I tend to disagree, if you look hard enough you can find examples of managers playing important roles in WWE and elsewhere. It's not perfect though, and that's where Titus comes in .. I think it's time we have another Bobby Heenan/Jimmy Hart-like manager who spends a great deal of time managing many wrestlers and tag teams. Titus isn't getting any younger, he doesn't really have what it takes to be WWE Champion so why not let him loose as a manager?
We know he can talk, so let him go to NXT, Raw, and Smackdown looking for talent to join "The Titus Brand". Make it a big deal, give him power and let him work the microphone for those who really need the support. Make him a thorn in the side of authority figures and fans in attendance. With enough work he could become one of the most annoying managers in recent memory. I wouldn't mind seeing he and Apollo going to NXT to partner The Velveteen Dream .. perhaps it's just me but I think it would be a good blend.
And that's all for today folks! Apologies if you were disappointed I didn't pick John Cena or Roman Reigns, but I could only imagine the outrage. I agree .. it would have been hilarious. Cheers for reading, and see you again soon!
You can keep up with all your wrestling news right here on eWrestlingNews.com. Or, you can follow us over on our Twitter and Facebook pages.