A few years ago, I made a large, extensive list of wrestlers who passed away before reaching old age. When the site was updated, the administrators added it without the introduction, and all attached pictures were lost. If you've seen this before, the first thing you'll notice is most pictures have changed. I will also add achievements to most profiles.

I've listed 100, so it wouldn't feel right to make it bigger. Some big names passed since it was created, which are included in the honourable mentions. I did not make this to be morbid or to blame the industry of wrongdoing, but rather, show the unfortunate side of the business. I kept the age limit to 59; to go with the title. I did not exclude anyone for their cause of death, nor did I add any personal feelings. Also, I filled some of the smaller profiles with additional information.
I do not wish any disrespect to family & friends. I hope this can be seen as kind of a memorial to those who filled our lives with joy, but also as a reminder, to those whose deaths make it impossible to sympathize. Avoidable incidents are learning curves, and I think it is important to remember how fragile the human body and mind can be. A depressing subject, but I believe it's important to remember those who loved performing for our entertainment.
Honourable Mentions
Perro Aguayo Jr. (35) – Died March 2015 from cervical spine trauma in an incident during a match after Rey Mysterio used a dropkick to send him to the ring ropes.
Axl Rotten (44) – Died February 2016 from a heroin overdose. An autopsy revealed he suffered from CTE of the brain like Chris Benoit and Test.
Balls Mahoney (44) – Died April 2016 from a heart attack. An autopsy revealed he had CTE of the brain like Axl Rotten. Collectively known as The Chair Swinging Freaks.
Hayabusa (47) – Died in March 2016 from a subarachnoid hemorrhage. He had recently learned how to walk again after being paralyzed for years after a botch in a match almost cost him his life.
Chyna (46) – Died in her home on April 2016 from an overdose of alcohol, combined with the anxiety drugs diazepam and nordazepam, painkillers oxycodone and oxymorphone, and sleeping aid temazepam. She was also found to have CTE, and her brain was donated to science for research.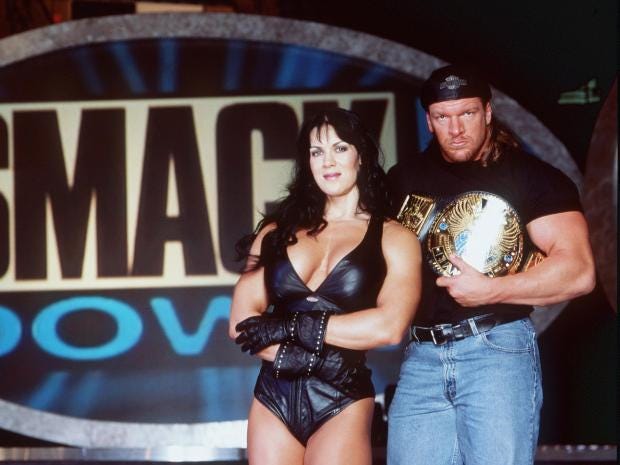 Rosey (47) – Died in April 2017 from congestive heart failure. He was the older brother of Roman Reigns.
---
1. Adrian Adonis (1954-1988) – 33 Years
Worked For: AWA, WWF
Achievements: WWF World Tag Team Championship – with Dick Murdoch. AWA World Tag Team Championship – with Jesse Ventura
Adonis was killed on July 4, 1988, in Lewisporte, Newfoundland, in a minivan with fellow wrestlers William "Mike Kelly" Arko, Victor "Pat Kelly" Arko, and Dave "Wildman" McKigney. Franke, McKigney, and Victor Arko were killed when the driver, William Arko, allegedly swerved to avoid hitting a moose and, blinded by the setting sun, inadvertently drove into a lake. William Arko was the sole survivor and sustained severe leg injuries.
---
2. Andre The Giant (1946-1993) – 46 Years
Worked For: WWF AJPW, UWA
Achievements: WWF World Heavyweight Championship. WWF Hall of Fame (Class of 1993)
Andre died in his sleep of congestive heart failure on the night of January 27, 1993, in a Paris hotel room. He was in Paris to attend his father's funeral. His body was cremated according to his wishes and his ashes were scattered at his ranch in Ellerbe, North Carolina. His history is well-documented in WWE.
---
3. Art Barr (1966-1994) – 28 Years
Worked For: WCW, AAA
Achievements: AAA World Tag Team Championship – with Eddie Guerrero. AAA Hall of Fame (Class of 2016)
On November 23, 1994, Barr was found dead lying with his child at his home in Springfield, Oregon. Preliminary reports said that he died of an aneurysm,but later reports said that he died under unknown circumstances. Barr did not have heart problems, no aneurysm or internal bleeding, and no ring injuries. He had a mixture of alcohol and drugs in his blood
stream.
Eddie Guerrero was his best friend around this time period. Although Eddie Guerrero's book claims that the cause of Barr's death is still unknown to this day, Hardcore History by Scott E. Williams, criminal-justice reporter and wrestling columnist for The Galveston County Daily News, states that "Barr died in his sleep from a drug-related heart attack."
Dave Meltzer of the Wrestling Observer recounted a discussion with Barr's coroner who remarked that Barr's oversized organs implied steroid use but ruled that to be unlikely because of Barr's size. Chris Jericho states in his autiobiography, A Lion's Tale: Around the World in Spandex, that he believed Barr's death to be an accidental pill overdose.
---
4. Bam Bam Bigelow (1961-2007) – 45 Years
Worked For: CWA, WCCW, WWF, JCP, ECW, WCW
Achievements: ECW World Heavyweight Championship. IWGP Tag Team Championship – with Big Van Vader WCW. World Tag Team Championship (2 times) – with Diamond Dallas Page and Chris Kanyon
On the morning of January 19, 2007, Bigelow was found dead in his home by Remiesiewicz at approximately 10:00 a.m. EST in Hudson, Florida. The autopsy results showed that Bigelow's death was due to multiple drugs found in his system including toxic levels of cocaine and an anti-anxiety drug. Bigelow was also suffering from a heart problem, specifically arteriosclerotic cardiovascular disease, and had severe back problems.
---
5. Bastion Booger/Mike Shaw (1957-2010) – 53 Years
Worked For: WCW, WWF
Achievements: Stampede North American Heavyweight Championship (3 times)
Shaw died of a pulmonary embolism on September 11, 2010 at age 53.
---
6. Battle Kat/Brady Boone (1958-1998) – 40 Years
Worked For: WWF, WCW
Achievements: NWA Pacific Northwest Tag Team Championship (2 times) – with Coco Samoa (1) and Ricky Santana (1). SPW Tag Team Championship – with Jerry Lynn
Despite being smaller than most wrestlers, Peters inspired several up-and-coming wrestlers with his athleticism, including Rob Van Dam. The two met while Peters was wrestling in Florida for Suncoast Pro Wrestling. Peters helped Van Dam during his early years in wrestling, and persuaded Giant Baba to allow Van Dam to tour with All Japan Pro Wrestling.
The last time Van Dam saw Peters was also the only time he wrestled him. In tribute, Van Dam uses moves that Peters himself used. On December 15, 1998, while driving home to Tampa, Florida from a WCW television taping in Orlando, he died in an automobile accident
You can keep up with all your wrestling news right here on eWrestlingNews.com. Or, you can follow us over on our Twitter and Facebook pages.