Like my previous article, 5 Tag Teams That Hated Each Other In Real Life, stated, being a member of an elite Tag Team takes hard work. You get to know your counterpart better than anyone else on the roster and spend countless hours together. Despite all the time two performers may spend together, if they don't like each other, the chemistry may not be apparent. Luckily for these teams, their pairing was a match made in heaven and these best friends in the squared circle are also friends outside of it.
________________________________________________________________________
7. The Shield
As The Shield's reunion continues to interest fans at this very moment, it seemed timely to start off our list with the team of Seth Rollins, Roman Reigns, and Dean Ambrose. The three former WWE Champions revealed on WWE Network's, Table For 3, that the pair rarely fought about anything. First debuting in 2012, all three performers have become main event stars for WWE, however, during their first years in the company, the team discussed creative decisions together.
All three members of the faction are very prideful and take credit for their creation. The gimmick of the team as well as each superstar was original and crafted by the performers themselves. The stable also reported on the WWE Network, traveling together, eating and training together, and sharing hotel rooms. The team functioned backstage like they did in the ring: A well oiled machine.
________________________________________________________________________
6. The New Day
Similar to The Shield's journey, the longest reigning Tag Champs in WWE history have become best friends over the last few years teaming together. Like The Shield, the gimmick of the New Day is completely authentic. The communication of New Day is second to none. Their chemistry and collaboration as well as traveling together and growing as athletes has resulted in what is reported as an unbreakable bond outside the ring. My favorite part of the New Day is that they look like they're having the time of their lives out there… and I think they really are.
________________________________________________________________________
5. APA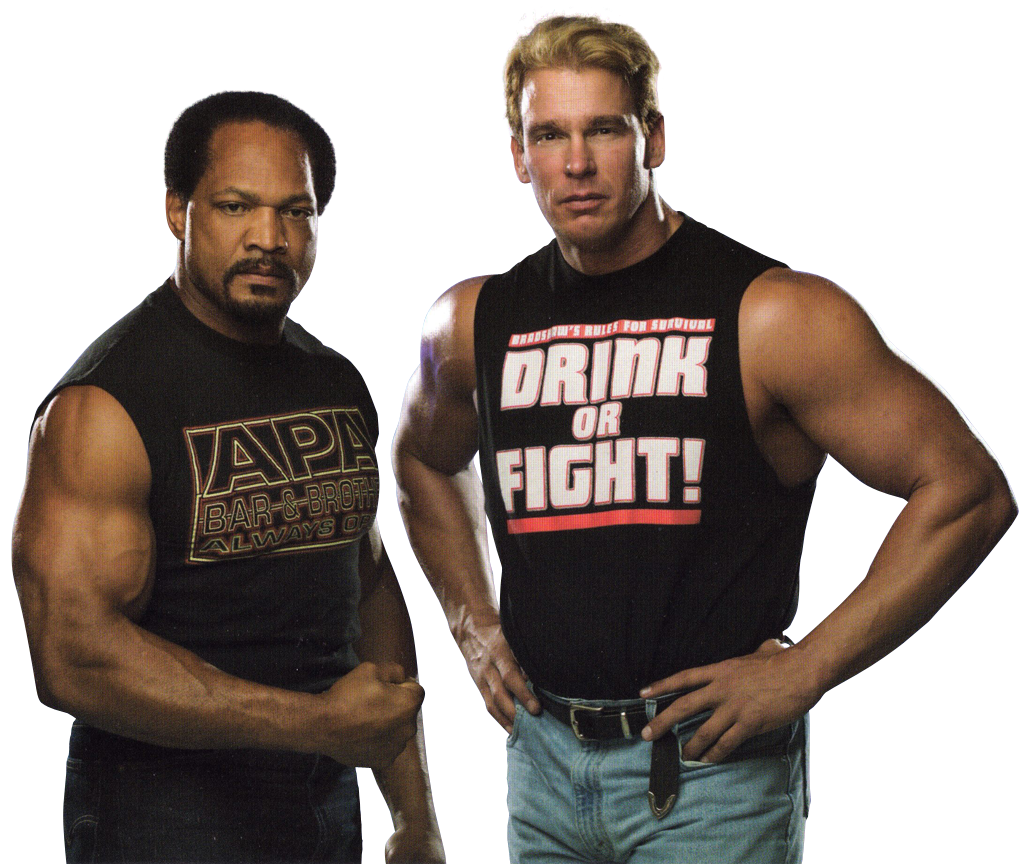 Have you ever found that you and someone else have become great friends simply because of a shared interest in something? That's exactly what happened to JBL and Ron Simmons who were formally known as the APA or the Acolytes. Bradshaw and Faarooq both loved to drink beer, play cards, and wrestle. At first, WWF portrayed the duo as cultists, however, after transitioning to the APA, their common interests bubbled to the surface as the pair was allowed to incorporate their love of beer, cigars, and gambling into their work. JBL credits inducting his best friend Faarooq into the WWE Hall Of Fame as "one of the greatest moments" of his life.
________________________________________________________________________
4. Gallows and Anderson
Would you believe it if I told you that there were no long term plans to keep this team together upon their debut? Well it's true as the team was only paired as a technicality in NJPW, however, management saw the magic before they split them up. Now, several years later, the two men are inseparable. As 3-time IWGP Tag Team Champions and former members of the Bullet Club, the two have had their fair share of partying, drinking, pranking, laughing, but most of all, bonding.
________________________________________________________________________
3. Kevin Owens and Sami Zayn
Sami Zayn is in a precarious position in WWE. It seems like he can't succeed without his best friend, Kevin Owens, involved in his angles. Regardless, Sami Zayn and Kevin Owens are lifelong best friends. Starting wrestling training at the same time, Owens and Zayn traveled around the world together, wrestling for the same indy companies, for more than 15 years. In that time they have feuded in MOTY candidates, as well as won Tag Titles together, proving their ultimate chemistry and talent. Whichever side of the spectrum they are on, friend or foe, Zayn and Owens love each other always outside the ring.
________________________________________________________________________
2. The Dudley Boys
The Dudley Boyz Tag Team career can be described as one thing: Decorated. With titles everywhere they went, The Dudley Boyz dominated the division for more than 20 years. To be exact, since bursting on the scene, Bubba and D'von have collected 25 Tag Team Championships for six different companies!
What really created an unbreakable bond between the two is the Team 3-D Wrestling Academy which the pair opened in 2007. As well as partners in the ring, being business partners furthered their friendship even more.
________________________________________________________________________
1. Edge and Christian
Ranked the greatest Tag Team of all time by WWE.com, Edge and Christian have a unique story. Most Tag Teams are formed when two men are stuck together by WWE creative. They then get to know each other, plan a gimmick, etc. Edge and Christian, however, are special. They have been friends since elementary school, originally planning to be a WWE Tag Team with each other since their childhood. The team decided to train together in Canada, wrestle the indies, break onto the scene in WWE, transform their characters, and become one of wrestling's legendary teams.