So it seems that Los Matadors and Goldust & Stardust (with a focus on El Torito) is the next tag
team feud. This made me really sit back and reflect on the current state of the
tag divisions in both the main roster and NXT. They have the talent within WWE
to create a fantastic tag team division, but they are still falling short. Can something be done to revitalize it back to its former glory? Before I get into that, I will break down each current team's abilities, just to see what we're working with:
WWE Main Roster Tag Teams:
Goldust & Stardust (champions) In-Ring ability: 3.5/5 – Goldust is a very
seasoned vet, and Cody is a phenomenal athlete. The tag team division would be
quite dreary without the Rhodes Brothers as the top heel team.
Mic skills: 4/5 – Again, Goldust has been
doing this for years now, so this is all second nature to him. Cody still could
use some sharpening on the mic. There is a difference between TV weird, and
weird weird.
Overall: 4/5 – Solid brothers team. One
would think this team will split up once the division is a little stronger.
This team is keeping Cody relevant, but holding him back on the grand scheme of
things.
The Usos
In-Ring ability: 4/5 – The Usos have a
familiar, yet fresh Samoan style in the ring. Most Samoan wrestlers we've seen
in the past have this, which is a formula that has worked for years. The
brothers have evolved their styles to pop quite a bit more, which is fantastic.
They're a very over tag team that can be great fillers for midcard matches as
well.
Mic skills: 3/5 – For a pair of guys
playing laid back Islanders (aka themselves), their promos are great. That
being said, when comparing them against the rest of the roster, meh. The
charisma and attitude is there, but there is something missing. I think a few
more years of this will help them polish their skills.
Overall: 3.5/5 – Great long-term tag team.
Splitting them up anytime soon would be a huge mistake by creative. I'm
guessing to see longevity with this team, similar to Hardys/Dudleys.
Los Matadors
In-Ring ability: 3.5/5 – Rhodes, Usos, and
now the Colons. They have fantastic high flying abilities. They are definitely
held back by the gimmick, but they still work through every match. Keep in
mind, I am just taking into account Primo & Epico, not El Torito.
Mic skills: 2/5 – It's been a while since
they cut a legitimate promo, so there's not much to go off of. Again, held back
by their gimmick on this one.
Overall: 3/5 – Another great legacy tag team, with
the exception of them being captives to Creative's failures. One can hope that
they can represent their family name again, maybe even with another short title run.
Other than that, they are a solid high flying team that can help elevate a
sub-par match. El Torito definitely needs to go, as he's pulling away from the actual focus of the matches.
Slater Gator
In-Ring ability: 2/5 – Hornswoggle and the
comedy acts aside, they can both wrestle. That being said, that's what they are
tied to right now. Titus is relatively athletic for a guy his size. Slater can
do quite a bit more than he normally showcases (possibly because of creative?
Who knows). Right now, they're a bottom
feeder tag team with a sole purpose is to job.
Mic skills: 3/5 – I always thought Titus
was a relatively boring speaker, until I recently saw him on NXT. Glad to see
he's improving a bit. Slater has always been able to cut a comedy act low card
promo, which they do need to have. Slater is a lovable loser, which helps this
team a bit.
Overall: 2.5/5 – Not everyone can be at the
top of the totem pole. There needs to be jobbers in the tag team division, and
I am so happy it's not Rybaxel anymore. Don't expect a title run anytime soon,
or this team to last longer than a year or so.
Miz & Mizdow
In-Ring ability: 3/5 – I have to split this
one down the middle because of the team. Mizdow is a 4-4.5, and Miz is a 2.5-3.
Mizdow's mimicking of moves makes this team very enjoyable. Him popping with
the crowd is fantastic as well. The Miz has improved since his days with
Morrison, but I still do not see him as a credible midcarder.
Mic skills: 4.5/5 – Attempting to be
completely unbiased here, I know many people enjoy the Miz's promos. He does
have charisma, I'll give him that. Mizdow has a fantastic mic presence, whether
he's impersonating his mentor or just speaking on his own. They definitely win
on the mic in the tag division.
Overall: 3.5/5 – I can't see this team
lasting too much longer, as its new purpose seems to be revitalising Damien
Sandow and finding a placeholder for The Miz. They work well in the ring
together, which is a plus.
NXT Tag Teams:
Lucha Dragons (champions)
In-Ring ability: 3.5/5 – Typical lucha
high-pop style, which is always fun to watch. Sin Cara seems to have toned his
style down a bit, which has definitely helped his issue with botched moves.
They can take bumps and get the crowd going, which is all the fans really ask
for. Overall enjoyable, and a great revive for Sin Cara's career.
Mic skills: 2/5 – Judging the mic skills of
these guys is almost unfair, as they are not meant to be on the mic. They
should probably have some more time to practice in NXT if they plan on moving
them up to the main roster though.
Overall: 3/5 – They are a solid, cohesive
tag team that can add some spice to a boring match.
The Ascension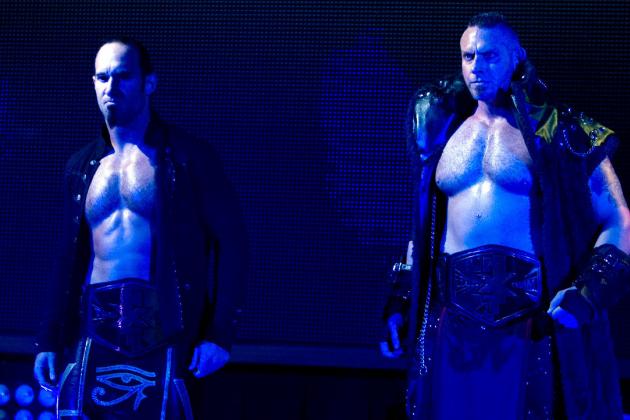 In-Ring abililty: 4/5 – These guys are a
fantastic team, with some neat tag moves. For bigger guys, they can work the
ring well, and clearly show their expertise as standouts in the division.
Mic skills: 3/5 – Their mic skills are a
tad overshot. Giving the Ascension a manager would definitely help with this. Other
than that, not bad for a 'scary heel' team.
Overall: 3.5/5 – As said above, they are a
fantastic tag team. They can work with anyone, and right now, feuding with
Itami should elevate their performances to the point where they need to move on
to the main roster. Future WWE Tag champs.
The Vaudevillians
In-Ring ability: 4/5 – Along with The
Ascension, these guys are future WWE Tag Team champions. They work their
gimmick well with their in-ring skills.
Mic skills: 3/5 – I enjoy their vignettes
and mic skills.I do see
their gimmick possibly holding them back at points in the future, but not
right now.
Overall: 4/5 – Another reputable team
within the NXT. I think the WWE Universe will welcome these guys with open arms
on the main stage.
Amore & Cass
You can keep up with all your wrestling news right here on eWrestlingNews.com. Or, you can follow us over on our Twitter and Facebook pages.