In the weeks leading up to this weekend's events, the women of WWE have, without a doubt, been killing it. We've come to expect excellence from the likes of NXT, but Bayley's recent run for the title has shown that she has heart AND fire. Upstairs where the Divas have been second thoughts for a solid year, we're starting to see multiple matches that approach double digits a night. There's no question, this is a big deal. This weekend specifically, with Bayley and Sasha Banks being the second biggest match on the card at "Takeover: Brooklyn" and all nine Divas of the Revolution in the ring at "SummerSlam," this is make or break.

There was a lot of speculation how this Diva's Revolution match would go down. Some were expecting Team B.A.D and P.C.B. to send a representative to take on Nikki Bella in a triple threat, or for it to be structured like the tag team's triple threats. WWE landed on a three-way elimination style match, where one pin equals the whole team eliminated. It gets all nine girls in the ring at some point or another, and opens up a lot of opportunity for good storytelling through the team dynamics. One team, most likely, P.C.B. who are working as the faces in the match, will flourish. Another, perhaps Team Bella, will inevitably fall apart. There's a lot to be said about their personalities here, especially with enough time.

Speaking of time, if we want to keep the most talent in the match for as long as possible, the first elimination should be slow. Most likely to whichever non-Bella team isn't set to win. Having the remaining team take down the women who claim they're at the top of the mountain is the strongest ending for this match, but getting rid of the fan favorites is a huge mistake. A pin late in the match by one team and then a relatively quick submission tap-out by the other will build drama and keep us engaged.
Whatever the outcome, with the possible exception of Nikki winning via Rack Attack, this match is a huge moment for the division. Expect for every participant to break out everything they've got in their arsenal. This is the future of women's wrestling, if they can't do that, they risk being left behind. Overall, most everyone's been performing. The new call-ups are not shy about showing why they belong, and Paige and the Bellas have definitely held their own. It was good to see Brie get a pin last week after spending so much time jobbing out and holding Nikki's belt. Naomi too, has been very strong, although her heel persona is being outshone by Banks' perfection of a character, and it's not hard to see the effect. Tamina and Alicia Fox are the only ones who may not see this revolution far past this weekend.

Going forward, both Charlotte and Banks have defeated the champ clean. With Nikki quickly approaching AJ's record, a triple threat for the belt gets a now-or-never appeal. The teams should split up, organically or thorough an outside force. It could be Stephanie McMahon, relishing in the hero role and setting up a tournament for the number one contender. Or, it could be Paige's tendency to distrust, Naomi and Banks fighting to be the leader of B.A.D. or Brie remembering that thing about wishing she had died in the womb. Either way, it needs to happen, there's only one Diva's title at the moment and they can't keep this fresh until Survivor Series. Plus, by then Bayley might be on her way up and the Four Horsewomen could make a splash.
Let's not forget our adorable hugger, Bayley is on fire and she's run an interesting angle since coming back from injury. Typically, the road to redemption for a workhorse face comes with giving up a bit of that niceness. Alexa Bliss sided with Blake and Murphy. Sami Zyan did have a full heel turn, but he did give up a little of his sweet and kind personality. Even that wasn't enough once Kevin Owens enter the picture. But Bayely really hasn't changed her character much at all, she's just more intense in the ring. The fans are connecting to it, and they're in her corner 100%, even against such a star like Banks. With Banks' recent track record of putting out incredible matches and elevating her opponents in the process. These two could easily steal the show, and Bayley should without a doubt leave as champ.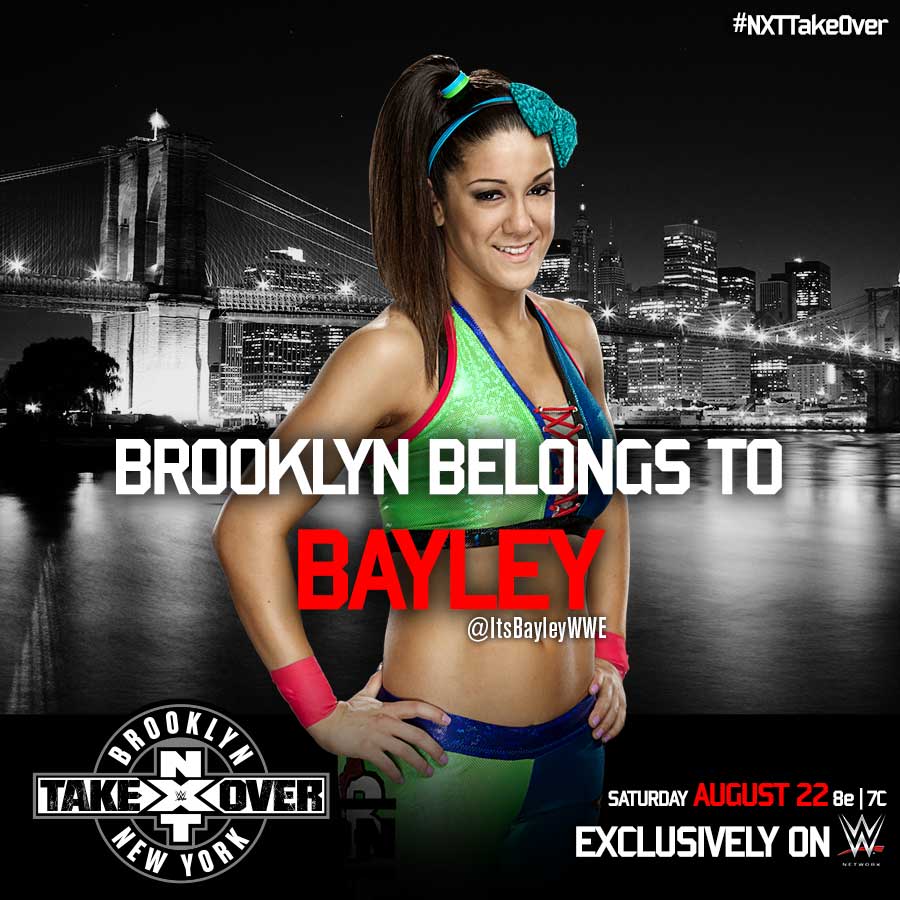 Just over a year ago we were watching Charlotte and Natalya put on a contender for match of the year in Full Sail's arena. The skill, storytelling, and gravity of that match was monumental, and arguably game changing. It wasn't just the NXT Women's Championship on the line that night, it was so much more, and that was felt through the screens of our computers and TV's. It showed us all women's wrestling could be, and this weekend is a chance to do the same, for the mainstream audience and on the second-largest stage of the entire year. If these girls can take the ball and bounce it higher and higher, we may just be watching history.
You can keep up with all your wrestling news right here on eWrestlingNews.com. Or, you can follow us over on our Twitter and Facebook pages.