I happen to have some free time on my hands, and while I was writing the Seth Rollins article, another face immediately popped in my mind. Jinder Mahal is the WWE Champion. That's still completely mind boggling to me. However, are we also expected to take him seriously or put him on the same level as, say, a Brock Lesnar? Allow me to provide some perspective.
So I was looking at Jinder Mahal's match log for this year on Cagematch, and what I found was indicative of the biggest problem with Jinder Mahal being WWE Champion today. He became #1 Contender for the WWE Championship on April 18th. The week before? He lost to Mojo Rawley. MOJO RAWLEY. Now, Jinder and Mojo were the final two contestants in the Andre The Giant Memorial Battle Royal. Today, one of those contestants is the WWE Champion, and the other barely finds time on Smackdown LIVE. If you didn't know what was going on in WWE today, or if you were new to wrestling, I'm sure you'd find it more likely that Mojo would be WWE Champion as opposed to the runner up. If I told you that John Cena and Shinsuke Nakamura would have a match on free television just for the opportunity to face Jinder Mahal at Summerslam last year, I'm sure you would all laugh in my face. Well…..surprise.
How do you go from losing to Mojo Rawley in 3-minute matches to all of a sudden beating Randy Orton, AJ Styles, Sami Zayn and becoming WWE Champion? Jinder's work ethic, his look, and his character are all very good by WWE's standards (and I don't have to mention Vince's fetish for men with Jinder's physique). However, his biggest issue, and I've said this from day 1 of his reign, is his believability. Are we really supposed to take him seriously as the current WWE Champion? Here we have Jinder Mahal, who spent his entire WWE career up until a few months ago jobbing, one member of 3MB and wasn't destined for anything. Before he became number 1 contender to the title, Jinder had only won FIVE matches all year. Three of those victories were matches on Main Event against Curtis Axel and Sin Cara. Another was a handicap match on RAW, and the last was an 8 man tag on RAW before WrestleMania.
Yet somehow, Jinder the next week, becomes the number 1 contender to the WWE Title, ends up defeating Randy Orton three straight times on PPV and defeating all of the other top stars on Smackdown with the exception of the heels of course. Now, for me, I didn't have an issue with Jinder defeating Randy, because let's face it, Orton just isn't the Orton of old these days and an extended WWE Title reign with him as champion probably wouldn't have amounted to much. However, it was clearly evident that his victory was purely because WWE wanted to expand their market for India, and not because of anything in Jinder. I know WWE's booking team can be very incompetent at times, but they're also not idiots. Or are they? Did they really wake up one morning and decide that one day putting their most prized possession on a man who hadn't done anything in his WWE career up to that point will all of a sudden make him palatable to the fans?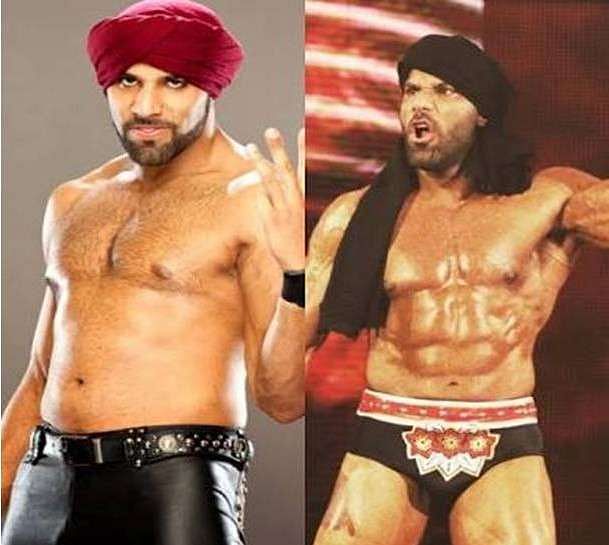 Here is WWE should have done. What they should have done is have Jinder win the Andre The Giant Memorial Battle Royal, get a little winning streak going and THEN have him win the number 1 contender's match to have been built up as a threat. I mean, he strung together some wins against AJ and even pinned Orton before he took the title off of him, but while I was watching that, I did not take him as a serious top star at all, because he hadn't been built up prior. No mid-card title reigns, no serious singles push at any point in his career, it was just completely random.
Now, I don't know if they are going to continue with Jinder as WWE Champ past Summerslam, but this whole experiment with him was done far too hastily. I don't want to give up on Jinder easily, because he didn't ask to be put in this position, and he is visibly trying to make the most out of it. However, whenever I hear him cut a promo (he sounds like he has nasal congestion every time he speaks) or whenever I see him fight, I just can't help but think I'm watching a fluke champion. It also doesn't help that he hasn't impressed in the ring or on the mic to boot.
His matches with Randy at Backladestroyingey In The Bank were basically one in the same, right down to Orton destroying the Singh Brothers and walking into a Cobra Slam. Then, that pisss-poor abomination we saw at Battleground is something I dare not revisit.He's only feuded with Orton up to this point, so of course working with other superstars will help, but he is very one-dimensional in that regard. Like I said, his promos just don't have that delivery. He speaks very softly and says repackaged messages of the same point. "All of you disrespect me because I'm from India and all of you are xenophobes and the Modern Day Maharaja will continue to reign…" and so on and so forth. Jinder's reign as WWE Champion has gotten the point where I have considered AJ Styles and Kevin Owens' feud over the US Title as the real WWE Championship feud.
I was initially happy for Jinder when he won, because of not only the obvious shock factor that came with his victory but to know WWE was bold enough to take a chance on a jobber as WWE Champion. Now I don't know how WWE's market in India has performed since Jinder has become champion, but I can only go by what I see, and what I see is a man who wasn't ready or prepared for the title. I see a man that needs much more seasoning and more diversification of his character. He still has plenty of time to make an impression, and perhaps a match with Nakamura at Summerslam is what he needs. For right now, however, there's a long way to legitimacy that The Modern Day Maharaja has to climb, and we're not there yet. Let's just hope Jinder doesn't call me a xenophobe.