Stephanie McMahon Comparing Her Father's Indictment To September 11 Attacks. (2001)
Ok, so I missed it at the time but it's pretty funny to see it now. I'm sure Stephanie didn't mean to be distasteful and was trying (in her own way) to be patriotic by drawing off of life experiences. But unluckily for her, the only thing she could compare 9/11 to was Vince's steroid scandal in the 90's .. which we have to be honest here and say that is nothing like 9/11 and "Some People" are the same people who were doing everything humanly possible to sort the country out after that horrific day. Wrong target Steph!
Triple H Accusing Kane Of Murdering (And Necrophilia) Katie Vick. (2002)
Umm … yeah. So Triple H accused Kane of killing, and then having sex with his former partner Katie Vick's dead body. Warning! These videos may kill your brain cells … before the inevitable necrophilia. God knows what they were thinking.
McMahons All Over The Product. (2003)
The McMahon Family were all over the product in the Attitude Era, yet they didn't receive as much criticism as they did in 2003. Some good came of it, but a lot of it was unnecessary given the depth of both brands rosters.
Stephanie – She played the fan favourite as the general manager of Smackdown to counter Eric Bischoff's rule over Raw after the first brand extension. When Stephanie signed Hulk Hogan to Smackdown it caused friction with her father.
At the time Vince was using Big Show to bully the one-legged Zach Gowen, Stephanie questioned his motives and because of this was placed in a handicap 2-on-1 with Gowen against Big Show. During the match, Vince appeared and encouraged Show to chokeslam them both, but Brock Lesnar and Kurt Angle came out to make the save and Gowen picked up the win.
After this, she tried stopping her father pursuing Sable to save her mother's marriage. Vince decided to book the first-ever "Father vs. Daughter I Quit match" at No Mercy. Linda was in her corner, and threw in the towel to stop Vince hurting her further. Stephanie was wrote off television as she planned to marry Triple H in real-life. She also fought Sable at Vengeance, was booked to face A-Train on an episode of Smackdown, and against Brock Lesnar (ending in a no contest) the following month.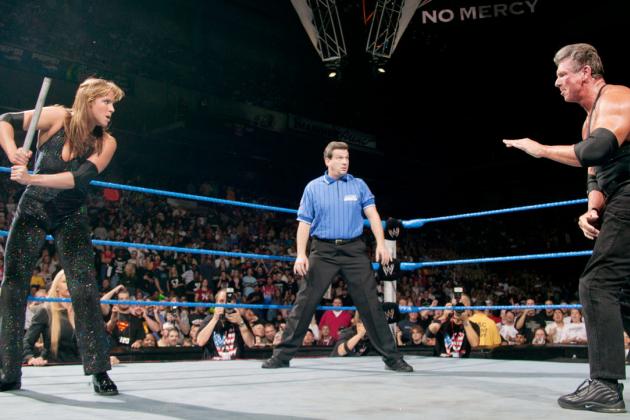 Shane – He returned for the first time in two years watching Vince train for his match against Hogan before Wrestlemania. He checked on his father's condition after losing the match. He became a face due to Eric Bischoff's remarks about his mother. This led to a feud between them, which saw Bischoff beat Shane on an episode of Raw (No DQ), and ending at Summerslam when Shane beat him in Falls Count Anywhere.

But he wasn't finished, Kane delivered a tombstone pildedriver on Linda, so Shane started a feud with him. First he won a Last Man Standing at Unforgiven, and again later he defeated Kane in the first Ambulance match at Survivor Series.

He was also on the winning side of a 8-man tag tables match, and a street fight against Test on episodes of Raw. After Survivor Series, Shane returned to a backstage creative role so he could spend more time with his wife and children.

Vince – He spent the first few months building to Wrestlemania in a feud with Hulk Hogan. He was chaotic, angry, and citing his desire to kill Hulkamania forever. The thing is … while critics could only give it a low rating, the match was pretty darn good. And I know this because when I wrote the Wrestlemania series I saw the negative responses, yet I couldn't understand them. Probably the best Vince McMahon match of all time, he worked the crowd better than Hogan. I would go as far to say he carried it.
I can remember being so surprised at how good it was, and remembering how little I cared for it back thirteen years ago. Still, this was probably the only seriously good thing Vince did the whole year. After losing to Hogan, he "banned" him from WWE, so Hogan put on a Captain America costume and called himself "Mr. America". Vince suspected it to be Hogan, but before the storyline could play out Hogan left WWE.
Vince took his insanity to another level by bullying one-legged wrestler Zach Gowen. It was dumb, and painful to watch. He beat him in an arm wrestling contest on Smackdown. At Vengeance he went on to defeat Gowen in a match. The following month he was scheduled to face Brock Lesnar in a steel cage but it went to No Contest.
As explained above, Vince began flirting with Sable to the point it became uncomfortable for Stephanie and Linda. Vince didn't like what she had to say, so he told Stephanie to quit her job but she refused. Vince defeated his daughter in an I Quit match after Linda threw in the towel at No Mercy. On the same night, he helped Brock Lesnar to retain his title against The Undertaker in a Biker Chain match.
To round off a productive year for the Mr. McMahon character, he faced The Undertaker at Survivor Series in a Buried Alive match. And he won .. with the help of Kane. Funnily enough, this has been a brief recap of what The McMahon Family did in 2003, and I'm sure there were many more moments which you can only see on the WWE Network … or YouTube … or Dailymotion. The question is: Do we tune in to see them as much as they think we do?
Kane Impregnates Lita. (2004)
Not much to explain here! Thanks for reading everyone, and enjoy the videos. See you again next time.