Hi everyone! As many will know, The Hardy Boyz made their long awaited return to WWE at Wrestlemania 33 last night. Some may be unaware of what they've done since they left WWE in the late 2000's, so I made this article to bring you up to speed by highlighting the key moments in their careers and personal lives. I'll post the second part within the week.
In 2009, while feuding with CM Punk over the World Heavyweight Championship on the Smackdown brand, Jeff Hardy accepted a match with the stipulation where if he lost he would have to leave WWE. The storyline put in place gave Jeff time to recover from a neck injury, two herniated discs in his lower back, and the condition known as restless legs syndrome. While he was away, Matt Hardy worked in the mid-card for WWE.
An event which may have come as a shock to WWE officials, Jeff Hardy signed with TNA Wrestling and appeared on the special live Monday night episode of Impact on January 4th, 2010. Jeff continued to work as a face up til Bound For Glory 2010, where he won the TNA World Heavyweight Championship against Mr. Anderson and Kurt Angle by turning heel, joining Hulk Hogan's Immortal stable.
Meanwhile in WWE, Matt was sent home from the European tour as they believed he was not in the right state of mind; and Matt later denied being sent home. He went on YouTube to express his feelings about the WWE product and made comments which suggested he was trying to get an early release. In October, five days after Jeff won the TNA title, WWE granted Matt's wish and released him from his contract.
Jeff became the #1 guy in TNA thanks to Hogan's Immortal stable. Jeff explained his actions while claiming to be the "Anti-Christ of Professional Wrestling".
Matt Hardy debuted with TNA during the Genesis 2011 PPV in a match with Rob Van Dam. And let's be honest .. he didn't make much of an impact. He became a lackey for the Immortal stable to help Jeff retain the title.
Jeff lost the "Immortal" title for a second time, before challenging the champion Sting at Victory Road 2011. Jeff was not in a good place, as he was found intoxicated backstage before his match. TNA took a chance by letting him enter the Impact Zone to work with Sting. He was in no fit state to wrestle, so during Sting's entrance an audible was called.
Eric Bischoff charged down to the ring to tell Sting the new finish to the match, while using the line "This match will be No Disqualifications" to have an excuse to be there. And much to Jeff's surprise, Sting forcefully dropped him with the Scorpion Death Drop and covered for the pin. Jeff tried to kick out, but Sting put all his weight on his shoulders and the referee counted it. The fans chanted "bullshit", to which Sting replied "I agree" as he walked out with the title. TNA told Jeff to go home and get sober. 2011 could be considered the lowest point in Jeff's career.
Matt soldiered on while Jeff was away .. but saw little success challenging for Sting's World title, or Beer Money's Tag Team titles (w/ Chris Harris). In June, it was reported TNA had suspended Matt .. and in August, Matt was arrested for DUI (drove his Corvette into a tree), forcing TNA Wrestling to release him from contract the same day.
At the end of August, Matt posted a video online which suggested he was planning to commit suicide:
"Goodbye, World…
My time here is Almost complete…
I only have a few hours & minutes…
I loved you all…
Regardless of how you felt about me…
I'll miss you all…
September 23, 1974 – August 31, 2011."
Apparently it was a hoax. Many fans called the police as they were concerned for his health. Jim Ross chimed in with his thoughts: "Matt Hardy fiasco totally embarrassing & inexplicable. Alleged suicide you tube got him noticed…sadly in absurd way. Matt, seek answers." Matt announced his retirement from wrestling on September 1st due to injuries.
Only two days after Matt's release, TNA announced his brothers return. Jeff returned to Impact and asked the audience for forgiveness. While Jeff was given a chance to prove himself, Matt returned to the independent scene with a win over old rival MVP. Matt returned to Ring Of Honor in September, and Jeff worked through the Bound For Glory series to become number one contender after staying clean for months. Jeff defeated Austin Aries for the TNA World title at Bound For Glory 2012, with TNA claiming he had completed the 'Road to Redemption'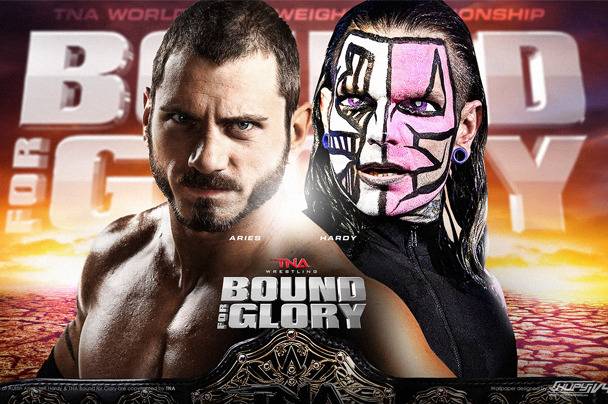 Jeff defended the title against challengers Kurt Angle, Austin Aries, Bobby Roode, and Christopher Daniels. After five months on top, Jeff was dethroned by Bully Ray after revealing himself as the leader of the Aces N' Eights stable. Throughout 2013, Matt unsuccessfully challenged for ROH titles while Jeff spent the rest of the year feuding with the Aces N' Eights and challenging for the X-Division title.
In November, Jeff said he'd had enough of Dixie Carter's backstage politics and "quit" the company. On January 1st 2014, Matt and wife Reby Sky assaulted each other in a Hampton Inn. They were both arrested for assault and battery, and later released on bail. Matt and Reby placed restraining orders on each other, but only a couple of weeks later they were together again.
Matt worked in ROH's mid-card for the first half of 2014. In February, the wild creature known as Willow appeared in video vignettes. Jeff worked as Willow for a few months in feuds against Ethan Carter III, James Storm, and the tag team of Magnus & Bram.
In July, Matt opted out of his ROH contract and returned to TNA. Jeff dropped the Willow gimmick before re-introducing his brother to unite The Hardys as a tag team. They challenged for the TNA tag titles at Destination X but were defeated by champions The Wolves.
The Hardys spent the rest of 2014 and early months of 2015 challenging for the tag team titles, while feuding with James Storm's stable The Revolution. On March 10th, the company offered Matt a new full-time contact, and six days later, The Hardys reached the top of the division by winning the titles for the first time in an Ultimate X match. However, they were forced to relinquish the belts in May due to Jeff breaking his leg in a dirt bike accident.
And I'm sorry, but you have reached the end of part one. Due to the intricate details behind the "Broken Universe", I find it necessary to save it for part two. I want to show how the gimmick evolved and have fun reliving moments which brought The Hardys back to life in the wrestling world. It will be broken. It will be wonderful. And hopefully, it will do justice in explaining how it worked despite looking and sounding so 'B-Movie'. Thanks for reading!
You can keep up with all your wrestling news right here on eWrestlingNews.com. Or, you can follow us over on our Twitter and Facebook pages.