This is an Impact Wrestling Homecoming 2019 review & play-by-play. I'll detail each match, but it will not include every move. I'll give my thoughts, but I'm not handing out ratings, so you can come to your own conclusions on those. The term "Homecoming" refers to Impact Wrestling returning to their roots. Featuring the show in the "TNA Asylum" (for the first time since 2010) in Nashville, Tennessee; much like when they ran weekly PPV specials in the early days. The ring & graphics paid tribute to the old school "TNA" look. If you're only after the results, you can find them here: Impact Wrestling Homecoming Results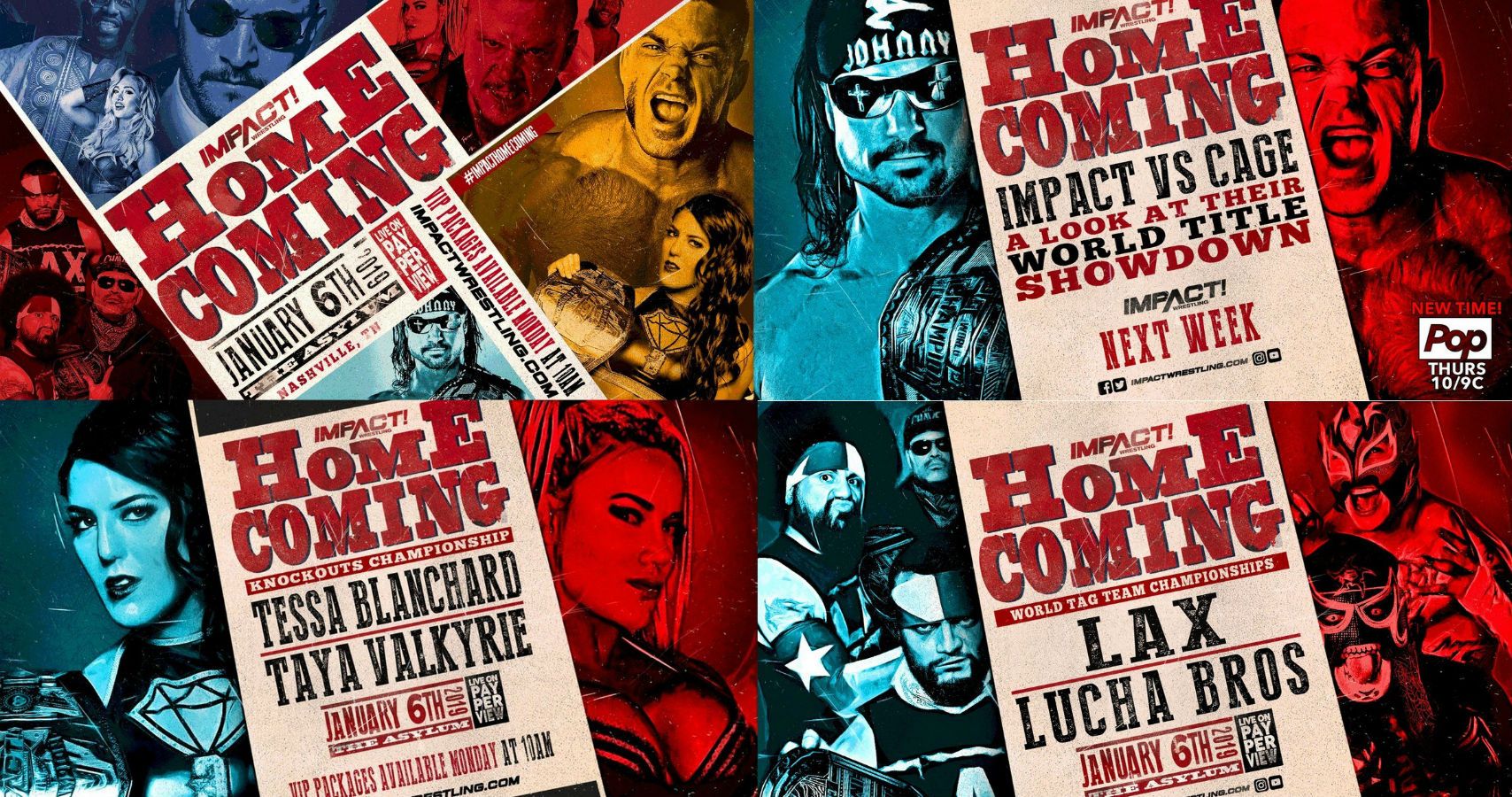 ---
Impact Wrestling Homecoming 2019 Review
Impact Wrestling cut back on PPV specials years ago to cut costs, and in doing so they made it easier to build them up. However, despite having since October to hype their Homecoming to The Asylum, several matches lacked build. Nevertheless, knowing they were following a huge event like New Japan's Wrestle Kingdom 13 only days after, gave talent the added motivation to deliver.
The show began with a video package of Johnny Impact turning up to The Asylum. Closeups of video reel implied they were looking back at their history. Since Anthem took over they shied away from anything referring to "TNA", but on this night it seems they were embracing it. Looking back on old footage from The Asylum days, we saw many of the big names who helped build TNA in its infancy: Abyss, Jerry Lynn, AJ Styles, Roddy Piper, Dusty Rhodes, 3LiveKru (Road Dogg, Konnan, R-Truth), Mike Tenay, Don West, Don Callis, Frankie Kazarian, Chris Sabin, Michael Shane, Low-Ki, Vince Russo, Jeff Jarrett, Sting, Sonjay Dutt, Scott D'Amore, Ricky Steamboat, Raven, Jeff Hardy, Monty Brown, Scott Hall, Ken Shamrock, America's Most Wanted (Chris Harris & James Storm), The Naturals, Christopher Daniels, CM Punk, Jerry Jarrett, and Mr. Perfect.
Josh Mathews opened the show, claiming they had not been back to The Asylum since 2004; but that's not true. We see contestants from reality TV show "Survivor" at ringside. As the brain child of Don Callis, we finally got to witness the first Ultimate X since Anthem Sports bought the company from Dixie Carter. Ultimate X would decide the new X-Division Champion after Brian Cage cashed it in for a World title shot a few weeks prior.
#1. Ultimate X for the vacant X-Division Championship – Rich Swann vs. Jake Crist vs. Trey Miguel vs. Ethan Page
Trey is competing on his first PPV, and first title match in Impact Wrestling. Ethan Page defeated his mentor Matt Sydal to earn a shot. Dave Crist came out with his brother Jake, but he quickly went to the back shortly after Jake got in the ring. A staredown between all four men. Jake gave the thumbs down before rushing to a corner, and the rest did the same. They all jumped on a cable each and a race for the title's on. Swann kicked Jake off, then let go of the cable to give him a hurricanrana. Trey did the same thing to Rich. Ethan did the same to Trey, but spiked him right on his head. Just to remind everyone .. AJ Styles is the first X-Division Champion. While fighting on the turnbuckle, Ethan Page picked up Trey and literally threw him at Jake & Rich on the outside! Nice. Ethan gets up on a cable, and Jake fails to stop him. It takes both Rich & Trey to get Ethan down. Superkicks everywhere!
After a superkick exchange, Trey nailed Jake with a neckbreaker. With all four down, the crowd chants "Impact Wrestling". Rich & Trey scrap on the corner turnbuckle, and Jake tried getting involved but is pushed away. A second attempt by Jake succeeds, as he gets them both with a double cutter from the turnbuckle. Ethan on a cable again .. Jake tries to stop him but is kicked to the floor, followed by a mean elbow drop after Ethan lets go! Cool spot. Crowd claps in appreciation. Rich gets the better of Ethan before Trey finds him again. Some innovative offense from Trey ends with a jumping footstomp to the back of Swann's head. Trey gets on a cable and gets close to the title, but Ethan cuts him off and has him land on his shoulder, converting it in to a backbreaker. Ethan goes after Jake who's on the turnbuckle, but Jake pushes him down. Jake uses the cable to swing himself towards Ethan with a huge leg drop!
After some exchanges on the outside, with Jake DDTing Trey and Swann diving on Ethan & Jake, all four men were laid out on the ramp. Something I didn't notice initially .. but if you watch closely on the left side of the screen, you can see a referee messing with a ladder. He goes over to the wrestlers and tells them something. The crowd's looking at the ring, as the camera stays panned away. I'm assuming the title had fallen in to the ring by accident, and someone used a ladder to put the title back on the cables so the match could continue. The wrestlers did a good job of stalling while they sorted it out. As Rich climbed on the structure, you can see a man with a suit & tie creeping away out of view .. like he was the one who put the title back up and didn't want to be seen. Oops!
Trey on the structure .. with Ethan, Rich and Jake looking at him FOREVER! I hate these spots, when they're just standing there waiting for the guy to dive at them. Trey even felt he had time to pose, as his three opponents stand there waiting .. he goes for the moonsault and they catch him. After they recover, Swann tried yet another dive to the outside, but Jake cut him off with a boot to the face, followed by setting him up for the Tombstone Piledriver on the steel ramp! Jake in the ring, and he shimmy's across the cable towards the title. His arms are tired and he only gets halfway. Ethan's up on the turnbuckle and spears Jake to the mat! Ethan rolls to the outside, as Trey gets in. Rich and Trey go at it and they exchange hurricanranas. Rich gets on the cable and goes for the title. Trey notices and goes for the cable too. Rich unhooks the title and places it on his legs, and the bell rings before he even touches the floor (remember the rules folks!). Rich Swann is the new X-Division champion.