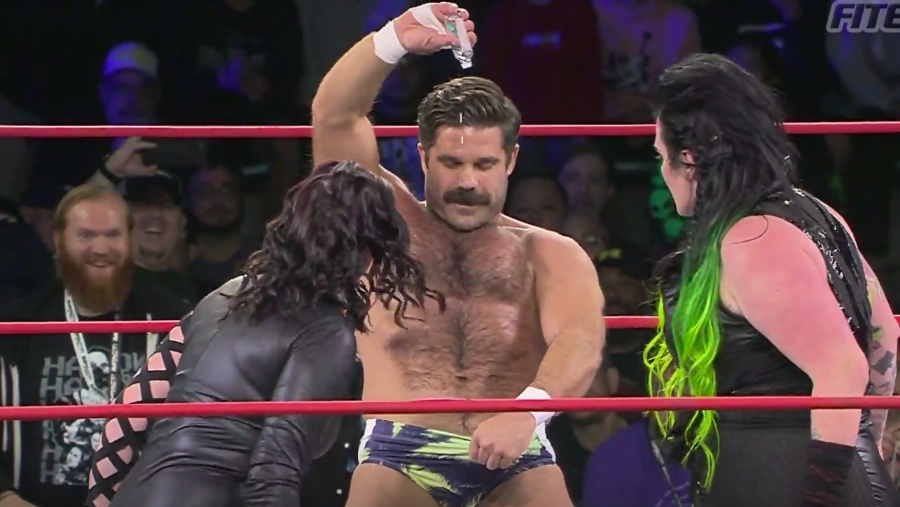 If you're a purist, or Jim Cornette, you hate him. He makes a mockery of everything pro wrestling stands for. Again, he uses his penis as his persona. He's the King of Dong Style.
But from a certain point of view, Joey's always been a pro. He'll wrestle anyone, or anything. He's probably capable of going out there with Ric Flair's proverbial broomstick and putting on an entertaining match. He'd even work in some sort of gag comparing his dick to the broomstick.
Joey knows his role. He can wrestle, and has worked with lots of big names in his career. He can do good matches, and if Impact needs him to, he can be a title contender. But he's best as what he is, a comedic guy who can always be called upon to get someone over. Best of all, he can get both men and women over as fans love when a female wrestler stands up to his sleazy machismo.
Just a word of advice. Don't grab his junk. You'll end up going for a ride.
The Superheavyweight
Wrestling's always been about larger than life, hasn't it? Larger than life personalities, larger than life abilities. In this case, we've got a pair of larger than life men. Now, twenty or thirty years ago men this size were constrained to Big Daddy-esque or Earthquake matches. No sell people's offense, ram your gut or butt into them a few times, and call it a day.
No longer. The evolution of wrestling means that this guy can move pretty damn well. He might not be doing 450s off the top rope, but he's a good worker. (BTW, I almost included another name here, but I held off as you'll see why later)
Fallah Bahh
Bahh? Bahh! No, no, no!
Okay, there's more to Fallah Bahh's Impact Profile than that. Give me a little bit of credit. Fallah Bahh (real name Francis Flores) spent twelve years on the New Jersey indy scene before getting signed by Impact back in 2017. For the first year of his run, he was mostly a tag team specialist, working with KM. It wasn't until Scarlett Bordeaux sort of 'motivated' Fallah that he's broken out on his own.
At first, I thought of listing Fallah as a comedy act. I mean, the man only started using real English within the past month. And it's hard to understand a Fillipino guy who wears Japanese sumo-inspired trunks while having a Chinese panda on the side. During a recent backstage beatdown by the Desi Hit Squad, they rammed him rear end first into the wall a bunch of times. How's that supposed to hurt a guy with an ass like that?
But Fallah's more than a comedy act. For one, Francis has lightened up. A lot. Debuting at roughly 450 pounds (bigger than some tag teams), Fallah's down at least 75 pounds in the past year. It shows, too. His endurance, his agility, and his overall ability to perform in the ring have all skyrocketed.
As such, Impact seems to be giving him more to work with as well. I don't know if he'll ever get a title over his shoulder. But fans love Fallah. He just needs the right run to get over the top.
The Rest
It's hard to write about everyone in Impact. Not because I don't watch, but because Impact's still a 'super-indy' promotion. A guy shows up for one set of tapings, and then poof, gone. Sometimes that's a good thing. Sometimes it's confusing. Notable names like TJP and Acey Romero have done stuff in Impact, but for whatever reason drop off the screen as fast as they show up. It's why I didn't do a full Impact Profile on Acey. How do evaluate a guy who's had one match, even if he does have the 'Holy Shit' moment of the year?
[youtube https://www.youtube.com/watch?v=1nBw2QHywp4]
This booking style does give Impact some unexpected anticipation, but at the same time it's hard to do an Impact Profile on folks who're there for little more than a cup of coffee.
So there you have it! At this point, if you've read our other Impact Profiles articles, you've got yourself a good handle on the players and names in Impact. With the Hard To Kill PPV coming up on January 12th, expect a lot of twists and unique turns. Look for a preview after the first of the year. Take care, folks!