Hey everyone! Welcome to Part 4 of our running series Impact Profiles! Today, I'm going to profile what is, I'll admit, my favorite division in Impact Wrestling, the Knockouts! If you've missed our previous parts, check them out here, here, and here!
Why are the Knockouts my favorite division? Well, there's a few reasons. First, the Knockouts Division really is the epicenter of the so-called 'Women's Revolution.' Despite what certain Billion Dollar Princesses in Stamford, CT want to claim, WWE more or less disrespected women's wrestling after Trish Stratus retired. Sure, they had Lita, but once that damn butterfly belt hit the scene, we were quickly left with 5 minutes starring Kelly Kelly.
I wanted more. And then-TNA delivered. Led by Gale Kim and Awesome Kong, the Knockouts started putting on hard hitting matches that made them back up their looks with damn good in ring performances. Oh, and yes, I'll admit to looking forward to whenever Tazz would declare "Let the pigeons loose!"
For over a decade, some of the best women's wrestlers in North America have held the Impact Knockouts Championship. Now, not every woman who's stepped between the ropes for Impact has been a stellar wrestler (I'm looking at you, Lacey Von Erich!), but for the most part the Knockouts have always been able to hold their heads high.
Second, and related to the level of competitors who've stepped through the ropes, is that the Knockouts Division is one of the best parts of Impact. Even during the horrible Hogan/Bischoff Era, the Knockouts delivered more diamonds than duds. And they've always been able to mix sex appeal with kickass appeal.
So far in the Impact Profiles series, I've talked about three Knockouts, Taya Valkyrie, Tessa Blanchard, and Rosemary. Now, let's look at the rest of the Knockouts Division!
Madison Rayne
What do you call yourself when you're not only the longest tenured Knockout in Impact, but also a 5 time former Knockouts champ? Oh, and to top it off, can legitimately call yourself one of the most beautiful women in wrestling?
Well, if you're most people, you call yourself a legend. If you're Madison Rayne however, you call yourself the Locker Room Leader, and the Queen Bee. Introduced as the third member of the iconic group The Beautiful People all the way back in 2009, there's almost nothing in Impact Madison hasn't done.
Champ? 5 times. She even held the now defunct Knockouts Tag Team belts twice.
Queen of the Knockouts? Did it. You doubt her, check the entrance music. It's called 'Killer Queen' for a reason.
Double crossed the baddest girls in Impact? More than once.
Oh, and she's done all this by the time she's 33.
In real life, Madison's also married to Impact announcer Josh Mathews, which is a constant source of in-jokes between Mathews and fellow Impact commentator Don Callis. Listen for them, it's funny.
In other pursuits, Madison's not always been successful. Her roughly two years in ROH was a certified dud. Her hot minute in the Mae Young Classic felt to me like her checking the box, and WWE quickly jobbed her out to Mercedes Martinez in the first round. So returning home to Impact felt great to me. Heel or face, I appreciate me some Madison.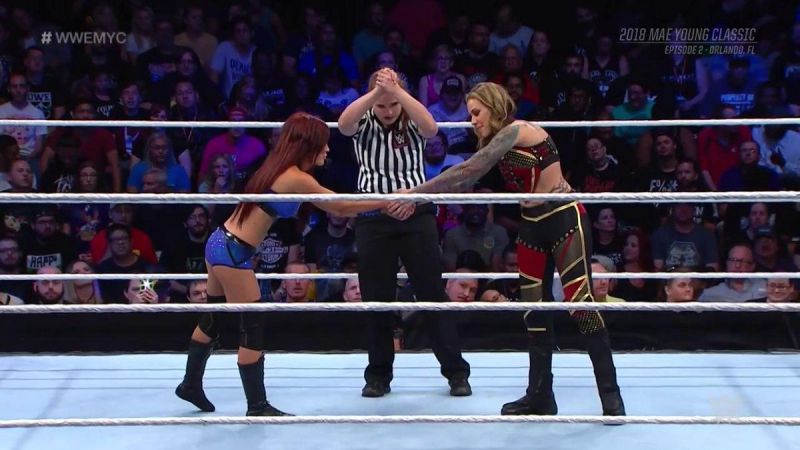 Sadly though, I feel the Knockouts might have passed her by. Madison's not a bad wrestler, in fact she's pretty damn good. But she's not quite strong enough, fast enough, or skilled enough to counter the likes of Taya, Tessa, Rosemary, or some of the others on this list.
But she's a wily vet who still has a trick or two underneath her tiara. Any match she's in, you better keep an eye out before she hits you with a Rayne Drop or CrossRayne and you're counting the lights.
While I think the days of Madison winning the Knockouts Championship might be past except for a final farewell thank you, that doesn't seem to matter to her. She's embraced her role as the Locker Room Leader and veteran presence. Under her tutelage, she's both kayfabe and IRL mentored quite a few of the young Knockouts.
So will she be considered a Legend when she finally hangs up the tiara? I don't know. Despite her 5 Knockouts title reigns, there are other names that come to mind when you think of the Knockouts Mount Rushmore.
But if she isn't a Legend, or a certified Hall of Famer, that's a damn shame. Because Madison Rayne is the epitome of Knockout through and through. Brains, brawn, and beauty, all should hail the Queen Bee.
Jessicka Havok
On the other end of the spectrum from Madison Rayne is Jessicka Havok. Whereas Madison's wily, petite, and built like a pinup model, Havok is a monster. Like, legit. The first five seconds of her entrance theme pretty much says it all… WREAK HAVOK!
Havok's another veteran on the roster, and also a former Knockouts champion. Coming to the ring wearing a sort of gas-mask inspired respirator thing, she brings with her size and power that is pretty much unmatched in women's wrestling. Only a prime Awesome Kong could go power for power with Havok.
And she can move for her size. A legit six feet and over two hundred pounds, Havok won't be doing any tope suicidas, but she's gotten herself into good shape recently and can move very well. She's so talented that she's been part of every PWI Women's list since 2010 (minus 2017).
She's been up and down in weight, but has always maintained her presence as a physical beast. Flat out, she's legit. She'll put opponents away with a Harlot Slayer chokeslam, a Tombstone piledriver, a sitout powerbomb, or my personal favorite, the Demon Drop over the shoulder back to belly piledriver.
So why hasn't Havok become an even bigger star? Well, part of it is business. When she left Impact back in 2015 to explore her options with the WWE, she was caught up in a similar social media scandal that Lars Sullivan found himself in (namely, racist and homophobic media posts from years before). In Havok's case, WWE hadn't signed her yet, didn't sign her, and her name was basically mud on TV for a long time. It's only recently that she's been able to work herself back onto TV and rehabilitate her image.