Hey everyone! Impact Wrestling now has a new home on AXS! But there are a lot of fans who may only be familiar with the names and faces of Impact through ewrestlingnews. To help those who might want to take a look at what I like to call 'the promotion that just won't die,' I wanted to start profiling some of the big names and faces you'll see in the AXS Era of Impact Wrestling.
Note, this won't cover everyone. Impact has seemingly been a revolving door of talent over the past two years. So some faces will pop up on TV that you won't see covered here, and who knows? As quickly as talent enters and leaves, they may be gone before I can get around to profiling them! That being said, let's look at the keystones of any promotion: The Champions.
Impact World Champion: Sami Callihan
'The Draw,' 'The Death Machine,' the leader of OvE, whatever nickname you choose for him, you cannot deny that Sami Callahan has been one of the most talked about names in independent wrestling over the past few years.
And it all started with a botch. In early 2018 after a match with Eddie Edwards, Sami set up a spot where he was supposed to strike a baseball bat into a chair that would hit Edwards' face. Unfortunately, plastic seated chairs don't react like steel, and he ended up blasting Eddie full on in the eye socket; and it's by pure luck that Edwards isn't retired or worse.
The incident got a lot of media coverage both in and outside of wrestling, including TMZ and The Daily Mirror. But instead of breaking kayfabe publicly, Callihan embraced this violent, disgusting side of his character. That's Callihan in a nutshell though, he's violent, he's disgusting, and he's got almost everything you want in a heel champ.
A stable to have his back? oVe has plenty of ways to insert themselves into a situation.
Cheating? Sami hasn't met a shortcut he doesn't like.
Mind games? There are almost no limits Sami won't cross. He's threatened people's families, their health, their livelihood. Sami's the sort of guy that if Impact did a redux of the infamous 'Judy Bagwell on a pole' match, Sami just might bring an AK-47 to the ring, shoot her, and drag the old lady's corpse out of the arena if it means he gets a win.
Sami wrestles a style that's perfect for his image. With shades of Cactus Jack, a little bit of Sabu, and a sprinkling of Necro Butcher, Sami's style is violent, impactful, underhanded, and at times death defying.
Outside kayfabe ironically, Sami's perhaps one of the most open-minded and professional wrestlers around. Whether it's intergender matches with Tessa Blanchard, to standing up to Jim Cornette's homophobic comments about Sonny Kiss, Sami's willing to work with and defend just about anyone who's willing to bust their ass in the ring.
Sami has a few weaknesses, though. First, his physique isn't exactly world champion caliber. Supposedly about 200 pounds when he was in NXT as Solomon Crowe, Sami's put another 20-30 pounds on a 5'9″ frame. It's not all muscle either. Sami's vest covers most of it, but he's a guy who won't be getting another call to WWE looking the way he does.
Secondly, Sami tends to over-use certain taunts and moves. He's gotten control on his constant 'thumbs up, thumbs down' gesture recently, but it used to happen 5-6 times per match. Thirdly, his overuse of piledriver variations can sometimes diminish the effectiveness of the move.
Impact Knockouts Champion: Taya Valkyrie
La Wera Loca is quite honestly, one of my favorite female wrestlers in the world today. She's the girl I love to hate, and the girl who makes me hate John Hennigan (her real-life husband) all the more.
Most North American fans who know Taya outside of Impact first saw her in Lucha Underground as part of the World Wide Underground with Hennigan (then as Johnny Mundo). In 2017, she debuted for Impact as a Game Of Thrones inspired 'Queen of the North.'
Honestly, I first thought Taya's Impact run was going to be a flop. In between Season 2 of Lucha Underground and her Impact debut, Taya had gained a significant amount of weight (she states it was due to a health issues at the time). For a long time, her in-ring performance suffered for it, and the former fitness competitor looked like she didn't really belong in the ring any longer. A feud with Rosemary fizzled, and she disappeared for 5 months.
In September 2018 Taya came back (with a vastly upgraded entrance theme), and she wasn't the Taya of old. She was better. Now a face, she was in shape, powerful, and a legitimate threat to a then-dominant Knockouts champ Tessa Blanchard. A six month feud culminated in Taya winning the Knockouts title on January 6, 2019 and she hasn't let go of the belt since.
A heel turn, her husband leaving the company, and quite a feuds later, Taya's reign has now cemented her as the longest reigning Knockouts Champ of all time.
Taya's style is power based, and she can match power with almost any woman in the world. At about 150-160 pounds, Taya's what some folks would call 'thicc,' and most of her weight is powerful muscle. But Taya's not all power moves. She's got an extensive lucha libre background that she pays homage to frequently, and the former Perra Del Mal can still bust out a tope or a hurracanrana if need be.
Her biggest strength though is her in-ring psychology. Whether a fierce loca face, a vicious heel, a spoiled princess, or what, Taya makes it believable almost all at the same time. She can be whatever her opponent needs her to be, and her reign will be memorable long after she drops the belt. If Taya has any weaknesses, it's age. Unfortunately at 36, she's already on the upper range of age for a women's wrestler. I have a sneaky suspicion fans won't have too much longer to really enjoy a great luchadora at her peak.
X-Division Champion: Ace Austin
On the opposite end of veteran champs Taya and Sami, is the young, roughly 22-years-old Ace Austin. With only 4 years of experience, Austin has just started in the wrestling business relatively.
A dedicated heel, Austin presents himself as a scummy trickster lothario from Atlantic City. Hence, his ring entrance often involves him pulling an ace of spades from his coat sleeve along with a magician's expanding cane.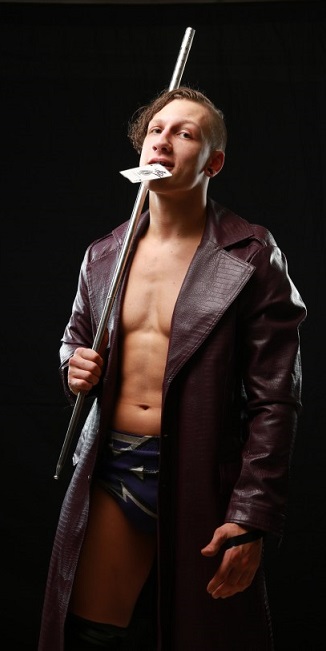 Austin's style is based on parkour, and he's an avid skateboarder. Both influence his move set, and he often combines this with heel tactics and sneaky maneuvers. For backup, he's recently been seen working with Reno Scum, adding to his heel persona.
He just won the X-Division belt at Bound For Glory, so there isn't much to say about his title reign yet. But Austin's clearly a prospect that can use seasoning. This is probably why he's been in a program with Eddie Edwards, a stable vet who can guide the young prospect.
Unfortunately for me, the Edwards storyline is pretty cringe-worthy. Just as some find the current WWE program of Rusev-Lana-Lashley and cuckolding to be distasteful, I find Austin's frequent blatant attempts to 'bang' Alisha Edwards to be just as bad. The recent 'porn star' comments aren't that good either. Also, Austin needs work on his character and promos, two things that Eddie Edwards isn't exactly known for.
But Ace Austin's young, and at 22 has years to develop. And there's no denying his athleticism. If he can, he can be a long term mainstay for Impact. What Austin needs is to find his uniqueness. There are a ton of guys doing parkour based moves now. There are plenty of guys doing high flying. There's even a lot of guys doing scummy Lothario gimmicks. And don't get me started on his undercut hairdo, it's the mullet of the 20-teens.
What does Ace Austin have that makes him unique compared to other wrestlers? That's the main question.
Tag Team Champions: The North – Josh Alexander and Ethan Page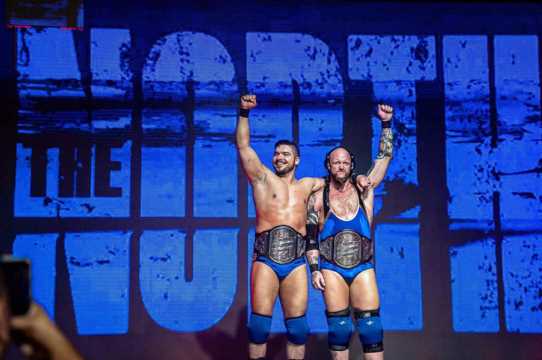 The Impact tag team division is rebuilding, no doubt about it. With long time foundation LAX now in AEW as Santana & Ortiz, the responsibility falls on The North. Josh Alexander and Ethan Page debuted in April and quickly won the tag team belts on July 5th.
A relatively new team TV wise, Alexander and Page met 9 years ago on the indy circuit and are good friends. This shows in their in-ring work, with each having a role in the team. Page is All Ego, with a mouth that runs constantly. Alexander says relatively quiet, and just destroys people as The Walking Weapon. Together, they present problems to opponents on multiple fronts.
The North has a few weaknesses right now, though. First, Ethan Page was basically a jobber in Impact before Alexander came along. Long time watchers of Impact can have problems forgetting that. And Alexander doesn't quite live up to the 'Walking Weapon' monicker. He's a good power wrestler, but what makes him a 'Walking Weapon?'
But the biggest problem The North has isn't theirs, it's the Impact tag team scene. Other than their feud with LAX, The North's reign has been forgettable. The tag team scene in Impact is pretty thin when it comes to teams that can draw fans. Over half the teams in Impact are in comedic or semi-comedic schticks. There just isn't a legit 'threat' to The North right now.
If Impact's writers can fix that situation, The North could be either good heel champs, or good transitional champs for a face team.
The Roundup
So there you go! An Impact Wrestling profile on four divisions, four champs, and by some stroke of production, all heels. Next in the series, let's look at the Headliners. These Impact stars may not be holding belts right now, but certainly are in the title picture, and they definitely put plenty of butts in seats! Thank you.
You can keep up with all your wrestling news right here on eWrestlingNews.com. Or, you can follow us over on our Twitter and Facebook pages.