Hi everyone! I would like to bring an injury & inactive wrestlers update report each month as some companies forget to tell us. I will not be limiting the report to WWE's main roster as I'll include wrestlers from NXT, TNA, ROH, and NJPW when applicable. I will not include talent who have yet to feature prominently on TV, or non-wrestlers like commentators, announcers and backstage staff.
1. Darren Young
In January, Darren Young teamed with Sin Cara to take on The Shining Stars on WWE Main Event. Young was wrestling Epico when he took a nasty fall from the ring apron. Young injured his arm and the match had to be stopped.
2. Erick Rowan
He had surgery for his torn rotator cuff injury back in October and slated to be out for six months. Expect to see his return as early as Wrestlemania weekend. Since then he's been posting vignettes of his character on Twitter, and I wanted to include some here but couldn't find an option to embed. https://twitter.com/erickrowan
3. Eva Marie
Way back in August of last year, Eva Marie was suspended for violating the WWE Wellness Policy. Since that time she has not been used, and it was reported she edited her Twitter profile by removing "WWE Superstar" and no longer following Twitter pages related to WWE. She is still under contract with the company, but it looks likely she's moved on and is waiting for it to expire. Excellent news for some!
4. Hideo Itami
After spending over a year on the injury list, Hideo returned to NXT in August. Unfortunately in October, Itami faced Riddick Moss in a live event match and picked up a neck injury from a powerslam. He was scheduled to team with Kota Ibushi in the Dusty Tag Team Classic, but the injury stopped it from happening and he was replaced by TJ Perkins.
5. Kane
He was last seen defeating Luke Harper on an episode of Smackdown in November. Since then he's been inactive to recover from unknown injuries, and there's no telling when the Big Red Machine will return to action.
6. Lance Archer
Since his time in WWE and TNA, Lance Archer (AKA Vance Archer AKA Lance Hoyt) has worked in Japan as part of the Killer Elite Squad tag team with Davey Boy Smith Jr. In February, after unsuccessfully challenging for the IWGP Tag Team titles, Archer picked up a herniated disc in his lower back which required major surgery.
7. Naomi
In her Smackdown Women's Championship match with Alexa Bliss, Naomi picked up a knee injury. Despite winning the title, she was forced to vacate it only a week later as she wasn't medically cleared to defend it at Wrestlemania in her hometown. WWE had Daniel Bryan vacate her title publicly, and Naomi promised her fans she would recover and claim back the title she never lost.
8. Paige
Paige was drafted to Raw last year but has not been seen since. Her mother told the world in August that Paige was taking time off to recover from an injury. During this time, WWE suspended Paige for violating the wellness policy which she publicly refuted. In September, Paige announced she would be getting neck surgery. In October, WWE suspended Paige for violating the wellness policy; this time for 60 days.
Again, Paige and her father publicly refuted the suspension as they claimed WWE doctors failed her for using prescribed medication for her upcoming neck surgery. WWE gave a statement saying she had not failed because of the medication for the surgery, but because they found evidence of Paige's use of an undisclosed illegal drug. Nine days later, Paige successfully had neck surgery. She is currently negotiating a contract deal with WWE.
9. Sawyer Fulton
Sawyer Fulton finally broke through in NXT by joining Eric Young's stable Sanity. Pictured right above Nikki Cross, Fulton picked up an injury in November which meant NXT needed a replacement for Sanity; which they found in Big Damo. There's no telling if he will return to the group once he's fully recovered from shoulder injury.
10. Shane Thorne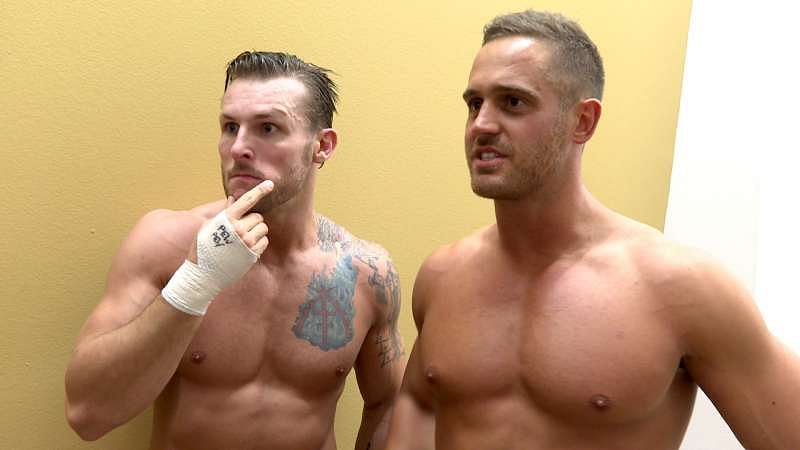 Shane Thorne (left) is one-half of Australian NXT tag team TM61 with Nick Miller. Their biggest match to date was losing in the Finals of the Dusty Tag Team Classic to the undefeated Authors Of Pain. After their loss, he required knee surgery which would sideline him and Miller for 7-9 months.
11. Summer Rae
She was drafted to Raw in July, but she's been sidelined since then with a knee injury. Expect Summer Rae to return soon and mix it up in the women's division.
12. Tomoaki Honma
On March 3rd Honma was injured in a match with Jado after taking a rope-hung DDT. He told medical staff he could not move his arms or legs, so the match was stopped and Honma was stretchered out immediately. The next day New Japan Pro Wrestling informed everyone he had injured his cervical vertebrae with no estimated time of return. On March 6th an update was given on his condition: Honma had regained feeling in his lower body and could hold objects with his hands. He vowed to recover and return to the ring.
13. Zack Ryder & Emma
Zack Ryder and Mojo Rawley won a #1 contenders match to challenge for the Smackdown Tag Team titles. However, Ryder injured his knee during the match and the team could no longer challenge American Alpha for the titles. It was reported he would be out 4-9 months.
Emma suffered a back injury in May and taken off TV shortly after. Due to this, Dana Brooke partnered with Charlotte while Emma remained inactive. In October, vignettes began to air weekly on Raw showing Emma's transformation to "Emmalina". The vignettes continued on til she finally appeared 17 weeks later. She played the character of Emmalina for 1-2 minutes before saying we'll now have to wait for the makeover of Emmalina to Emma. According to sources, WWE did not feel like she could pull the character off in rehearsals so it was nixed entirely. It was supposed to be a throwback to characters like Sable, or The Kat. This week it was announced she would be returning as "Emma"; cool shades and everything.
Thanks for reading everyone! I would like to give an update once a month to keep you all informed. A good idea or not? Feedback would be sweet. See you again and cheers!