The Wednesday Night War rages on!
Phase 1 was a great start, and it continued into the New Year! But now with WrestleMania 36 being "too big for one night" and AEW adjusting to global circumstances, let's take a look back at the last three months! How did both companies do from New Year's Day to April Fools' Day?
Well first, a look back at Phase 1.
AEW did incredibly well for the new promotion on the block, but NXT earned its spot as WWE's third brand.
PHASE 1 SCORE GRAPH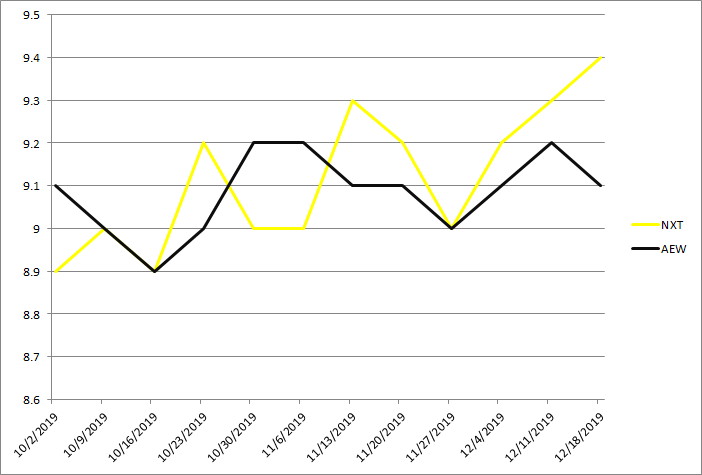 PHASE 1 FINAL SCORES: NXT – 9.11; AEW – 9.08
As you can see, it was neck and neck! NXT only pulled out victory because of their inclusion in Survivor Series season and going above and beyond during those crazy circumstances. Hopefully everyone recalls the situation after that particular Saudi Arabia event where the SmackDown superstars couldn't return in time (apparently that retroactively counts as a hostage situation?) and so NXT stepped up! NXT shined bright that Friday Night and even brighter for both WarGames and Survivor Series. In fact, NXT took over Survivor Series with a winning record that night.
Now, to Phase 2!
Because AEW took the Christmas holiday off, I exempted NXT's parallel episode, so the #HappyHolidaysNXT episode doesn't count to any score. By the way, that episode only got an 8.5/10.
PHASE 2 SCORE GRAPH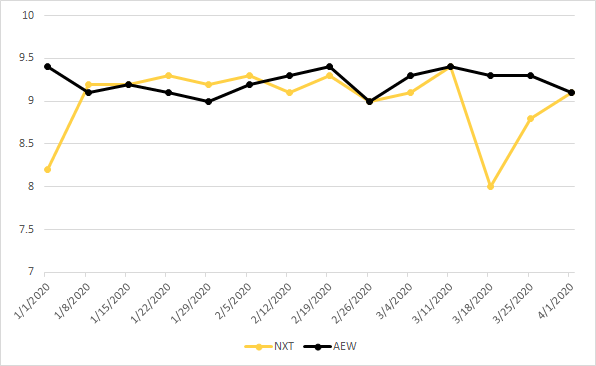 PHASE 2 FINAL SCORES: NXT – 9.01; AEW – 9.22
TOTAL PHASE 1 & 2 SCORES: NXT – 9.06; AEW – 9.15
Phase 2 Analysis
Well NXT definitely had some lower lows in this phase. Ironically, NXT didn't take Christmas off but they sure went easy on New Year's Day. That was the End of the Year Awards for 2019 episode, which with just match replays and award ceremony promos, was like a precursor to the pandemic days we're going through. The more recent drop towards 8/10 was the very first NXT after the pandemic started. It was an episode of just promos, but good promos, which kept it afloat out of the high 7's. But they've also been able to rebound a bit. Just last night gave us that literally TakeOver level Triple Threat for the NXT North American Championship.
NXT still held strong in the middle. TakeOver: Portland was a separate event and I was truly shocked with how great Worlds Collide was. Of course, it helps when it's NXT VS NXT UK, two halves of a great brand under Triple H and Shawn Michaels. And I loved that it gave the NXT Cruiserweight Championship some real crossover cred as it now belongs to Jordan Devlin of NXT UK. When the world returns to normal, I hope we get even more of that. I've always said that the WWE should've handled the Cruiserweight Division differently, and HHH started the groundwork for that here.
Meanwhile, AEW just kept going strong no matter what. New Year's Day was a great episode, the build to what would've been Blood & Guts has been great, and even in needing to delay Blood & Guts hasn't slowed AEW down. In fact, their adjustments to the pandemic shut-in orders have also worked very well, in that almost nothing changed. Unlike the WWE with Raw and SmackDown replaying old matches, AEW kept giving us new matches and material. They still gave us the debuts of The Exalted One, Brodie Lee, and BROKEN DAMASCUS Matt Hardy to keep stories on pace. Kenny Omega alone gave us great material, from defending the AAA Mega Championship to having a great singles match with Trent Baretta.
Through Dark, AEW gave indie stars great opportunities. In a time when independent promotions had to shut down, it was very gracious of them. AEW also fast-tracked the TNT Championship Tournament, which will keep things going despite the limits on gatherings. They're also still keeping Blood & Guts alive. Between Chris Jericho and Matt Hardy going back and forth in promos to using the Young Bucks' recovery as a story, there is still plenty of new and original material to fill for time when they can only have so many people in one place.
Phase 2 Conclusions
That .11 gap for this phase is definitely indicative of how the two companies operate. NXT being WWE, a publicly traded company, they have to let on the gas at some points because of stockholder concerns of the general public. At the same time, NXT can afford to let up a little after riding so high. AEW keeps riding high because they're not beholden to stockholders. They're also the new show so they need to keep going to stay strong, but also have talent that is motivated to do anything and everything to keep fans entertained. NXT takes phase 1, AEW takes phase 2, and AEW is leading overall with that 9.15 compared to NXT's 9.06. But just the fact both shows are still riding in the 9's, you can't take anything away from either one.
Phase 3 Preview
Well, a lot of this will be determined by the world's circumstances. The stretch on the calendar is still going to be the next thirteen weeks, from 4/8/2020 to 7/1/2020. This brings both shows firmly through Spring into the Summer television seasons. And then Phase 4 perfectly fits into the lead up to AEW Dynamite's 1 year anniversary in October. Both shows will be just fine for the start of Phase 3 with NXT rolling out more of what would've been on TakeOver: Tampa, and AEW having a NO HOLDS BARRED AEW World Championship match of Moxley VS Hager. The real concern is that hopefully this coronavirus pandemic stops being a pandemic, and stops being something that freezes so many of us with fear so that we can finally have FILLED Arena episodes of everything again!