Hello there again, folks. I've been contemplating doing this for quite awhile now. I'd like to share my thoughts on the greatest, most iconic figures in WWE history. And I figured 20 was a fair number.
Of course, this is ultimately the opinion of the author – in other words, my opinion and my opinion only. But here's the thing to keep in mind, I'm not going to play favourites. If I did that, it'd be a completely different list than what this one will turn out to be. My plan is to be impartial, realistic.
Even then it'll be different than your list, so try not to freak out like a complete and utter maniac if you share a different opinion. However, this is indeed the internet, so such is life. In all seriousness, I hope you take something out of this. 
Anyway, let's get started with #20, shall we? We shall.
---
#20 
Harley Race
Known as the "Greatest Wrestler on God's Green Earth." Harley Race is not only a WWE Hall of Famer, he's also in the coveted NWA Hall of Fame, along with the Pro Wrestling Hall of Fame. He had so many accolades: 8-time NWA World Heavyweight Champion; 3-time AWA Tag Team Champion; 3-time NWA Florida Tag Team Champion, inaugural United States Champion (formerly known as the Mid-Atlantic Heavyweight Championship), etc. Regarded as one of the toughest dudes in wrestling history, he had a handful of memorable matches with the likes of Ric Flair, Terry Funk, Hulk Hogan, Dusty Rhodes and other iconic superstars. 
Race has always been a fan of professional wrestling. After overcoming Polio in his youth, he began training as a professional wrestler under the tutelage of Stanislaus and Wladek Zbyszko. While in high school, Harley Race found himself in a scuffle with another classmate, which the school principal tried to break up. During the fight, the principal kneed Race in the back of the head. An infuriated Harley Race took the situation into his own hands and proceeded to attack the principal, thus being expelled from school. I take it the principal wasn't the brightest, eh?
Race would later be recruited by Gust Karras (St. Louis wrestling promoter).
Harley would officially begin his wrestling career in 1960. The 70s and 80s, though, were arguably the years he came into prominence. He, like I had said previously, competed against a plethora of notable names. But before all that, he had a couple of odd side jobs in the business he'd do for the previously mentioned Gust Karras – most notably chauffeuring fellow wrestler Happy Humphrey (pictured below), among other things. 
After the odd jobs, he finally – while receiving pointers from other long-serving, seasoned veterans – got to wrestle more often. Race, 18, moved to Nashville, Tennessee wrestling under an unfamiliar name, that name being Jack Long. He would go on to form a tandem with kayfabe brother John Long. They would later take possession of the Southern Tag Team Championship. 
Race would continue to grind in the industry, but he would sadly almost end his career due to a fatal car accident. Furthermore, the accident would unfortunately end the precious lives of his first wife of approximately 1 month, Vivian Jones, and their undeveloped child. Promoter Karras heard the catastrophic news and hurried over to the hospital where Race was evidently rushed to. He got there and realized that the doctors were planning to amputate Race's leg, which he did not prefer to happen. Fortunately, doing what he did – desperately putting a stop to the scheduled amputation – saved Race's leg. Harley did recover from that particular part of the injury, but the doctors informed him that he'd potentially never walk again, ending any intention or dream of a wrestling career. A courageous Harley Race would, however, make a full recovery. 
In 1963, Race, through the territories, found his way in Boston now under the name The Great Mortimer. After his brief stretch there in Boston, in WWWF, he would move on to Amarillo, Texas where he'd then compete for the Funk family – finally under his legitimate name, Harley Race. There, he'd now fight along side his tag team partner, father of the late Curt Hennig, Larry "The Axe" Hennig. 
In 1964, Hennig and Race would join the American Wrestling Association (AWA) where they would be heels recognized as 'Handsome' Harley Race and "Pretty Boy" Larry Hennig. It would only be a year later, 1965, when they captured the AWA Tag Team Titles defeating The Crusher and Dick The Bruiser. That win would prove to be no fluke, as they would add two more AWA Tag Title reigns to their resume a couple years after. 
Hennig would later get injured in a storyline. As a result of that, Harley had to choose a new, fresh partner to work with. Which would be tag team specialist, Chris Markoff.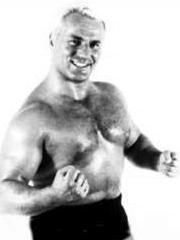 The duo wouldn't click like it did with Larry, because they were defeated in their initial title defense. As time went on, Harley would team with a multitude of talent, one individual being former professional American football player, Hard Boiled Haggerty. Upon Larry Hennig's 1968 return, he and Race would reunite, but wouldn't have the success they had years prior.
Race would eventually part ways with the AWA, now going from NWA territory to another, and so on. It was 1973 when Harley was finally given a proper shot on the big stage. He formed another team, and won the the NWA Missouri and Mid Atlantic Championships. Continuing In 1973, he battled Dory Funk Jr. in a NWA World Heavyweight Championship match. Despite Dory Sr. not wanting his son to lose, Harley Race, as planned, defeated Funk Jr. becoming the new champion. By this time, Race was a notable name in the industry – a big star. He won regional championship after regional championship. 
Speaking of championships, Race would win the NWA World Heavyweight Championship another time defeating Terry Funk by submission via the Indian Deathlock. That championship would then pretty much belong to Harley for the duration of 3-4 years, minus only a few days due to others having rather short reigns with the title during that time. Throughout those impressive years as NWA World Heavyweight Champion, Harley would defend the title against guys like Pat Patterson, Dick The Bruiser, Nick Bockwinkel and Dusty Rhodes. It was the latter, however, who would dethrone Harley Race – The American Dream Dusty Rhodes. This would occur in 1981. 
http://https://youtu.be/KLVeSAE_OOE
About a couple months later, a man by the name of Ric Flair would defeat Dusty for the title. Flair would then hold the title for a lengthy amount of time before Race got a hold of it again in 1983, defeating the Nature Boy – this victory would make Mr. Race a 7 time NWA World Champion. Flair and Race would feud for a while and Ric, this time around, defeated Harley for the NWA World Heavyweight Championship in a Steel Cage Match. These guys would continue to battle one another in championship matches throughout the following months.