Believe it or not, the end of the year is already upon us. With the end of the calendar year comes the time to reflect on entire year. If you ask me, 2019 was a banner year for NXT. From consistent blowout Takeover performances to going live on the USA Network, NXT has nowhere to go from up.
With that said, NXT hands out their annual yearly awards. Essentially, it is their version of the Slammy Awards. I am going to go through each category, and give you my picks for each category.
Future Star of NXT
As you can see, there is certainly quite a talented crop of individuals here, and it would be hard to pick just one. Xia Li showed some promise, and perhaps Tegan Nox's new beef with Dakota Kai could make her become a bright face for the women's division in NXT's future.
KUSHIDA is quite obviously the most notable name on this list, but due to injuries that he suffered this year, he wasn't really able to gain any real momentum. That is a shame since he had quality performances on NXT against the likes of WALTER and even Apollo Crews. While I don't think you can go wrong with anyone on this list specifically, I believe this award should go to Isiah "Swerve" Scott.
I think he has a great look, he is widely athletic in the ring and has a unique charisma about him that will lead to a solid career. The key for him in this new era of NXT on USA is to get consistent television time. I certainly think the talent is there to make it happen.
Isaiah "Swerve Scott
---
Breakout Star of the Year
Again, another loaded field in which you really can't go wrong. I heavily considered every factor, and in the end, I decided to go with Keith Lee. This year has been an absolutely spectacular campaign for him, especially from an in-ring standpoint.
All of Keith's momentum propelled him to having a coming out party at Survivor Series. Going toe to toe with Seth Rollins and Roman Reigns is clearly a big approval of the work he's put in thus far. Some of the most entertaining parts of NXT this year came during his matches with Dominick Dijakovic, where they pushed the limits of what big men can physically do in the ring.
Rhea Ripley would have been my choice, but I feel that her breakout momentum came a bit later in the year. Although now since she's NXT Women's Champion, 2020 looks to be her year. Candice LeRae also deserves some love for her feud with Io Shirai. In the end, however, Lee is who stands out.

---
NXT Tag Team of the Year
With all due respect to the other teams, this is an easy one. The Undisputed Era became the only tag team in NXT history to win three tag team championships. They started the year as tag team champions, and they ended the year as such.
I was happy for the Street Profits winning the tag team championship as I thought they were very much deserved. I also thought The War (not Viking) Raiders, had one of the best matches in NXT of this year, when they faced Ricochet and Aliester Black in New York.
However, no one consistently performed with the vigor and consistency that The Undisputed Era did all year long. When they themselves looked good, they would also make sure to put over their opponents and make them look good too. The tag team division of NXT has remained undisputed for some time, and in 2019, it remains that way. Props to O'Reilly and Fish for great performances all year.
---
Rivalry of the Year
I'm surprised that Dominick Dijakovic and Keith Lee was not here. Some of the other rivalries not listed here include Candice LeRae and Io Shirai, Rhea Ripley vs. Shayna Baszler and British Strong Style vs. Imperium.
I feel like Johnny Gargano vs. Adam Cole is the easy choice because it was for the NXT Championship and they nearly killed each other every time they faced off. However, I'm going with Io Shirai vs. Candice LeRae.
This feud was successful on so many fronts and didn't just serve as a spot fest spectacle that Gargano and Cole ended up being. With these two feuding, LeRae got her very first Takeover singles match, Io Shirai turned heel which has been beautiful to see, and it resulted in one of the best women's matches in NXT history.
If there is any gripe I had, it's that they tagged with each other at Survivor Series. However, since that was technically a WWE PPV, I'm not going to hold that against them. They were fantastic. That's all you need to understand.
---
NXT Match of the Year
We have a lot of worthy candidates here. If you look at the list of nominees, while it is extremely impressive, you could arguably say that some matches are missing. Ricochet vs. Johnny Gargano at Takeover: Phoenix, Aliester Black and Ricochet vs. The War Raiders at Takeover: New York, Matt Riddle vs. Velveteen Dream at Takeover New York and Pete Dunne vs. WALTER (also at Takeover: New York) could have been added.
In the end, I have decided to go with Johnny Gargano vs. Adam Cole from Takeover: New York. Some claim that it was just a spot-fest towards the end. I think that more accurately described the third match in their trilogy.
The bottom line is that match is arguably a top 3 match in NXT history. There were so many moments where you thought the match was over, just to see two of NXT's workhorses try to see who could withstand more. It just so incredibly satisfying and the two superstars worked seamlessly with each other. We all know Gargano delivers the goods on PPV more often than not. Cole's performance here is also worthy of just as, if not more praise.
It was a match worthy of the NXT Championship, and it was a long time coming for Johnny Wrestling.
---
NXT Takeover of the Year
Of all the award categories on this list, this one is perhaps the easiest one to choose. NXT Takeover: New York was not only the best Takeover of the Year, but it was probably the best Takeover ever. Hell, if you want to take it a step further, NXT Takeover: New York is arguably one of the greatest professional wrestling shows ever produced.
I guess it depends on your taste if you want to bring it up against promotions such as NJPW. However, this was the show that set the bar incredibly high. It got to the point where any match on a Takeover after that didn't approach five stars was seen as a disappointment.
The night started with an incredible, spirited battle between the War Raiders and Aliester Black and Ricochet. Everyone knew that Black and Ricochet were basically main roster guys now, and this was their swan song. What a way to go out. You knew they probably weren't winning the titles, but you could have fooled them. From incredible athleticism from the War Raiders to the amazing athletic spectacles that Ricochet displayed, this match had everything.
That was about as hard a match to follow as anything. However, that match was followed up with what I believe to be the most overlooked match of the year. That being Matt Riddle challenging Velveteen Dream for the North American Championship. It was one of the best performances of either two men in their NXT tenure, and the chemistry was incredible. When Riddle hit that German on Velveteen while he was draped over the apron and hit the senton after, the crowd lost it. Velveteen retained, and all because Riddle made a mistake.  I loved that finish.
Then, the show took a physical turn with Pete Dunne taking on WALTER. This had the appearance of an actual fight. The two men just kicked each other's asses through and through before Dunne just couldn't take anymore. From the sound of WALTER's chops to the stiff kicks that Dunne was hitting to counter, it was simply an incredible physical affair all around. If you wanted to end Dunne's long reign as UK Champion, that's how you did it.
The fatal four way was the weakest part of the show, but that's not an indictment, because it was still an entertaining sprint. That's all you can ask for out of a cool-down match before the main event.
I just described to you my feelings about the main event. So when you add all of those matches up, you have quite easily the best Takeover of the year and 2 and half hours of pure entertainment you won't regret watching. You can check out my review of the show here.
---
Female Competitor of the Year
The easy answer here is Shayna Baszler, seeing as how she will have been Women's champion every day this year. However, it's not that obvious, especially when you consider other factors such as performance and growth over the year.
Johnny Gargano didn't spend a day as champion last year, but he was also quite clearly NXT's best performer. Can we definitively say that Baszler, despite being the longest reigning NXT Women's Champion ever, had the best overall campaign?
I should preface this by saying that Baszler is a marvelous performer and knows how to work a match to make people hate her. She also has a style where she doesn't necessarily have to cheat in order to win (although she has cheated quite a bit).
However, if you were to ask me, top to bottom, who had the best overall year, I'm going to have to give it to Io Shirai. Her heel turn was marvelous and since then she's been one of the greatest female competitors on the NXT brand. Rhea Ripley has all the momentum in the world right now, but it's only been for a couple of months.
From her feud to LeRae to the quality of matches that she's had since, I will give Shirai the benefit of any doubt and recognize what a campaign this has been for her. But make no mistake about it, the women's division will belong to Rhea sooner than later.
---
Male Competitor of the Year
2019 was the year of the Undisputed Era, and the Undisputed era's leader, Adam Cole, was your male performer for the year. He proved to be NXT's workhorse, and had countless standout matches this year. Leading perhaps NXT's greatest faction ever, Cole eventually won the NXT Championship in an intense match and has been on quite a roll ever since then.
The Velveteen Dream had a tremendous run with the NXT North American Championship, but after his injury, we haven't heard from him ever since then. Johnny Gargano always gives 100% and is a marvelous competitor. But he lost the NXT Title on his first defense and hasn't really done anything monumental ever since.
Tomasso Ciampa spent most of 2019 rehabbing his neck. WALTER's run as UK Champion has been tremendously dominant, with signature matches with the likes of Dunne and another nominee on this list, Tyler Bate. However, in the end, Adam Cole reigned supreme amongst everyone else. Boom!
---
NXT Overall Competitor of the Year
You can basically copy and paste what I wrote about Adam Cole here. Above any other competitor NXT had to offer, Adam Cole was often the best. It shall be interesting to see what 2020 holds in store for the leader of the Undisputed Era.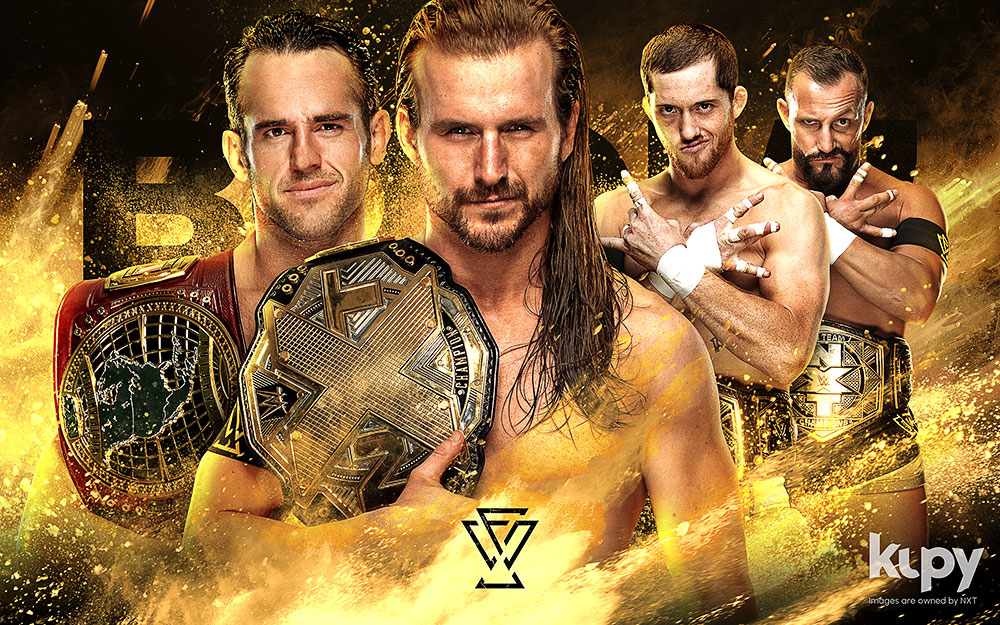 So, what did you think of my choices? Agree? Disagree? Let me know!