Hi everyone! Back to analyze the landscape of WWE after its annual shakeup, which didn't only move superstars from Raw to Smackdown, but also introduced NXT arrivals as well. My aim is to make the future clearer for each brand, and I'll only be looking at the possibilities for new arrivals and returnees. This is kind of subjective, so you may or may not agree with some of the choices, but it's ok as you can always leave any ideas I've missed in the comments. NXT arrivals are highlighted in gold.
Raw
AOP – My favourite tag team in ages (I'd say since DIY split up). While there was initially some resistance to their push in NXT, the universe grew to respect them for their intensity, chemistry, and the ability to work solid matches with the right opponents. Not a big fan of losing Paul Ellering (who was the perfect mouthpiece) .. but these days it helps to show your confidence and not come across as "foreign monsters who can't talk". It would've had more impact if they dropped Ellering in a few months, after he introduced and explained their history before seeing the back of him .. but something tells me Paul will go back to NXT and find a new team to mold.
Nevertheless, this is a formidable tag team built to dominant. They are not Road Warrior knockoffs, the AOP has its own identity. The only comparisons I see is in their size, and in their former association with Ellering. They'll write their own chapters now, and the WWE universe will have no choice but to endure long, violent chapters of pain. Boo them all you like .. it will only fuel them to destroy more. The following three matches are what I'm looking forward to seeing in no particular order:
vs. The Revival
vs. The Ascension
vs. "Woken" Matt Hardy & Bray Wyatt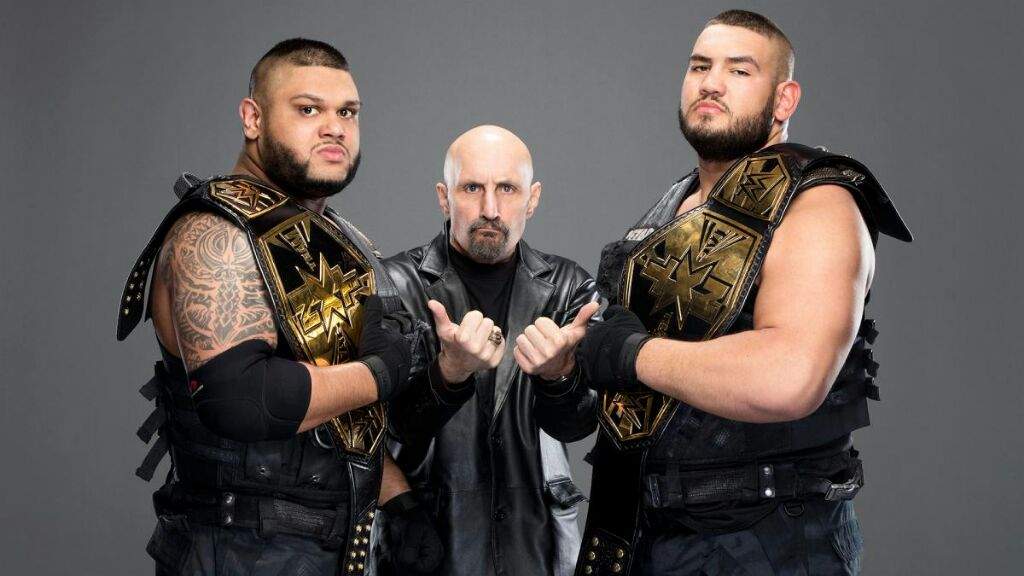 Bobby Lashley – You can tell when someone's never seen TNA (Impact) as they'll say "Wow! Lashley hasn't aged a day! Can he still go?". The fact is, I never understood why WWE let him go in the first place. Assuming Vince saw no money in him, Lashley was let go after being pushed heavily in the revived ECW brand. Vince worked overtime, but after throwing everything but the kitchen sink at him .. fans didn't seem to care. Lashley was set to feud with Cena, but it fell through and he later debuted with TNA Impact (back when it was still called TNA, and before Hogan ruined it) in 2009.
It took him a while, but Lashley did eventually improve his ring work and mic skills. Dixie Carter gave him the opportunity to be a wrestler and a fighter, which suited him more than working the WWE schedule. This was likely a selling point for keeping him in TNA, as he knew he'd be able to fight in Bellator and other events without feeling guilty for skipping shows. In his time at TNA Impact Wrestling, he held the World Championship four times. And much like Kurt Angle, he held all of Impact's singles championships at one time.
I say he could get better still, but he's certainly become a more rounded athlete and entertainer for WWE's purposes. They can sell him now, and he should be around for a few years to come. Did you know he's 41? He's still going strong and hasn't had to deal with many serious injuries, so don't expect a retirement soon. Five matches which I think suit him below. I only picked Reigns 'cos I want to see The Dominator dominate him.
vs. John Cena
vs. Bobby Roode (lots of history)
vs. Braun Strowman
vs. Roman Reigns
vs. Brock Lesnar
Dean Ambrose – Technically not a returnee, but he's very close to it. I have a love/hate relationship with this guy .. I can see the potential, but his gimmick grinds my gears. So he's a lunatic fringe? What makes him a lunatic exactly? A few silly comedy sketches? The amazing ability to be completely stupid and run in to impossible situations? I don't get his deal, and I don't understand what his gimmick is meant to be.
Also, I feel his ring work has regressed since his days with The Shield. I desperately want a heel turn. I want a heel turn for Ambrose more than I want a Cena or Reigns heel turn (I'm just imagining some pulling their hair out at that comment). Make him cocky like Piper, brutal in the ring like Cactus Jack, and perhaps a little calculating/manipulative, and we might just begin to find out who the real Lunatic Fringe is. He's got the tools to be hated, so I think WWE should start using them. Matches below assume he's working heel .. I'm not interested in any match where he works babyface.

vs. Bobby Roode
vs. Drew McIntyre
vs. Seth Rollins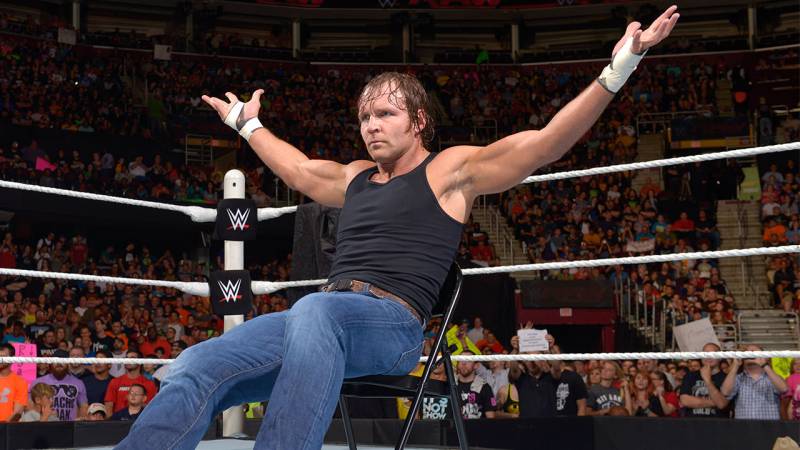 Drew McIntyre – He's just like Lashley, WWE figured he didn't have what it takes to sell at the highest level. So "Drew Galloway" went back to Scotland and started from scratch. He travelled the world and worked extra hard to become an international star. He showed up in Impact Wrestling and soon became World Champion. He left and went to NXT, and again, soon became NXT Champion. Now he's in a team with Ziggler, but I don't think it's going to last long. The fans were very happy to see him, so I think Vince will take note and push him when the time's right. His only weakness is a tendency to get injured. He needs big matches, so literally anything better than what he had last time he was with WWE. They need to give him the Jinder Mahal treatment.
vs. Finn Balor
vs. John Cena
vs. Roman Reigns
Mike Kanellis – We've only seem glimpses of what he can do in WWE. I've seen his work in ROH and Impact, and I just think he needs to carve out a new identity. He's too much like other heels, and wife Maria seems to steal his spotlight. I think not going to NXT first was the wrong idea, but he had issues anyways .. so it's good he had time to overcome them. Literally anything would be good for Mr. Kanellis at this point in his career. He may easily get lost in the shuffle if they keep calling up NXT guys though. They could partner him up with Curtis Axel and Bo Dallas now The Miz is gone?

vs. Chad Gable
vs. "Woken" Matt Hardy
vs. Breezango
No Way Jose – I was shocked when I heard "No .. way .. Jose! … No  .. way .. Jose!" blast out from my TV. He may have done an Apollo Crews on it, getting called up from NXT too soon. He was like .. a typical mid-carder in NXT, never won a title, or had many opportunities to challenge for a title. The gimmick is his saving grace, we ain't seen someone pump up the crowd like that since .. umm, Adam Rose? The Funkasaurus? Yeah .. I guess it's a gimmick which will work til the crowd gets sick of the same repetitive song and dance. I'm hoping WWE has plans for him though, as he comes across a really cool dude. He just needs programs, and preferably with heels he can interrupt with conga lines.

vs. Elias
vs. Goldust
vs. The Titus Brand
Ember Moon – She had it rough when she worked up the ranks to NXT, as she walked face first in to the brick wall that was Asuka's undefeated streak. She couldn't beat her, and it took Asuka leaving NXT to finally claim the championship. She defended it against Shayna Baszler, but it was only a matter of time til Ronda Rousey's fighting buddy figured out "The Shenom" (I hate the nickname and it needs to die!) and took it. Now she's on Raw, Ember has the opportunity to forge a legacy by defeating the best in the world. The Eclipse is one of the most devastating, and most difficult to set up .. finishers we've ever seen in the women's division. She'll be glad Asuka moved over to Smackdown, but they will cross paths again one day.

vs. Alexa Bliss
vs. Ronda Rousey
vs. Sasha Banks
And that's all folks! Smackdown Live will be posted either tonight or tomorrow. Are there any matchups you're looking forward to? Then don't be shy, let us know what you think! Thank you very much for reading. This article is dedicated to the memory of The Living Legend Bruno Sammartino. May he Rest In Peace, the longest reigning WWE Champion of all time. Written by Kyle Dunning of ewrestlingnews.com.
You can keep up with all your wrestling news right here on eWrestlingNews.com. Or, you can follow us over on our Twitter and Facebook pages.