PPV Prediction: Royal Rumble 2015
As cliché as it sounds, the road to Wrestlemania truly does
begin this Sunday. This year's Rumble card features mundane midcard filler
matches, followed by two strong main events. Regardless of how the rest of the
card is, the Royal Rumble itself is generally thrilling enough to carry it. With
returns, swerves, and pops (oh my!), The Rumble is still something to get
excited about. It also cements a star in the main event of Wrestlemania, which provides a great outlook of the direction of the company. My earliest wrestling memory is of Shawn Michaels winning his
first Royal Rumble, so this event will always have a special place in my heart.
As speculation runs rampant during Rumble season,
predictions generally do not line up with the actual results. In this case,
that would be a good thing. WWE needs to incorporate swerves and surprises into
their storylines more often, as it keeps the product fresh.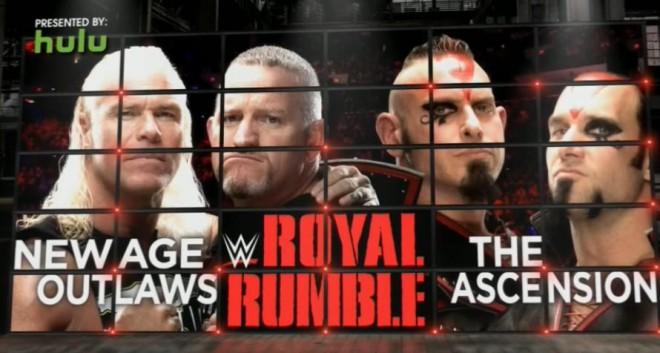 New Age Outlaws vs. The Ascension
Winner – The Ascension
Rating: 2.5/5
While some people saw the legends spot on Raw as a premature
burial for the Ascension (see Rob Conway), I saw it as an opportunity. This
gives the Ascension some credibility to their on-air claims. The New Age
Outlaws were a dominant team of the past (and have recently held the tag titles
as well), so this will provide a slight boost to their credibility. The match
itself will likely be not what we expect from the former NXT champs, as they're
working with dated stars. The Ascension need this win in order to continue on a
path to the tag titles and to keep their careers afloat. Expect a quick 5
minute match, with a few spots.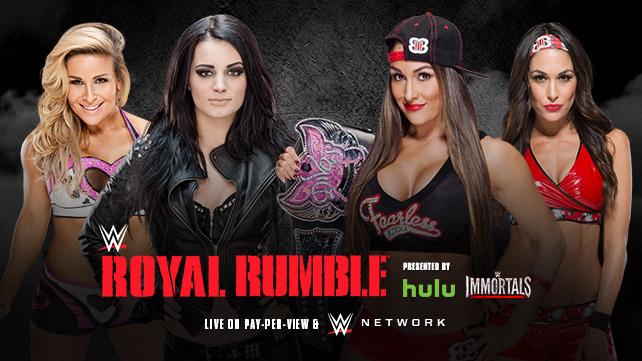 Paige and Natalya vs. The Bella Twins
Winner – Paige and Natalya
Rating: 2/5
Having Paige & Natalya win sets up a title match over
the next few months that can potentially lead to Wrestlemania. Nikki should win
this in order to establish her dominance as champion, but that will unlikely be
the case. Expect this match to take place between the title match and the
Rumble. Don't expect anything outside of what you have seen on Raw.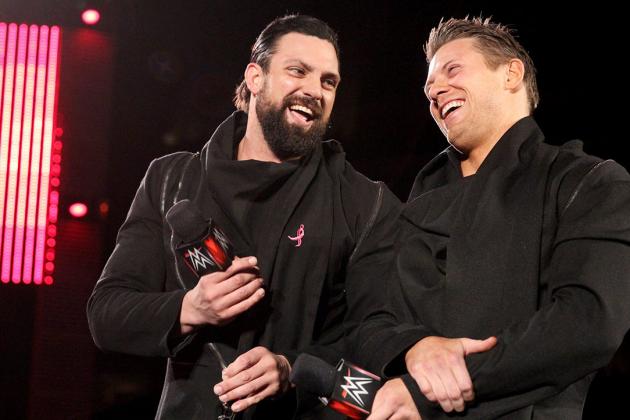 The Usos vs. The Miz and Mizdow (Tag Title)
Winner – The Usos
Rating: 2.5/5
I can't imagine that this pairing will show us anything that we have not seen yet. Their feud is well overdone, and this is (hopefully) the blow off match. With the speculation of the Miz and Mizdow splitting in the Rumble match, it would not make sense to give them the titles. Usos to retain.
Brock Lesnar vs. John Cena vs. Seth Rollins (WWE Title)
Winner – Brock Lesnar
Rating: 3.5/5
This match has the potential to be an amazing match. Brock's
power and technical ability, Cena's power, and Rollins' overall in-ring work
should provide an entertaining match. Brock Lesnar retaining the title sets up
for passing the torch to a newer star at Wrestlemania. Whether the winner is
Bryan, Reigns, Ambrose, or another, beating Brock Lesnar at Wrestlemania will
elevate them (even though Bryan has won the Wrestlemania main event last year).
This could also set up for Seth Rollins cashing in MITB post-main event at
Wrestlemania, which would elevate him to his top spot. Any other scenario seems
like a waste for the only man to defeat the Undertaker at Wrestlemania.
2015 Royal Rumble Match
Final Four – Reigns, Bryan, Ambrose, Wyatt
Most Eliminations – Rusev
Iron Man Award (longest lasting) – Dean Ambrose
Minute Man Award (quickest to be eliminated) – The Bunny
Winner – Roman Reigns
Rating: 4/5
This match has the potential to be one of the stronger
Rumbles of the past ten years. This Rumble includes many young new and/or
future main eventers, such as: Daniel Bryan, Rusev, Reigns, Barrett, Ambrose,
Stardust, Mizdow, Ziggler, and Ryback. 2012 and 2013 have included one NXT star
in the Rumble. WWE has also released a survey which asks who the fans want to
see in this year's Royal Rumble. Expect at least one of those stars to show up.
Although some Rumble fodder has been announced (Los Matadors), and some are
speculated to show up (The bunny), the core group of superstars will likely
endure through the majority of the rumble.
As far as progression goes, this Rumble will be key, as
usual, in paving the road to Wrestlemania. The Miz & Mizdow will ideally
start to splinter during the match. If we are to ever see a Goldust vs. Cody
Rhodes Wrestlemania moment, this would be the best time for it to start
(although unlikely). Rusev will be poised for a strong performance, which will
carry until a midcard spot at Wrestlemania against someone who can hopefully
elevate him. Bray Wyatt and Dean Ambrose will likely play important roles, but
not win. It will still poise them for midcard Wrestlemania spots. I personally
hope for Kane to break HBK's record for most eliminations. As a man who has
dedicated his entire adult life to the business, he deserves to have that
record to go along with his current record of most Rumbles entered. Finally, Roman
Reigns and Daniel Bryan will the true centers of attention, as they are still
the frontrunners to win.
**Post your Royal Rumble prediction below, with the following format:
Final Four –
Most Eliminations –
Iron Man Award (longest lasting) –
Minute Man Award (quickest to be eliminated) –
Winner –