Hi everyone. Apologies for my absence .. been busy with life. I make it a habit each year of reviewing Wrestlemania as part of my ongoing Wrestlemania series of articles. I ain't formulated many opinions on this years hype; which is strange as I normally have a lot to say. I feel like WWE has turned a corner the past year or two, and I'm interested in seeing new and old faces working the flagship event. Consider this a light, casual review on five Wrestlemania 33 matches I'm looking forward to. Not because my favourites are involved .. but because I believe they're more likely to steal the show in one way or another.
But wait .. what about the other matches? Please understand that when I decide not to mention them, in no way am I implying they can't steal the show and/or I'm not looking forward to it. Honestly, I am looking forward to the entire card .. but previewing 12 matches would be overkill with the time I have available. Please let us know which matches you are most looking forward to in the comments section?
#5 – Neville vs. Austin Aries for the Cruiserweight Championship.
I've been a fan of these guys for years, so I can't be happier to know I'll see them square up at Wrestlemania. The problem with the Cruiserweight Division is that it hasn't produced a seriously exciting rivalry yet on Raw (Gallagher vs. Daivari the exception?), and this could be the beginning of a memorable one. Aries and Neville has what it takes on the microphone and in the ring to take the division to a level which could, just maybe .. get casual fans to appreciate the cruiserweights.
It's a long shot but if anyone can do it .. it's Neville and Aries, so long as they given enough time and not relegated to the pre-show. It's so hard to call because they've built Neville up so well, but Aries is loved by the fans and has to make a name for himself at Wrestlemania. As an English Northerner .. I reluctantly side with Aries.
#4 – Chris Jericho vs. Kevin Owens for the United States Championship.
It's extremely personal but this is where Owens excels. Jericho looks like he's digging the catchphrases and playing to the crowd; which is great to see as he's said in interviews how much he dislikes playing the face. He knows by getting everyone on his side it will benefit Owens in the long run. Jericho is going to put Owens over and make him look like a credible threat again .. after being squashed by Goldberg and Lesnar in recent weeks.
It wouldn't make sense for Y2J to win .. and as much as I love the guy, he needs to be make a star out of Owens. It has to be the goal .. so expect some fireworks in their match. It should be No Disqualification. It should be bloody. Expect clever cheating from Owens to steal the title if they don't change the stipulation.
#3 – Shane McMahon vs. AJ Styles.
I'm guessing this is the "Plan B" for AJ after Shawn Michaels turned down coming out of retirement. Regardless of the lost opportunity, Styles vs. Shane will be one to remember. I wouldn't be surprised if Shane changes the stipulation to a Street Fight at the last-minute so they can use weapons freely. I believe AJ will pick up the win with two possible outcomes: 1) AJ will show respect to Shane for withstanding so much punishment and the feud will end, or 2) Shane will show why he's a McMahon and go against all his principles and business sense to take AJ out for good. This would set up a full-time talent to feud with AJ on Shane's behalf.
Either way .. Styles is too liked to be the bad guy on Smackdown. No matter what he does he'll always have the support of loyal fans, so I think it's the right time. AJ needs to be the face of the blue brand, WWE has to make use of him while they can. Beating his own boss at Wrestlemania could (and should) be the platform to greater things for The Phenomenal One.
#2 – Goldberg vs. Brock Lesnar for the Universal Championship.
I don't care whether you love it, hate it, or have no feelings for it .. this will be memorable on many levels. The buildup's been cleverly thought out and sold by Paul Heyman mostly, but I will give it to Lesnar and Goldberg for playing their parts. It reminds me when I'd stay up til 3am watching a Boxing PPV with my Dad, and the main event always featured the biggest guys for the World Championship. I was too young to know who they were (damn.. I was watching live when Tyson bit a chunk out of Holyfield's ear), but it didn't stop me being intrigued by the prospect of the two hardest hitting athletes in the world going all out to destroy one another with a clever sequence of punches.
Goldberg and Lesnar is the same thing but in wrestling form. Much like in the 70's when English wrestling audiences flocked to see Big Daddy vs. Giant Haystacks, the world will flock to see the big attraction at Wrestlemania. It's not going to be pretty. It's not going to be a five-star Dave Meltzer classic. Hell .. it probably won't last five minutes. But you know what? People will remember it and gossip over it the next day. Wrestling fans will remember when Goldberg and Lesnar clashed for the last time on the grandest stage.
As Heyman put it .. "it's a can't lose situation for both men". On this basis, Goldberg could easily lose the title and retire .. but Lesnar cannot. The only way he will become "The Beast" again is to beat Goldberg for the title. Lesnar will win .. and if he doesn't I have no idea how his character recovers. Likely to be a predictable result, but I'm still looking forward to how it will go down. The attraction for me is seeing if and how Lesnar will beat someone he has yet to beat.
#1 – The Undertaker vs. Roman Reigns.
Crazy match on many levels. I'm anticipating the crowd .. it's going to be as Eric Cartman would say "hella loud". Reigns is displaying heel tendencies despite being booked against heels, so it's difficult to know how to feel when he claims it's "his yard now". Is he going to take it to another level and retire Undertaker for good? Just imagine it .. Reigns has Undertaker destroyed, he goes for the cover .. late two-count! The fans will gasp frantically. I think many are still trying to accept when Lesnar defeated Taker's streak a few years ago .. so could he lose to Reigns as well? Preposterous. No chance in hell is that happening. But then again .. it's WWE and Vince McMahon we're talking about here. That's the dilemma!
Anything could happen. Anyone who doubts Vince's logic will be screaming at their screens. The internet is going to explode .. but The Undertaker will win in the end and everyone will breathe a sigh of relief. I have faith in WWE to not be stupid enough to book Reigns over The Undertaker. I guess if they want to make Reigns one of the biggest heels of all time .. why not piss off every old school fan? Wouldn't it grind their gears so hard? WWE could consider this .. but if Wrestlemania 33 needs to be Taker's last match (due to health reasons) I hope he goes out in style. If he needs to bow out .. it can't go down like WMXXX. He has to go down swinging like life depends on it .. just like The Undertaker we've known and loved for years. The fans will not accept anything less.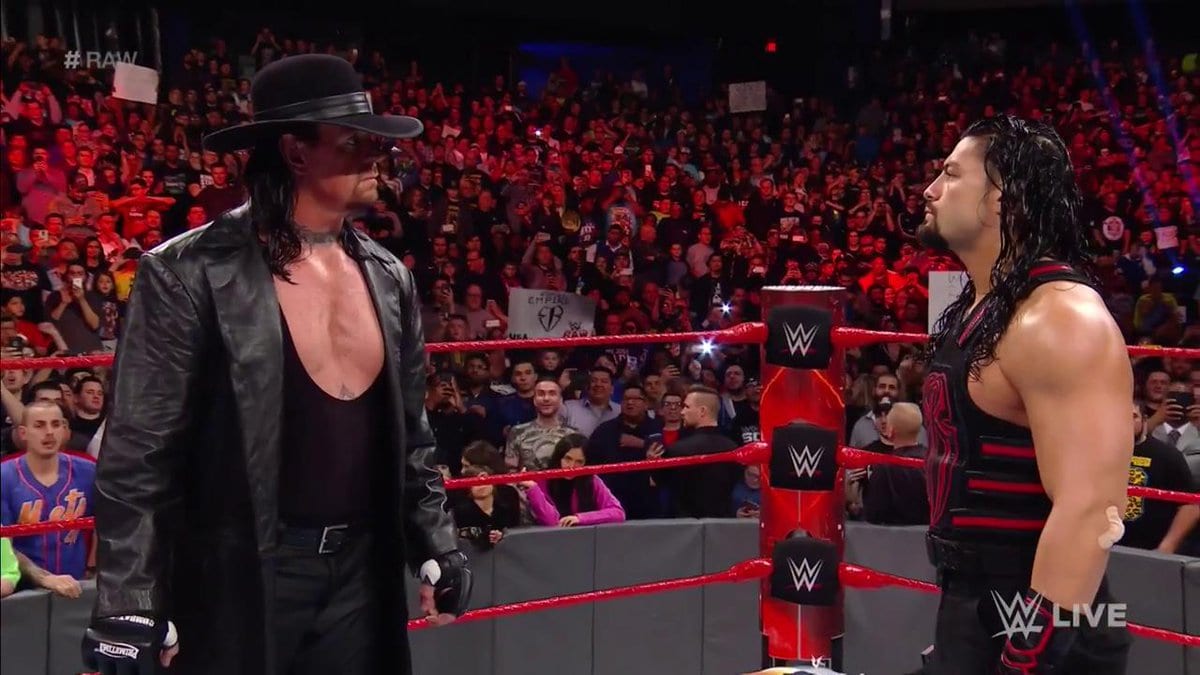 Thanks for reading!