Off of the latest WrestleMania 33 rumors, there was a lot that immediately came to mind. Ten matches are already being rumored for the main card, but I can't help but see that there is a lot missing. Allow me to review this potential card match by match.
RAW Matches:
Bill Goldberg (C) vs. Brock Lesnar – WWE Universal Championship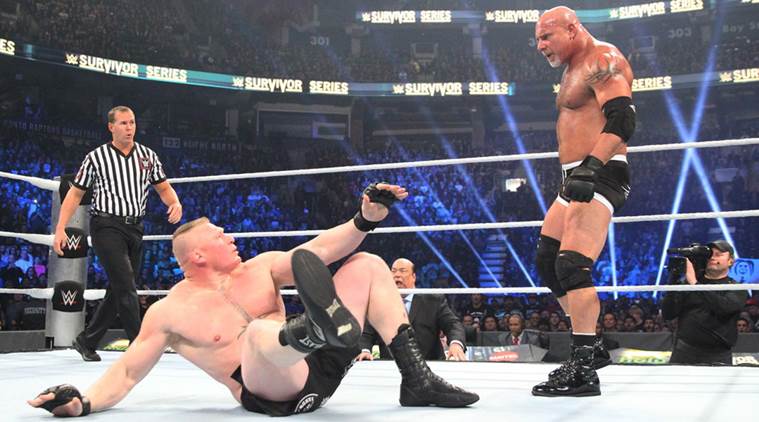 I think it's obvious Brock is going over here, but that's what makes the booking of this so confusing. Goldberg has done away with Brock within a COMBINED 2 minutes in their encounters at Survivor Series and Royal Rumble. If I were to tell this to a WWE fan who doesn't look at WWE booking tendencies, why should they believe Goldberg has any chance of losing? It's a serious question. A part of me believes that this match will be a quick squash in favor of Lesnar. Maybe Lesnar dodges the spear and catches him in consecutive F-5's. I also don't think that the match will be very long, just because it's been seen that Goldberg hasn't been in any extended action upon his return (he does look visibly winded after doing minimal work), and I don't see him going very long here. Now this title match is on the assumption that he beats Kevin Owens for the Universal Title, and while Goldberg/Lesnar certainly doesn't need the title, it does seem likely. However, I would absolutely loathe Lesnar holding another title just for him to come on RAW periodically and only fight for big matches. Back when Lesnar won the WWE Title about two and a half years ago, (he won it at Summerslam), he didn't defend the title at Hell In A Cell, TLC, Survivor Series or Fastlane. I'm afraid we'd be in for a similar fate with Lesnar holding the Universal Title. I hear WWE doesn't want KO walking into WrestleMania as Universal Champion, but Bray Wyatt is rumored to be walking into WrestleMania as WWE Champion. Like, come on.
Seth Rollins vs. Triple H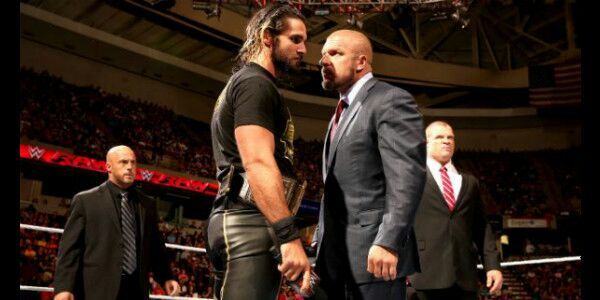 Now, of course, this match is up in the air due to Seth Rollins' knee injury I am certainly hoping that he can return in time for WrestleMania, because it'd be a shame if someone with his talents would have to sit back to watch the past two WrestleMania matches. This match has been pretty much one and a half years in the making because their rumored dissension has been going on since right before Rollins went down with his first knee injury. Usually, feuds culminate at WrestleMania, and Seth Rollins vs. Triple H not happening at WrestleMania would really put WWE in an awkward position, because Rollins facing Joe to get to Triple H would the most logical way to go, and it would then make Triple H's new WrestleMania opponent even more awkward. It's been rumored that if Seth isn't cleared to go, Samoa Joe could move on to Smackdown to face John Cena. The other alternative is somehow within 10 weeks, Samoa Joe finds a reason to turn on Triple H and the two have that match. Either way, the outcome isn't what a Seth Rollins match would bring. Seth would probably go over here to finally get his revenge, but if history has shown us anything, Triple H can always book himself to win a match he has no business winning, like his WrestleMania match with Sting two years ago.
Kevin Owens vs. Chris Jericho
This is another match that has been in the making for quite some time now. Chris Jericho and Kevin Owens formed a bond in the summer of last year, and have been practically inseparable for the majority of their time together. They have teased tension between the two and went as far as to temporarily ending their friendship. However, the two have rekindled their flame of friendship, and since then, Owens has since successfully defended his Universal Title against Roman Reigns and Chris Jericho won the only title that has eluded him, being the United States Championship. Now, the only question that remains is whether or not this will be a match for the US Title or if Jericho will drop the title to someone else (if anyone, it's probably Sami Zayn) beforehand. Putting the two of these men in a Universal Title match was what would make the most sense between the two in the context of their friendship, but what we got is what we got. I can see why WWE doesn't want KO to hold the Universal Title going into WrestleMania, but is Brock Lesnar really a better alternative? Anyways, Jericho's tenure in WWE is set to end at around May, so it may only make sense to give the younger KO the rub in this match, but I believe it would have much more incentive if a title was on the line.
RAW Women's Championship: Charlotte (C) vs. Nia Jax vs. Bayley vs. Sasha Banks
Here we have the four primary attractions for the women's division on RAW combined into one match. I think it's clear here that Bayley will get her WrestleMania moment, and while Nia Jax isn't Becky Lynch, I certainly think this match can produce the goods if given enough time. I think this would also be a great way to facilitate a heel turn for Sasha Banks if she were to be the one to take the pinfall at WrestleMania. Since the two have a history with each other from their NXT days, I think the rest can fall into place. Meanwhile, Charlotte's work as top dog for the RAW Women's division ought to be commended because nobody has been able to touch her in terms of the consistency of her ring work and how she's able to carry the roster. Nia Jax has also served her role well as a monster heel, and while I believe there are certain things that she can work on, I'm sure she will get her shine sometime down the line. I don't really have any complaints here.