Today I'll be bringing a preview for the unique PPV All In, using the tagline "The Biggest Independent Wrestling Show Ever". The show is produced (and to be conducted) by Cody Rhodes and The Young Bucks (Matt & Nick Jackson). The show came about over a tweet from Dave Meltzer responding to a fan asking if ROH could ever sell an event with over 10,000 tickets. Cody Rhodes responded to the challenge with the following tweet .. and over a year later, All In is on the horizon and was sold out months ago.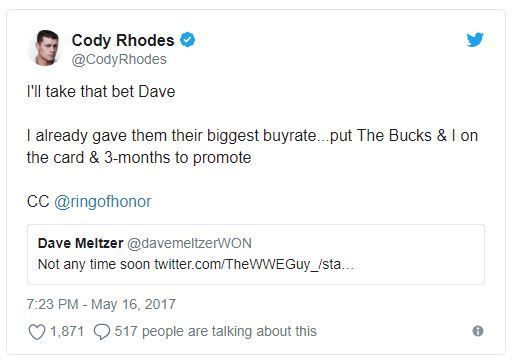 While the event is independently produced, talents from ROH, Impact Wrestling, AAA, New Japan and the NWA will be featured. Despite working on WWE TV and being promoted as a playable character in the WWE 2k19 video game, Rey Mysterio will work a tag team match. Arrow's lead actor Stephen Amell will also be there to work his first-ever singles match. Rumours for the PPV include possible shock appearances from CM Punk (it's in Chicago) and recently released Neville. The event marks the first time since 1993, an American promotion other than WWE or WCW will produce a show selling over 10,000 tickets.
Back in May of this year, tickets for the event sold out in 30 minutes despite only one match being announced. Commentators announced included Don Callis & Alicia Atout (Impact), Ian Riccaboni & Bobby Cruise (ROH), Excalibur (PWG), and former WWE personnel Justin Roberts & Sean Mooney. A pre-show called Zero Hour will air the hour before the event.

Cody Rhodes vs. Nick Aldis – NWA World Heavyweight Championship
Defending the NWA World Heavyweight title is Nick Aldis AKA Magnus. Cody Rhodes looks to follow in his Father's footsteps by winning the same title which made him famous. It will be the biggest stage for the NWA title since the partnership between the NWA and TNA Wrestling over a decade ago.
Marty Scurll vs. Kazuchika Okada
Another big singles match includes Kazuchika Okada taking on the upcoming star of "The Villain" Marty Scurll. A year ago, this would have been very one-sided in Okada's favour, but Scurll's proven himself in recent months. Not to Okada though, who labelled him a "junior heavyweight", implying Scurll had not yet earned his right to be in the big leagues. Okada doesn't have much to gain from this, other than saving himself from embarrassment, while a win for Scurll would solidify him in ROH & NJPW as a threat to any champions title.
Joey Janela vs. Hangman Page in a Chicago Street Fight
Next up is a thrown together mid-card match between Bullet Club's Hangman Page and Joey Janela. It was booked because Janela greeted Matt Jackson & Marty Scurll, which Jackson didn't take too kindly. After little build, it was decided they'd have a Chicago Street Fight. I guess? Why not. Page said he's a "Joey Killer", and Janela will be followed to the ring by Penelope Ford. Not much more to be said.
Rey Mysterio, Fenix & Bandido vs. The Golden Elite
Next up is a potential show-stealer of a six man tag. On one side is The Golden Elite, including The Young Bucks & Kota Ibushi. On the other side, stands Bandido, Fenix, and Rey Mysterio. It promises to be so full of high-flying you'll feel bad for 205 Live. Fenix is exceptionally athletic and has been compared to Mysterio, so to have them on the same team should be interesting.
Can the luchadors overcome the might of The Golden Elite? Will their chemistry be enough? Will The Young Bucks be quick enough for a super kick party or two? There's so much that could happen, and most probably will. Don't blink or you'll miss something. Rey wants to prove he can still go as good as anyone.
Christoper Daniels vs. Stephen Amell
The storyline for Stephen Amell vs. Christopher Daniels seems a little .. farfetched. Back in April, Joey Ryan was "killed" in a Japanese hotel room. A couple of months later, the police arrested Amell under suspicion of Ryan's murder. Over a month later, it was revealed Christopher Daniels had framed Amell, and the latter was released from prison. A few weeks later they had a confrontation on "Being The Elite", with Amell claiming he would put Daniels through a table, much like he did in his ROH debut. Cody told Amell that challenging Daniels in his first-ever singles match would not be an easy feat. I don't know what to make of it, but I do know Daniels will carry it, and the match will be as good as Amell can go.
[Amell] – I was prepared to be civil… and then @facdaniels did his entire promo wearing a Marvel shirt. Dick.
---
Pre-Show Matches: Battle Royal & Tag Team Action
The tag team match will see 10-time World Champions The Briscoe Brothers, taking on the team of SoCal Uncensored (Kazarian & Scorpio Sky). Not much to say about that, it should be a decent opener. The Battle Royal's currently announced participants are as follows: Jordynne Grace, Moose (Impact), Rocky Romero (NJPW), Colt Cabana (ROH), Ethan Page aka Chandler Park (Impact), Brian Cage (Impact), Billy Gunn, Jimmy Jacobs (Impact), Marko Stunt, Brandon Cutler, and Punishment Martinez (ROH).The winner will face Jay Lethal for the ROH World Championship later in the night. My money's on a ROH guy; probably Cabana. If it's not a ROH guy, it makes the title match too predictable.
---
Madison Rayne vs. Britt Baker vs. Chelsea Green vs. Tessa Blanchard
Nothing on the line yet .. interesting, as they're all at different points in their careers. After years as a TNA/Impact Knockout, Madison finally got a chance to shine in WWE working the Mae Young Classic. Time will tell if the former Queen Bee will become part of NXT, or fall back on what she knows. Britt Baker is the biggest unknown, she's worked the indies for the past few years, but is more known for her relationship with NXT star Adam Cole.
Chelsea Green is formerly known as Impact Knockout Laurel Van Ness. She went to WWE tryouts lately, and was predicted to be signed up and placed in NXT. But it's yet to happen, and her featuring at All In tells us she may have yet to prove her worth to management. Tessa Blanchard is a diamond. The daughter of Four Horsemen member Tully Blanchard is doing everything to get noticed. As an Impact Knockout she's taking the next step, and her explosive power and entitled demeanour enjoys plenty of airtime. So it makes this match tough to call. My money's on Tessa, but it's never safe betting on a fatal four-way.
---
Kenny Omega vs. Pentagon Dark
Oh man .. it's hard to describe the potential here. It's likely to be the best singles match of the night. I'm not a big NJPW or Lucha Underground supporter (I catch what I can; time constraints), but I've seen plenty from both to understand the magnitude. Pentagon's made Impact a better product this year, and he's only playing the babyface. I'm still waiting for him to go dark so we can see his character at his absolute best and worst on Impact. As for Kenny, he's become a star in the last few years and is clearly teasing WWE with his drawing power. It's no secret WWE's looking for talent, and Kenny's one of the biggest targets around.
But what makes this huge is the work rate of these men. Pentagon carries matches much like Kenny does, so we're getting two of the hottest, hardest workers in the business in a straight up contest. We got the potential for outside interference, but I'm assuming they'd rather steal the show. I'm trying to imagine the brutality and the ovation which will undoubtedly follow. We're expecting something in the 4.5-5 star ratings, and if they're truly going "All In", then they have no choice but to deliver an instant classic. The trailer gives me goosebumps, and it's nice to feel that way. Thrilling is the word.
It feels great to be a wrestling fan in 2018 when we see events like these being advertized. The future is bright, there's talent everywhere you see, and wrestling fans are looking for a change from the normal routine. Promotions are coming together to get wrestling over, and the success of All In could be a stepping stone to greater things. I wish them the best of luck, and I'll be here on time to post a Viewing Party right here(!) on EWN, so everyone can watch the show and share their experience. Which match do you think will steal the show? Do you think we'll have any surprise guests? And could this become an annual thing which remains independent and inviting of many promotions talents? Thanks for joining me, and I'll see you for All In, September 1st at the Sears Centre.
You can keep up with all your wrestling news right here on eWrestlingNews.com. Or, you can follow us over on our Twitter and Facebook pages.