Before heading off to work, I wanted to give you all my brief thoughts regarding the WWE Championship match that takes place this Sunday at the SmackDown exclusive pay-per-view, Backlash. Here is the current card in its entirety:
– WWE Championship:
Jinder Mahal vs. Randy Orton (c)
– United States Championship:
AJ Styles vs. Kevin Owens (c)
– Tag Team Championship:
Tyler Breeze & Fandango vs. The Usos (c)
– Shinsuke Nakamura vs. Dolph Ziggler
– Six Woman Tag Team Match:
Charlotte, Naomi & Becky Lynch vs. Natayla, Tamina & Carmella
Jinder Mahal is competing for the most prestigious prize in the business. Weird, right? The most unsuccessful jobber in recent times is receiving a crucial push. To be quite frank, although I'm not a fan of his, his recent promo work has been pretty good. Nothing top notch, but decent. I don't know, he kind of treats the title as if it's important. Which is obviously what you should do.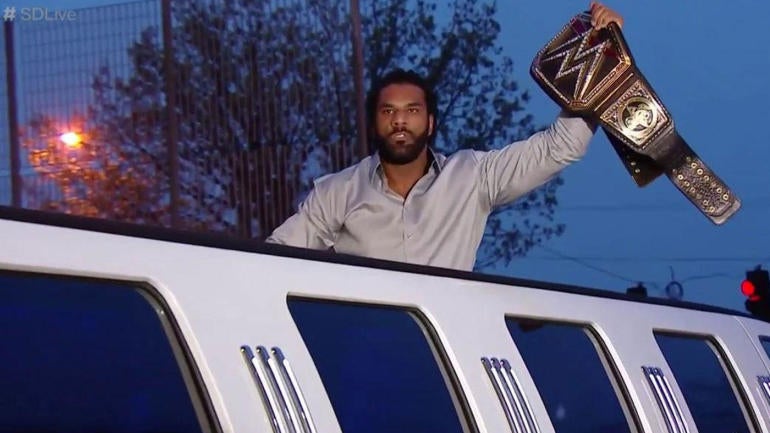 However, current Champion, Randy Orton has failed at that. To me, Randy Orton is just the stale veteran that carries the World Title. When I see him on my television, I don't say "Oh look, it's the WWE Champion! The most prominent star in the company! The top guy!", I say "Oh look…it's the dude that holds the WWE Title…Cool…Next match!". He doesn't care anymore. Randy Orton is as bland as you can get. He does nothing for me. He doesn't amuse me one bit. Which is saying something, because I was once a fan of his.
Quite frankly, the last time I appreciated his work, to an extent, was in 2009, where he was truly the essence of what a heel should be. For the most part, his notable feud with the McMahons and Triple H during that time was compelling. Overall, that version of Randy Orton wasn't half bad.
Since then though, he's been the most repetitive, uneventful star in WWE. Sometimes, I feel like he doesn't even care about his job.
In the end, who do I want to be victorious, this Sunday? Honestly, Jinder Mahal, for various reasons. Firstly, I'm fundamentally anticipating hysterical laughter from fans knowing the biggest jobber in WWE is the World Heavyweight Champion. Secondly, a Randy Orton title reign simply doesn't fancy me at all. But who's ultimately going to win the match? Randy Orton. No doubt about it. It's been rumored that he has upcoming feuds with AJ Styles and Baron Corbin- Guys who are more plausible as title holders in comparison to Jinder. So expect to see an RKO "outta nowhere" this Sunday. Perhaps even a headlock or a dive.
That's my take. Any thoughts you wish to express, feel free to do so down below.