It is Money in The Bank season, which means fortune may (or may not) change for the superstars who can climb the ladder, grab the briefcase and call themselves Mr. or Ms. Money in the Bank. With that said, a little reflection on the previous 20 winners is in order to determine what makes a good Money In The Bank briefcase order.
There were many factors that went into my rankings. Primarily, the strength of the actual cash-in itself, the way the character developed with the briefcase, and their relative strength were all considered. With that said, here are my rankings for every Money in the Bank briefcase holder from worst to best.
---
20. Damien Sandow (2013)
If I could have your indulgence for a moment, here is the worst Mr. Money In The Bank ever. The Intellectual Savior of the Unwashed Masses. This one especially hurts me to say, but Sandow had to be the worst briefcase holder in WWE history. It's a shame because Sandow is a man that had high potential and many whom thought had a high ceiling in WWE. He wasn't the greatest in-ring performer, but he was an eloquent speaker, had a unique gimmick and could have made for a great intellectual heel type. His promos reminded me of what Sean O'Haire used to do back in the day. He even created his own custom briefcase to match his character. Everything appeared to click. The key word, however, was "appear".
This is a real stat. From the time Sandow won the briefcase at Money In The Bank in July to the time where he cashed in on then-World Heavyweight Champion John Cena in October, Sandow won a grand total of ONE match on RAW or Smackdown. Many people were under the impression that the frequent amount of losses would only make for a greater cash-in on Sandow's part. It would make it seem like all the struggles were worth it. Unfortunately, it all came trickling down afterward.
Sandow would cash in on John Cena the night after Hell In A Cell 2013, declaring that his time was now. However, what took place was probably one of the most embarrassing moments in WWE history. I watched it all first-hand and I'll never forget it. Sandow attacks Cena, who only had one good arm. Then, inexplicably, WWE cuts to a COMMERCIAL BREAK. Then, Sandow cannot finish the job and instead has a full-length, competitive match with a heavily impaired Cena. Cena effectively beats him clean with one arm, and that's it.
The irony wasn't lost on me, because at the time, Cena was the only superstar in WWE history to cash in Money in The Bank and not come away with the title. That being said, the word "burial" is the strongest euphemism in this context. The moment Sandow held the briefcase proved to be his ceiling, as he all had high hopes for him the moment he won it. It was clear WWE had nothing concrete for him, which makes you wonder why they give briefcases to people they don't plan on making World Champion anyway.
---
19. Mr. Kennedy (2007)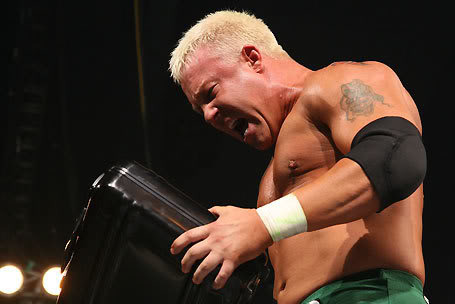 Mr. Kennedy is near the bottom of this list, but it was primarily due to bad fortune. Mr. Kennedy won the contract at WrestleMania 23 in a crowded field that featured Edge, Randy Orton, CM Punk, King Booker and the Hardy Boyz. So if he was chosen above all of them, there were clear plans of greatness for him. He was set for the push of a lifetime. Yet, he only held the contract for a month, and he didn't cash it in. What happened?
Well, Mr. Kennedy was revealed to have torn right triceps muscle and was projected to be out for a minimum of 5 to 7 months. So, naturally, WWE took the briefcase off him and put it on an established main eventer, Edge. Somewhere along the way, however, there appeared to be confusion in the diagnosis, because what was thought to be a torn triceps was actually just a massive hematoma and was back in action in just over a month.
It's hard to envision Mr. Kennedy in hindsight as a WWE or World Heavyweight Champion, defeating the likes of John Cena and the Undertaker. It all could have been true, but misfortune over an injury that wasn't nearly as severe as it was made it out to be threw his future away. He would also get into future beef with higher people on the card such as Randy Orton, who was blamed for an injury he suffered.
The only thing we can do with Mr. Kennedy now is question what could have been.
---
18. Baron Corbin (2017)
This one makes my head hurt. In the ladder match Corbin won the briefcase, he was the obvious winner, as it was clear WWE was not going with any one of the rest of the field. They probably should have. If I am being blunt, I do not like Corbin. His music is good, and he seems to have a good look. At least I think. However, he is immensely boring in the ring and as a character, he sucks. That's all there is to it. However, I was willing to overlook all of that if he could prove he can perform as a main eventer. The first step in that journey was winning the Money in The Bank briefcase.
If he defeated the likes of Styles, Nakamura, Kevin Owens and other competitors vastly more talented than him, then surely he was destined for great things, correct? How many reports have we heard about WWE's booking crew being high on Corbin? Anyways, Corbin decided to cash in on Jinder Mahal a couple of weeks before Summerslam. Everything was shaping up for him to leave that night as WWE Champion. There was just one problem. Corbin made the oversight of not accounting for Cena potentially interfering. He did, and Mahal got a quick roll-up, and that was that.
Again, the irony. At this point in time, only Cena and Sandow were the only two people to cash in the briefcase and not come out as champion. Cena was the first to do it, so clearly, if he can't do it, anyone is he involved in can't either.
What makes this disappointing was that many people perceived that this loss by Corbin would actually jumpstart his career. Instead, what happened? He would lose to the man that cost him the WWE Championship in a forgettable Summerslam opening match, and only had a lackluster United States title reign for the rest of that year. Corbin is evidently next in line for a Universal Championship shot, and to this day, I would still like to see what WWE sees in him. He is looking like a failed investment.