On this day 17 years ago, Randy Orton made his WWE debut in a match against Hardcore Holly. He didn't seem like much at the time. Sure, he had the look of a pretty boy and can go in the ring, but he didn't seem like anything special. 17 years later, many people still feel that way. Despite that, Orton to this day has become one of the most decorated superstars in WWE history.
Coming from the legendary OVW class of 2002 to having the blood of sports entertainment literally inside him, Randy's career is one that deserves a little bit of retrospective to see where we stand on the future Hall of Famer. Randy also happens to a top 3 favorite superstar of mine, just because when he's at his peak, you'd be hard-pressed to find what he could do better. However, I've found that the best way to do that is to define Orton's career through a series of eras.
2002: Humble Beginnings
Wow, look at that hair! This was the start of Randy's WWE career, but he was mainly serving as fodder for bigger names such as The Undertaker and Brock Lesnar. He's the typical pretty boy with the innocent face here, but was not meant to be taken in as a serious competitor. However, this portion of his career was necessary, because not only did he get exposure with established names, but it would establish the next big era of his career.
---
2003-2004: Evolution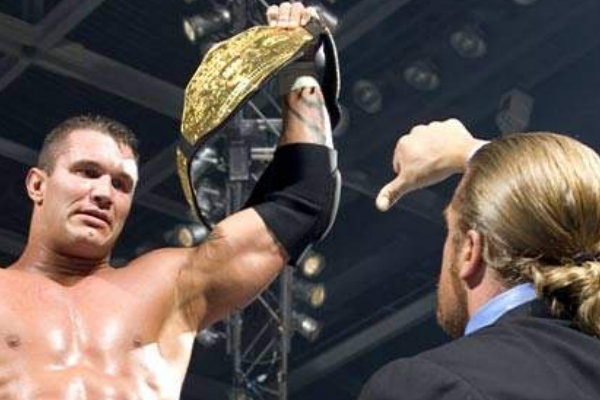 Randy's WWE career got the injection of adrenaline it needed when he joined Triple H, Ric Flair and a developing Batista in one of the most successful factions in WWE history, Evolution. Admittedly, Randy is fortunate to have had the opportunity to learn the ropes from two of the most legendary names in the sports entertainment business so early in his career. The majority of WWE superstars do not have that privilege for an entire career.
Yet, Randy found himself ingratiated towards the likes of greatness, and it's safe to say that this portion paid off for the better. His very first title reign came when he won the Intercontinental Championship from Rob Van Dam at Armageddon 2003.
I personally loved this portion of his career because not only did he begin to develop an individual identity despite being one member of a four-man faction, but he was able to compete with top tier guys on the RAW roster making the Intercontinental Title feel important. He would have feuds with the likes of Edge, Rob Van Dam, Chris Jericho and Booker T over the title. He even got exposed to Shawn Michaels at Unforgiven in 2003 early in his career. However, his best feud in this portion of his career was by far his tiff with Mick Foley. He beat him in an incredible Hardcore match at Backlash 2004 and began to dub himself as the legend killer.
Of course, the conquests would not end there. WWE will not tell you who he beat, but after he moved on from the Intercontinental Championship, he was already inserted into the main event scene. At Summerslam 2004, Randy would make history as he would become the youngest World Heavyweight Champion when he defeated Chris Benoit. The decision confused many at the time, but we all knew this was just to insert him in a feud with the man who couldn't do what Orton did, and that's beat Benoit for the world title.
His world title reign, unfortunately, didn't amount to much, as he would drop the world title at Unforgiven capping off a failed babyface run. It was clear that Orton's future was bright, but there was plenty to work on.
---
2005-2006: The Legend Killer
After being exiled from Evolution, Randy was officially on his own and had to make his own way without the constant guidance of Triple H and Flair in the background. This era had Orton feuding with some of the big fish as he sought to put more names on his Legend Killer mantle. He would face the likes of The Undertaker, Hulk Hogan, Kurt Angle, Rey Mysterio and D-Generation X as a member of Rated RKO. Despite this, there was a bit of downside in this era.
First, Randy didn't win a singles title during this reign as he was only tag team champions with Edge towards the end of 2006. He had some solid singles matches, and he did get some signature wins against those names. However, nothing monumental ever seemed to materialize at the time. He was always brash and arrogant, but it didn't appear to be going anywhere.
It was also during this time where not only would Orton undergo shoulder surgery after WrestleMania 21, but he would also get himself into trouble outside the WWE ring. He was first suspended in April of 2006 when he was caught rolling a joint backstage at a Smackdown taping. He had another suspension in August of that year.
For better or worse, this was an eventful time in his career, but better things were on the way. He even once came out to CM Punk's old theme song, This Fire Burns by Killswitch Engage.
---
2007-2008: The Age of Orton
This is when Randy Orton was officially solidified as a main eventer. After years of somewhat meddling in the mid-card, he found himself thrown at the biggest fish WWE had to offer. This first came in the form of someone who would prove to become a very familiar rival, John Cena. While his initial attempts at winning the title failed, he would be handed his first ever WWE Championship at No Mercy 2007 when John Cena would undergo an injury that would have him out.
It's funny because Orton would actually win his first two WWE Championships on the same night. Another familiar rival for Randy Orton, Triple H, came out and challenged him for the title, and he defeated him, only for Orton to reclaim the title in the evening's main event in a Last Man Standing match.
Randy would have to go through the likes of them, as well as the likes of Chris Jericho and Jeff Hardy, but he overcame them all. This was all capitalized at WrestleMania 24 when he defeated Triple H and John Cena in a triple threat match to retain his WWE Championship, proving, that at least for the moment, he was there to stay as a main eventer. However, we would quickly approach time for Orton where he would engage in matches with repetitive opponents.
---
2009-2012: The Viper
Orton would add a bunch of skull tattoos on both of his arms and his persona would take somewhat of a 180 turn. Long gone was the pompous, arrogant man who felt himself too much. Instead, his character developed into a more sadistic character whose only ambition was to inflict pain in a swift, but methodical manner. Thus, the name "viper" was born.