Adopted, bullied, belittled and injured, some might reasonably think that these challenges could beat a person into submission. Not so for the Alpha Female, Jazzy Gabert.
Many will have read about Jazzy following her triumphant showing at WWE's Mae Young Classic. "Please sign Jazzy!" chanted the crowd after her impressive match with Abbey Laith and a six-woman tag match that followed it. However, WWE wasn't the beginning of the story for the Alpha female, rather the culmination of years of graft and struggle.
[youtube https://www.youtube.com/watch?v=ayJfGQQsdNc?rel=0&showinfo=0]
As she recently explained on
Edge and Christian's podcast,
Jazzy spent her early life until six years of age between various foster homes before she was adopted. Brought into a family with three sons but desperate for a girl, she found herself at odds with the other children. Showered with attention until another girl came into the family, with brothers in trouble for drugs and in jail, Jazzy felt alone. That was before she picked up an old WWF book when packing to move, following the fall of the Berlin Wall. Jazzy soon found a family in wrestling.
Staying awake until 3am and sleeping through school, Jazzy was resolutely committed to wrestling life. At 17 she moved back to her birth town, and by coincidence found a local wrestling school an hour's walk away. Again, she was ostracised but despite being discriminated against for her gender and mocked for her self-belief, Jazzy was indefatigable. She knocked on the owner's door until she was given a place and by 2001 she was in and fighting on, despite being jeered and beaten. She suffered five years of frustration, following diktats about clothing, moves and even her name (Jazzy Bi which supposedly denoted appeal to men and women) but she persisted, succeeded and was set free.
It was on this liberating new road that the Alpha female was born. As
Jazzy told us
"I had a boyfriend who was a wrestler too. He went on the road and told some girls (untruthfully) that I was sitting at home, jealous, but they didn't believe it and told him that couldn't be because I was the 'Alpha female'." By 2008, Jazzy was being booked to perform and meeting icons like Bret Hart, who helped develop Jazzy's gimmick, advising her to take her personal character and multiply it tenfold. Now with a name and the determination to be a strong, confident, kick-ass woman, Jazzy picked black and gold and perfected the Alpha Female.



Despite having the right persona, problems continued to beset Jazzy. A TNA try-out went badly, particularly when she inadvertently interrupted an argument involving former champion James Storm. Then, when asking Bully Ray for advice, Jazzy's credibility was questioned given, to Bully, she couldn't compare with the other TNA Knockouts. Though heartbreaking, this seemingly emboldened Jazzy, who sought to set herself apart from the 'traditional knockouts'.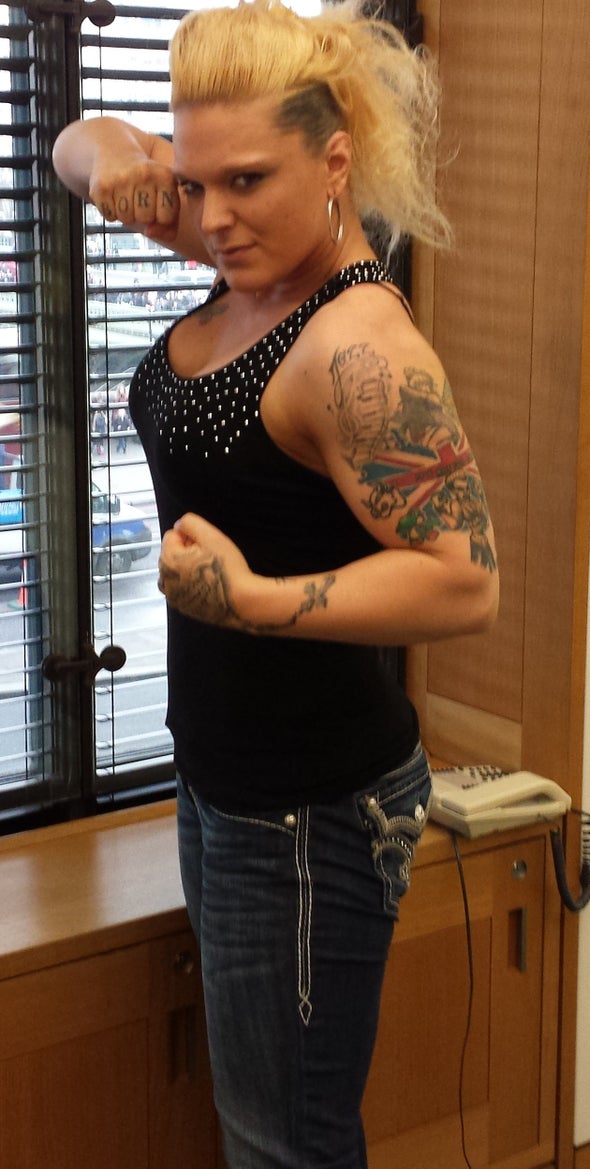 Further challenges ensued. 2010 saw the breakup of her romance, an unsuccessful WWE try-out and a move to London with broken promises of bookings on the UK independent wrestling scene. Jazzy ended up in a warehouse, on the verge of quitting. She might have left it all behind but for a call from Japan. Jazzy, when working for the fantastic
Pro Wrestling: Eve
promotion had been talent-spotted by a Japanese scout. It wasn't long before successive tours of Japan, a taste of significant success – as she became the first foreigner to win a major Japanese women's championship – and a new adoptive family in
Masahiro Chono
and his wife. There was further accomplishment, performing with TNA for TV in 2013 but Jazzy was unimpressed with the commentary which centered on her gender and decided Japan should remain her home.
[youtube https://www.youtube.com/watch?v=j_ZhNcdfQV8?rel=0&showinfo=0]
By 2015, a tired and beaten Jazzy returned home. There was another WWE try-out but again, no call back. Despite the disappointment, Jazzy had a thirst to learn and to prove she was not the finished product. Following a six week MMA camp, she fought in her first Mixed Martial Arts bout. Despite a tough first round, she went on to win the match. A second MMA match led to a loss but she thinks helped get her back on WWE's radar. That was all Jazzy wanted from her MMA and movie work, to help further her wrestling career.
[youtube https://www.youtube.com/watch?v=Ucw3lVIRNik?rel=0&showinfo=0]
Soon after, a disappointed Jazzy sat at home, reading the names of contemporaries being announced for WWE's Mae Young Classic whilst her phone stayed silent. Happily, it wasn't long before the company came calling and Jazzy was in line for the biggest moment of her career. Listening to Jazzy describe the run-up to and experience of the Classic one can't but be inspired. Her self-effacing, humble and grounded re-telling of the story says a lot about the character of this astonishing athlete. So impressed was WWE Hall of Famer Shawn Michaels with Jazzy's first match that he personally produced her second match of the tournament. Ronda Rousey, the Rock's family, and very many fans were complimentary of Jazzy and her extraordinary talent.
[youtube https://www.youtube.com/watch?v=_DB7Ji6qoSk?rel=0&showinfo=0]
And yet, Jazzy's story of highs and lows was to continue. She revealed to Edge and Christian that she had been offered a WWE contract but following medical tests, her neck was discovered to be in very bad shape, with no less than three herniated discs. She was disqualified from working for WWE. Despite this ultimate heartbreak, Jazzy is reliably picking herself up and dusting herself off. Having now had neck surgery, Jazzy is opening a new chapter and documenting her road to recovery:
[youtube https://www.youtube.com/watch?v=Aitdq7EDEzQ?rel=0&showinfo=0]
Jazzy's also working on the adventures of mini alpha(!):
A typical alpha day. .. training, mails and protein #bealpha
…and she's got an
amazon wishlist
and
gofundme page
created by fans to help assist her through her recovery. It's a long, hard road but she's determined to make the best out of it.
Berated, beaten, jeered and cast out, Jazzy has every reason to be downbeat and yet, she's fighting on. It's not a surprise. There is no mountain she cant conquer because she is the Alpha Female.