In years gone by we might have written about the best wrestling promotion in Scotland, or the UK but with their product now on iPPV and available through the FITE TV app, ICW are continuing their global takeover. Their biggest show to date (after stops in London, Southampton, Wolves and elsewhere) is taking place on Sunday 20 November at the SSE Hydro in Glasgow (Tickets available here). Already announced for the show, Fear and Loathing IX, are Raw General Manager Mick Foley, Gold Medalist and former WWE/TNA champ Kurt Angle and Lucha Underground's Prince Puma – Ricochet. They will be joining the outrageously talented ICW crew for their biggest show. At the top of the ICW pile is one man whom has earned respect through blood, sweat and tears – quite literally in some instances. Wolfgang, for those that have seen him in action, is one of the fiercest and most impressive wrestlers on these shores. We had the privilege of speaking to the current ICW champ about his past, present and future. Read on…
How did you get into wrestling – what was the scene like when you were growing up?
I first got into professional wrestling when my Dad brought a paper home with an interview with Jake Roberts, saying he was attending a wrestling school in East Kilbride, must have been July 2002. I managed to get in touch with him over the phone, which for me at the age of 15 was coolest thing on the planet. He sent me to British Championship Wrestling where we trained in a post office common room on judo mats. I met guys like Red Lightning, Kid Fite, Mark Dallas, who were among the few that had joined this newly opened wrestling school with Drew Galloway as the head coach – who was just starting out training himself. We got to a level where we could be on shows, which at the time were headlined by guys like Marty Jannetty and The Honky Tonk Man. Former WWF stars who were used to draw in wrestling fans, because they were the only recognizable faces to the common fan at that time. We would run council gym halls, working men's clubs and such.
True story, in 2005 I once wrestled Drew Galloway on the same show as Japanese legend Mitsuhara Misawa, who was in a tag match, in front of no more than 60 people in a small community center in Carluke (a small town 25 miles outside of Glasgow). 14 years later, the difference between the scene then and now, is we have the exposure to advertise our own names, and our own talent, and regularly sell out venues across Britain as well as be able to draw a crowd of 3500 in Glasgow's SECC.
You've been with ICW a long time, what has been your best and worst moment?
I've been with Mark Dallas and ICW since the very beginning. He was hungry and full of excitement to put on a hardcore wrestling show, where folk who had really lost interest in the mainstream wrestling product, could come and experience a thrilling new promotion in Maryhill.
We would have the most fun at those shows, because we were free to do what we wanted, no rules, no holds barred. Even though we would only bring in crowds of 30-50 people, the fans we did have were the hardcore fans we were looking for. To see the crowd grow over the years, and as we head towards ICW's biggest ever event, Fear and Loathing 9 in Glasgow's Hydro Arena this November, to be the World Heavyweight Champion is definitely the best moment I've ever had in with the company.
I've been battered, bruised, bloodied and beaten unconscious by some of the best wrestlers in the world, and not one of them would I describe as a bad moment. I've done more in ICW than anyone else, being the first to reach over 100 matches for the company and whether good or bad, I've loved every moment.
You've been both Zero G champ and now the World Heavyweight Champ – is that a contradiction? Is it a reflection on the industry or on your abilities?
I won the ICW Zero G title in Edinburgh back in 2013 in a hard fought battle against Andy Wild. Becoming the Zero G champion may have been surprising to some folk just by looking at me, but at 18 stone I can still move with the speed and agility of any other former champion before or after me. I had some show stealing matches with lots of new challengers like Noam Dar and Solar to name only a couple and had I not held the belt maybe my ability to keep up with smaller guys in the ring could have been questioned. Now that I am also the heavyweight champion of the world, the fact that I can adapt to any opponent and meet them at their level shows I can beat anyone on the night.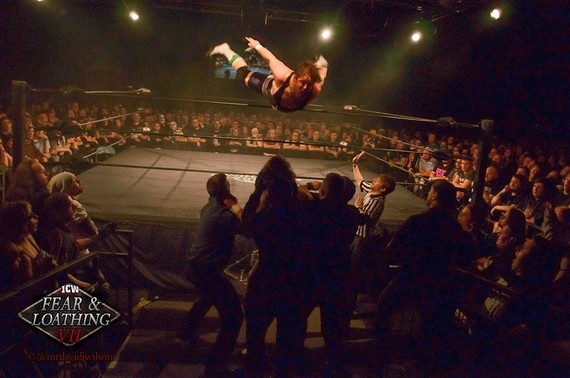 For those that don't know Wolfgang, how would you describe your genesis and character?
I'm the Big Bad Wolf, The Regulator to anyone that stands against me and proclaimed ICW's measuring stick in the ring. If you want to make a name for yourself here you have to go through me first. I know how the game is played and know how to beat anyone, by any means. I've crushed Iron Men and defeated Demon Kings to reach the top of the mountain, and have proven I am the Last King Of Scotland.
Whom would you most like to battle that you've not gone to war with in ICW?
Now that I'm the World Heavyweight Champion there's a lot of guys lining up for their shot at the champ. If I had my pick, I'd like to face BT Gunn if possible. He's a guy that's always brought out the best in me and I would say is the best wrestler in Europe right now. I'd also like to face some heavyweights that can challenge me and give me a good scrap. Trent Seven is someone I would like to do more with, we had a battle recently in the Garage, Glasgow and I'd like to step in the ring with him again.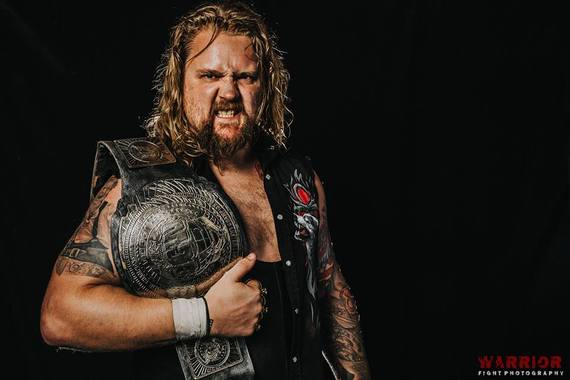 ICW is on iPPV, touring multiple times a year and even has its own game. What's next for the company? Can it or does it rival TNA, GFW…. Ring of Honor….?
ICW is the BEST WRESTLING promotion in the WORLD. It showcases world class talent and features the biggest names in the industry. ICW can rival any company, pound for pound. We might not have the same exposure as TNA, ROH or even WWE, but you can put any ICW Roster member on any of their shows and they'll blow you away. The next step for ICW would be regular exposure on TV in the UK. We're heading into Fear and Loathing where up to a mind blowing 10,000 capacity crowd will pay witness to the show of a lifetime. It's clear we can do what the big boys do just as well, if not better.

What's the best rib [practical joke] you've pulled on someone or they've played on you?
You can keep up with all your wrestling news right here on eWrestlingNews.com. Or, you can follow us over on our Twitter and Facebook pages.