Hello! Welcome back to the Royal Rumble series for Royal Rumble 2002. Today I'll be talking about the 15th annual Royal Rumble. Did you miss any earlier volumes? Links provided below:
#1 ('88) – #2 ('89) – #3 ('90) – #4 ('91) – #5 ('92) – #6 ('93) – #7 ('94)
#8 ('95) – #9 ('96) – #10 ('97) – #11 ('98) – #12 ('99) – #13 ('00) – #14 ('01)
---
Royal Rumble #15 – Atlanta

With an attendance of 16,106, Rumble 2002 continued the worrying trend of having a smaller crowd than the previous years. The PPV used the tagline, "30 Men. One Match. One Winner.". It was the last ever "WWF" Royal Rumble. It was also the most bought Royal Rumble show of all time with almost 700,000 buys. I did not watch the whole show this time, so the results are as follows:
Tazz & Spike Dudley retained their WWF Tag Team titles against The Dudleys via Tazzmission
After having one set of brass knuckles confiscated, William Regal pulled another set out of his tights to knock Edge out and claim the WWF Intercontinental title for the first time.
Trish Stratus defeated Jazz in less than four minutes to retain her WWF Women's title (Jacqueline was guest referee)
After a brutal street fight, Ric Flair defeated Mr. McMahon by submission with the Figure Four Leg Lock.
In a match with a screwy finish and interference from Lance Storm and Christian, Chris Jericho outsmarted The Rock to retain the WWF Undisputed Championship. This marked the only time a wrestler has defeated The Rock three times on PPV without The Great One picking up a win himself.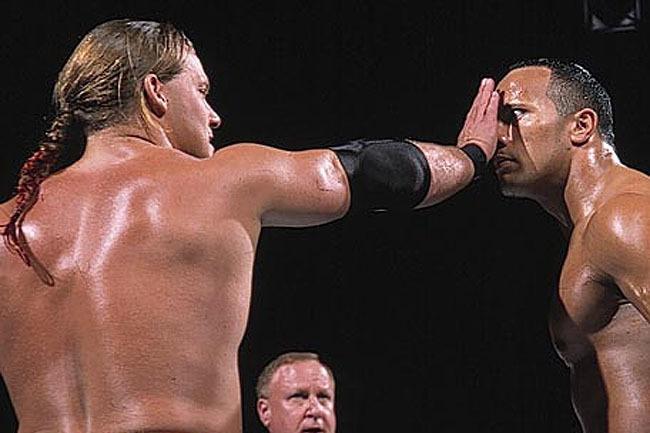 ---
Rumble Roundup
Rikishi first out. After working for WCW in the last two years of its life, WWF signed Goldust to contract and he made his long-awaited return; with "goldust" raining during his entrance. Boss Man out next taking it straight to both men. Bradshaw out, and business picked up. Rikishi dumped Boss Man out, making him the first elimination.
"Boring" Lance Storm out next .. they really killed everything good about him. "What Does Everybody Want!?", Al Snow made his entrance. Ring filling up nicely. Billy (Gunn) entered .. and Jim Ross did not seem happy to see him. Al Snow showed what WWF thinks of Storm by easily getting rid. As Bradshaw tried getting Goldust out, Billy lifted him over the rope to the floor. The Rumble footage I watched blared out this odd, generic music for the next entrant as it was clearly taken from the WWE Network or a DVD: The Undertaker! (Should've been Rollin' by Limp Bizkit).
American Bad Ass Taker took out Goldust, Al Snow, Rikishi and Billy in quick succession. One of the best parts of the match next, as Matt Hardy and Lita came out (kissed each other before they ran to the ring) and gave it their all against Biker Taker. Lita got in the ring and took it to him with a hurricanrana and low blow. For the second year in a row The Hardys were placed directly next to each other as Jeff entered to help his brother (although they'd split up not long before ..). Jeff didn't last long as Poetry In Motion backfired with Taker catching and throwing him out. Despite the amazing effort, Taker dumped Matt before the next entrant.
Maven out .. and umm, good luck kid. Taker invited him to the ring, and proceeded to destroy the former Tough Enough winner. The Hardys didn't like what Taker had done to them, so they got back in the ring looking for some revenge. He fought them off, and goaded them further as they made their way up the ramp. Dropkick from Maven! Undertaker's eliminated! He can't believe it. Funnily enough this was the highlight of Maven's entire career. Taker got back in the ring, threw Maven to the outside (but not over the top) and taught him a lesson. For the second year in a row .. Scotty 2 Hotty made his entrance with The Undertaker around to put him down; this time before he could make it to the ring. Taker got Maven back in the ring so he could eliminate him over the top.
Taker took Maven to the backstage area. Christian (At last .. you're on your owwwwn!) entered .. but the camera quickly panned backstage so we could see Undertaker driving Maven's bloodied head through a popcorn stand. As fans went nuts, Taker looked over Maven's body as he stole & eat some popcorn. Let this be a lesson to any young upstarts trying to make names for themselves at The Undertaker's expense. We pan back to the ring where Christian and Scotty 2 Hotty kept the action going. "It's me .. it's me .. it's DDP!", the Rumble debut of the former WCW Champ. How bad did they kill DDP? Man .. imagine if they'd have made him like he was in WCW.
Well at least DDP did something by eliminating Scotty. Chuck out next .. and umm, let's go off on a tangent for the rest of the paragraph.Jim Ross disgustingly referred to Chuck as "Chuckie". Jerry asked Ross if he was going to say "Chuckie" the same way he did in future, and Ross said no as he's professional. So the face play-by-play commentator hates everything about Billy & Chuck because they express themselves and their relationship? WWF turned them gay, but heels at the same time? Everything about it seemed homophobic, but perhaps I'm missing the point. You can be gay and hated, but the way WWF did it .. even to my teenage self (in '02) seemed wrong. We all knew they weren't gay, which may have been insulting to fans who are. I don't know. It never got over despite them winning the tag team titles before Wrestlemania.
Didn't see it happen, but somewhere DDP was eliminated by Christian as The Godfather came out. Literally two seconds after Godfather got to the ring, the next entrants countdown started and Albert rushed in (making up for lost time during The Undertaker/Maven beatdown). Dancing phase Albert lasted less than a minute as Christian & Chuck teamed up against him. Surprisingly this was one of Godfather's better Rumble performances as he took it straight to Christian & Chuck. He set up for the HOOOO Train! .. but missed. Again, Christian & Chuck teamed up to get rid of him before turning on each other. Perry Saturn out, and commentary reminded us he's not all there in the head. The crowd died down as they anticipated the next big name.
*Glass Shatters* Stone Cold! The three-time Rumble winner made his way to the ring. After quickly eliminating Chuck & Christian, Austin checked his invisible watch as fans chanted "What!?". He rolled to the outside, got Chuck & Christian back in the ring .. and eliminated them again! Visibly impatient, Austin waited on the turnbuckle repeating "What!?"
Val Venis made his return (after surgery and creative having nothing for him) with his old gimmick and an impressive physique. He held his own against Austin long enough for Test to make the assist. They double teamed on The Rattlesnake, but Austin was too strong and eliminated both men before the countdown clock reached zero. Next up? A completely drenched .. and dripping like a waterfall Triple H. He was returning to action after being out over eight months with a torn left quadriceps injury.
The entrance and staredown took up a lot of time. When they finally got going, the countdown clock was up for the next entrant. The Hurricane came out and tried to chokeslam them at the same time .. but they looked at each other bewildered before eliminating the super hero together. Faarooq came out next with some heavy shots, but somehow didn't last as long as The Hurricane. JR noted that while Austin and Triple H didn't like each other, they were working together so they could have the ring to themselves.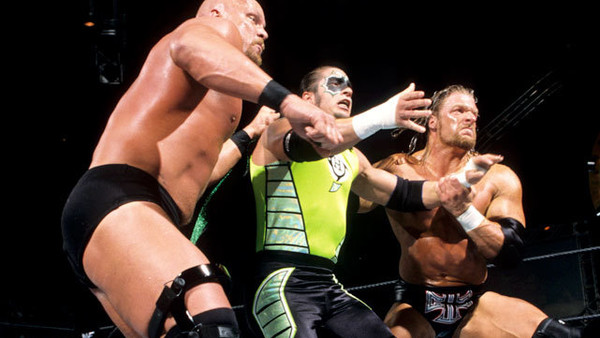 Mr. Perfect! This was his last return to the WWF after being with WCW since 1997. It was also his last Rumble appearance before his tragic death a year later. Did you know? Hennig's performance earned him a full-time contract.
As one of the most experienced in Rumble matches, Perfect held his own against Austin & Triple H. Angle entered to an extremely loud "You Suck!" chant .. even after his music stopped. It turned in to more of a tag team contest as Angle worked Triple H, and Perfect worked Austin without acknowledging each other. Big Show out next, looking as heavy as ever.
They tried stopping him but didn't have much luck. Kane entered and the two giants stared each other out. After some strong strikes, Kane low-blowed Show, picked him up, and dumped him like a 500 Ib sack of potatoes. Angle snuck up on Kane and Olympic Slammed him over the top rope to the floor; leaving the same four men in the ring. RVD out! The ECW legend hit a few of his trademark moves before running in to Triple H. He ate a massive pedigree and sold it like he'd been shot.
Booker T came out as the #30 entrant, picked up the dead RVD .. and eliminated him (the fans hated it!). Spinaroonie! But the celebration was short-lived as he walked in to a Stone Cold Stunner which sent him hurtling over the top to the floor. The last four: Austin, Triple H, Angle and Perfect. Angle hit the Olympic Slam on HHH. He took Austin for a few German Suplex (which commentators said was a nod to Benoit). Austin escaped the suplex barrage with a low blow.
Angle saved Perfect from Austin and they worked together against him. He fought back, and again went to eliminate Perfect. Angle recovered and managed to do what only a few have ever done .. eliminate Austin from a Rumble! The partnership between Angle and Perfect broke briefly as they fought each other while Triple H sold the Olympic Slam.
Austin's a sore loser so he dragged Perfect out. Angle followed and tried to help. Angle rammed Austin in to the steel steps. Triple H back up firing with punches. Angle called over to Perfect and they teamed up on The Game. Still furious over his elimination, Austin found a chair, got in the ring, and smashed all three men over the head. He left the ringside area and played to the crowd as Angle, Perfect and HHH were left laying.
After recovering, Angle & Perfect extended their alliance .. til Angle accidentally hit Perfect. Perfect went for Angle, and followed up with the Perfectplex! But oh no .. Hennig wasn't watching Triple H, who blindsided him with a clothesline over the top. Only Angle & HHH remaining. Neither man had won a Rumble before, and they knew this as they stared a hole through one another.
Angle took his straps down. Can you believe these two fought again in a main event over sixteen years later? Crazy. After some punches, Angle popped his hips and flipped The Game over with a belly-to-belly. Triple H charged at Angle who threw him over his head and the rope, and celebrated prematurely without making sure he'd won. Triple H came back at Angle and hit the facebuster, before clotheslining Angle him over the top! And the winner, going to face the Undisputed Champion at Wrestlemania: "The Game" Triple H!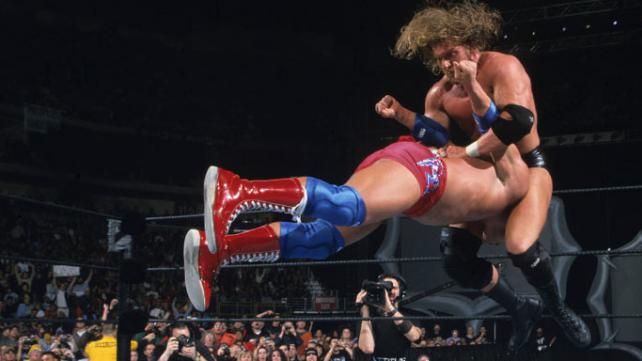 ---
Conclusion
It's amazing how many great talents the WWF had under contract at this time. They needn't shove celebrities or old timers in as choices were plentiful. I don't believe the mid-card had much to write about, but I will say the Rumble itself was highly entertaining. And while Triple H winning seemed a tad predictable to many, I think it was pretty well done. It was an odd time when The Game was a babyface who split from his wife Stephanie. Unluckily for Y2J, he had to go up against Hunter's monster comeback at Wrestlemania.
There were some good returns here. You could see the "Attitude" being phased out as the wrestling boom was on the decline. WWE has not since managed to reach the buzz & excitement it generated in these years. It could be considered the point before the fall, and I'm intrigued to find out if any of the later Rumbles come close to matching what they did in the late 90's/early 2000's.
It was a special time which many remember fondly. And if there's any wrestler this Rumble match should be dedicated to, it's the late great Mr. Perfect. He came so close to going to the Wrestlemania main event. Well .. he did get to WMX-8 but not like you think. In a couple of months he was relegated to losing a short six-man tag on Sunday Night Heat before the main show. Regardless of what came after, Rumble 2002 will always be known as one of the most star-studded. Thanks for reading.
If you would like to see what happened next .. you can find my old, but freshly edited review on Wrestlemania X-8 here: >>> Wrestlemania X-8