Hello there, wrestling fans. The Royal Rumble is upon us, and every year there are a few candidates we all as a whole (or individually) foresee winning the match more than anyone else. I'm here to share my thoughts on who I believe are the definite favorites. I can see any of the following 5 outlasting 29 other men, but some a bit more than others. Here is how I'd rank them.
5.
AJ Styles 
AJ Styles recently lost his WWE Championship to Daniel Bryan, after holding it for over 300 days. Dropping that, he now has the opportunity to enter the 2019 Royal Rumble. Of course he can win the title back prior to the annual event, but I doubt it. He's had it long enough, Daniel Bryan is doing well as WWE Champion, and he hasn't been in a Royal Rumble since his debut, so he's due for one. I think he has as much a chance to win the entire thing as anyone on this list. However, I only see one match that would make sense at this point in time. He was scheduled to face Universal Champion Brock Lesnar at Survivor Series this year, but the go-home show was when he lost the WWE Title to Daniel Bryan, ergo Bryan took his place. WWE is in need of a shakeup, and AJ Styles winning the Royal Rumble, going on to face Brock Lesnar at WrestleMania for the Universal Championship, ultimately heading to RAW in the process, would be a great addition, as much as folks prefer his presence on SmackDown Live. 
4.
The Miz
Months ago, my theory was that The Miz would take the WWE Championship away from AJ Styles, while Daniel Bryan, continuing his babyface run, would win the Royal Rumble and  opt for a WWE Title match with his bitter rival Miz at WrestleMania. But with Daniel Bryan's new attitude, perhaps the roles could be reversed. The Miz could win the Royal Rumble as a babyface, and choose to face Daniel Bryan at WrestleMania for the title. That wouldn't feel as big to me, as opposed to Daniel Bryan being the babyface, but this situation is very well possible if you ask me. 
3.
Drew McIntyre
Drew McIntyre has been notably pushed and rightfully protected since his reemergence on the main roster, and deservedly so. In 2019, I foresee even bigger things coming his way. He's going to be pushed heavily, and will undoubtedly be Universal Champion by the end of the year. But why wait a significant amount of time? How about at WrestleMania, on the grandest stage? Drew McIntyre wins the Royal Rumble and then sets his sights on the Universal Champion. And it doesn't necessarily have to be current title holder Brock Lesnar, a match with Braun Strowman (who is currently on Brock's tail) as Universal Champion could be just as good. 
2.
Braun Strowman
Speaking of the Monster Among Men, he's always a favorite to win the Royal Rumble match. He's currently out with an injury, but scheduled to compete in some capacity at TLC on Sunday. The stakes that were added to his Tables, Ladders and Chairs match with Baron Corbin stated that should he lose, not only would Baron become permanent General Manager of Monday Night RAW, Strowman would lose his future Universal Title shot against the Beast Incarnate Brock Lesnar. I'm not sure what they're going to do this Sunday, but if their plan is to have Braun win the rumble, I'd just have Corbin win in some fashion at TLC, and then have Braun fight his way back to the top leading to the Royal Rumble match, in which he enters and wins to earn a proper shot, once again, at the Universal Championship. 
1.
Seth Rollins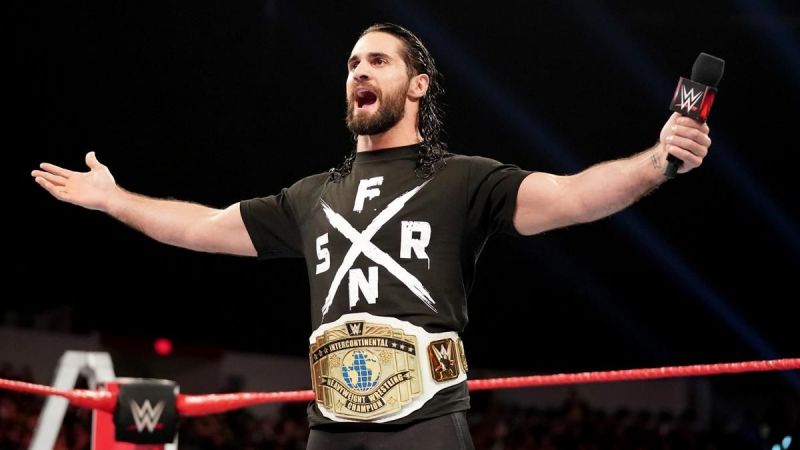 Daniel Bryan was my initial top choice to win the Royal Rumble match, but with the out-of-the-blue heel turn and the title win, it's now out of the window. Seth Rollins is now my top candidate as of this day. He essentially planted the seeds for a Brock Lesnar feud this past Monday on RAW, mentioning his name in a negative light, among other things he criticized regarding the show. Blaming the poor ratings and mistreatment of talent on Baron Corbin, he said enough to anger the General Manager-elect. Corbin said following TLC he would put Seth through hell on a weekly basis due to his complaining. This sets up a huge babyface run for Rollins. My belief is that he will put up with whatever Baron Corbin throws at him, ultimately finding a way into the Royal Rumble match. I'd even settle for Corbin saying Seth can enter the Royal Rumble match but only at the #1 spot. It's been a while since someone has won the match as the #1 entrant, and it'd be a great story to look back on. The position would fit someone of Rollins' caliber. Seth Rollins, through all the obstacles, entering at #1 in the 30-Man Royal Rumble match, winning it and defeating Brock Lesnar for the Universal Championship at WrestleMania. The underdog story has been done to death, but honestly, it fits this particular story. I wouldn't mind it. 
---
Some of what was stated requires Baron Corbin to remain in an authority role, and for the sake of the said stories, in my opinion, he should remain the GM. At least until those stories unfold. Plus, he's not even as terrible as folks say he is in that role. To conclude, Royal Rumble has been my favorite event for years, so I generally always tune in. Although often it's not the most exciting outcome or winner, it's always a bit fun to speculate who is entering the match next. I guess that's something to look forward to. Goodnight, folks.