Since the very first Money In The Bank ladder match in 2005, with Edge winning the inaugural ladder match at WrestleMania 21, the briefcase has since served as a symbol of opportunity, spontaneity, and world title victory. At a moment's notice, a superstar's music will hit, they will run down the ramp, and more often than not, they will cash the Money In The Bank briefcase in on a vulnerable champion, thereby practically guaranteeing a new champion. Not only is the briefcase intended to give a superstar a world title reign, it is supposed to be designed as a springboard for future success in the business.
Despite that, however, there have been instances where this prestigious briefcase have absolutely been wasted. There have been 18 different Money In The Bank briefcase holders in history. There have been only two that cashed it in and fail to win the title, with one superstar winning by disqualification, and the other just losing. With all of that said, I have singled out the six superstars that I believe the Money In The Bank briefcase was wasted on in hindsight. With Baron Corbin and Carmella as the current Money In The Bank briefcase holders, let's hope they avoid a fate similar to these six superstars.
6. CM Punk (2008)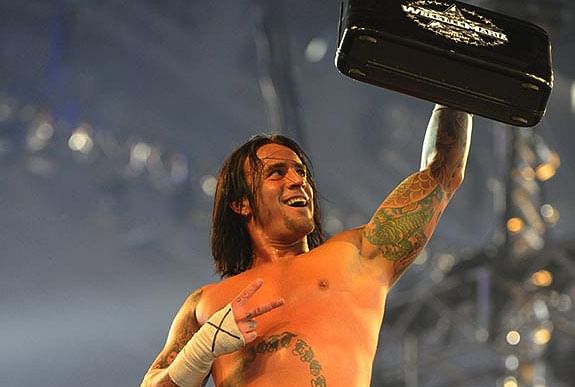 CM Punk in 2008 was still in relative infancy into his WWE career, finishing off his ECW run and being drafted to the RAW brand. He earned his spot into the Money In The Bank ladder match at WrestleMania 24 and defeated a talented field to hold the briefcase. On RAW, Punk had an uphill battle to fight, having to prove that he belonged with superstars such as John Cena, Randy Orton, Batista, Triple H, Shawn Michaels and Chris Jericho, all of whom were on the same show. The time for Punk came after Night of Champions 2008 when Edge defeated Batista for the World Heavyweight Championship in Edge-like fashion (tons of interference). Batista sought retribution and got it in a beatdown of Edge after the night. Punk owned the situation, ran down the aisle, and one GTS gave Punk the World Heavyweight Championship. Punk would receive a big pop and adulation from the crowd at the moment, but unfortunately, his title reign did not live up to the moment.
Punk was treated like a fluke champion and a non-main eventer against the likes of Batista, Kane and JBL. His match against Batista at the Great American Bash ended in a Double DQ when Kane came down and took out both men. Then, he went on to have a forgettable match against JBL at Summerslam, as he was lost in the shuffle in lieu of matches such as John Cena vs. Batista and Edge vs. The Undertaker inside Hell In A Cell. He himself became such an irrelevant character that he was written off Unforgiven 2008. He was jumped from Legacy, and Chris Jericho eventually won the World Title. Jericho would also go on to defeat Punk in a steel cage rematch for the title. After his failed World title reign, Punk occupied his time with a brief run with the Intercontinental Title as well as a brief stint with Kofi Kingston as a tag team. Fortunately for Punk, WWE didn't give up entirely on him, as they hit the reset button on him by having him win the briefcase yet again at WrestleMania the following year. This time, Punk proved that he was here to stay.
What should have happened?
Considering that Jericho won the title the same night Punk was written off of it, and considering Punk and Jericho were the final two superstars involved in the Money In The Bank ladder match decision at WrestleMania 24, I think it would have been wiser to have just given the briefcase to Jericho. It would have made much more sense in hindsight to me.
5. Mr. Kennedy (2007)
Mr. Kennedy was set for the run of a lifetime. He claimed the Money In The Bank briefcase at WrestleMania 23, defeating a field that featured five world champions and two other prominent faces at the time. According to reports, Mr. Kennedy was due to become the WWE Champion, be the payoff for the Vince McMahon bastard son storyline and culminate in a feud with Triple H at WrestleMania the following year. That all sounded nice and dandy, but unfortunately for Mr. Kennedy, a doctor had diagnosed him with a torn triceps, and the original diagnosis would prevent him from cashing in his briefcase within the one-year timeline that he was permitted. This would result in the Ultimate Opportunist Edge challenging him in a match for custody of the briefcase. Mr. Kennedy would be blindsided by Edge before the match, and with one spear in a seven-second match, all of Mr. Kennedy's plans came crashing down to Earth just like that.
To rub even more salt into the wound, the original diagnosis proved to be very off the mark, as his torn triceps proved to only be a bruise, and he was able to return in the summer of that year. The hits kept coming for Mr. Kennedy, though, and he would never be able to get off the ground. A wellness policy violation had him suspended from the company in August of that year, and he would be pushed further down the card. However, the nail in the coffin would be an incident with Randy Orton where Mr. Kenndy suplexed Orton on his head, or so Orton claimed. Orton then reportedly went to management and was a spokesman for Kennedy's firing. Considering what Kennedy was reportedly set up for, Mr. Kennedy proved to be a lost cause.
What should have happened?
Well, WWE doesn't have a crystal ball and couldn't have foreseen Mr. Kennedy being injured and doctors botching his diagnosis as to when he could compete. But for all intents and purposes, Edge probably should have just won the match yet again instead of having Kennedy just drop it to him in a seven-second match. Edge's cash-in on The Undertaker was a prelude to his high profile matches on Smackdown against the likes of Batista and The Undertaker as well.
4. John Cena (2012)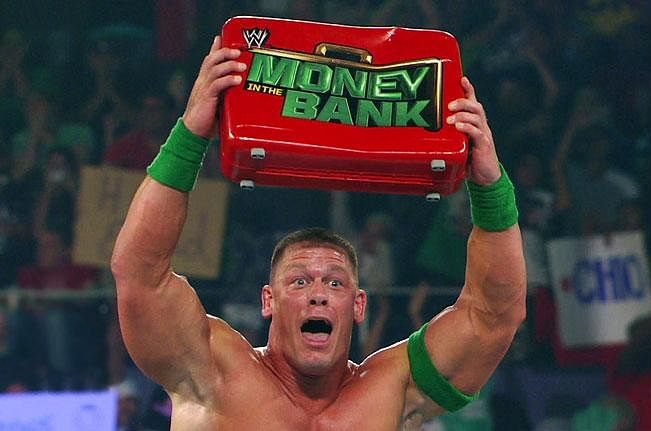 John Cena is the only person to reach Ric Flair's sixteen world title reigns (he has more than 16, but only 16 are recognized), but don't think that Cena never had off years. 2012 was arguably his worst year, accomplishment and performance wise. He started off the year with a horrible feud against Kane which resulted in Zack Ryder being buried as a result. He then proceeded to lose the biggest match of his life up to that point against The Rock at WrestleMania 28. He had a moment of victory against Brock Lesnar, but he then that somehow transitioned into a feud with the VP of Talent Relations and The Big Show.