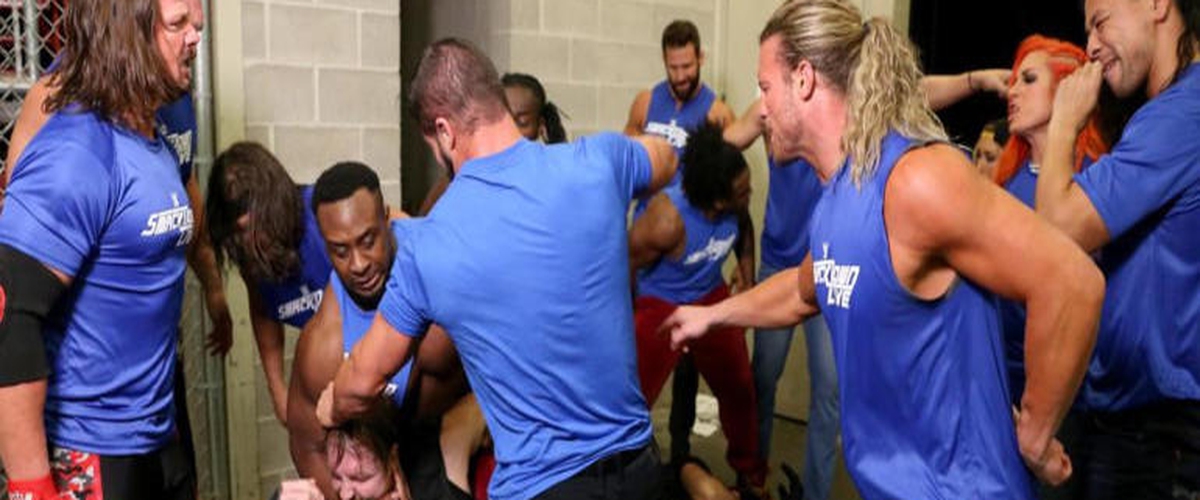 On November 19th, members of the Raw and SmackDown brands will compete in the traditional Brand vs Brand 5-on-5 Survivor Series tag match. This year, there is a little more at stake than just bragging rights. The SmackDown brand is out to prove that they are no longer going to be dubbed at the second-best and lesser brand. Raw is out to avenge the shocking invasion of the blue brand talent during Monday Night Raw. To add even more heat to this match, both general managers from each show have been selected as captains and will be in action: Shane McMahon and Kurt Angle (this will be just his second match in WWE in 11 years). The pay-per-view is still over two weeks out, but the teams are slowing taking form and Survivor Series has already taken over WWE like Christmas is already taking over the shelves.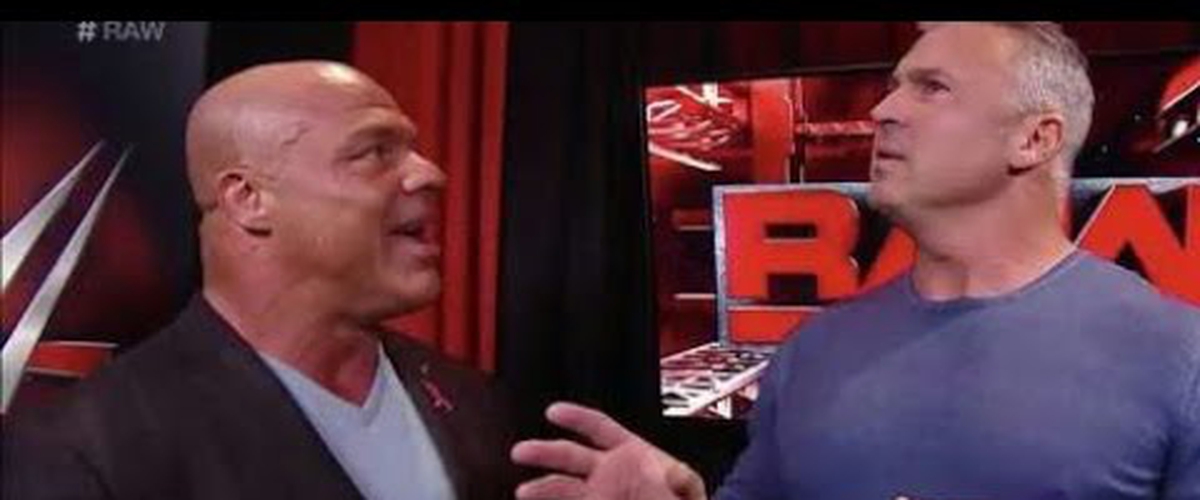 Shane McMahon, leader of the blue team, voiced his reasoning for the invasion on Raw and the eventual lead-up to this huge tag match. He explained that Kurt Angle underestimated the talent on the sister brand and that was his first mistake. McMahon is no amateur when it comes to invading other shows and striking first. being behind the original "Invasion" when WCW ambushed WWF. That storyline will be hard to follow and WWE has a tendency lately of dropping the ball on potential home runs. If they put in the work and actual keeps the story-line relevant, this could be one of the biggest plots of the year (yes, I'm talking bigger than Mahal being world champion, The Shield reunion, Roman beating Cena, and Braun Strowman's dominance).
One of the worst things that can be done here is if leave Survivor Series and this story-line dies soon after. The previous Invasion lasted several months. The reasoning behind SmackDown seizing Raw has momentum behind it and some truth. The blue brand has always been the little brother to Raw. Raw has three hours, SmackDown gets two. Raw has some of the better talents on their roster (The Shield, Cena, Lesnar, Strowman, Miz, and Angle) compared to SmackDown (Styles, Mahal, Owens, Ziggler, Usos, New Day). When a wrestler starts gaining momentum and is taking it to the next level on SmackDown, they end up getting traded up to Raw, i.e. The Miz. Most recently we have seen The New Day step foot on Raw, but that has been the only cross-over since the initial siege. Having members of Raw should pay the favor back and enter the blue brand ahead of Survivor Series. This would further hype the pay-per-view's traditional tag match. There is obviously going to be a true winner after Survivor Series, but it shouldn't end there. So much has been put into this story for it to end within just a month. 2018 should be the year of Raw vs SmackDown.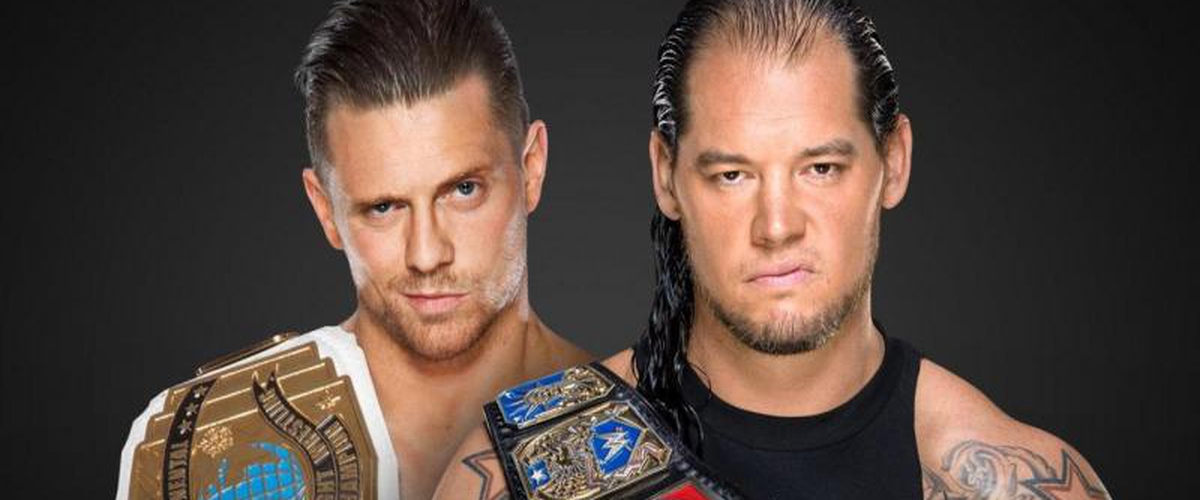 One of the most underrated wrestlers in WWE is by far The Miz, the Intercontinental Champion. Why is he underrated? He has some of the best mic skills and one of the more villainous heel personas in recent history. To recent memory, his current feud with SmackDown's Baron Corbin has been highly overlooked. It's no surprise since the feud has initially been taking place over social media. The two have traded berating and insulting videos to each other ever since their Survivor Series match was announced. It just goes to show that kayfabe is not dead, meaning that it takes real effort and talent to remain in character outside of the ring and off television. Miz isn't even placed on the pay-per-view poster, although his opponent Corbin is. The company would be wise to put the spotlight of this feud and make The Miz more of a main event talent.
During the previous "wars" in WWE, those involved put forth their top stars and best talent to do battle on the big stages. This year's captains (Angle and McMahon) are top stars who only wrestle on occasion for the big pull for viewers. Outside of them, the participants selected for this match could probably be looked at again. Braun Strowman is an obvious first selection for Raw, as he is the baddest man in WWE. FInn Balor has had some very inconsistent and, sadly, poor booking lately. Nonetheless, he is still someone who really gets the crowd going and people tune in to watch him. Samoa Joe is a powerhouse and fresh off an injury, so his big returning match being part of Team Raw is a no-brainer. Jason Jordan is by far the biggest concern on this team. Yes, he is the "son" of Kurt Angle, but he has had underwhelming matches and promos with the likes of Elias lately. Tossing him into the mix is questionable at best, since he is still unproven. As for the blue brand, they have a solid and proven centerpiece for a Survivor Series member in Randy Orton. The Viper has had many experiences in a Survivor Series traditional tag match and has been victorious more often than not. Plus it doesn't help being a household name. Bobby Roode is a fresh star and has a big following behind him. His interactions with Dolph Ziggler just hurts his credibility as a top star. Shinsuke Nakamura is someone who needed a match like this to finally breakout and reach the main event level. There is still one more spot to be filled for SmackDown. AJ Styles would have been the solid choice had he not just became WWE Champion. Kevin Owens or Sami Zayn would be other choices, as they are some of the more talented superstars on the blue brand. In my opinion, a better match-up would be as followed: Strowman, Joe, Ambrose, and Rollins vs Orton, Zayn, Owens, and Nakamura.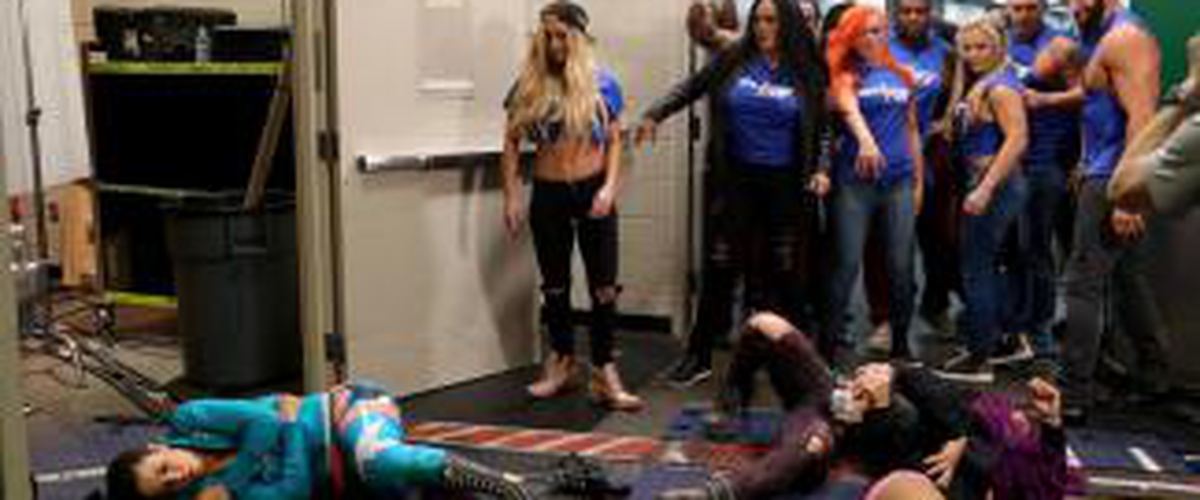 The best part of this current brand war is the fact that it involves a major female angle. One of the highlights of the Raw siege was Becky Lynch's pure guts as she was willing to take on all comers and was the leader of the pack when they attacked the females on Raw. Lynch has since been named the captain for Team Blue's Survivor Series 5-on-5 match. She has been leading her team and keeping them on alert for an ambush from Raw. Lynch, Tamina, Natalya, and Carmella were the ones who attacked Raw during the invasion, taking down Bayley, Sasha Banks, Alicia Fox and Mickie James. The current teams are as followed: Fox, Nia Jax, Asuka, and Sasha Banks vs Lynch, Flair, Naomi, Carmella, and Tamina. Fox being the captain is a fantastic twist to the whole story. Bayley should've been added to the team as she was one of those who were attacked, but Nia Jax being the strength to max Tamina was a smart choice. Asuka has the star power and this is a perfect time for her to compete in a worthy match on the main roster. There is one spot left that should've gone to Bayley, but WWE apparently has other plans for her. Rumors have Paige returning "any day now" and that would add major spark to this match. Mickie James and Dana Brooke are just too low on the ladder to compete in a high profile match like this. Lynch's team members make sense though, as Flair is her partner in crime, Tamina has the muscle, Carmella was in on the invasion from the start and Naomi is a bigger star than Natalya, who is also the champion and has her own match already. Overall, this match is a big step for the Women's Revolution and Lynch has by far been the breakout star throughout this ordeal.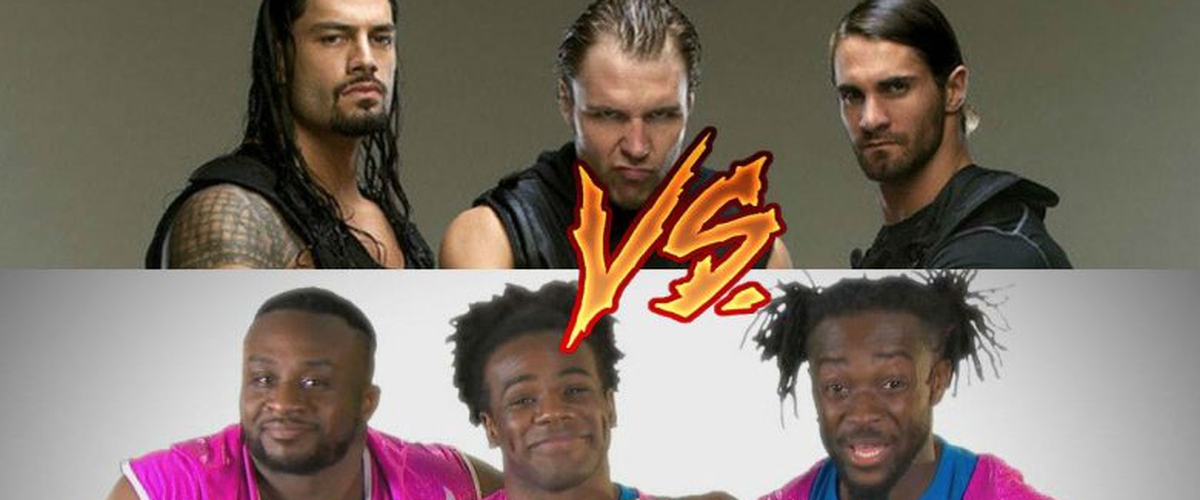 The added bonuses to Survivor Series are all the other matches that pits Raw vs SmackDown. Intercontinental Champion The Miz vs United States Champion Baron Corbin pits two mid-level champs against each other in what is becoming quite the build-up so far. Raw Women's Champion Alexa Bliss faces off against SmackDown Women's Champion Natalya, who was part of the force that attacked Raw. If Flair becomes champion before the pay-per-view, this match will only grow bigger. Brock Lesnar will now face newly crowned AJ Styles in what can only be described as a dream match come true. The New Day invaded Raw a second time and seemed to have set their sights on the other top trio in WWE: The Shield. We've seen this match before, but both groups have grown since then and it should be one of their better encounters. As a side note, having John Cena, "the free-agent", be the guest referee for Lesnar vs Styles, was the right call since he has no real loyalty to either side at the moment.