Did you enjoy Destination X? Did you enjoy Takeover: Brooklyn III? Crazy how we managed to see two great shows with plenty of surprises the past few nights, and the weekend ain't over yet! Summerslam's up next. Can WWE do one better and make Summerslam as good, if not better than these others shows? Well, I'll admit WWE has struggled in the past, but I think this time it has the potential to change the landscape of WWE for the better. Summerslam is the most important PPV in WWE for years, and I'm not over-exaggerating for dramatic effect.
Ambrose & Rollins: – Difficult to see the importance, but Rollins and Ambrose have struggled in recent times and reuniting as a team will do them wonders. Their other shield buddy Roman Reigns gets a whole range of reactions, while these two have yet to find their place as a top face or heel. This is the start of another evolution in their characters as they look to put the past behind them and build for the future, starting with defeating Cesaro and Sheamus for the titles. If they lose? I'd be shocked and bewildered. The New Shield (my adopted name for 'em) need a victory tonight.
Corbin Looking For Revenge: – With Corbin losing Money In The Bank it killed the possibility of a cash in after the WWE title match. While it was his fault for cashing in when he did, he will blame and take his frustration out on Cena. His career (like many others on the card) is at a critical point, and if he loses to Cena it would do a lot of damage. A win over Cena would keep him relevant in the main event scene. Super Cena should be using his powers to make Corbin look like a future WWE Champion.
The Demon: – Balor's struggled since coming back from injury, but Summerslam will finally show the world what The Demon's about. Yes, we've seen The Demon before, but never in a feud like this. Balor needs to get over sooner rather than later, so the feud with Wyatt needs to hit the target. It's time for Balor to show the world why Triple H hired him for NXT, and why he became the first Universal Champion. He needs to go beyond the call of duty to gain respect, while Wyatt needs to do nothing but make Balor look like a viable threat.
Big Cass (w/ Enzo In A Shark Cage): – So I'll admit to having no idea why they've put Enzo in a shark cage. It works with someone like Jericho as we know he's devious and can be entertaining even when suspended high in the air. The only way Enzo is doing anything worthwhile is if he sneaks a microphone in. Other than that, it's Big Cass' biggest match of his career and the time is now. It should end the feud. Cass needs to move on to better things after showing he's better than Big Show.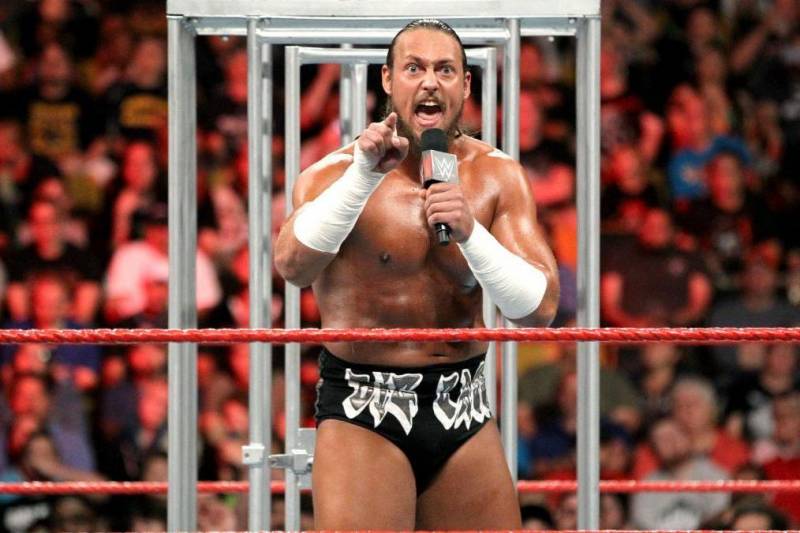 Orton n' Rusev: – The biggest throwaway match on the main card. Honestly I can't see anything coming out of this unless Rusev destroys Randy in a minute. I doubt it though .. Rusev is likely playing the glorified jobber role again. If not, I'd be pleasantly surprised.
AJ Styles/KO/Shane O': – Something controversial needs to happen in this match or it's a waste of Shane McMahon. I remember the old days when Shane was the most corrupt referee not named Earl Hebner, and hopefully we see it again. Not saying Shane will turn heel, but he's probably getting physically involved. The great thing about this is it keeps AJ and KO relevant while fighting over the United States title. Not much of a game changer, as one that keeps the flow of the game going in the right direction.
Naomi Faces Her Biggest Challenge: – The Smackdown Women's title went through a rough patch lately, but this could be the start of making it relevant compared to other women's titles. Either Naomi picks up a big win and shows everyone she belongs (I'm not completely convinced .. yet), or Natalya picks up her first, long-awaited Women's Championship. Yes, I know she's had the Divas title, but this is a women's title and she hasn't won anything in a long time. It's essential for Natalya's career, if she doesn't win then it tells me management may never perceive her as championship material.
Bliss & Boss: – I could not understand why Bayley got the title shot before Sasha (she already had a shot and failed miserably), so I think part of the reason she was jeered in Toronto was because they felt she wasn't deserving. Alexa is trying to prove herself, so a loss wouldn't hurt her but it would certainly kill momentum. On the other foot, Sasha was equal to Charlotte when she was on Raw, so it's up to The Boss to prove she is superior to Alexa. Either way, the match has a ton of potential and should be an exciting start to a feud between the best two women on the Raw roster. Bliss & Boss should be setting the standard outside of anything involving NXT's Asuka.
Maharaja vs. Artist/Rockstar/King Of Strong Style: – Not sure why Shinsuke has so many nicknames, but it doesn't matter when he gets in the ring with Mahal. Nakamura is beatable using heel tactics (see his match with Roode in NXT), so with Jinder beating Randy Orton several times it tells me he is most likely to walk out of Summerslam as champion. It's not a given though, and I feel like whoever loses this match doesn't just lose the title; they lose their aura.
Jinder has more to lose, he really needs a victory at one of WWE's biggest PPV. If he lost, it would tell everyone he can't handle big time matches. The same can be said for Shinsuke, he defeated John Cena to get the opportunity so it would set him back if he lost. It wouldn't hurt him for long, I think Shinsuke would be able to bounce back while Jinder would struggle and likely end up back in the mid-card with a higher status than jobber. It's the biggest match of their careers, and neither can afford to lose.
The Biggest Main Event Of The Summer: – Just to make sure The Universal title is defended with as much hype as possible, a fatal four-way featuring some of WWE's biggest superstars will collide in what can only be described as something resembling a four-way between Godzilla, Kong, and two other giant monsters; with all the little people watching on in horror. Lesnar is the deciding factor, it's likely he will leave WWE to do UFC again, so if it's true we can already rule him out.
But what if it isn't? What if Lesnar isn't leaving? Will he keep it? The chances are high he would. Lesnar's quick loss to Goldberg (even though he did get one back) last year is still fresh in the mind, and what better way to reassert his dominance by beating three of WWE's biggest guys? It'd be shocking because this match has been told in a way which is "certain to decide a new champion", and "the champion will leave if he loses", so if Lesnar leaves the four-way with the title it would leave many fans stunned in their seats.
What if it's Roman Reigns? Wow, imagine the reaction. I'm going to say this now .. I have far more respect for him than I did six months ago. I appreciate his hard work, I like his chemistry with Strowman, and his promos have been straight to the point. Instead of showing he's annoyed by the jeers, he relishes it. He uses it to his advantage, which is something I said he needed to do a couple of years ago.
He's settled in .. to the point I'm neither loving or hating his presence. I'm not part of the Roman Empire, but if he won the title I wouldn't hate it. Obviously he remains my last pick, I'd prefer any of the other guys win this match, but I would understand and respect it if he wins. At least the title would get back to being full-time, and would open the door for Strowman or Joe to beat him for it down the line.
Speaking of Strowman, I remember when he walked in the doors and the first thing I said was "he's going to be champion one day, give it a year or two", and here is fighting in the main event of Summerslam. He's done a Big Show on it .. he came in with little experience and adapted quickly. I love the way he makes Reigns look great, I don't think anyone's come close to making Reigns look as good as when he fights Strowman. Braun and Roman could fight forever, it reminds me of the big chicken fight in Family Guy. If WWE wants to make a new star out of the Monster Among Men, this is the time to do it. Imagine how big it would be for his career if he wins. It's unlikely, but I'm hoping it can become reality.
And lastly we get to Samoa Joe. A true professional and veteran of the business. You have a guy who went toe-to-toe with Lesnar and pushed him to the limit. Joe deserves a big win like this, after spending all those years wrestling in Ring Of Honor and TNA Wrestling. Joe has fought for far too long to get to this spot, and much like Strowman it will be the biggest match of his career. It feels like .. if Joe doesn't take advantage, it will kill the aura he's maintained since his NXT debut. The time is now for Samoa Joe, much like many others on the card. It's time to write himself in to the history books. He is my #1 pick.
Conclusion: – To put it simply, Summerslam might not outdo NXT Takeover: Brooklyn in wrestling quality, or surprise appearances, but there's so much going on and there's tough competition everywhere you look. It's make or break time for some of these men and women, and some will move up while others are demoted.
I said last year that 2017 would be an exciting one for wrestling. I knew the large amount of talent walking through the doors meant they would have to jockey for position, and when that happens you get the best out of wrestling. There's a lovely mix of styles, young & old, and booking which makes sense without blatantly giving fans what they want each week. I'm enjoying WWE, and hopefully Summerslam won't be a downer on what has been a solid year thus far. Thanks for reading everyone!