Every year at Xmas time I allow our Facebook followers to vote on the best wrestlers in specific categories. This is my third year creating the photo album, and I wanted to add something extra. The categories we have voted on included:
Best World Champion – CM Punk (2012), Bully Ray (2013)
Best Technical Wrestler – Daniel Bryan (2012, 2013)
Most Charismatic – CM Punk (2012), Daniel Bryan (2013)
Best High-Flyer – Jeff Hardy (2012), Chris Sabin (2013)
Best Tag Team – Bad Influence (2012), Seth Rollins & Roman Reigns (2013)
Best Female Wrestler – Gail Kim (2012), Cheerleader Melissa (2013)
Best Newcomer – Ryback (2012), Dean Ambrose (2013)
The first edition of this series is a tribute to the newly voted "Best Female Wrestler". Paige is the first WWE wrestler to be voted in.
I gave choices for our voters on this one. I have not done this in the past, but I felt like I needed to do it to garner new voters and make it easier on them. The choices included: AJ Lee, Gail Kim, Madision Rayne, Paige, Natalya, Taryn Terrell and Cheerleader Melissa.
From "Anti-Diva" To "The Diva Of Tomorrow".
Paige was still relatively unknown (globally) at the start of 2014. She was the NXT Women's Champion, and she wowed NXT audiences with her dominance. I have to admit, I don't get to see NXT as much as I would like, but I did tune in to NXT Arrival. I witnessed one of the best women's matches of the year.
What struck me most about the match was the finish. Paige locked in the Paige Tap Out (Scorpion Crosslock), and yeah … I was blown away. It was so much better than anything the divas were doing. It made me question the Divas Division even more. It made me wonder why WWE produces quality like this on NXT but not on Raw or Smackdown. NXT Arrival was worth it just to see that.
And then she debuted on the Raw after Wrestlemania. At 21 years old, she defeated AJ Lee to become the youngest Divas Champion. She made up for the botched Paige-Turner by letting her emotions out backstage.
The emotion she displayed was on a whole other level. She reacted honestly, her passion shone through, and it helped the fans get behind her. She was legitimately stoked to be the WWE DIvas Champion. She was the NXT Women's Champion too, and she held onto both belts until she was stripped of the NXT title a couple of weeks later.
She went on to defend her title against Brie Bella, Tamina Snuka, Alicia Fox and Naomi over the coming months. She lost some non-title matches along the way. WWE was criticized for not developing Paige's character.
AJ Lee returned on the Raw after Money In the Bank, a role-reversal occurred, and Paige lost her title to AJ Lee. Luckily enough, this produced Paige's first meaningful feud, and her character developed. AJ and Paige teamed together, acting like friends, but both knowing the other one had an agenda. Paige turned heel in July. She won the title on her 22nd birthday in a match at Summerslam, further concreting her successful first year on the main roster.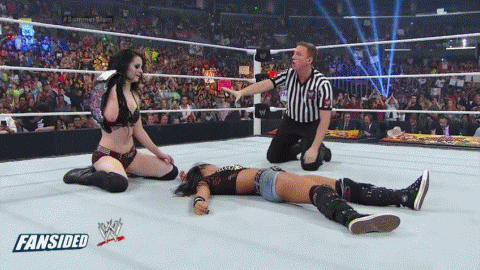 After losing the title back to AJ Lee at Night of Champions, she allied herself with Alicia Fox, which didn't last very long. She was the last surviving member of her losing team at Survivor Series. Her year began on top of NXT, and it ended with Paige being a former two-time Divas Champion, and somehow getting lost in the mix at the end.
As an Englishmen, I have to feel a little patriotic whenever I see Paige succeed. Us Brits don't get overly patriotic, but we do appreciate a young talent like Paige showing us her passion and skills. Hopefully she continues to represent the United Kingdom like she does, and the American crowds get behind her to make us proud. There is no doubting, whenever she comes to the UK, she will always get the loudest pops.
EWN Facebook Page
You can keep up with all your wrestling news right here on eWrestlingNews.com. Or, you can follow us over on our Twitter and Facebook pages.