**Edited on October 1st 2018**
Hi everyone! Today I would like to announce a new series on the history of TNA Wrestling. I've been a fan of the company for roughly eight years, and while I've seen many of the best matches/moments, I feel like there's much more to uncover. I understand some of you are former fans, or you weren't impressed after giving it a chance, but that's not a problem .. as this series is for fans who've appreciated TNA and the wrestlers at any point.
I didn't decide this subject to be controversial. I decided it because I feel the history of TNA can be misunderstood sometimes. Politics play a vital role in how the company is perceived, so I'll explain who is (in charge of creative) with the company so you can make your own conclusions. It's difficult to understand the mentality behind the product if you never saw it before the Hogan/Bischoff era. Six years ago, the company lost its identity, and it's only now beginning to find a new one. Some fans refer to the years 2002-2009 as the "Golden Era", a time when the promotion was a true alternative to WWE. It was cool, it was exciting, and it focused on featuring the best talent in highly competitive matches and heated feuds spanning across the Tag Team Division, Knockouts Division, and the innovative X-Division.
Another reason for doing this is because TNA doesn't look back anymore, making it difficult for new fans to get clued up on its history without extensive research. It's a sad fact, because TNA has a rich history of matches. I know some of you won't care, I know some will poke fun at the politics, creative, and the mismanagement, but don't think I'm going to sugarcoat everything. When TNA makes questionable decisions, I'm going to tell you. I'm not going to defend every little decision like an obsolete mule. In the past I've written articles ridiculing TNA when I feel there's been an injustice. While I'm a fan, there have been times I disagreed with their actions, and I'll be sure to include those examples in detail.
The first installment will focus entirely on the first year of the company and how it came to be, the major players, who was in charge, and how important it was in a historical context. I'll provide two videos (two parts) of the first NWA:TNA broadcast for you, as well as other visual aids. Let's begin with the formation of NWA: Total Nonstop Action in the summer of 2002.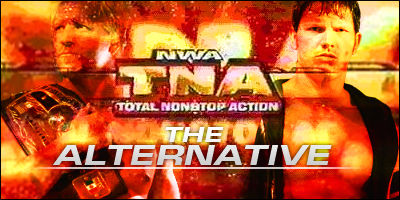 ---
Formation
For those who read my article The Death Of WCW – Who Was Responsible? … you will know Jerry Jarrett was financially capable, and willing to buy WCW in 2001. The deals from Bischoff and Jerry Jarrett were ignored by AOL Time Warner executives, as they held meetings with Vince McMahon, Linda McMahon, and the new COO Stuart Snyder (who happened to be a former work colleague of Brad Siegel, the man in charge of running and selling WCW) which led to the cheap sale of WCW and its assets to the WWF.
Bischoff and Jarrett made offers which were clearly more profitable for AOL Time Warner, but the decision was made to sell to the lowest bidder. As you can imagine, the events of WCW's purchase by WWF stunned Bischoff and Jerry Jarrett who did everything in their power to save the company. In 2001, following WCW's demise and Jeff Jarrett's public humiliation (being "fired" by Vince McMahon on live TV), Bob Ryder, Jeff Jarrett and his father Jerry went on a fishing trip to contemplate their futures. They felt because WWF had the monopoly in the market, television stations would regard wrestling as bad for business. Ryder suggested a wrestling company which didn't rely on television, but instead could only be seen through pay-per-view on a weekly basis.
---
The First PPV
After getting financial backing, Jerry & Jeff Jarrett organised the first PPV show on June 19th 2002. However, in a dark match prior to the event airing, a 450 Ib wrestler broke one of the ring ropes which required 30-60 minutes to repair; they only had a few minutes before the PPV aired live. The show had to be reshuffled, with non-wrestling segments (which they didn't have many of) going on first so the ring crew had the time to fix it. The job was finished in time with the help of some wrestlers, and the show went live with everyone hoping it would hold strong.
The company aired weekly PPVs, mostly in the Tennessee State Fairground Sports Arena (in Nashville, Tennessee) AKA the TNA Asylum. TNA reached a deal with the NWA, naming the promotion "NWA:TNA" while using the NWA World Tag Team Championships and the coveted NWA World Heavyweight Championship. Former champions The Shane Twins (Gymini in WWE) and Dan Severn were stripped as the titles became exclusive to NWA:TNA.
The first PPV aired with an emphasis on former NWA talents such as Harley Race and Ricky Steamboat, who were there to represent the history of the NWA and the importance of the NWA World Heavyweight Championship. A match called "Gauntlet For The Gold" was booked as the main event to decide the new and first NWA World Champion under the NWA:TNA banner.
#1 AJ Styles, Jerry Lynn & Low-Ki vs. The Flying Elvises (Jorge Estrada, Sonny Siaki, and Jimmy Yang)
#2 Teo vs. Hollywood
#3 Francine vs. Alektra (cat fight)
#4 The Johnsons vs. James Storm & Psicosis
#5 The Dupps vs. Christian York & Joey Matthews (aka Joey Mercury)
#6 Gauntlet For The Gold ft. Jeff Jarrett, Scott Hall, Ken Shamrock, Brian Christopher, Buff Bagwell, Konnan, Rick Steiner, Steve Corino and others.
---
Early Days
Creative was handled primarily by company founders Jeff & Jerry Jarrett. Vince Russo joined the team in July 2002 as a creative writer, but was not in charge of booking. Russo claims the name "Total Non Stop Action" was his idea (being a play on "tits & ass", T&A for short). The original concept was to be an alternative and edgier product to WWE. (Spoilers for the show above) On the first weekly PPV event, Ken Shamrock was crowned the first NWA World Champion after winning Gauntlet for the Gold. AJ Styles and Jerry Lynn became the first tag team champions in TNA history by winning a tournament final in July.
On the second weekly PPV, NWA-TNA introduced the NWA X Championship. The first title match was contested in a four-way double elimination between Low-Ki, Jerry Lynn, Psicosis, and AJ Styles, who went on to win it to become inaugural champion. A star was born.
On August 7th, Shamrock was defeated by Ron Killings, becoming the second World Heavyweight Champion in TNA history. Low-Ki won a triple threat against Styles and Lynn to become the second NWA-TNA X Champion. The chemistry of Styles, Lynn, and Low-Ki created the exciting X-Division, and the fast paced style would be used for years to come. Amazing matches gained the promotion credibility and fan belief it was following the concept of "Total Nonstop Action".
The following week, Russo stripped AJ Styles and Jerry Lynn of the tag titles after a double pin against Jarrett and Killings. In September, America's Most Wanted (Chris Harris & James Storm) won the tag titles for the first time.in a Gauntlet For The Gold match.
---
Dixie Carter And Panda Energy
In 2002, a booking agency informed Dixie Carter NWA:TNA were looking for a marketing and publicity outlet. She was hired, but only two months in was informed by Jeff the promotion's financial backer had withdrawn due to their own financial issues being investigated. As a result they were facing inevitable closure. Having seen the marketplace with only one promotion (WWE) leading the way with no competition, Dixie contacted her parents (the owners of Panda Energy) over purchasing and investing in the wrestling company.
In October the deal was made official, Panda Energy purchased 71% of TNA from HealthSouth for $250,000. The Jarretts remained in the company, and Dixie continued to work in her position. While Panda Energy owned the company, Dixie did not gain authority til the following year. The Jarretts were in charge of running wrestling operations, while Panda Energy dealt with the business side. This was crucial for the survival of the company.
---
Gaining Momentum
At an unknown point in 2002, Jerry Jarrett ceased booking (not entirely, as he had ideas make the air in early 2003), leaving it to Russo and his son Jeff. While Russo lead the way creatively, everything had to be approved by Jeff. Allegedly there was a creative power struggle over many months.
In early October, Jerry Lynn vacated the X-Division championship due to injury. On the same night, Syxx-Pac (AKA X-Pac) defeated Kid Kash, Tony Mamaluke, The S.A.T., Ace Steel, and A.J. Styles in a ladder match to win the vacant title. Two weeks later, AJ Styles became the first two-time X Champion by defeating Syxx-Pac. Jerry Lynn returned from injury in early November; defeating Styles to become two-time champion as well.
The tag team division heated up as The Disciples Of The New Church (Brian Lee & Slash) defeated AMW, leading to a competitive rivalry. In the main event scene. Jeff Jarrett lined himself up to become NWA Champion of the promotion he co-founded. In late November, Jarrett defeated Ron Killings for the NWA title with the help of "Mr. Wrestling III".
---
Sports Entertainment Xtreme (S.E.X)
Mr. Wrestling III took off his mask to reveal it was Vince Russo in disguise. The following week, Russo gave Jarrett the choice to join him, but Jarrett refused. As a result, Russo formed the stable Sports Entertainment Xtreme, a villainous stable who recruited most of TNA's heels under Russo's rule. Glenn Gilbertti, Sonny Siaki, B.G. James (Road Dogg), Raven, Trinity (first TNA Knockout) and others were recruited to rival Jeff Jarrett, AJ Styles, Ron Killings, Curt Hennig, Dusty Rhodes, AMW, and more.
It was the promotions first major angle, and continued in to the new year with S.E.X working to take the company over for themselves. It was great for AJ Styles' career, as he was thrust into the main event scene after a successful run in the X-Division. 'The Phenomenal One' had arrived.
---
Conclusion
2002 was only half a year in the history of TNA, yet its significance cannot be denied. The Jarretts invested money (they would've used for WCW) to create an alternative filled with exciting talents. Ron 'The Truth' Killings was given the spotlight and treated like a World Heavyweight Champion. AJ Styles, Jerry Lynn, Low-Ki and others put the X-Division on the map. America's Most Wanted stood at the top of the tag team division, giving fans new names to get excited about.
While Russo and Jarrett argued over creative, TNA faced far bigger problems. With impending closure looming, the deal in October 2002 saved NWA:TNA.from becoming a footnote in history. Dixie and Panda Energy saved the Jarretts from the embarrassment of failure. At the same time, they gave wrestlers such as AJ Styles, Low-Ki, Christopher Daniels, James Storm and others the platform to showcase their talent to the world, and provided full-time jobs to support their families.
2002 is one of the most important from a business standpoint. It was the year of AJ Styles getting noticed, and without his contribution the company may have had to rely on old stars instead of making new ones. By the end of the year the company hadn't found its identity yet, and weekly PPVs meant many fans couldn't see or hear about it on television.You could say it was like an underground promotion .. hidden in plain sight, but you could only hear about it through word of mouth, or the internet which only a minority had access to.
WWE was going through the first brand extension and toning the product down for family viewing, so NWA:TNA gave former WCW/ECW fans something more "adult". Less emphasis on comedic segments, and more time delivering competitive wrestling matches, with 'straight to the point' promos to break up the action. Simple formula, but it worked a treat.
And that's all from me. Thanks for reading everyone! See you soon for the 2003 edition.