For every great character such as The Undertaker, there are countless others who did not quite make the grade. Here are but ten:
1. Repo Man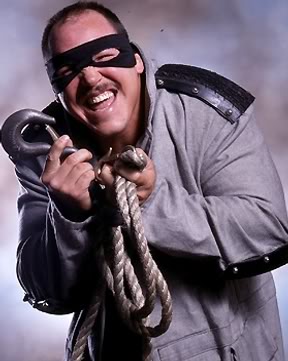 while the idea of a wrestling traffic warden is probably certified gold (could you imagine the boos?), the WWF's attempt at a wrestling bailiff was a stinker. Armed with a towing chain which would inevitably end up on the legs of vanquished wrestlers who had overdue phone bills, the Repo Man's tagline was 'What's mine is mine, and what's yours is mine too'. So he at least had the heart of the character down.
2. Bastion Booger
Poor Mike Shaw, he didn't stand a chance. Signing with the WWF in 1993, Shaw was initially lumbered with the character of Friar Ferguson, a mad monk. This was quickly dropped following pressure from the Catholic Church (and Lord knows what they had to say many years later with the infamous HHH necrophilia angle at a funeral). Shaw's next persona likely had him praying to God for his robes and chants back, as he was repackaged as Bastion Booger, a slob who took great delight in, well, being a slob. His wrestling singlet soiled and his beard unkempt, Booger's theme tune was a strange hybrid of snoring and farts. Needless to say this did not lead to Boogermania.
3. Mantaur
Ok, bear with me on this one. Mantaur was based on the mythical creature Minotaur. You know, half man, half bull. Making his way to the ring with a giant bull's head mask sitting on his head, Mantaur would use bull like moves such as charging, trampling and most embarrassing of all, mooing. Not so much bull-like as bull…..
4. 'The African Dream' Akeem
The One Man Gang was a classic monster heel – basically a big, bad bully. He was also distinctly Caucasian, so imagine the surprise (horror) when One Man Gang announced that he was not only now to be referred to as 'The African Dream' Akeem, he also adopted an incredibly offensive faux African accent and danced badly whilst 'an African ritual' was performed. Ah the 1980's. Simpler, more racist times.
5. Duke 'The Dumpster' Droese
One of the main reasons why people like to watch wrestling is for the over the top, larger than life characters. So it's no real shock that Duke 'The Dumpster' Droese, wrestling's first and last binman, was not a success.
6. Kerwin White
Chavo Guerrero was a popular, Hispanic WWE Superstar who shared many great moments with his late uncle, WWE Hall of Famer Eddie Guerrero. Capitalising on this link to an important demographic of their stateside viewers, WWE repackaged Guerrero as Kerwin White, a stereotypical middle America Conservative GOLFER, who not only denounced his Hispanic heritage, but also actually used the catchphrase 'If it's not White, it's not right'. What did I say about the 1980's? (Side note: Future WWE champion Dolph Ziggler was his caddy)
7. Zeus – Tom 'Tiny' Lister was well known for his acting turns in films such as 'The Dark Knight Rises', but people often forget that he was also a fantastically bad wrestler. Riding on the wave of a huge popularity surge in the late 80's, the WWF financed and released one of the worst films of all time, 'No Holds Barred' starring Hulk Hogan and Lister as opposing wrestlers. Blurring the boundaries between film and wrestling, Zeus, Lister's character in said flop, soon arrived in the WWF and took on Hogan in a series of mostly tag matches. He was abysmal.
8. The Gobbledy Gooker – Oh boy. So, at the Survivor Series 1990, there was a giant egg by the entrance way. Rumours were abound as to who would be inside the egg. Would it be a rival champion from another federation? Or how about a returning hero to vanquish some bad guys? It turned out to be Hector Guerrero, brother of WWE legend Eddie, in a turkey costume (It was held on thanksgiving night after all). He proceeded to dance with 'Mean' Gene Okerlund in the ring as millions pretended 'I don't watch this, honest'
9. 'The Fat Chick Thriller' Mike Awesome – We'll finish with two of WCW's finest. Mike Awesome arrived in WCW as the reigning ECW Champion, immediately attacking Kevin Nash, one of the company's biggest stars. Within months he was renamed 'The Fat Chick Thriller' , whose thirst for championship gold was only matched by his thirst for overweight women.
10. The Shockmaster – every wrestling fan will have heard of this guy, so what better way to round off this list. Fred Ottman was known as Tugboat and Typhoon in his WWF days, and whilst those two personas could have made this top ten on another day, it was his WCW debut that will never be forgotten. Needing a final member his four man team, Sting announced that he had a partner who was going to 'shock the world!' He didn't know how true his words would ring. Bursting through a paper wall, Ottman tripped over a piece of lumber supporting said wall and toppled into the interview, his sparkly stormstrooper helmet falling off in the process. Despite getting to his feet and finishing the segment, The Shockmaster was finished, and if you listen very carefully you can hear UK Favourite The British Bulldog burst out laughing, exclaiming 'He fell flat on his arse…he fell flat on his f****** arse'
Source: The Independent