What started as a game show contest hosted in 2010 for prospective superstars on the FCW brand to get an opportunity to get a spot on the main roster has turned into a worldwide, global phenomenon. Some say the NXT brand of sports entertainment is the leader in professional pro wrestling because of how high the bar is consistently raised with their signature Takeover PPV's.
The first Takeover PPV was held in 2014 with all events taking place at Full Sail University. Now, NXT is a nationally recognized brand, filling up arenas across the country and the world. I feel it is appropriate to reminisce on how NXT has performed over the years and the 25 best matches held at these special events. Here are my top 25.
25. Velveteen Dream (C) vs. Matt Riddle – NXT North American Championship (Takeover: New York)
I loved this match because of the conflict in characters here. On the one hand, you have a beautiful idiot with no self awareness in Matt Riddle and another beautiful idiot with too much self awareness in the Velveteen Dream. Combine the two, and you have some of the best character work in a match you will see. What amazes me about Riddle is that while he looks like your stereotypical high school/college jock who gets all the girls and surfs a lot of waves, he's all business once he gets in the ring and he effectively outwrestles Dream here.
On the other hand, Dream keeps things so simple, yet refined. He has an elite understanding of what to do in certain situations, and he didn't defeat Riddle in this match so much as he escaped him. Riddle's look of surprise that he was effectively countered was beautiful. If you want to see two unique characters at work here turn into an incredible athletic affair, you'll get your fill here.
---
24. Bayley (C) vs. Sasha Banks – NXT Women's Championship (Takeover: Respect) – 30 Minute Iron Man Match
The women's revolution effectively started to take form in 2015, when the women of NXT took women's professional wrestling in WWE by storm. The rivalry between Sasha Banks and Bayley remains legendary and an important part in NXT history. They would have a better match in Brooklyn, but their Iron Man match is still a very well done back and forth affair.
What carries this match is the heel mannerisms by Sasha Banks. Her torturing Bayley right in front of one of her most die hard fans was absolutely perfect, and it created a perfect clash of good vs. evil. Eventually, Bayley was able to overcome with the win, but just like in Brooklyn, they couldn't help but hold a level of mutual respect with each other. These two always told good stories together.
---
23. Tomasso Ciampa (C) vs. Johnny Gargano – NXT Championship (Takeover: Brooklyn III) – Last Man Standing Match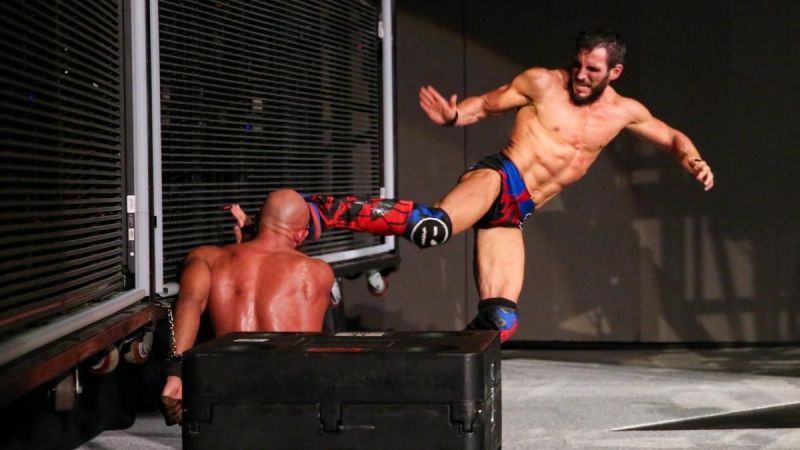 Ciapma and Gargano is arguably the best individual rivalry in NXT history. If not, it is at least in the running. Their rivalry was built upon years as a tag team and as competitors, but came to a head when envy and rage took over. The trilogy of matches between Gargano and Ciampa effectively defined their rivalry, and while this match was the "worst" of the three, it just goes to show you damn good they are.
Their Last Man Standing  is effectively violent, barbaric and remarkably physical. Here, the seeds of Gargano turning towards the dark side were planted, and the finish came when Gargano had Ciampa beat, but his rage caused him to make a mistake and took himself out of the running in the process.
---
22. The War Raiders (C) vs. Ricochet and Aliester Black – NXT Tag Team Championships (Takeover: New York)
This was the effective swan song for Ricochet and Aliester Black that they deserved. They had won the Dusty Rhodes Tag Team Classic, and in going so, earned the right to challenge for the Tag Team Championships and NXT's champions, the War Raiders. Ricochet and Black were already teaming up on the main roster, and with WrestleMania season looming, it was clear that they were going to lose in lieu of their call up.
That said, you could have fooled me as to who was going to win because this match was bonkers. The reason why it was so impressive was because both teams were copying each other's styles. Black and Ricochet were content in showing off their great strength while the War Raiders, big as they are, were doing back flips and dives to the outside. It was an unexpected twist that led to an incredibly fun match that could have gone either way.
---
21. Finn Balor (C) vs. Kevin Owens – NXT Championship (Takeover: Brooklyn) – Ladder Match
This is kind of a bittersweet match for some because this would prove to be Kevin Owens' last Takeover. Owens and Balor are two of the more popular acts in NXT history. Owens, because of just how unbelievably talented a heel he is, and Balor because of his popular Demon gimmick. Ladder matches have been done before in NXT, but Balor and Owens raised the bar with some of the spots and physicality that they had here.
For someone as big as Owens here, you have to respect some of what he's able to do. Balor complimented Owens' style beautifully here, and they were able to be creative with the ladders. Especially Owens, lining up the ladder on Balor's body and pretending as though he was going to do something, only to just punch him in the face to the disappointment of the crowd. It's a very fun ladder match, and one of the best of its kind in NXT history.
---
20. Sami Zayn vs. Cesaro: Takeover: ArrRival
Sami Zayn's quest for respect early in his NXT tenure became prominent when he battled Cesaro of the Real Americans back in 2014. This is a unique match because someone on the main roster was being featured on a Takeover card. These two already had what many considered to be a match of the year, and this was a highly anticipated rematch that people couldn't wait to see.
When you combine the high-flying, athletic ability of Sami Zayn with Cesaro's inhumane strength, it makes for a unique combination. These two were unbelievably impressive here, incorporating basic psychology with a great backstory. While Zayn did not come out of the match with the win, he was able to get what he was seeking for the longest time. Respect.
You can keep up with all your wrestling news right here on eWrestlingNews.com. Or, you can follow us over on our Twitter and Facebook pages.