*Edited on October 1st 2018. Removed broken pics.**
Wrestlemania I – Gene Okerlund's Singing
Gene Okerlund opened the first Wrestlemania with a rendition of the Star Spangled Banner. Needless to say, he's not known for his singing, but the crowd sang along which is a plus. Apparently, Okerlund was made to do it after a celebrity declined an invitation. It was bad, but the fans encouraged him on and he saw it through to the end.
I'll add these matches as well: Tito Santana vs. The Executioner, and David Sammartino (w/ Bruno) vs. Brutus Beefcake (w/ Johnny Valiant).
Wrestlemania 2 – George Wells Vomits, Celebritymania.
Not only did this event occur in three venues, with three separate match cards including their own commentary teams, it was littered with celebrities as well. The worst commentary team opened the show, and featured Vince McMahon and Susan Saint James; it's hard to describe why they were so bad .. Susan was out of place, and Vince talked about nonsense with her instead of calling the action. George Wells vomited in the ring following his match with Jake "The Snake" Roberts, which is something you won't see on a highlight reel.
And I'm not done yet! There was a terribly short match for the Women's Championship between Moolah and Velvet McIntyre (guess who won), the infamous Adonis vs. Uncle Elmer encounter, and the incredibly one-sided main event between Hulk Hogan and King Kong Bundy. Moving on swiftly.
Wrestlemania III – King Kong Bundy Flattens A "Midget".
Bundy went from main eventing Wrestlemania to literally squashing midgets in a mixed tag bout. Not only that, but the event included a six man tag between The Hart Foundation and Danny Davis against The Bulldogs and Tito Santana. Why was it bad? The match centered around Danny Davis, and instead of having the two hottest tag teams fighting over the belts, we got this instead. I was thoroughly disappointed when I saw it so I had to include.
Wrestlemania IV – "Screwy Finish This, Screwy Finish That"
While a tournament was being held to crown a new WWF Champion, Bob Uecker spent most of the PPV looking for Vanna. She was asked if she had seen Uecker, but she responded by saying she didn't know who he is. Rick Rude and Jake Roberts had a match in the tournament, and while that may sound great, it really wasn't. No idea why, but the match stunk, went far too long, and ended with a draw, eliminating both men from the tournament.
After The Bulldogs match, Davey Boy dumped Matilda on Heenan .. like she was going to savage Heenan or something. For anyone who doesn't know, Matilda was the most docile bulldog you will ever see. But that wasn't as bad as the many overbooked endings to tournament matches. I'm not going to go in to all of them, because there were so many; ten if I remember right. It was very confusing, and I still can't get my head around it.
Wrestlemania V – Piper's Pit, Red Rooster vs. Bobby Heenan
So there was that Terry Taylor guy who played the Red Rooster, and he defeated Heenan in 30 seconds before the main event. No idea.
Anyways, perhaps not as bad as Piper's Pit, which included Brother Love, Morton Downey Jr, and Roddy Piper. Brother Love came out first and conducted an interview with "Rodney Piper", Morton sat there on a stool smoking a full pack of cigarettes (not much of an exaggeration), and Piper mumbled through his lines. After a lifetime of one of the most cringing segments ever, Piper stopped Morton's bad smoking habit with a fire extinguisher.
But that's not all, Superfly Jimmy Snuka randomly appeared as Dino Bravo and Ronnie Garvin were about to start their match, took all the spotlight, posed in the ring, and then disappeared out of sight.
Wrestlemania VI – Piper's Half-white, Half-black face, Hunka Hunka Honky Love
Piper had a feud with Bad News Brown, and to play mind-games he pretended to have a split personality which some may consider racist. It's not like there was much ammunition against Brown due to his lack of personality, but to go that far? Of course, it had to be accepted by Vince as well, so it's always been used as an example of racism in WWE.
Honky Tonk Man and Greg Valentine performed "Hunka Hunka Honky Love", and while it wasn't terriblly performed, it was an old fashioned song by 1989.
Wrestlemania VII – Filler Matches
Not much to say because the event was great. To nitpick I'll say Earthquake vs. Greg Valentine, and Tenryu/Kitao vs. Demolition were the worst out of the fifteen match card.
Wrestlemania VIII – Hulk vs. Sid Botch, Owen Gets Little Time
Owen Hart had a match against Skinner for 1 minute 30 seconds before the main event; and it made me a sad panda so I had to include. Also having to watch Hogan vs. Sid after a long PPV was hard enough without Papa Shango botching the end sequence.
Wrestlemania IX – Undertaker Faces Giant Gonzales, Hulk Steals Spotlight From Bret
One of the most cringing matches in the streaks history was the encounter with Giant Gonzales. Also his attire did not go down well. We also had some hilariously bad interviews conducted by Todd Pettengill with fans. Many see the end of Wrestlemania IX as a huge injustice to Bret Hart, as Hogan once again claimed the WWF Championship following an impromptu challenge from Mr. Fuji. I don't blame them, after nine Wrestlemanias it's time for something new.
Wrestlemania X – Luger vs. Yokozuna
While the rest of the card was top notch, Luger's WWF title challenge against the big Yokozuna didn't go down well with me. And just so you know, we got another Earthquake squash match.
Wrestlemania XI – Taker vs. Bundy, Bret vs. Backlund, Production Decline
The production values took a dive here. Also Taker vs. Bundy was really dull and forgettable. What could have been a classic I Quit match between Hart and Backlund never picked up, and Piper's constant "d'ya quit!?" didn't help matters. The event was littered with celebrities, most famous being Pamela Anderson. Some may criticize the main event for allowing a football player to go over on a wrestler, and I can see why, but I won't include it as one of the worst matches because of the result.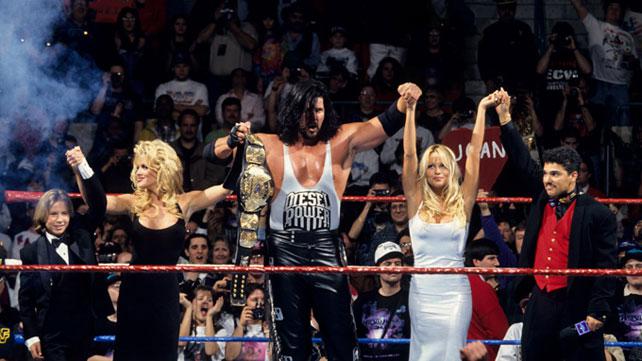 Wrestlemania XII – Attitude Era Blues
On the verge of full scale Attitude Era, I can't find much to dislike. Steve Austin vs. Savio Vega dragged considerably, and the street fight between Goldust and Piper was pretty good, but with some really cringing moments as well. Nothing else to see here.
Wrestlemania 13 – Rocky Needs His Fathers Help, Undertaker vs. Sid, Dead Crowd
Outside of the submission match, the event is labelled as one of the worst Wrestlemania. I enjoyed it though for the most part. To nitpick again I would say Rocky Maivia's match as amusing because the fans hated him like they currently do Roman Reigns. Even with Rocky Johnson showing up it didn't help his cause. The crowd were dead for most of the event, which is understandable when you see the card.
Finally, the match between Taker and Sid was a snoozefest, and only seemed to get interesting when Bret interfered. Clearly any fans of The Undertaker will still love this because he won the title in the main event, but sadly it wasn't in a memorable match.
Wrestlemania XIV – The DX Band Sucks, Bury The Light Heavyweights
Chris Warren and the DX band performed the national anthem in a grungy and disrespectful manner, which could be seen as them trying to get heel heat, but the performance was so bad I included it. Also Jerry Lawler buried the WWF's light heavyweight wrestlers during a title match between Michinoku and Aguila.
Wrestlemania XV – Meaningless Battle Royal, Worst Worked Hell In A Cell
The PPV began with a 21-man battle royal where the two remaining wrestlers would form a team to challenge Jarrett & Owen for the tag titles. D'Lo Brown and Test won, so they unsuccessfully challenged for the titles in a short match.
Later on, The Undertaker and Big Bossman added to the "worst streak matches ever" list in a Hell in a Cell. We remember how it ended, but no one remembers the match itself. And one last thing, Sable and Tori had a terrible match for the WWF Women's Championship.
Wrestlemania 2000 – "Pimpin Ain't, Pimpin Ain't Easy Man"
During Godfather's entrance, Ice-T rapped a version of his theme which included the above quote dozens of times in succession. T & A also had a dull match against HeadCheese. Some may criticize the main event for it's "McMahon" theme and overbooking; but I see that as personal preference.
Wrestlemania X-Seven – "Why Austin Why!?"
While the PPV is regarded as one of the best of all time, I found the APA & Tazz vs. Right To Censor match to be the worst on the card, and fans will always question how the show ended. Austin admitted his heel turn was a brave move which didn't pay off in the long run, and all I remember is having a bitter taste in my mouth following an excellent PPV.
Wrestlemania X8 – More Filler
The PPV was pretty good, but it did include some average matches such as Maven vs. Goldust, Kane vs. Kurt Angle, and the feud between Edge and Booker T escalating over a shampoo commercial. Billy & Chuck went over on the APA, Dudleys, and Hardys, and it was followed by a weak outing from Lita and Trish Stratus in a triple threat with Jazz (who was great).
Wrestlemania XIX – Miller Light Cat Fight Girls, "Crack Addict!"
The Miller Light Catfight Girls had a "match" with Torrie Wilson and Stacy Keibler on a bed on the titantron stage. Coachman got involved for some reason, and then the girls took his trousers off, stopped fighting, and walked away.
Limp Bizkit performed the song with the inappropriate title "CRACK ADDICT!", which I've never liked. Thankfully the song never got over.
Wrestlemania XX – Goldberg vs. Beast, Playboy Evening Gown
Again, the women were treated as softcore porn artists during their Playboy Evening Gown "match". Both four-way tag team titles sucked despite the talent, and to top it all off, Goldberg and Brock Lesnar was scheduled. As word had got out that both men were leaving WWE after the event, the fans booed considerably, even more so when they sandbagged the entire match and did as little as contractually obligated. At least Austin was there to make the save in the end.
Wrestlemania 21 – Christy Hemme, Sumo Match
A good PPV, so to poke negatives is difficult, but on this occasion I'll go with Trish Stratus vs. Christy Hemme, and the Big Show's backside during his Sumo match with the legendary Akebono. Also Cena vs. JBL for the WWE Championship was as dull as it sounds.
Wrestlemania 22 – More Playboy Gimmicks, Eddie Guerrero References
Aside from a Playboy Pillow fight before the main event, the event was really good. Despite Guerrero's passing five months earlier, WWE used it as part of Rey Mysterio's road to the World Heavyweight Championship. Some fans didn't appreciate it, because they felt Mysterio was only winning the title because of Eddie's death, and not because he had the momentum to be a World Heavyweight Champion. Some will see it as a fitting tribute, while others will criticize the references so many months after his passing. Also the use of Eddie in promos, such as Randy saying Eddie was in hell as an attempt to gain heel heat, but it remains questionable how effective it was.
Wrestlemania 23 – More Giants, More Divas!
The Great Khali vs. Kane! Oh lord have mercy on us all. And we also got to see Melina vs. Ashley (!) in a Lumberjill match, with jobbers such as Mickie James, Victoria, Gail Kim and others watching in awe.
Wrestlemania XXIV – Remember This?
Ok, here it comes. One special match you may have forgotten. It could only be … Batista vs. Umaga! There was also a forgettable match between Triple H, John Cena and Randy Orton for the WWE Championship.
Wrestlemania XXV – "My Name Is … Santina!"
While the fan reaction was pretty good, the Playboy BunnyMania Lumberjill match promised one winner, and Santina prevailed over all. Whether that's a worst moment or not is up to you. Also Kid Rock had a mini-concert for 15-20 minutes which really tested ones patience. Also the main event matches didn't click, and couldn't follow HBK vs. Taker.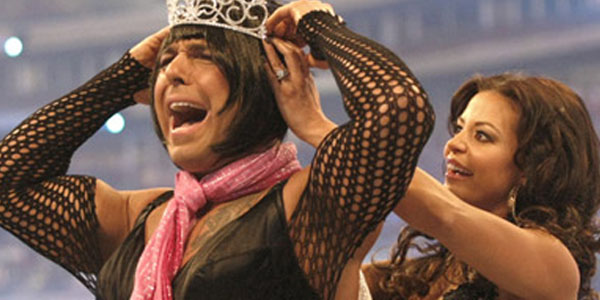 Wrestlemania XXVI – Vickiemania, Pointless Opener
The show started with a three-minute tag team bout which saw Big Show knock someone out to retain the titles for ShoMiz in something which resembled a dark match. Again, the divas had little time and were used in a 10-diva tag team match to put Vickie over before the main event.
Wrestlemania XXVII – Show Strikes Again, Undefeated Cole, Miz vs. Cena
In an eight man tag, Big Show used his super power punch of doom to knock one of The Corre out in short fashion. We also had the pleasure of watching the climax to the feud between Jerry Lawler and Michael Cole. To end the show, The Miz and John Cena wrestled one of the worst main events in history, and were soon steamrolled by the mighty actor Dwayne Johnson. You know? That guy who was called The Rock before?
Wrestlemania XXVIII – "No! No! No!"
The first hour of this show is one of the worst you will find in any Wrestlemania event. Not only did we have Orton vs. Kane, Big Show vs. Cody Rhodes, and Maria Menounos/Kelly Kelly vs. Phoenix/Torres, but all that came after the opening match between Sheamus and Daniel Bryan. A match with the intention to relegate Bryan, but instead caused a stir among fans which only accelerated the popularity of the "Yes!" man. Sometimes negatives can be turned in to positives.
Wrestlemania 29 – Too Much Of The Same
Henry vs. Ryback was criticized heavily. The crowd were dead quiet during Lesnar vs. Triple H, sending Lesnar in to a screaming frenzy. And then the match originally labelled as "Once in a lifetime", somehow happened again. The Rock lost to Cena to return the favour, while the rest of us wondered why we had to see it again.
Wrestlemania XXX – "Get Up!"
The show was really good so it's hard to find faults with it. The only average match was the encounter between Bray Wyatt and John Cena, which saw the story of "Bray trying to turn Cena evil" play out. Also the feud was titled "Legacy", and somehow, if Cena lost the match, he would lose his legacy. I don't know either, to me it's just a marketing gimmick.
Wrestlemania 31 – "Rusev Crush!"
Again, the event was really good and it was hard to find negatives. The biggest match which angered me was the encounter between the undefeated "Russian sympathizer" Rusev, and the patriotic John Cena. Rusev was given a glorious entrance which saw him ride in on a tank.
Rusev and Cena previously fought in an quality match at Fast Lane, but they didn't come close to repeating it here. The match ended with Cena taking advantage of a distraction, and it could be seen as the worst way to end his undefeated streak. Rusev's career peaked, and suddenly he was relegated to mid-card hell.
And that's it from me. I hope you enjoyed the worst-of-the-worst, and I'll be sure to have the best-of-the-best on your screens in the near future. Thanks for reading.
You can keep up with all your wrestling news right here on eWrestlingNews.com. Or, you can follow us over on our Twitter and Facebook pages.