Hi everyone! Got another list for you guys & girls to sink ya teeth into. I'm in my thirties now (it was last month .. late to be wishing me Happy Bday!) .. so I don't like to dwell on the past too long as I'd rather look to the future with optimism.
Below is a list of superstars who I believe could be WWE Champion, or Universal Champion for the first time in the next year. I'll order it in a way which shows superstars I believe are most likely to reach their goals be featured higher. It is not a list of my "fave five" of each brand, but rather .. a list which makes sense from a business standpoint. I'll warn you though .. I have a man crush on Braun Strowman, as much of a crush as one heterosexual male can have for another.
#10:- Rusev (Smackdown Live!)
The Bulgarian Brute was recently moved to Smackdown with no announcement in the Superstar Shake-up. Before taking time off for surgery, he spent his time in mid-card hell with no means of escape. However, he was on Raw .. with names like Brock Lesnar, Goldberg, and Roman Reigns taking up main event slots. On Smackdown .. there aren't any big names WWE would refuse to have defeated for the WWE title.
Rusev could return with a renewed sense of destruction over his competition, and he'll have generous talent like Randy Orton, AJ Styles, and former rival John Cena to make him look like a million Bulgarian Lev. Smackdown Live is the land of opportunity .. so if Jinder Mahal can become #1 contender at Backlash .. Rusev has what it takes to become WWE Champion.
#9:- Jeff Hardy (Raw)
Trust is the word for Jeff Hardy. While he made up for his flaws (Victory Road 2011 incident) in TNA Impact Wrestling, and given plenty of runs with the World Championship, WWE won't want to risk pushing him too early. WWE will want to see consistency with his in-ring performances, and if they manage to negotiate a deal to bring The Broken Universe to Raw it would put a ton of hype on him and Matt. The most important thing is they quickly do away with the tired act of "The Hardy Boyz" and show they are "Hardy Men" with Universal Championship aspirations.
They are too popular for the tag team title scene .. so it wouldn't be a stretch to see Jeff going for the Universal title by the end of 2017. As for Matt .. his future rests on whether 1) WWE can make him wonderfully broken, 2) WWE giving creative freedom and access to the Hardy Compound, and 3) the WWE Universe embracing the Broken Universe in all its glory. There's way too many variables to justify having Matt in the top 10 .. but I'm not ruling out the possibility of a Broken Universal Champion. Stranger things have happened.
#8:- Luke Harper (Smackdown Live!)
Luke Harper is a workhorse. Everything he does is so crisp, so professional, and he's proven he can deliver solid main events with the likes of Randy Orton. He needs more love from the crowd to reach the next level, and it seems that .. slowly but surely, they are beginning to see the magic he brings. There's not much more for him to do .. other than win the WWE Championship. With Smackdown being the land of opportunity, one big moment in his career could rocket him to the top of the mountain .. and I think he's earned a run after years of hard work.
#7:- Baron Corbin (Smackdown Live!)
Corbin is young and extremely hungry for success. WWE keeps booking him around the main event on Smackdown .. which tells us they are as high as the clouds with The Lone Wolf's work. He's one of those guys who could become WWE Champion before he's ready .. which will anger some fans (as they'll state others are more deserving). Personally I don't think he's ready to achieve greatness just yet .. but he certainly has the basics. Experience and exposure .. are the two words I would put next to his name. While I think it would be premature .. given his recent booking it wouldn't be a total surprise if he claimed WWE's biggest prize by 2018.
#6:- Bray Wyatt (Raw)
Having already fought The Undertaker at Wrestlemania, and won the WWE Championship on Smackdown, Bray Wyatt continues to add moments and titles to his résumé. He will do the same with Raw, where he'll get involved in countless feuds before setting his focus on the Universal Championship. However, he's got to wait til Brock Lesnar loses the title before he even thinks about going there. Either way, if something was to happen to Reigns & Rollins, Bray will be there to capitalize and become Universal Champion. He would work well with Braun Strowman, and "The Demon" Finn Balor.
#5:- Kevin Owens (Smackdown Live!)
Owens makes any championship he holds a touch more important through his ego. As "The New Face Of America" (get it right Saxton!) he will make the United States title relevant while keeping himself in the limelight. It's important he continues to hold mid-card titles when he's not in the main event picture, otherwise he will get lost. We can't have that .. because he's too damn good .. and loud, to be lost in mid-card hell. He's already won the Universal, Intercontinental, and NXT titles, so it's easy to believe he'll go back to the main event scene to challenge for the WWE Championship after losing his new championship and title "The New Face Of America".
#4:- Seth Rollins (Raw)
Had he not picked up his injury, I believe he would've been Universal Champion by now. The company has a lot of faith in him, despite Austin's recent remarks asking "well.. who is he?", which I have to agree with and say it was perfect feedback from Stone Cold. Who is Rollins? Could he be more than Seth Freakin' Rollins? If WWE wants to make him a good guy champion, they need to add more to his character.
At the moment, I still see the same man who killed it as the heel champ under the thumb of The Authority. I keep expecting him to tell the crowd to shut the hell up, and it's strange when he doesn't. Either turn him back heel .. or evolve his character. Doing nothing is not the best option.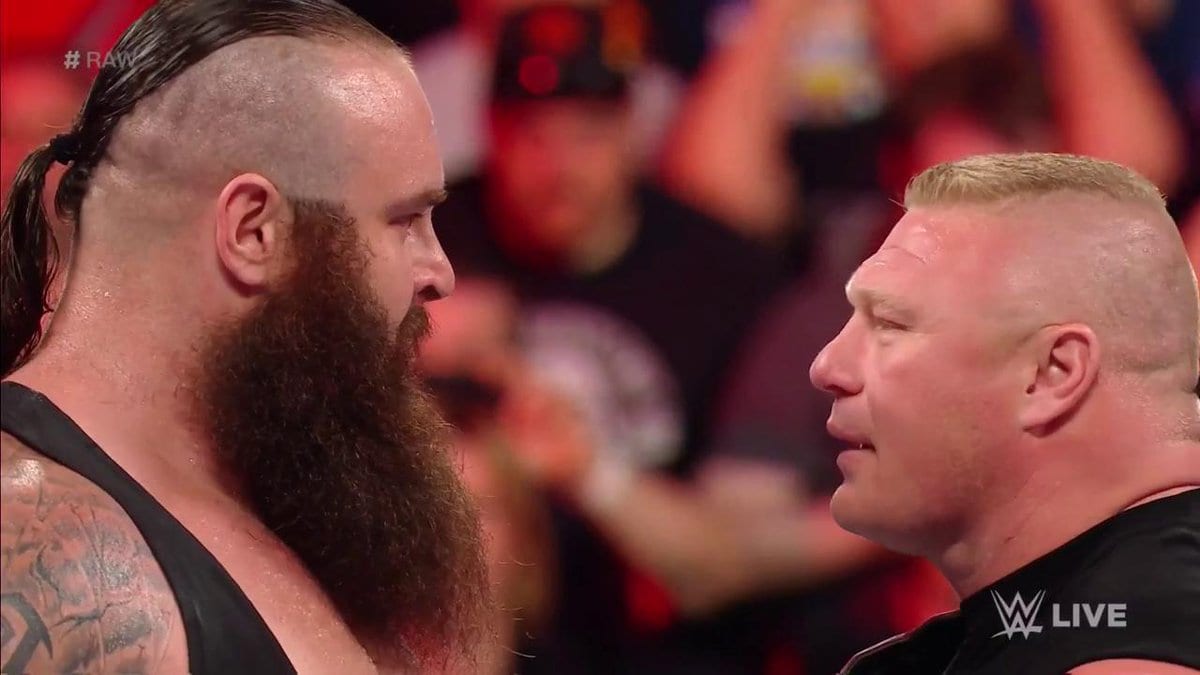 #3:- Braun Strowman (Raw)
Ok .. sorry, but I wish I could have Strowman's babies. I love this guy .. and not because he's big. There's a reason Braun bypassed NXT .. he's an exceptional learner. And you know what's scary? He's only going to get better! And not just in the ring .. but on the mic, the way he looks at people, the way he sells .. everything is bound to improve.
He's an athlete worthy of taking on guys like Brock Lesnar. You don't tease Strowman vs. Undertaker, or Strowman vs. Lesnar for no reason .. so I expect he will win the Universal Championship before the end of 2017. Let's hope he keeps coming back for Roman. And no .. I didn't find the ambulance stunt dumb. It was probably the most memorable thing he's done thus far, and I ain't going to be negative over it, as it was more for the kids than the adults in the audience. Any adult who thought it was real? I don't know what to say to you.
#2:- Shinsuke Nakamura (Smackdown Live!)
There's many casual fans who have no clue what Shinsuke brings, and their negative comments bait other fans who know him through his work in New Japan and/or NXT. I have positive vibes when they inform the uninformed of his greatness. He's an acquired taste who takes getting used too .. but when ya do it's easy to appreciate his passion. He is a genuine human being with an unforgiving style in the ring. Shinsuke's had to cut back a little on his stiff offense, but it's fine .. as at the very least we'll get his personality with nothing trimmed away. He could be the biggest, most successful Japanese star since Antonio Inoki in the 70's & 80's.
#1:- Roman Reigns (Raw)
For the longest time I've said something along the line of: "If you don't want WWE to push Reigns .. 1) Make no noise, 2) Don't mention him to friends, or on social media, 3) Refuse to buy merchandise for family & friends."
Do you know why he gets pushed? Because people won't stop booing. They won't stop buying merchandise. They won't stop sharing their disdain in almost every social media post to do with WWE .. even when he has nothing to do with the post. For a long time, I was on the opposing side and grew tired of seeing his face .. but lately I've found him amusing. I think it's interesting how he can stand in silence for ten+ minutes and get a  bigger reaction than anyone on the show. He's like John Cena back in 2006-2007 .. and ten years later everyone's fallen for the same old trick.
Through pure fan resistance .. WWE has made a star despite the flaws. There's no doubt he is the next Universal Champion after defeating Lesnar. Whether it's soon .. or at Wrestlemania next year, Roman is #1 after taking The Undertaker's yard. He's THE guy .. whether you love him, or hate him, and nothing will change that so long as he gets the reactions. I'm not a fan, so seeing Strowman destroy him on a regular basis is quite entertaining. When he wins the Universal title, I'll accept the reasons .. but I won't enjoy it. I'll be shocked if he doesn't win in predictable fashion, because the company has put everything into this and a U-turn would make no business sense.
Apologies for the predictable and polarizing #1 choice. While I'm uninterested by his inevitable title reign .. I do care for feedback on my articles. Please leave me a comment if you liked it, or if you didn't .. let me know what I could do better and I'll use the criticism to improve. Thanks for reading either way! And for those interested .. I'll have the third part of "The Hardy Boyz 8-year journey back to WWE" up soon.