It's that time of year again, as we reach the last few days before Wrestlemania weekend. I have to say, I am eagerly awaiting the cards for Wrestlemania and NXT Takeover with much anticipation. WWE has done a steller job, I can't find anything which would qualify as passable. There's going to be a lot to sit through, but that's fine with me. The rest of 2018 hangs on what happens this weekend, and there should be plenty of moments to take away as well.
While WWE has left it late in some cases, they managed to place most of their talent in the right spots. I don't think anyone's getting wasted whether they're on the pre-show or not. But that's the thing, pre-shows are getting better because the competition is so fierce. It's getting to the point we could question the use of a pre-show; are they not meant for matches with little meaning to give fans something to watch while others enter and find their seats? They should do away with pre-shows at Wrestlemania, but they won't because it means they'd have to advertize an excessive 6+ hour show.
Before I start, let me comment about the list and the ordering. It is only one persons view, and what we enjoy and look forward to is subjective. They were ordered by (with no one thing taking priority over another) build, stakes, personal interest, and anything else which may contribute. Only a few matches didn't make it, those I was least interested in. Still looking forward to them all the same!
---
15. Randy Orton vs. Bobby Roode vs. Jinder Mahal vs. Rusev – United States Championship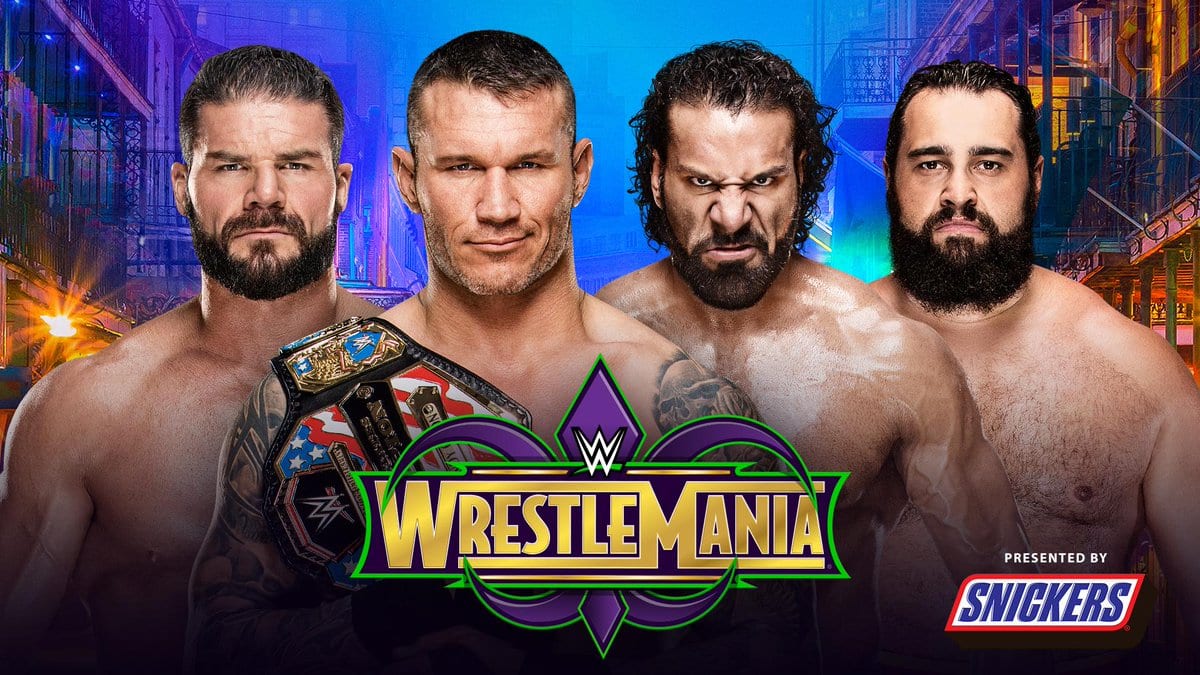 What makes this match good is the unpredictability. Orton doesn't need the US title, but at least it gets him on the card, whereas the other three could really benefit with a win at Wrestlemania. Rusev's late inclusion was a bit of an insult considering recent reactions and merchandise sales. Any of them could be challenging for the WWE title, but it goes to show how competitive WWE's become, to see the US title fought over by four guys who wish they could be higher on the card.
14. The Usos vs. The New Day vs. The Bludgeon Brothers – Smackdown Tag Team Championship
The build for this was better than expected as The Bludgeon Brothers became a force to be reckoned with. I'm a huge Luke Harper fan, he came so close to breaking in to the main event scene as a singles star, but WWE repackaged him and got him back with Rowan. The Usos and The New Day's rivalry escalates with every passing month, but that means they'll be focusing too much on each other while The Bludgeon Brothers take advantage. The result depends on if New Day and The Usos can quell the threat hammering them in the face. It should be an exceptional three-way tag.
13. The Bar vs. Braun Strowman & ??? – Raw Tag Team Championship
I really hate that they took Strowman out of the Universal title picture, but at the same time, I know it's only a matter of when; not if. It was thrown together once WWE confirmed Reigns vs. Lesnar, so The Bar and Strowman did what they could to hype it. But the real question lies with Strowman and who is partner is .. or if he'll have a partner at all. Could Strowman seriously take on the tag champions on his own and win? Or will he form an uneasy alliance with someone like Elias .. who is suspiciously not on the card? It will be fun to see how The Bar deal with what Strowman brings to Wrestlemania.
12. The Miz vs. Finn Balor vs. Seth Rollins – Intercontinental Championship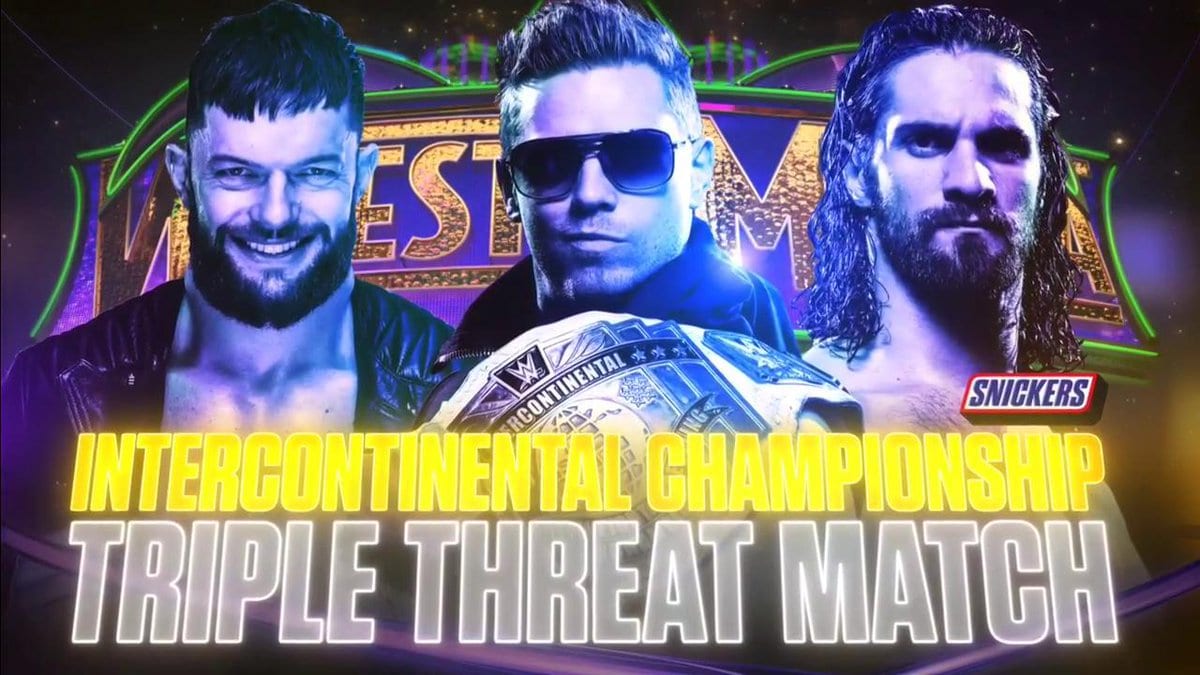 The Miz has been truly awesome lately, and this feels like a proper Intercontinental title match. It's way up there in terms of competition, Balor and Rollins will make this very exciting, while The Miz will do what he does best. Can certainly count on The Miztourage to get involved, so it may turn in to a tag team match for a while. There's no rules, so anything can happen, and I'm sure they're up for stealing the show. My only gripe is the buildup has been too much about The Miz, and I think Balor needs to get The Demon involved.
11. Andrade Almas vs. Aleister Black – NXT Championship
The buildups been a bit strange for me, but the most important thing is it's definitely worthy of the NXT Championship. I think it may struggle against the other matches at Takeover: New Orleans, but it's been a long time coming for Aleister Black, and we all know Almas and Vega will do anything to stay on top. It feels like Black is going to be crowned champion, he's virtually unstoppable and I don't think Almas has an answer. If they wanted to move Almas up after Wrestlemania, it would be the perfect time. I don't think he should though, I think Almas needs a bit more time so he isn't lost in the mix and can continue developing. Aleister needs that title though .. if he doesn't it kills all the victories he's amassed since joining NXT.
10. Cedric Alexander vs. Mustafa Ali – Cruiserweight Championship
WHAT THE HELL! HOW DARE YOU HAVE A PRE-SHOW MATCH IN THE TOP 10! Is what some trolls are probably thinking. To be blunt, if you haven't watched 205 Live lately, and you think this is to be passed up, I feel sorry for you. I feel sorry that you have deprived yourself of the new 205 Live, which is basically an extension of NXT now Triple H has taken over. It was crap before, we can all admit that .. hell, even Vince McMahon would admit it if you gave him enough alcohol.
What's happened since the Enzo Amore fiasco is one of absolute competition, athleticism, and more importantly, the talents motivation to go out and force dull, tired crowds in to giving everything they've got left in the tank. And it's been working! We've had some cracking matches, and it's only getting better. I wasn't totally stoked to see Cedric and Ali reach the finals (I was rooting for Strong vs. Gulak), but after some promos and seeing Drake Maverick's plea to the universe to "tune in early" (so you don't miss the match that will steal the show), I found more appreciation for this "Heart vs. Soul" contest. I know what these guys are capable of, and with free rein to do what they want .. it's gonna get juicy. Tune in early for the pre-show! It's worth it. This is the new 205 Live moving forward.
9. The Undisputed Era vs. Authors Of Pain vs. Roderick Strong & Pete Dunne – NXT Tag Team Championship & Dusty Rhodes Tag Team Classic Final
*Contains SPOILERS for this weeks NXT episode* – Should skip this if you plan on watching NXT and haven't yet. Originally it was meant to be Roderick Strong and Pete Dunne challenging Authors Of Pain for the Dusty Tag Team Classic trophy, but on this weeks episode The Undisputed Era got involved and it's been changed to a triple threat, with the tag team titles also on the line. It's going to be great .. I mean, you got two big things at stake and all three teams can go. I'm supporting Pete Dunne obviously, he's a Brit, and I'd love to see him and Roderick Strong take all the gold and the trophy.
8. Adam Cole vs. Ethan Carter III vs. Killian Dain vs. Lars Sullivan vs. Ricochet vs. The Velveteen Dream – Ladder Match for the NXT North American Championship
Wow there's so much to this. 1) It's a ladder match with six guys, 2) it's for the brand new NXT North American title, 3) it's the debut of EC3, 4) it's the debut of Ricochet, 5) it's got four other guys who are desperate for gold in Cole, Dream, Lars and Dain. Such a nice blend of styles, the action is going to be top-notch. I can't fault it at all, I just wish it had more hype! Does it even need it though? The carnage!
7. Johnny Gargano vs. Tommaso Ciampa – Unsanctioned Match
There is no argument that this is the biggest grudge match of the weekend. The story has gone on for months, and if you don't know why it's the most anticipated match at Takeover: New Orleans .. you need to watch NXT more! Former best friends and tag team partners, Ciampa screwed his best friend by stabbing him in the back after they failed to capture gold. The sad thing was, Ciampa got injured and they had to put the match on hold for many, many months. Gargano went through a rough patch as he couldn't get his mind off Ciampa, so he lost, and lost, and lost some more. That was til he started winning again. He got lucky in a multi-man match and earned an opportunity at the NXT title.
Gargano and Almas fought in a 5-star match for the title, but Johnny lost. He got another match with Almas and put his career on the line to do so. And just to be cruel, Ciampa cost him the title and his career. Ciampa returned to NXT from injury, and the NXT universe loathed him so much they wouldn't let him speak. They drowned him out, refusing to listen as they demanded Johnny Wrestling. And just recently, Johnny snuck in to NXT and jumped the guard rail to attack Ciampa. It was decided by William Regal that they would have an unsanctioned match, and if Johnny lost he would be banned from NXT for life, but if he wins, he'll get his job back. The build has been amazing, the crowds have been loud, and I can't think of any other outcome but the former D.I.Y team stealing the show at Takeover.
6. Roman Reigns vs. Brock Lesnar – Universal Championship
Cue the predictable hatred for what is likely to be the main event. I get it, you hate Reigns, you hate Lesnar, you hate everything. You hate how this was built, you hate that Lesnar is probably going to leave for UFC. You hate that it's a foregone conclusion that Reigns will win. Fans will claim they "don't care" about it, but will watch it anyways. You'll still leave comments about it, instead of ignoring it. And why? Because it's a huge match, the Universal title is at stake. Lesnar's been holding it hostage for ages, and even if you don't like Reigns .. you should want him to win so the title can be defended more.
Neither is universally liked or hated, which is why it's not as anticipated as others. It's still important, and I think it will be more of an intense fight than a wrestling match. Unluckily it's a singles, so it's not getting too violent. Will we see Lesnar turn his back on wrestling again? Or will he surprise everyone who said a Reigns title win was absolutely happening? What would happen if Lesnar won? Would fans hate it? Love it? I don't think it matters how it ends, everyone's going to have something to say. Or maybe not? What if this is Lesnar's last wrestling match? Would we honour him? Would we thank him for his time? There's so much that could happen. By the way I'm a Lesnar fan, I'm not a fan of Reigns at all .. but I do hope Reigns wins so guys like Braun Strowman get a better chance of winning the title later.
5. Ronda Rousey & Kurt Angle vs. Stephanie McMahon & Triple H
I was sceptical about Ronda and I still am a little. Naturally we want to oppose her as she was a fighter, and she didn't earn this based off of work in pro wrestling. She got here because her name is known in the mainstream and it sells tickets. It's really obvious to anyone with a brain that Ronda will win by beating Stephanie. Angle and Triple H are there just to prolong the situation, because a straight up Ronda vs. Stephanie would only last a few minutes.
I'm impressed with her though, there's so many critics and she doesn't let anything faze her. The crowds warmed to her right away, and I think there was only one or two instances of booing. I like to see this as an introduction to what we'll see in the future, as Ronda joins the women's division and does the full-time thing. It's going to boost the women considerably .. like they even needed it (lol). The one thing most fans are going to want to see is how Rousey works in the ring. Is she going to work like a fighter? Or is she going to wrestle? How many strikes could Stephanie take? And better yet, what can Stephanie do to Ronda? We know she's in shape, she's been training super hard. The interactions will set Ronda up for the future, and in the end, the true winners are the fans. I also hope Kurt stops being Triple H's bitch and makes him tap like one.
4. Daniel Bryan & Shane McMahon vs. Kevin Owens & Sami Zayn – If Owens & Zayn win they return to Smackdown
I still can't believe this is happening. As Paul Heyman said recently in an interview, Daniel Bryan's story back to the ring makes this one of the most anticipated matches of the show. It's not so much about Owens, Zayn or Shane, then it is to see Bryan finally back in action. Losing him for three years was tough on everyone, it was obvious how badly he wanted to get back to entertaining the fans. He's so relatable, he's always honest and humble. But I guess I should say something about the others, because Shane always gives his best, and the fate of Kevin Owens and Sami Zayn is important too. If KO and Sami win, the feud will continue on Smackdown, but if they lose, expect them to be shuffled back to Raw.
3. John Cena vs. The Undertaker
Will it even happen? That's what I love about the way WWE handled this. Don't worry, it is definitely happening, they wouldn't have started it otherwise. Cena will get his match, and I'm hoping Taker returns and gets a win, because it was depressing watching him lose to Reigns last year. Taker is in Cena's head something wicked, so The Deadman will have the advantage. I just love that there's still fans who are unsure this is happening .. it's almost like kayfabe is back.
2. AJ Styles vs. Shinsuke Nakamura – WWE Championship
You can tell who the wrestling fans are, and who the casuals are. If you're a wrestling fan who watched Wrestle Kingdom a couple of years ago, you'll have dreamed about this match in WWE ever since. And then it became reality! When Shinsuke won the Royal Rumble. It's a dream match for wrestling fans, and they'll be a lot of them at Wrestlemania.
But then you got your casuals, who are still unsure about Shinsuke and the way he acts. They don't like that he can't talk fluent English, despite them hardly being able to write English themselves. It's hard to see anyone hate this, because it's been sought after for a long time. We asked for this, and many believe it should be the last match on the card. It will go down as one of the best encounters in the history of the WWE Championship, and possibly one of the greatest Wrestlemania matches of all time. It all depends on AJ and Shinsuke, but we know that they're professional and deliver 99 times out of 100. I don't want to predict a winner, I don't want to critique every move .. I'm just going to sit back and appreciate it like a fan should.
1. Charlotte Flair vs. Asuka – Smackdown Women's Championship
Asuka's got the Nakamura thing going on too, where some fans don't get why she's a big deal. The thing about putting this number one is that I already wrote an article on it not so long ago. You can read why I think this is the most important match in women's wrestling history here: >>> https://www.ewrestlingnews.com/articles/charlotte-vs-asuka-important-match-womens-wrestling-history
Everything has built to this moment. I like all the other matches, but this is a massive deal for any woman who ever wrestled, and any little girl who dreams of wrestling. It is the ultimate women's title match for them. No longer do we go to the toilet when the girls are on, because we'd miss some of the best action going. Luckily they didn't give too much away when they fought in the final of the Mixed Match Challenge.
I keep forgetting one thing when I think of this .. I forget about the wild card Carmella. She could very easily come down and cash in, completely ruining what should be the greatest women's match ever. I'm kinda hoping she doesn't .. or if she does, it gets wasted to put over the champion. Still, as much as we focus on Asuka vs. Charlotte, we shouldn't forget about the wild card. Wouldn't it be crazy if Carmella won the title? It'd be one of the biggest shockers ever. It feels like the women's revolution has come to an end. The women wanted equality and to be treated with respect, and it's going to happen when the world tunes in for the fireworks. I love everything about it. We'll be witnessing history .. that will be talked about for decades to come.
Thanks for reading everyone! And I hope you're all able to enjoy NXT Takeover: New Orleans and Wrestlemania 34 no matter what the outcomes. Please leave me a comment with the match you are most anticipating. Cheers!