"You know what really grinds my gears? Wrestling reality TV shows … Why don't they get with the
freaking program? Showing us all these desperate nobodies trying to get a
contract … and for what? Am I supposed to take them seriously? Am I
supposed to believe they won't just be fired a couple of months later?
… Tell us, what we are supposed to do, I'm just sat here with my beer
thinking … Where's the wrestling? Why am I watching this one guy
get all pissed, because some girl disrespected him behind his back? Are
we going to have the winner of these shows actually accomplish
something? No! They will accomplish nothing, and to titillate us with
any thoughts otherwise is … is just bogus"
Episode 2 – Attack of the Reality Shows.
From the writer of such epics like, "Chris Benoit – The factual,
Unbiased View" and "The Facts about John Cena – Good and Bad", comes the
second installation of What really grinds my gears.
Last time I touched on the subject of pure hate and cynicism displayed
by fans today, but this time, I want to move onto something which we
can all agree, is something which really has no place in the wrestling
business, reality television shows.
Over ten years ago, the UK was hit with the phenomenon that is Big
Brother, and the US got Survivor. In the UK, we got to watch as people
were put into a situation where they would share a house, and each
contestant would get evicted either by the other contestants, or the
public vote. This was in the year 2000, and it was an interesting
concept.
However, after a second season of watching other people sitting around,
the novelty of this new concept wore off quickly. Hell, even I can admit
to getting into the second season of the show, as I had never seen such
a show in my life, and my friends were really into it.
After the second season, I didn't want to see anymore, it was just going
to be the same thing, but with different people, so what's the point?
Just like anything in the history of the world, as soon as something
becomes popular, you get tons of duplicates. American Idol, X-Factor,
Dancing with the Stars, and so, so, so many more.
So the WWE decided, let's try it! They gave us Tough Enough, Diva Search, NXT, and even TNA with Gut Check.
What was the point in these shows? Why did they have to plug these shows
to the moon? Well I suppose … they wanted to look for some talent?
Maybe the Winners could become Superstars and be absolutely huge?
Wrong! The winners of these shows, usually never made it far, there were some exceptions but …
Tough Enough
The original show, Tough Enough, happened in 2001, and needless to
say, can anyone remember it? Or even who won it? Let me remind you …
Nidia and Maven won the show, and where are they now?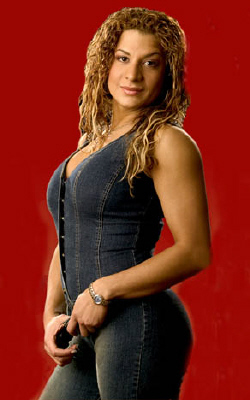 Nidia was released from her WWE
contract on November 3, 2004 along with several other performers, in a
routine purge of talent. She won no championships.
Maven was released by WWE on July 5, 2005. He won the Hardcore
title three times, and his biggest moment was eliminating The Undertaker
in the Royal Rumble. The Undertaker completely destroyed him
afterwards.
Other winners of Tough Enough shows include: Shaniqua (Released in
2004), Jackie Gayda (Released in 2005), John Morrison (The most
successful winner of any WWE Reality show, he went on to win many
titles, but left WWE a couple of years ago), Daniel Puder (Released in 2005) and Andy Leavine (Released in
2012).
John Morrison, a true winner of Tough Enough.
Diva Search
The Diva Search was very similar in that the early winners didn't
get very far. Also notice how the Divas division became a lot less
relevant after all of these Diva Searches? That's because the WWE was
looking for looks over athletic ability.
Winners: Christy Hemme (Released in 2005), Ashley Massaro (Released in
2008), Layla (1 time Women's, 1 time Divas Champion) and Eve Torres (3 time
Divas Champion, has since left the company).
Just before the Diva Searches, the divas divison had just lost amazing
wrestlers like Lita and Trish Stratus, and they were replaced by Divas
who are used for extremely short matches, backstage segments and valet
positions for celebrities.
So we move onto the famous WWE NXT, that replaced the appalling WWE version of ECW.
WWE NXT
The WWE already had development territories for the up and coming
talent .. so why did they need NXT? And even worse then that, any
wrestling fan who had ever seen Bryan Danielson in action, could tell
you right now, having him on NXT with The Miz, as his "Pro" was an
absolute joke.
Also, I am sure everyone was under the impression that the "Winner" of
NXT would get special treatment, and get up to the main roster.
The Winner was Wade Barrett, which aside from Daniel Bryan, WWE actually
got that one right. However, all of the talent from NXT would be used in
some fashion after the show ended, as part of The Nexus.
Now the difference with NXT, it was a hybrid of reality, and scripted,
and guess what? It actually helped to bring in some new fresh talent,
and made a pretty neat group, lead by Wade Barrett. Seeing them belittle
John Cena on a weekly basis was good TV in 2010.
Season 2 was correct, having Kaval (Low-Ki) on the show was already very
silly, he didn't need any training, but he won the series. However once again, the
sad thing is, he was released at the end of 2010. Another injustice in
reality shows, they kept the very talented Low-Ki on a "Rookie" show,
and when they brought him up to the main roster, they had nothing for
him. So what exactly is the point of NXT?
Season 3 and 4 of NXT saw the Winners of Kaitlyn, and Johnny Curtis, who
lets be honest, are still drifting around, waiting for their moments to
get used in a proper manner. When I originally wrote this blog, Kaitlyn and Curtis were not doing much of anything, but they have since made Kaitlyn a Divas Champion, (and then she left) and of course, Johnny Curtis is Fandango now, so clearly he has succeeded.
Season 5 ended up becoming a year+ long
series of episodes that saw wrestlers like The Prime time players
(Although Darren Young and Titus had already been on these shows anyway)
get some spotlight, and move up to the main roster, although they
technically didn't "Win" anything. Derrick Bateman was never eliminated
and still never won anything. Derrick Bateman would eventually part ways with WWE, and you can now see him as one of TNA's most featured heels, EC3 (Ethan Carter III).
TNA Gutcheck