Well, the Superstar Shakeup is officially over and the rosters have essentially been reset for next year's road to WrestleMania. There was quite a bit of change both televised and untelevised, and the matches on both brands will be very different going forward. You can actually check out my grades for each move for RAW and Smackdown if you haven't yet. How these changes will pan out in the long term remain to be determined, but there is plenty to analyze at face value right now. The best way to analyze these moves, in my opinion, is to categorize each roster into the separate divisions and see where they stand now.
The Main Event Scene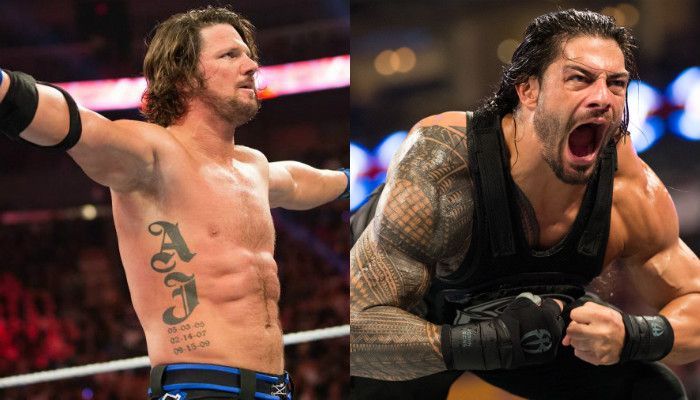 The two marquee names that moved which altered the main event scene for each brand is AJ Styles making the move to the red brand and The Big Dog Roman Reigns repping the blue. Breaking this down even further, here are how both brands are shaping up in that regard.
On RAW's side, the Universal Championship is currently held by Seth Rollins, which means we are getting a full-time Universal Champion on the red brand in what seems forever. It's hard to believe that the Universal Title has been held by Brock Lesnar and Brock Lesnar only for basically the past two years. He is joined by AJ Styles and probable competitors such as Drew McIntyre, Braun Strowman (although calling him a main eventer might be pushing it), maybe Brock Lesnar if he bothers to return. Samoa Joe is probably making the move over to RAW as United States Champion as well, and he was in the main event scene for most of the summer and fall of last year for the Smackdown brand. Bobby Lashley, a main eventer? Eh, I don't know. The Miz hasn't been in the main-event scene for a while, but he definitely is another option on the table.
On Smackdown's side, the WWE Championship is being currently held by Kofi Kingston. There seems to be debate as to whether or not Kofi Kingston is a main-event player. While that can be up for debate, what I don't think is debatable is the fact that Kofi is deserving of being WWE Champion. His first feud will determine a lot about who he is as a competitor. At the top of the card, he is joined by newcomer Roman Reigns, Daniel Bryan, Randy Orton and Kevin Owens. While those are your probable main event guys, they now have more options that they can throw in the main event scene through the mid-card, with names like Ali and Finn Balor coming to mind.
If you ask me, I think Smackdown holds a slight edge here. There are more intriguing matchups that can rise out of their revamped roster, and RAW's main event division is dominated by big men who have yet to reach their full potential in WWE thus far. Considering that Strowman's most recent feud was with television comedy hosts, it might be a while before he can be considered a true main eventer. There are new names, new faces and intriguing possibilities that lie on Smackdown if you ask me.
Winner: Smackdown
The Mid-Card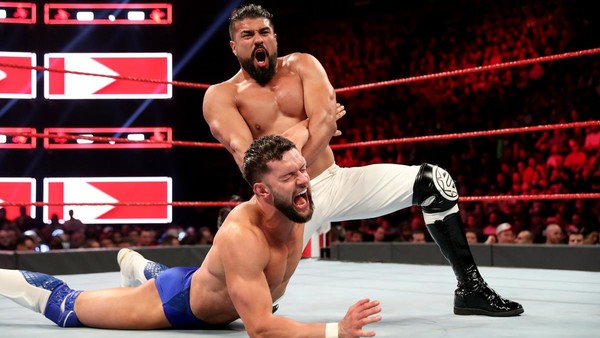 In the Shakeup, RAW got a hold of the uber-talented Andrade, the reliable veteran Rey Mysterio, The Miz and Cedric Alexander. That is a talented crop of people that can provide quality matches and storylines in the mid-card. Plus, The Miz can be used in the main-event scene just as effectively as he would in the mid-card. Samoa Joe is currently the United States Champion, so I suppose you can insert him in there as well.
Overall, RAW got a solid deal here, and I think we should see an improvement as opposed to Baron Corbin showing up with Bobby Lashley and Drew McIntyre every week. The conspiracy theorist Sami Zayn will also be there to occupy time as well. Now that Chad Gable went to Smackdown, MAYBE Bobby Roode might have more to do.
Over on Smackdown's side, Finn Balor carries with him the Intercontinental Championship, Elias gets a fresh start and Buddy Murphy brings the electricity he brought to 205 Live. When compared with some of the other talents that is currently on the roster such as Ali, Smackdown may be the show where there is more quality talent. It's a shame that Smackdown is 1 hour shorter than RAW, because quality beats quantity any day of the week.
It's hard to say which mid-card is better than the other because it depends on how the talent is used. Initially, I wanted to say Smackdown again, but I feel like the talent is more or less equal here. The Miz and Andrade are especially two people that I like, and I think there are intriguing possibilities.
Winner: Draw
Women's Division
Goodness, gracious. You talk about a mismatch here. I'll just say it right now that Smackdown blows RAW's Women's division out of the water, and this is not up for debate.
RAW's Women's Division is comprised of a woman who does not want to be here at the moment in Sasha Banks, a woman who currently has a broken hand and may not be back this year in Ronda Rousey, a horrible worker who just got double knee surgery in Nia Jax, and the Riott Squad who might as well be a couple of rotting corpses. Who do you have left after that? Naomi? Natalya? Alicia Fox? Tamina? Dana Brooke? That's pretty damn brutal. Lacey Evans shows some promise, but there isn't going to be much to work with around her. The only saving grace RAW has is that Becky is a brand-exclusive talent at the moment.
On Smackdown's side, you have two of the Four Horsewomen in Bayley and Charlotte Flair (even though the former has lost plenty of steam over the years), a newly formed tag team in Kairi Sane and Asuka, a talented Ember Moon who just needs a proper spotlight to work with and a seemingly refocused Absolution in Sonya Deville and Mandy Rose. And Carmella, I guess has at least credibility to be taken seriously as a competitor (even though I'm still kind of on the mend). Smackdown's Women's Division is far more talented and will probably be taken far more seriously. 2019 is going to be a rough time for the women on RAW.
Winner: Smackdown
 Tag Team Division
RAW's tag team division has been on life support for the past year or so, and arrival of The Usos and the confirmation of Black/Ricochet should bolster it some. The newly reformed team of Ryder and Hawkins are good in the interim, but it's highly likely they may go down the same way the Revival would. They'll be champions, but they won't be taken seriously because there will be many matches they will lose. Despite this, the tag division is still very top-heavy. It makes me wonder why we can't just do like the women and have the tag titles unified. It's only going to be a matter of time before the matches become stale, matchups become mundane, and teams lose credibility. There's only so much The Usos can do on their own.