**Broken Pics/Vids Removed. New Display Pic. Edited: September 2018**
Wrestlemania X-Seven (tagline: Houston… We Have a Problem) drew 67,925 fans to the Reliant Astrodome in Housten, Texas on April 1st 2001. The card featured eleven matches (and one dark match), with six dedicated to deciding all six WWF championships. The commentary team consisted of Jim Ross and Paul Heyman, as Jerry Lawler left the company in February following his wife's dismissal.
The event saw the Wrestlemania returns of Stone Cold Steve Austin and The Undertaker. Also the event holds historic significance as the WWF acquired WCW eight days earlier; WWF featured WCW in the storyline feud between Vince and Shane McMahon.
The event was the first Wrestlemania to be held in the state of Texas, and set a record-breaking attendance for the Astrodome; the gate grossed $3.5 million. Unlike previous events, only two wrestlers and one commentator (aside from legends in the gimmick battle royal) made their Wrestlemania debut, the WWF Hardcore Champion Raven, Steven Richards, and Paul Heyman. ECW held its last event on January 7th, the Guilty as Charged PPV, and due to financial difficulties, Heyman decided to close ECW three days later on April 4th.
Before I give my experiences with the PPV, I would like to state Wrestlemania X-Seven was my first Wrestlemania PPV at the age of 14. It's always been one of my favourites, so it was a joy to watch again.
---
Match #1 – Chris Jericho (c) vs. William Regal for the WWF Intercontinental Championship
Wow .. large crowd, Heyman on commentary, JR on commentary, wicked titantron, what more could you need? An opening match which does not include a tag team contest or battle royal. Nice change.
Regal received a lovely heel reaction (good job sir, I tip my hat to you), and Jericho moved up in the world after his previous European title victory at Wrestlemania 2000. The video package highlighting the feud brought back memories, like the time when Jericho peed in Regal's tea, and the face Regal gave after drinking it.
Give Regal and Jericho seven minutes, and they will produce a good match. It was not a classic, as Jericho beat Regal clean with the lionsault, and never looked to be in grave danger. Regal had momentum as a heel, but his heat was no match for the rising popularity of Y2J; they did a good job with the time given.
---
Match #2 – Tazz & APA (with Jacqueline) vs. Right to Censor (with Steven Richards)
Before the match, Shane McMahon showed up in a limo with the WCW logo printed on the side. And before I go further, I should rant about Tazz, because I never understood why they decided to cover him up, what was wrong with the wrestling attire he used in ECW?
Oh yeah, the match. It was four minutes long, and better than the standard RTC tag team match. Luckily the RTC were embarrassed by Bradshaw as he finished it with a Clothesline from Hell. All I remember of the RTC was the incredibly annoying entrance theme, and it was sad to see guys like The Godfather and Val Venis acting like robots. Steven Richards was by far the most charismatic heel of the group, followed by Ivory.
The greatest thing about it was the prematch promo by Bradshaw, but sadly, I cannot find the valiant war cry as a video, so you would have to watch the PPV to hear this gem.
---
And then I was reminded of the silly "comatose Linda McMahon" storyline, as Trish Stratus and Stephanie McMahon planned the post-match celebrations for Vince vs. Shane. At 14 years old, I found it insulting to my intelligence. It still did this time around .. except this time I had the benefit of hindsight; I knew where it was leading.
Match #3 – Raven (c) vs. Big Show vs. Kane for the WWF Hardcore Championship
I was a big fan of Raven, but I was also a fan of Kane, so I wasn't sure who I wanted to win. As long as Big Show lost, I would be happy. Raven entered with his trademark trolley full of weapons, as JR and Heyman pointed out his size disadvantage to his opponents. The action didn't stay in the ring long, as the brawl spilled out and headed towards the backstage area. Big Show found a caged up area, so he tried to lock Raven in with the referee .. but you know, it's Kane, it takes him two seconds to rip through a locked gate.
Back in the hall, Kane grabbed Raven and casually tossed him through a window. Love it. Then Big Show and Kane fell through a wall like The Shockmaster. Raven took advantage, and then decided to leave in a golf cart. Big Show pursued, as Kane also got a golf cart and crashed into Raven, almost running him over. Back out into the arena, Kane pushed Show and Raven off the titantron area into a conveniently placed spot filled with tables and other random things. Kane delivered an awkward flying elbow drop, which may have missed, but it was difficult to see through the sheets of plastic. Kane covered Show, as the referee counted the pin on the outside of the structure to decide a new Hardcore Champion. Despite winning, Kane could be seen kicking things.
---
Match #4 – Test (c) vs. Eddie Guerrero (with Perry Saturn) for the WWF European Championship
An odd match to watch considering both men passed before their time. Eddie Guerrero received a decent heel reception, while Test received nothing despite playing the face. The pace was quick, as Eddie used his speed to frustrate Test. An awkward part of the match saw Test get his foot stuck in the ropes, so Eddie and the referee had to work together to free him, and the crowd responded with a "yay!".
Perry Saturn did a great job of swiftly delivering a throw to Test as the referee was distracted. Test caught Eddie with a spectacular rotation powerbomb and tilt-a-whirl slam. After more interference, Test caught Saturn and Eddie with the Big Boot (the best one on Eddie), which prompted Dean Malenko to enter the fray. Dean distracted the referee, and Test, as Perry threw the belt to Eddie (classic lie, cheat and steal), nailed Test in the head, passed the belt back to Perry, then covered Test for the win to steal the title. A surprisingly good match after the foot in the rope botch. RIP to them.
---
Match #5 – Kurt Angle vs. Chris Benoit
Any singles match involving these two is a classic. Without glorifying, the match between Benoit and Angle raised the bar for technical wrestling matches in the USA. Japan was already delivering classic wrestling matches, and luckily the WWF realized they had two men who could "wrestle" each other for the fans who appreciated wrestling more than the entertainment.
In the storyline, Benoit had Angle's number, as Angle was playing the heel and frequently reminded everyone he was the greatest wrestler, but he feared the threat of Benoit and his Crippler Crossface submission. He was seen in the back watching Benoit perform the Crippler Crossface on video, and remained focused as Edge & Christian tried to lighten him up. Angle refused to lighten up and sufficiently scared E & C into walking out of the room.
Angle was expressive on his entrance, and the fans loved to hate him. Benoit entered to a decent face reaction, and remained ultimately inexpressive as he stared Angle down in an eerie manner, enough so to make me wonder if something was wrong with him.
The match began with both men jockeying for position like two amateur wrestlers at the Olympic games. Seriously, you won't find wrestling like this today, the chain wrestling between Angle and Benoit has never been surpassed in the WWE. Benoit repeatedly attempted the crossface, only for Angle to find a way out each time. As the crowd began to tire of the mat wrestling, and Benoit failing to execute a crossface, Angle got frustrated and clobbered Benoit as he was talking to the referee. Heyman highlighted Angle had been "out-wrestled" by Benoit in the opening stages.
The match continued as a brawl, until the two men changed it up into a suplex contest. After many variations of suplex and throws, Angle attempted the anklelock, and Benoit reversed it into the crossface. Angle found a way out, and the referee got bumped. Crossface again with no ref, so Benoit tried to revive him, only for Angle to deliver an Angle Slam. Angle attempted a moonsault and missed, which led to Benoit going for the diving headbutt. Angle managed to deliver a low-blow on Benoit and roll him up for the cheap win.
The finish kept the feud going, but it did take away from the match. Without the finish, it was already an excellent contest which still holds up to this day. The magic in the ring may never be reproduced.
---
Match #6 – Ivory (c) vs. Chyna for the WWF Women's Championship
While Ivory received a decent heel reaction, it was blown away by Chyna's entrance. She was a star, supremely over at this point in her career, and Heyman highlighted how difficult it would be for anyone to defeat Chyna if she took the title from Ivory. The entrance was awesome, and her confidence was sky high. Ivory became desperate as she hugged her championship, almost crying over the fact she was about to lose it. Right to Censor were barred from ringside after a stipulation was decided between Chyna and Ivory, which didn't make sense to me; why would Ivory put herself in this position? The match was a powerbomb and a gorilla press slam, followed by a nonchalant cover. A glorified squash, but a squash which the fans appreciated as Chyna was clearly better. It would be Chyna's last Wrestlemania appearance, as she left/was fired from (depending on who you ask) the WWF a couple of months later.
---
Match #7 – Shane McMahon vs. Mr. McMahon (with Stephanie McMahon-Helmsley) in a Street Fight
Mick Foley was the special guest referee for the match. Surprisingly, the match didn't completely suck, as Vince and Shane worked well considering they were not full-time wrestlers. Shane loved his kendo stick, and throwing himself through the announce table. In a memorable moment for Trish Stratus, she wheeled Linda McMahon down to a chorus of boos, only to greet Vince McMahon with a slap to the face to a loud pop from the crowd. Completely unexpected from where I was sitting in 2001. A "catfight!" broke out between Trish and Steph, which Mick tried to separate (to boos from the crowd), but failed as they ran down the aisle.
With Shane out, and Vince conscious, Vince turned his attention to Linda, who sat there in her comatose state. Mick returned to stop Vince, but yeah, Vince destroyed the retired Foley with a chair. Vince became invincible and supremely hated as he placed Linda McMahon on a chair in a corner of the ring, and continued to destroy Foley and Shane in front of her. Vince continued his onslaught and verbal abuse at Linda, and as Vince turned his back, Linda suddenly snapped out of her state, stood up, and walked towards Vince. Vince turned around, and the crowd went nuts as Vince froze. Linda kicked Vince in the family jewels, an amazing moment despite the hilarious storyline. Foley got on Vince and the crowd were insanely into it.
After some Foley offense, Vince was set up in the corner. Shane delivered his version of the Van Terminator on Vince, the first time anyone had done so on WWF/E programming. The match was crazy, filled with epic bumps, drama, and psychology, but it was done really well and they pulled it off. Vince appeared defeated … for now.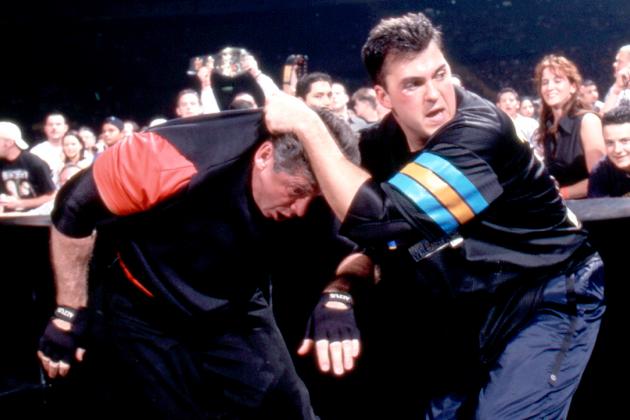 ---
Match #8 – The Dudley Boyz (c) vs. The Hardy Boyz vs. Edge & Christian in a TLC Match for the WWF World Tag Team Championships.
Oh man, TLC2. I remember watching it live, it was like nothing else. How can I accurately describe this match? It was the foundation for all TLC matches, the three teams had been through so much already, do I need to give a play-by-play? To be honest, you should have seen this even if you have not seen the PPV. It's an innovative, and truly destructive match with so many epic spots, clearly a 5-star match. In this Wrestlemania series, I have left matches out just to leave you with something to look forward to, so If you have never seen this, or it's been a long time, find the time to watch TLC2, the greatest TLC match ever .. in my opinion.
---
Match #9 – 19-Man Gimmick Battle Royal
Funny stuff! They should do legends battle royals every year, just for the novelty. The battle royal included: Repo Man, Gobbledy Gooker, Tugboat, Earthquake, Kamala, Kim Chee, Bushwhacker Luke, Jim Cornette, Duke Droese, The Goon, Nikolai Volkoff, Bushwhacker Butch, Doink the Clown, Michael Hayes, One Man Gang, Kamala, Brother Love, Sgt. Slaughter, Hillbilly Jim and The Iron Sheik.
Everyone flew out of the ring left, right and center for three minutes. Iron Sheik, looking supremely out-of-shape, won the battle royal by eliminating Hillbilly Jim. Sgt. Slaughter didn't like that, so he got Sheik in the Cobra Clutch and stole his spotlight. And that's all folks!
---
Match #10 – The Undertaker vs. Triple H
The first time The Undertaker and Triple H fought at Wrestlemania. It was something of a bogey match for Taker, as Triple H did most of the work. Yes, I said it, Triple H had to carry Undertaker through this. There was a cool spot where The Undertaker no-sold a severe chair beatdown, only to get up and chokeslam Triple H "to hell", until the camera showed he landed on a mat. The referee was bumped early on and stayed down for over ten minutes, so really, it became a street fight. They should have made it a Falls Count Anywhere or something. It did have a nice false-finish though, as The Undertaker took HHH up for the last ride while he had the sledgehammer, and HHH nailed Taker in the head with the sledgehammer (new at the time), and somehow did not get the pin-fall victory. There was something lacking in this one, but I didn't notice it when I was 14, all I could remember was the chokeslam to hell. Entertaining, but could have been better.
---
Main Event – The Rock (c) vs Stone Cold Steve Austin in a No-DQ match for the WWF Championship
One of the best rivalries in wrestling history, the main event was highly anticipated, and the buildup was just as great. Steve Austin vowed he would do anything to become WWF Champion again. The Rock promised he would remain the People's Champion. A big fight feel, and a fitting main event for a great PPV.
As the entrances began, Finkel announced the match would be a No-Disqualification match, which surprised Jim Ross .. "when the hell was that added!?". The Rock received a mixed reaction. Steve Austin entered to an insane 67,000+ pop. Austin wasted no time in attacking Rock, and it was clear from the beginning the intensity would continue.
Austin beat down on Rocky for a while, and then a ring bell shot to the face bloodied Rocky. Austin continued the slobberknocker, until Rocky countered with a lariat to a chorus of boos. Rocky blasted Austin into the turnbuckle bolt, and then a ring bell to the head. Austin bladed pretty heavy and his face was soon covered in it. Austin threw Rocky head first into the the post on the outside, which Rocky sold beautifully. Stunners were attempted and reversed, and then Rocky found the Sharpshooter.
Austin went old school and locked in the Million Dollar Dream on Rocky. Many false-finishes ensued, as The Rock Bottom and Stunners were reversed and used against each other. The referee was bumped (in a No-DQ) match which prompted Vince McMahon to make an appearance. Vince tried everything to stop The Rock from winning, which didn't seem to annoy Austin. It appeared Austin was calling the shots and asking Vince to collect a chair for him.
After Austin failed to put Rocky away with a Stunner, Austin got frustrated. Austin completely killed Rocky with the chair for a long time, to the point it was fun and difficult to watch at the same time. It worked, as Austin pinned Rocky for the WWF Championship, much to the delight of the fans in attendance. Steve Austin shook hands with Vince McMahon, as Jim Ross declared Austin had sold his soul to the devil with all the intensity he could muster.
A mistake by the WWF, as Austin declared in recent interviews it was wrong to turn him heel as his character lost its appeal in the following years. It didn't make sense for Austin, the biggest nemesis Vince McMahon ever had, to side with Vince and Triple H, and the heel turn didn't work as the fans still loved him and wanted to cheer no matter what he did. Aside from the post-match celebration with Austin and Vince, the match was legendary, a brutal match between two egos which was deserving of the main event at Wrestlemania.
---
Conclusion
When I think of great wrestling PPVs produced by WWE, Wrestlemania X-Seven is probably the first on the list. I also have a warm place in my heart for ECW One Night Stand 2005, even though it was technically a ECW show produced by WWE, and using WWE's money. I would like to end this with some highs-and-lows.
Lows: Tazz & APA vs RTC. Ivory vs Chyna could have been more. Undertaker vs Triple H didn't deliver like it should have. Austin turning heel at the end of the show.
Highs: TLC match. Rock vs Austin. The Linda and Vince moment. Angle vs Benoit. Raven thrown through a window. Eddie doing Lie, Cheat & Steal.
Wrestlemania X-Seven was rated the best WWE PPV by WWE.com in 2014. I agree, and I highly recommend a watch, for new fans, and old, you won't see better than this. Have a good weekend everyone!