**Edited On 30th November 2018**
Wrestlemania X8 (tagline: The One and Only) drew 68,237 fans (record-breaking attendance) to the SkyDome in Toronto, Ontario, Canada, on March 17th 2002. After Lawler's absence from Wrestlemania X-Seven, he returned to the commentary team alongside Jim Ross to call the event. It was the last Wrestlemania PPV under the "WWF" banner, and the first Wrestlemania in Canada for twelve years. The record-breaking attendance for the SkyDome of 68,237 grossed approximately $3.9 million.
Wrestlers making their Wrestlemania debut: Rob Van Dam, Diamond Dallas Page, Maven, Booker T, Chuck, Stacy Keibler & Jazz.
Wrestlers making their Wrestlemania returns: Ric Flair, Scott Hall, Kevin Nash & Hollywood Hogan
Absentees due to injuries/losing contract: Chris Benoit (injury), Eddie Guerrero (fired) & Chyna (released).
The event advertised the WWF Forceable Entry album several times, and two bands from the album, Saliva & Drowning Pool, performed live songs from the album. Saliva opened the show with "Superstar" while a video package played showing the buildup for the matches on the card. Personally I felt it dragged on a little too long, and although it's "my kind of music", the chorus was too repetitive.
Before I begin sharing my experiences with the PPV, I would like to say this was my second Wrestlemania after I began watching full-time. You could say this Wrestlemania had more talent involved than any other Wrestlemania in the events history; the card included Steve Austin, The Rock, Hollywood Hogan, Ric Flair, and The Undertaker (and none of them were in the main event).
---
A dark match before the event kicked off saw Rikishi, Scotty 2 Hotty and Albert defeat Lance Storm, Test and Mr Perfect (in his last Wrestlemania event before his death in 2003). Mr Perfect was pinned after a Banzai Drop from Rikishi.
Match #1 – Rob Van Dam vs. William Regal (c) for the WWF Intercontinental Championship
Although I was happy to see RVD, to see him out during the first match told me everything about his status; how could RVD possibly be a main event star with Austin, Rock, Hogan, Nash, Hall, Undertaker, Ric Flair and Triple H all fighting to stay relevant? Too many big names for the whole F'N show to contend with. He was majorly over and would have been a top draw for any other company at the time, so he had to settle for a match with William Regal for the IC title.
Regal was going through his brass knuckles phase, so the fans were firmly against him, especially when he pulled some out of his trunks, which RVD managed to dropkick away. After six minutes of action, Regal searched for a second pair of knuckles in his trunks. The referee saw and tried to stop him, which gave RVD the opportunity to knock him down and deliver the frog splash to become new Intercontinental Champion. The match was good, but not great.
---
Match #2 – Diamond Dallas Page (c) vs. Christian for the WWF European Championship
In one of only a few backstage interviews, Christian managed to mock his opponent and his fellow countrymen to ensure no one would cheer for him. I've read on a several occasions that DDP choreographs his matches in their entirety before they work the match for real, and you can see that in the match; it has a quick, but yet, sloppy feel, as they both try to remember each spot. I wasn't really feeling the feud between them, as DDP was always so damn(!) happy for everything, so it was mostly about laughing at Christian for throwing tantrums.
After another six-minute match of average quality, DDP hit the diamond cutter, retained the title, then got on the microphone and reminded Christian how he just lost in front of millions of people, which sent Chrstian into a world-class temper tantrum and embarrass himself even further. DDP exited through the crowd; like a true people's champ.
---
Match #3 – Maven (c) vs. Goldust for the WWF Hardcore Championship
Before this, The Rock had a backstage interview with Johnathan Coachman. Be-A-Star sprung to mind as The Rock bullied Coach into "saying his prayers", as Coach had forgotten to say them. Coach got down on his knees and looked up to the sky, and said "What up G, Coach here ..", and the Rock was so surprised by Coach's prayers, he booted him away while calling him a "sick freak". I remember becoming tired of The Rock (all them years ago), and I think the Canadian fans felt the same.
Never was a big fan of Maven, he was too bland, and his entrance music only added to his overall blandness. Sadly, the hardcore title had become more of a joke than it ever had before, and this match proved it. Maven had one move, a dropkick, which he botched. The rest of the time (three minutes) it was up to Goldust to destroy Maven. I don't know what it was about Goldust, but he worked really stiff with Maven, almost like Maven had slept with Terri Runnels in real life.
I forgot how the match ended, but it became clear why Goldust was so annoyed as Spike Dudley ran down and pinned Maven for the Hardcore title, outta' nowhere. Crash Holly zoomed past the ringside area chasing Spike (his last Wrestlemania appearance before his death in 2003), and the Hardcore 24/7 title frenzy continued on throughout the night.
Following this, we were treated to Tear Away (the second Wrestlemania X8 theme) by Drowning Pool. I only ever liked the guitar solo, not the "I don't care about anyone else but me" line .. over, and over, and over again. The lead singer Dave Williams repeatedly told the fans to "come on, Canada!", almost like he was frustrated by the reaction. Just like Mr. Perfect and Crash Holly, Dave Williams died not so long after Wrestlemania X8, of heart failure in August 2002.
In typical Hardcore title fashion, Crash and Spike were seen fighting backstage. Al Snow came out of nowhere (on a golf cart), missed both men, and smashed into a mountain of boxes. The Hurricane literally flew in from the side of the screen and stole the hardcore title, and flew away again, and that's about it.
---
Match #4 – Kurt Angle vs. Kane
Kurt Angle in the prime of his life and he was booked to face Kane, seriously? Why not Angle vs Undertaker? Or Angle vs Edge? Or Angle in the main event? Sadly, Angle was still a mid-carder, despite the hilariously loud "You suck!" chants during his entrance music. I don't want to say much about the match .. to be honest it was Kane doing his usual thing, while Angle carried it and worked in some nice suplex and spots wherever possible. Angle won via roll-up. I wanted more from Kurt Angle at Wrestlemania X8. He needed to be put over by someone the fans could get behind.
Backstage we got a nice sight of The Godfather's hoes. One of them was asking her fellow hoes whether they thought her boobs were too big, while showing off her perfect cleavage. All she needed was a boob inspector like myself to make that decision. The Hurricane had slyly made his way into the room behind a changing curtain, and the hoes soon ran out of the room when they saw his shadow simulating the biggest hard-on in wrestling history. The Godfather came in to find The Hurricane, and of course, made haste after the "superhero" quickly ran out of the room. I rate this segment 10/10, just because of the hoe with the big boobs.
---
Match #5 – The Undertaker vs. Ric Flair
This was a no-disqualification match. The Undertaker had tortured Flair leading up to this, he had cost Flair his stake in the WWF, he had attacked Arn Anderson, and Flair's son. The Undertaker had done everything a heel could do to a babyface without paying for it in some way. Flair was noticeably old and losing body definition, and Jim Ross and Lawler did not hold back commenting on Flair's physical deficiencies to The Undertaker.
Flair was quick out of the box and tried to take Taker out early. Taker was able to get the upper hand and bust Flair wide open with punches alone. Flair bladed so much his face was covered in the red stuff early in the match, and The Undertaker had his left cheek cut. Lawler was more interested in discussing Undertaker's cut than Flair's bloody mask, which caught the ire of Jim Ross. After a lot of brawling, one of the biggest superplexes in wrestling history occurred, as the old Ric Flair came crashing down to earth.
Flair used a pipe conveniently placed on Taker's bike, but it didn't amount to much. The referee was knocked down (in a No-DQ match) which prompted Arn Anderson to run down and deliver a spinebuster Triple H can only dream of emulating. Undertaker soon got back up and struck Anderson, who fell to the floor faster than Pat Patterson and Gerald Brisco combined. A chair shot on Taker by Flair was no-sold. Taker tried to take Flair for The Last Ride, but I'm certain Flair didn't want to land on his back again, so it was soon converted into a tombstone piledriver. And that's all she wrote, The Undertaker pinned Flair to go 10-0 at Wrestlemania, and The Undertaker acknowledged the streak for the first time by holding his hands up with all eight fingers and two thumbs separated to acknowledge each victory.
You'd think Flair would have revenge on The Undertaker, but in the end, it was all about pushing The Undertaker's heel persona, and it portrayed Flair as ordinary in this incredibly one-sided feud.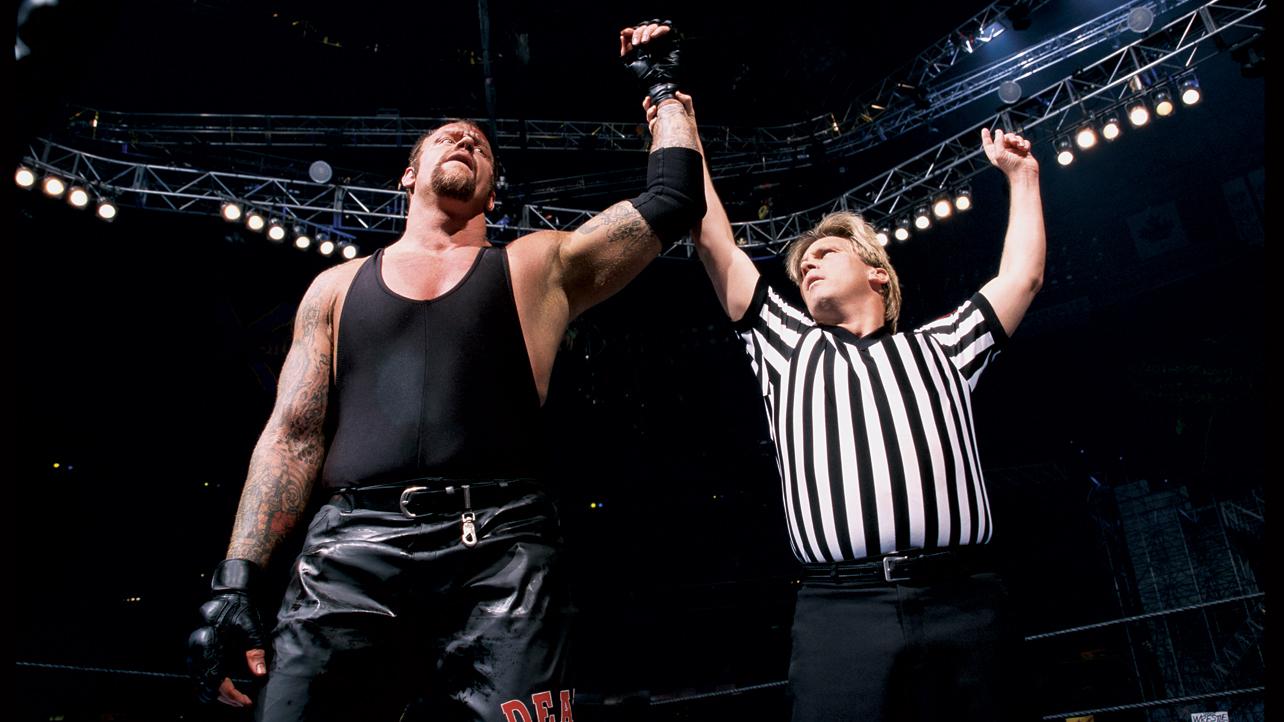 ---
Match #6 – Edge vs. Booker T
So the feud was over which wrestler would do a shampoo commercial, making the best fan-made sign "They're fighting over shampoo!" all the more hilarious. Edge was super-over with the fans, and JR reminded us Edge was a fan in attendance twelve years ago at Wrestlemania VI. In another six-minute match reminiscent of a typical Raw match, Edge and Booker T worked well together with little meaning behind it. Edge tried to a spinarooni; key word "tried". He won the match with the jumping DDT move (whatever you call it, Impaler, Edgecution etc.) to a nice pop from the fans.
Backstage, the hardcore title continued to jump around as Molly Holly betrayed The Hurricane and hit him in the head with a frying pan.
---
Match #7 – Stone Cold Steve Austin vs. Scott Hall (with Kevin Nash)
So it's been said in the past, that the reason behind Steve Austin facing Hall was because Austin and Hogan could not agree to a finish had their match taken place. Therefore, The Rock faced Hogan, while Austin fought Hall in singles matches. This occurred not long before Austin walked away from the WWF due to frustration with creative; Austin was angered by the decision to have Lesnar go over him on a random episode of Raw, as he felt the match should have been marketed towards a PPV encounter; he was willing to put Lesnar over on PPV.
Austin has stated he was burnt out by the schedule and needed time to recover from nagging injuries, specifically his neck which he previously had surgery on. Austin recently stated he regretted the decision, mostly because he had no other ways of making the money he was making with the WWF. Also, having to adjust to a new life at home, instead of traveling on the road, being one of the hardest things to overcome after his retirement from the ring.
Clearly this match was not going to be pretty, as both men are known to brawl. Austin wasted no time getting the action under way, as he killed Hall in the early going. Nash slyly took a turnbuckle pad off behind the referee's back to give Hall the advantage after an irish whip sent Austin into the exposed steel. Sadly, Scott Hall was playing WCW Scott Hall, not WWF Razor Ramon, which I'm sure some in attendance would have appreciated. A short time later, after more brawling, Austin hit the stunner, pinned Hall, but Nash pulled the referee out and killed him. Vintage Nash.
Austin was double-teamed by the Outsiders, until another ref joined the chaos. Boom! Another referee killed by Nash. Clearly a handicap match until an army of referees surrounded Nash to escort him to the backstage area. Without Nash running interference, Hall was left exposed to another Stone Cold Stunner, and his sell of the stunner is still fondly remembered, but his wrestling ability (during the match) isn't. A good match if you like brawling and interference, otherwise it's fairly average.
---
Match #8 – Billy and Chuck (c) vs. The APA vs. The Dudley Boyz (with Stacy Keibler) vs. The Hardy Boyz in a Four corners elimination match for the WWF Tag Team Championship
Before this, the best live song performed on the night was "Turn the tables" by Saliva. I wish WWE would bring Saliva back at Night of Champions just so they could perform the song while the New Day watches in fear.
Billy & Chuck as the tag team champs!? I remember them, but all I really remember is how much I wanted them to go away. They could work a match, but I didn't care for the gimmick, because I knew neither of them were gay. It's nothing against gays, I was only annoyed with the fact WWF was shoving how gay they were down our throats (insert George Takei's "Hello.." here), and pushing them over popular teams like The Dudleys and The Hardys; Billy Gunn and Chuck Palumbo could have been a good tag team without a gimmick.
A far cry from the previous Wrestlemania tag team contest. Remember it? TLC II? It was nothing like that. Bradshaw took a 3D on the three-minute mark, APA eliminated. Dudleys and Hardys fought each other for a long time while Billy & Chuck recovered from the initial APA beatdown.
After Hardy took his top off for the girl's sake, the best part of the match happened (never thought I would say that). Stacy Keibler stood on the ring apron and distracted Jeff, then she turned around and, rather seductively, revealed her delicious backside to Jeff and the world. As the good guy Jeff Hardy is, he gave that perfect be-hind a spank, then followed it up by giving her a kiss, which I'm sure made every guy and girl jealous .. whichever way one swings.
So .. yeah, the action had to continue, and not between Stacy and Jeff. Typical Hardy Boyz vs Dudley Boyz stuff with no sense of urgency. JR and Lawler started talking nonsense, which is never a good sign. After further offense, Devon went flying through a table which had been set up on the outside of the ring. I only just managed to see it, as there were no cameras in place to catch it, but it looked like a hard fall. Bubba was left on his own, and The Hardys finished him off with Twisto+Swanton.
Billy & Chuck, firmly rested after the first few minutes, immediately came in and got the upper hand. Some finishing moves were thrown out there, until Billy got hold of a title belt and clocked Jeff with it behind the ref's back. Chuck pinned Jeff and won the match, to a negative reaction. Not a heel "boo I hate you!" reaction, more of a "go away and come back with a new gimmick" kinda reaction. Sadly, the tag team division was a mere shadow compared to the previous year.
---
Match #9 – The Rock vs. Hollywood Hulk Hogan
Backstage we saw Hogan telling Hall and Nash not to interfere, hinting future tension between the stable. Molly Holly ran into a door, so Christian managed to do something memorable as he became the new Hardcore Champion of the world … yeah!
And the true main event kicked off with Hollywood Hogan receiving the biggest pop you are likely to hear anywhere. Hogan, supposedly playing the heel in this feud, was welcomed in like Superman, Batman, Spiderman, and Ironman combined. He was like god to these people, they worshiped the ground Hogan walked on. The nostalgia factor was threw the roof, and Hogan could do nothing but smile.
The Rock entered to a chorus of boo's, and some cheers from the younger fans. Jim Ross described it as a "mixed reaction" (remember when Cole/Lawler would say that about Cena ALL THE TIME!), which I remember pissed me off when I first watched it, because I could hear exactly what he was hearing, and it was like .. 90% Hogan, 10% Rock. It was all about Hogan, and you could tell The Rock was pissed off about it; he was expecting more of a mixed reaction than it actually was.
I remember being blown away by the fans reaction to Hogan, as I had not grown up as a Hulkamaniac, and it told me just how loved he was in his prime. The power of Hulkamania has never been that high since, it should have been the last match of his career without a doubt. Hogan had no choice but to play to the crowd during the encounter. Everything The Rock did was quick, snappy, and truly hated by the fans. The Rock had to allow Hogan to get a lot of offense in so the fans wouldn't turn on the match.
Everything Hogan did was cheered for; punches, back rakes, even when he whipped The Rock with his white belt. The fans made The Rock the bad guy, and Hogan the good guy, and no matter what JR said on commentary, that's how it played out. The match was no wrestling classic, but just like Warrior vs Hogan at Wrestlemania VI, it was very much appreciated. After a couple of leg drops failed to put Rocky away, The Rock managed to deliver two rock bottoms, followed by a people's elbow, to defeat the old legend.
Afterwards, Hogan, looking hurt and dejected, extended his arm out to The Rock as a sign of respect. The Rock thought about it, but in the end, shook his hand, as the two men embraced and celebrated with the fans. The Rock left the ring to allow Hogan some spotlight, which prompted Nash & Hall to make their way to the ring. They got in Hogan's face and started attacking him, The Rock came back to save Hogan, and cleaned house. The Rock and Hogan stood tall, as The Outsiders backed off. Hogan and Rocky walked out together, as the fans cheered them both on. Hogan put The Rock over as much as he could, and at the same time, turned babyface in front of one of the hottest Wrestlemania crowds ever.
For anyone who doesn't get how popular Hulk Hogan was, watch the match between The Rock and Hogan at Wrestlemania X8. There's no better example of a legend getting the fans behind him like Hogan did on that day. Considering he was meant to be the bad guy, his legacy, and his history in Canada, ensured the fans would remain loyal to him, and they refused to cheer for The Rock over him.
---
Match #10 – Jazz (c) vs. Trish Stratus vs. Lita for the WWF Women's Championship
So why wasn't Hogan vs Rock the main event? Because the girls needed some spotlight, and of course, the undisputed WWF Championship match. The girls entered to a dead crowd, the Toronto fans had cheered themselves out in the previous encounter. Even Trish Stratus, sporting the red and white maple leaf colours, received no reaction. To make it even worse, the match was sloppy, Lita was delivering the weakest punches you will see on the PPV, Trish was botching all over the place, and Jazz looked to be the only real wrestler in there; who nobody cared for.
Some fans say the Divas were at their best during the Lita and Trish Stratus days, but at Wrestlemania X8, the girls were embarrassing, and the fans wonder why Vince often bumps the girls off Wrestlemania cards; they don't deliver when it's time to deliver. The best part of the match was the ending, Jazz giving Lita a perfect fisherman's suplex from the top turnbuckle to the mat, which deservedly gave Jazz the win. Lita and Trish did not work well, so Jazz was the only wrestler worthy of holding the title. She's not remembered much by the fans, she should get more credit.
Oh, and before I forget. Christian was celebrating his hardcore title win, just about to enter a taxi to get out of the arena, when Maven ambushed Christian, and rolled him up for the 1-2-3. New Hardcore Champion Maven! It was like all the silly antics from earlier were just a dream. Please tell me it was just a dream.
---
Match #11 – Triple H vs. Chris Jericho (c) (with Stephanie McMahon) for the Undisputed WWF Championship
Phew, I've been writing this for a while. If you had made it this far, you should have a general idea how long this PPV was. By the main event I was spent, and so were the fans. I couldn't remember much of the main event when I saw it again last Tuesday; after ten matches I was waiting for the end. I also remember thinking back to those days, and I always wondered why Triple H was the good guy, Jericho was the bad guy, and Stephanie had joined Jericho. I mean .. I had seen Raw & Smackdown and knew how it happened .. what I couldn't understand was why WWF suddenly felt Triple H had to be the new good guy, why not give that to Jericho and keep Triple H as a bad guy? I couldn't buy Triple H as a good guy after all the bad things I had seen him do. Also Jericho had not held the Undisputed title for long, and I was a fan of Jericho's, so I wanted him to win.
Vintage Triple H simply had to have Drowning Pool doing their version of his entrance theme. I prefer the Motorhead version, but if I am brutally honest, I hate both live versions of "The Game", Motorhead and Drowning Pool killed the song live; I just wanted it to end so the match could start. Jericho entered to a decent pop from the crowd, as obviously Jericho is Canadian and they care for him so much more than they do Triple H.
I won't go into the match too much, other than Stephanie did a good job of interfering frequently on Jericho's behalf. The match needed a little more though, like a cage, ironman rules (ironman cage match anyone?), anything to make it more than just Jericho vs Triple H, as we had seen it before. After one of the better worked matches of the night, Triple H downed Jericho with a pedigree..
The fans cheered for the new undisputed champion, the Canadian fans didn't have a problem with Triple H winning. I did though, back then, and even now, as Jericho should have been allowed to hold the title for a while after his victory over Rock & Austin. Having Triple H go over on Jericho (with Steph interference) told me that Triple H could do something neither Rock or Austin could, and that didn't sit well with me. Jericho should have gone over, he had the most to gain, but I also believe they should have gone on earlier when the crowd were not burnt out.
Fans would have complained if WWF put Hogan and Rock on as the main event, they would have said WWF was prioritizing over the Undisputed Championship, and WWF was hoping the title would give the main event enough meaning. But the Canadian fans were tired, and the main event didn't come across like a main event match, and to make the booking more questionable, Triple H lost the title to Hulk Hogan a month later at Backlash; analyzing the booking of the PPV, you can see why Austin became frustrated with creative.
---
Conclusion
Wrestlemania X8 was an event filled with so much talent it was impossible to fail. However, just like any machine with working parts, they need to be maintained and oiled regularly to ensure smooth running, and Wrestlemania X8 felt cheap with its booking decisions. The person calling the shots, wanted to feature as many wrestlers as possible, even if it was just a few minutes, or a six-minute match. The PPV lingered as a result, you're never completely bored, but you're always looking forward to the bigger matches.
I agree with another review about the PPV when they said it felt like one of the earlier Wrestlemania marathons, with so many short matches slotted in as filler. The first four matches had little meaning, The Undertaker vs Flair was brutal, but also very one-sided, Edge/Booker T and the tag team match also included as filler, Steve Austin trying his best to work a good match with WCW-style Scott Hall, and the terrible triple-threat women's match only suitable for Smackdown.
After that you are left with the amazingly received Hogan vs The Rock, with the match itself not being great, but good enough to keep the loud reaction going, and finally the main event, which can be hard to watch after all the matches, songs and interviews, but not completely sucking in the process. Overall, the PPV is fun to watch, and isn't bad, but expect to lose concentration at times, as the matches literally go back-to-back, unless Saliva or Drowning Pool are on. Some may appreciate the fact there are so few interviews and promos, and aside from the music, the PPV is all about the wrestling matches.
It was always going to be difficult to follow Wrestlemania X-Seven, but at least this PPV did not completely suck, which is all you can ask for. And that's it from me, I shall be seeing you around this articles section sometime soon with Wrestlemania XIX.
You can keep up with all your wrestling news right here on eWrestlingNews.com. Or, you can follow us over on our Twitter and Facebook pages.