**Edited December 2019. Cleaned up pics/vids and other stuff.**
ShoMiz vs. John Morrison & R-Truth for the Unified WWE Tag Team Championship
Welcome to WrestleMania XXVI. The venue looked nice. Also the setup above the ring allowed them to drop screens over the ring, adding to specific wrestlers entrances. After Fantasia's harmonious singing, we were treated to a tag team match for both sets of tag team belts. Remember when The Miz was United States and Unified Tag Team Champion? Yeah, I almost forgot too. I never cared for The Miz so 2010 was a rough year for me. R-Truth was by far the most entertaining guy, opening Wrestlemania with some "What's up!?"
So we saw some action between Morrison and his former tag team partner The Miz for a minute, R-Truth (the future tag team partner of The Miz) also saw some action. Big Show, stood on the ring apron, punched Morrison in the face, tagged in, and pinned Morrison at the 03:22 mark. What was the point?
Randy Orton vs. Cody Rhodes vs. Ted DiBiase Jr.
Cody and Ted split from Randy after their successful run as Legacy. The young guys wanted some revenge, and to make a name for themselves on behalf of Randy, so they got their chance in this triple-threat. The commentary team repeatedly reminded us the match was pretty much 2-on-1 despite the stipulation.
Randy started well, catching them off guard. Eventually the numbers game caught up with him, leaving Cody and Ted the clear advantage. The fans began to boo as Cody and Ted taunted them. After a while, one of them tried to pin Randy, but the other pulled them off. A short time later, the other broke up another pin. Like two Star Wars nerds fighting over which movie was better, Ted and Cody attacked each other and rolled to the outside.
And you guessed it, Ted and Cody were soon nailed with VINTAGE ORTON (Cole already getting on my nerves). The double DDT from the ropes excited Cole a little too much; it was the first time it ever happened apparently. Punt to Cody, RKO to DiBiase. 1-2-3. Randy won, and in the process made Cody and Ted look like a bunch of jobbers. The crowd were into it, they really wanted Randy to beat them so it wasn't a complete disaster.
Money in the Bank Ladder Match – Christian, Matt Hardy, Kane, Shelton Benjamin, Jack Swagger, Drew McIntyre, Kofi Kingston, Dolph Ziggler, MVP & Evan Bourne
Ten wrestlers, and at least half of them had no chance. At least, that's what I thought before I saw this back in 2010. Kane perhaps, MVP or Christian, either of them would have been believable. Kane sported an obvious black eye during his entrance. So much action to call so I'll give some highlights. Everyone scrambled to get the upper hand with some brawling, and everyone climbed the ladder, soon leaving Swagger and Hardy left in the ring.
Christian tried to climb, til Ziggler zig-zagged him hard to the mat. After Kane stopped MVP's climb, Shelton, Kofi and MVP turned on him. The masters of the ladder match Christian and Matt Hardy sandwiched Swagger under the ladder in the middle with their own ladders. Christian and Evan fought on a ladder ramp, which Evan won so he climbed. Matt stopped him, til he got backdropped through the ladder below! Holy shizzle moment.
Kane in after everyone's cleared to the outside, with Dolph Ziggler to feed on. Kane got angry with the ladder and broke it, splitting it in half. Kofi soon found the broken ladder and used it like stilts to walk across the ring towards the middle .. crazy and very entertaining spot. Drew entered the ring to actually do something, as Kofi tried to climb the broken ladders used as stilts. Drew knocked him down, and found his own ladder to climb. Matt stopped Drew, then Christian stopped Matt with the inverted DDT off the ladder. Swagger climbed the ladder and fought with Christian, he grabbed the briefcase and smashed it off Christian's head. Swagger took 26 years (exaggerating again) to take the briefcase down.
Probably the weakest Money in the Bank match in the series so far. Not just because of the result, but because the spots were awkward. There were far too many bodies, and not enough big names to emphasize the prestige WWE was trying to make with the briefcase concept; six big names would have been far better. Still, an acceptable carnage match with a surprise ending.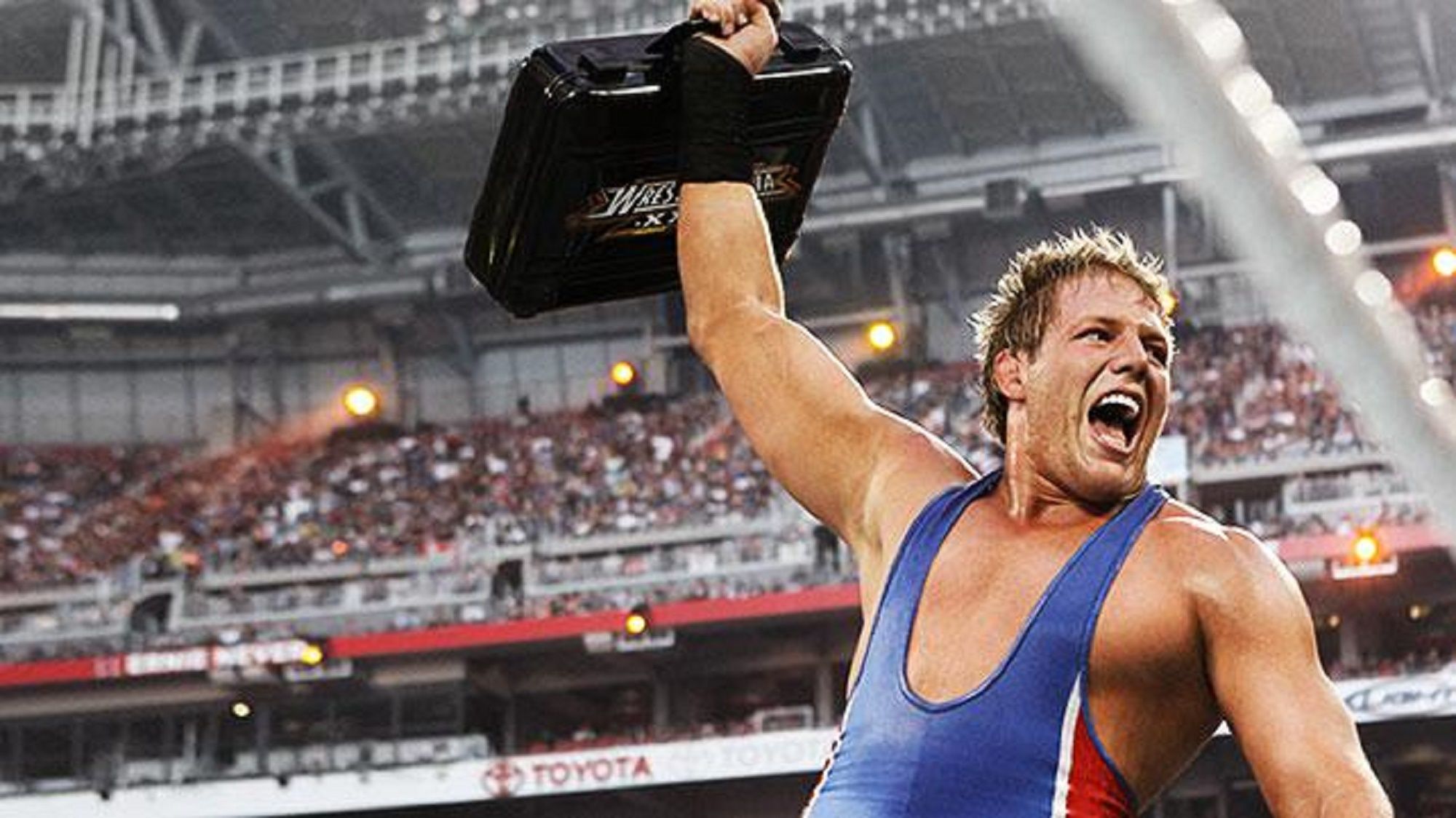 Triple H vs. Sheamus
Matt Striker was getting really annoying on commentary by this point, as he tried to sell another nickname for Triple H "Ace of Spades". As you may remember, or imagine, this was nothing special, unless you include Triple H being so far down the card.
Typical brawling contest. Triple H did most of the wrestling with some suplex and a figure-four. Sheamus soon took the advantage with some back-breakers, and stomping. A chinlock by Sheamus. Triple H tried for the comeback, but Sheamus countered and tried the Razor's Edge (I can't call it anything else, sorry), HHH slipped out and walked in to a brogue kick; only 2. HHH recovered and hit the AA spinebuster for 2.
Sheamus tried for another brogue but was countered in to the Pedigree. The Game won in 12 minutes. Not a classic, but still lukewarm entertainment. If it was anyone else, I would have been surprised if Sheamus didn't win, but it's Triple H so I'm not.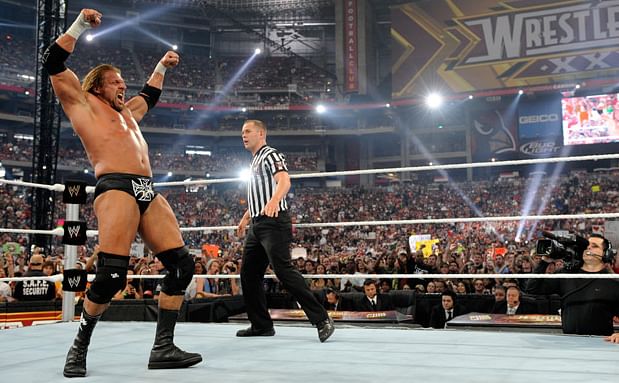 Rey Mysterio vs. CM Punk (w/ Luke Gallows & Serena)
Rey Mysterio wearing an Avatar costume this year. Punk wearing his evil Jesus costume as well. So the SES wanted to recruit Mysterio to its ranks, so Punk sang "Happy Birthday" to Mysterio's daughter in a creepy way. To make it creepier the production crew slowed it down during the video package, which made it more annoying than creepy.
Punk started as the aggressor, trying to finish Rey quickly. He soon found himself being abused in the tree of woe by Serena. Punk dropped Rey on some steps. Rey recovered and tried for the body press but Punk reversed to a powerslam for two. A rollup on Rey for another two, then a high kick to the head for two. Rey came back with a beautiful springboard somersault. 619 time, but Punk saw it coming and countered to a GTS attempt. Rey escaped and made it to the top for a Frog Splash, but Punk moved. Punk tried a powerbomb in the corner but Rey countered him to another 619 attempt.
Serena stood in the way of Punk, so Rey decided to go the other way and connect with 619 and a big splash for the victory at the 6:30 mark. Too short for me, and I kinda wish Mysterio had joined the SES for a little while, but I suppose WWE needed to sell masks. Punk had really good heat during this time, but saw little success from it. His character was really evolving and WWE continued to use him in mid-card feuds despite having a stable and a clear connection with the audience.
Bret Hart vs. Vince McMahon in a No Holds Barred Lumberjack Match.
While this match is criticized on some level, I feel like it had to be done. After all the real-life drama shown on live television, the animosity between Bret Hart, Vince McMahon and Shawn Michaels had gone on for a long time. To ensure the fans they had made amends, a match had to be made .. and on this occasion Vince was the punching bag. After all, he was the one in charge, The Montreal Screwjob happened under his watch, and he was willing to let the entire Hart family "go over" on him, to put a stamp on it, and give real-life closure to everyone, including the fans.
Vince played it up by inviting the Hart Family to ringside to serve as lumberjacks, and appointed Bruce Hart as special referee. Once again, the "screwjob" card by Vince, til he got in the ring and Bret told him it was a double-cross, and the Hart Family had simply pocketed their cheques and would not be on his side. Vince looked nervous after realizing the predicament he found himself in.
Bret started the match by attacking Vince and choking him out. The physical limitations of Bret was immediately noticeable; there's no chance in hell he's taking a bump. Vince soon found himself on the outside being attacked by the Hart Dynasty. They chucked him back in so Bret could deliver some cautious elbow drops. Vince escaped, rolled to the outside, and tried to escape under the ring, but the Hart Family grabbed his legs and dragged him out.
Vince emerged with a crowbar in his hand. The entire Hart family quickly backed off (nice sell) from the insane chairman. Vince charged back in, and Bret easily disarmed him. Bret started using the crowbar, and nothing pretty about it. And then a move you rarely see, Bret started setting up the sharpshooter (to a huge pop), but then decided .. nah, too soon, back to the crowbar. And some stomping on Vince's grapefruits. He teased the Sharpshooter again.
Bret was clearly knackered by the offense, so he got a chair, set it up nicely in the middle of the ring, and took a break. Cool. After getting his breath back, Bret got the chair and tortured Vince with slow, methodical, and completely brutal chairshots to the body. I mean, you could hear Vince screaming, and you know he's doing that because it actually hurts like hell. Nothing pretty, as Bret relentlessly smashed the chair off his body.
After a very one-sided affair, Bret locked in the sharpshooter and Vince tapped immediately. Vince was destroyed more than he ever had before, and The Hart Family celebrated in the ring, knowing the years of controversy could finally be put behind them. If you hate Vince McMahon, you will enjoy this. Otherwise it's really painful to watch.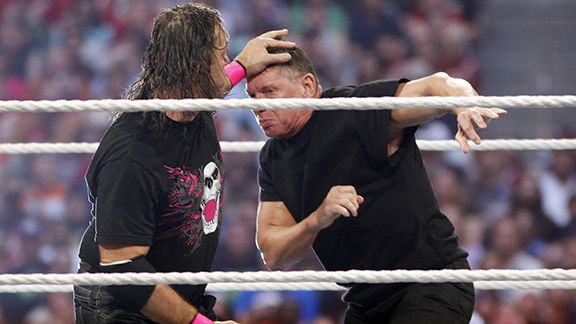 Chris Jericho vs. Edge for the World Heavyweight Championship
Ok, so this makes up for the last match. Edge and Jericho wasted no time getting the fast-paced action underway. Definite chemistry, as they exchanged trademark move after trademark move. Edge had returned from surgery, and Jericho being the evil heel targeted his Achilles tendon. Jericho stomped on it, and locked in the Walls of Jericho, followed by a single leg crab.
The referee was knocked down, which gave Jericho time to nail Edge with the belt. The ref rose back to life, and a codebreaker was enough to give Jericho the 1-2-3, retaining the World Championship at Wrestlemania. It should have been a little longer, but regardless it was a very good match with an ending fitting of where both men were in their careers.
10-Diva Tag Team Match – Michelle McCool, Vickie Guerrero, Layla, Alicia Fox & Maryse vs. Beth Phoenix, Kelly Kelly, Mickie James, Gail Kim & Eve
Hmm, at least it's not another lumberjill match. Vickie had a go in the ring, til the Divas ganged up on her. Vickie screeched and started a flurry of finishing moves between the Divas. Gail Kim and Layla botched Eat Defeat rather well. Someone else botched something but it's been a week and I can't remember who was involved. Eventually Beth was left with Vickie, as Vickie panicked til McCool saved her. Vickie went to the top for what Cole called the "Hog Splash", which was probably a fitting name considering how bad it was. Vickie pinned Kelly and thankfully ended it after three minutes.
Batista vs. John Cena for the WWE Championship
Shocking match, and not in a bad way. Cena had military honor guard doing their impressive routine before his entrance, which the crowd enjoyed, til Cena entered and the reaction changed to the usual. Batista looked trimmed and ready for a good match. Head lock exchange to start, til Batista took the lead with a clothesline and a boot. Cena returned the favour with a suplex and a bulldog. An early FU countered to a spike DDT. A big boot by The Animal got two. Batista applied the chinlock til Cena powered out and tried the usual five moves.
Batista dropped him to the floor as he could clearly see him, then hit the spinebuster. A STFU soon broke up when Batista reached for the rope. Spear by Batista for two, then both men fought on the turnbuckle, with Batista falling, giving Cena the five-knuckle shuffle off the turnbuckle. Batista recovered and powerbombed Cena for two. FU attempt countered, then countered again, and one more time til Cena finally hit the FU for two. Crowd going mad for it. Cena tried his flying leg drop but flew in to a spinebuster. Batista tried the Batista bomb, however, Cena rolled through and locked in the STFU. Batista tapped, giving Cena his 7th reign.
Good chemistry between them. I was finding it difficult to watch their matches by 2010, but watching it again last week I clearly missed out. One of their better efforts for sure.
Streak vs. Career No-DQ and No Count-out Match.
A different match to their previous encounter at Wrestlemania 25, but a classic nonetheless. The Undertaker and Shawn Michaels brought everything here, as was expected. I'm glad it was the main event because it left me with a sense of anticipation. Instead of the usual anti-climactic title match, we were treated to a match where someone had to lose something; the streak, or HBK's career. Perhaps not as good as the first time; but still the best match on the card by far.
Wrestlemania XXVI, while it had filler matches such as the Divas tag, and the tag team title opener, the rest of the card provided entertainment in their own way, but nothing matched Undertaker vs HBK. There was a good variation of talent, and the main event rewarded you for sitting through three-and-a-half hours of wrestling. I really enjoyed it, lots of good matches, shockers, brutality, drama, silliness, everything you need for a good card. The biggest downfall was the commentary; no Jim Ross, and Cole/Lawler/Striker was too much. Also there was a sense of WWE avoiding other possible dream matches so the show would end at its highest peak of emotion with Shawn Michaels retiring and saying his farewells. Definitely a good watch overall! Thanks for reading.