Wrestlemania V (1989) – "The Mega Powers Explode"
Wrestlemania V drew 18,946 fans to Trump Plaza. Donald Trump's casino was sponsoring the event. This was the second Wrestlemania to be held in Trump Plaza after Wrestlemania IV. The commentary team of Gorilla Monsoon and Jesse Ventura remained once again. The show began with WWF Women's Champion Rockin' Robin singing America The Beautiful. Jesse Ventura felt inclined to comment on her singing afterwards, saying she should stick with what she does best. It wasn't as bad as Gene Okerlund at Wrestlemania I though.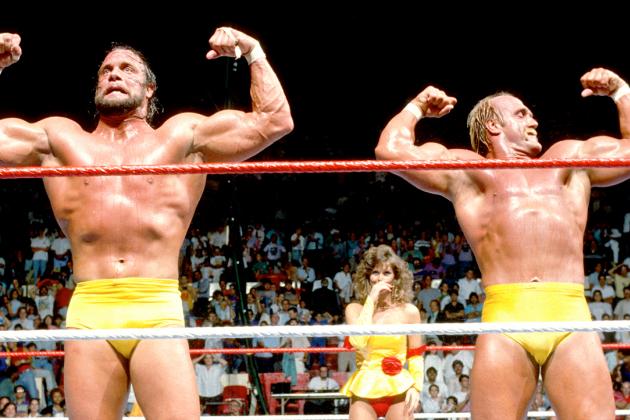 The event included 14 matches on the card, and was centered around the feud between WWF Champion Randy Savage and Hulk Hogan. The two forged an alliance from the aftermath of Wrestlemania IV, and the two biggest wrestling stars dominated the WWF. However the Macho Man's paranoia got the better of him, as he could not trust Hulk Hogan with Miss Elizabeth. This turned Randy Savage into a heel once again, while Miss Elizabeth remained neutral. Hulkamania was dwindling at this point, the crowd reactions were not as prominent as they once were. I believe this was the beginning of the end of Hulkamania in its prime.
Aside from this event having an amazing build up for its main event, Wrestlemania V introduced many new faces. Continue reading to find out who made their Wrestlemania debut, you may be surprised how many legends started here!
WrestleMania V was declared the "Worst Major Wrestling Show" by the Wrestling Observer Newsletter. I can understand why to a certain degree, but you can decide whether they were right after you read this. So without further delay, here are the matches!
Match #1 – Hercules vs. King Haku (with Bobby Heenan)
Always been a fan of Haku, and Hercules impressed me with his previous Wrestlemania performances. This was an enjoyable hard-hitting contest which also made use of Bobby Heenan. I noticed an improvement in all-round match quality throughout the PPV, and this was a good example of that. Hercules won the match, which could be considered an upset.
After the match we were treated to the Wrestlemania debut of The Rockers, "Mr Wrestlemania" Shawn Michaels … and the other guy, cut a promo backstage with Gene Okerlund.
Match #2 – The Twin Towers (Akeem and Big Boss Man) (with Slick) vs. The Rockers (Shawn Michaels and Marty Jannetty)
On one side, you have the young athletic team of The Rockers. On the other side you have two large-bellied giants with the maneuverability of a tank. Akeem (One Man Gang a year earlier) was the only man in the match to not be making his debut at Wrestlemania. Big Bossman looked really out of shape, he was seriously over-weight. It was a classic power vs speed match, with momentum switching throughout. Young HBK was over-selling everything, like he does. In the end the power and size of The Twin Towers squashed The Rockers, and Shawn Michaels took the pin-fall loss. 0-1 for Mr Wrestlemania.
Next we got a vintage Ted DiBiase promo with future (at the time) WCW commentator Tony Schiavone.
Match #3 – Brutus Beefcake vs. Ted DiBiase (with Virgil)
Another good example of match quality. DiBiase could make anyone look good, and Beefcake's popularity had grown so much by this point. I wanted to see someone get their hair cut, but on the ten minute mark both men were counted out. There really should have been a finish to this one, but I guess they didn't want to make either of them look weak at Wrestlemania. Nothiing resolved, but it was still entertaining.
Match #4 – The Bushwhackers (Bushwhacker Luke and Bushwhacker Butch) vs. The Fabulous Rougeaus (Jacques and Raymond Rougeau) (with Jimmy Hart)
Probably one of the worst matches on the card. Ventura enjoyed making the point about The Bushwackers having no idea how to wrestle, and how they were more like street fighters. Some fans may have enjoyed the wacky antics of The Bushwackers, but I found it really difficult to stay interested. Thankfully it didn't go on for too long.
Match #5 – Mr. Perfect vs. The Blue Blazer
Wow. I didn't see this one coming, (I don't look at a card before I watch these) Mr. Perfect in his prime against a young Owen Hart. I'm a huge fan of both, it was like a match made in heaven. This is a good reason to watch Wrestlemania V, if you plan to and have never seen it before. It really was an excellent match despite the time allocated to it. Definitely needed another ten minutes.
And then yeah … we got some time-wasting moments which could have been cut entirely. Jesse Ventura posing for the second year in a row … he didn't even take his shirt off this time! And for some reason that disappoints me. Lord Alfred Hayes reported from a marathon race with Mr Fuji participating in a tux, and Fuji managed to finish the full thing in a tux. Fuji said he did this to prove he's still in shape for his age. Next up, Run DMC performed the "Wrestlemania Rap".
Match #6 – Demolition (Ax and Smash) (c) vs. The Powers of Pain (The Warlord and The Barbarian) and Mr. Fuji – WWF Tag Team Championship
Another solid match on the card, and a good run by Demolition at Wrestlemania. This was a unique match as it was a handicap 3-on-2 match for the tag team titles. Mr. Fuji tagged in while Ax or Smash was down, but he also held his own as a wrestler, he still had it. The Powers Of Pain didn't impress me too much, the point of the match was to see Demolition get their revenge on Mr. Fuji. Demolition continued their dominance by getting their revenge on Mr. Fuji, and retaining the titles at the same time.
Tony Schiavone tried and failed to get an interview with Randy Savage backstage. The Macho Man was pissed off to say the least.
Match #7 – Dino Bravo (with Frenchy Martin) vs. Ronnie Garvin
Random moment of the night! (Also the ultimate F-U to the guys in the ring) Both wrestlers came down to the ring, and just as the match was about to start, a familiar entrance theme hit. A wild "Superfly" Jimmy Snuka returned to the WWF and made his way to the ring to a loud ovation. He posed in the ring (while the other two guys just stood there) for a minute or so, then he made his leave and the match started. What a drainer! The crowd was obviously hoping for Snuka to turn around and lay these guys out, but he just left? I can't understand why, but it's there, and then the crowd had to sit through this match.
I wasn't really sure who to cheer for. Not seen much of Garvin's work, so it was something fresh. Both men can work for sure, but it was clearly lacking excitement after the random appearance. The match wasn't bad considering it only lasted four minutes, if you really care to know the result .. Bravo won.
Match #8 – The Brain Busters (Arn Anderson and Tully Blanchard) (with Bobby Heenan) vs. Strike Force (Rick Martel and Tito Santana)
So happy to see two of The Four Horsemen, not so happy to see Strikeforce. It was so cool to see The Brain Busters in action, and they always looked like the better team. The match was just a framing device for a heel turn by Rick Martel who decided to abandon Santana during the contest. At least we got to see the spike piledriver afterwards, you won't see that nowadays!
Piper's Pit – Oh lord, this was a train wreck. I cringed so much, it was one of the worst segments in the history of wrestling. I don't know how to explain it … it was so poorly done by all three men involved. Ok, I'll try to summarize:
Finkel took a lifetime to introduce Roddy Piper, but Brother Love came out instead wearing a kilt.
Brother Love took a lifetime to say nothing. Then he introduced his invisible guest "Rodney Piper", and started to conduct an interview with him. Love would ask invisible Piper some questions, then he would sit on the same seat as invisible Piper and become him. With a decent Roddy Piper impersonation, Rodney Piper told everyone how awesome Brother Love is and how much of a fan he is. This went on for a very long time until …
Morton Downey Jr entered. Some talk show host from the 80's. I don't know who he is, as I didn't live through the 80's, and I'm English, so I didn't know what to make of him at first. He made his way to the ring, sat down on his stool, and became a first class advert for chain-smoking. I kid you not, this guy was going through cigarettes like grannies go through teabags. Brother Love tried to insult him, Downey retorted with some insults of his own. It was very awkward as they just sat there, waiting for Piper to show up.
Piper finally entered to a decent reception. He got in the ring and started with Brother Love. Normally Roddy Piper could deliver a coherent segment, but he appeared to mumble through his lines. The crowd in attendance were probably as befuddled as me, I had no idea what was going on. Piper asked Love questions, and before Love could answer, Piper would interrupt. This awkward back-and-forth finally ended when Piper stripped Love of his kilt, and Love was so upset that he ran off.
With Love gone, (no idea why he was there in the first place) Piper and Downey stared each other out. What's with the obsession of pairing Piper up with celebrities at Wrestlemania? Anyways, Piper tried to conduct an interview with him. After asking Downey how he got his name, he replied with a "Your Mama" joke. Subtle insults were thrown at each other until Downey (who likely smoked through at least ten cigarettes by now) started blowing smoke in Piper's face. Piper asked him to stop at least four times, and continued to get more pissed at Downey as the chain-smoker sat there with one of the cheesiest American smiles ever. Downey turned his back for a moment, Piper revealed a fire extinguisher and happily took him out with the spray. And yeah, that's that.
---
Gene Okerlund showed us the No Holds Barred trailer. Amazing. After that we got to see the beautiful mug of Donald Trump as Sean Mooney interviewed him at ringside. Riveting. And then we heard the greatest promo of all time by Jesse Ventura! Someone get this man out of retirement already! I can't find a video of it anywhere though, so you will just have to take my word for it.
During intermission a video package of the Mega Powers story aired. Instead of posting that, I would like to post a promo by Randy Savage instead. He delivered this before Wrestlemania V. This is Macho Man at his best.
Match #9 – Jake Roberts vs. André the Giant (with Bobby Heenan) – Big John Studd as the special guest referee.
Just another bad match. Andre's health was in decline, so he couldn't move much by this point in his life. It's proof that it takes two to tango, because Jake tried to deliver something but nothing clicked. Such a really odd finish as well. I really don't want to say much more, it's one of those matches you would like to forget.
We were treated to a refreshing promo with Sensational Sherri afterwards. She mocked Rockin' Robin's singing from earlier, and Miss Elizabeth for not being loyal to the Macho Man. There were no women's matches on the card, making it the third Wrestlemania in a row to do so.
Match #10 – The Hart Foundation (Bret Hart and Jim Neidhart) vs. The Honky Tonk Man and Greg Valentine (with Jimmy Hart)
Despite the sheer popularity of The Hart Foundation, this match was filler. WWF was still trying to find a decent tag team partner for Greg Valentine for some reason. I don't think there was a back story behind it, I think it was more about The Hart Foundation getting one over on Jimmy Hart for whatever reason.
Match #11 – Rick Rude (with Bobby Heenan) vs. The Ultimate Warrior (c) – WWF Intercontinental Championship
Surprising! Ok, bear with me on this. I am going to say this. Ok here goes … this was one of the best matches on the card! It was really good, and both men worked. Even Warrior was working, not in the beginning, but as the match went on, Rude forced Warrior to work and do moves we normally wouldn't see from him. Their Summerslam match was better (can't remember if I saw it, but that's what fans say), but I would still say this is one of the better matches in the career of The Ultimate Warrior. I really don't want to spoil the result on this one, it was a highlight of the PPV from my point of view.
Match #12 – Jim Duggan vs. Bad News Brown
Bad match to good match, to bad match. This was a fight, and if you like that kind of thing, this was your kind of contest. There was nothing pretty about it, and just before the four-minute mark, both men were disqualified for using weapons on each other. It was full of energy, but it served very little purpose. Duggan didn't appear to be in good shape like previous Wrestlemania.
Match #13 – The Red Rooster vs. Bobby Heenan (with The Brooklyn Brawler)
I don't know anymore. The match lasted 31 seconds, and The Red Rooster won. Brawler attacked Rooster afterwards … and that's about it. Lame, moving on swiftly.
Match #14 – Randy Savage (c) (with Miss Elizabeth) vs Hulk Hogan – WWF Championship
Hogan came out second, which gives you an indication of the political landscape at the time. Randy Savage was clearly over, but Hogan was still "the man". Hogan couldn't turn heel, so Savage turned instead. I think the fans were looking for a decline in Hulkamania, but it wasn't going to happen yet. The hype for the match was nicely done, and I see this as the first real main event Wrestlemania ever produced. The two most popular guys going at it for the WWF Championship, and everyone wanted to see it. It was one of Hulk Hogan's better outings, as he went toe-to-toe with the ring general.
I can imagine Macho Man having some say in how this match transpired, even if he couldn't alter the ending. Savage worked like a heel does, using every shortcut available. Miss Elizabeth got in the way a few times until she was sent to the back by the referee. The two worked a really good match in front of a hyped up crowd, and after Macho Man hit the elbow drop, only for Hogan to kick out at 2, they went crazy for the Hulkster as he "hulked up" and took the paranoid Macho Man down for the 1-2-3.
This was a really important match in Hogan's career, as he became only the second man in history to regain the WWF Championship. It helped to solidify his legacy as the most popular wrestler in the history of the business. It came at the expense of the Macho Man though, if there was ever a time to move the product away from Hulkamania, this was the time to do it. Some fans would have preferred change, but as we all know, Vince McMahon does what's best for business.
Conclusion – As a whole, I enjoyed Wrestlemania V. Although there were a few select matches with no meaning and/or low match quality, there were some great matches too. It also included unnecessary segments which could have been cut, but as we know, Vince loves his celebrities! I would say it has the best main event match over any of the previous Wrestlemania. The other highlights for me included: The Rockers, Ted DiBiase, Perfect vs Owen, The Brain Busters, Ventura's promo on Hogan, and Rude vs Warrior. Thanks for reading!
You can keep up with all your wrestling news right here on eWrestlingNews.com. Or, you can follow us over on our Twitter and Facebook pages.