Wrestlemania IX (1993) – "The World's Largest Toga Party"
**This piece has been edited as of February 2018. I took out any broken videos and cleaned it up. Some text has been edited.**

Wrestlemania IX drew 16,891 fans to Caesar's Palace in Las Vegas on April 4th 1993. The build for the event included two main storylines; the first pitted the unstoppable force of Yokozuna against WWF Champion Bret Hart, and the second focused on Hulk Hogan's return to the WWF after remaining absent (due to the steroid scandal) since the previous Wrestlemania. He formed the team of the Mega-Maniacs with Brutus Beefcake to challenge Money Inc. for the WWF Tag Team Championship. Wrestlemania IX was a step backwards as the attendance and PPV buyrate dropped from the previous year. Reviewers often criticize the event, and label it as one of the "worst Wrestlemania's ever". Do you agree? Read on to find out whether I agree.
The event is historic as it was the first Wrestlemania to be held in an outdoor venue. Despite Gorilla Monsoon opening the event as the "host", he only appeared in two short cameos. The central theme for the event saw commentators, announcers and ring announcers wearing togas. Jim Ross made his debut as the lead commentator, and played his part of hyping the opening ceremony. JR passed it on to "Finkus Maximus" (AKA Howard Finkel) to announce. Two actors appeared as Julius Caesar and Cleopatra riding an elephant. It was the one-and-only time WWF introduced large animals during an event (to my knowledge). After Caesar and Cleopatra dismounted, the elephant did his "trick" of standing up on his back legs. I liked it, there's no way that would happen today. Also an ostrich appeared at ringside!
Macho Man Randy Savage made his grand entrance as he sat on a Las Vegas inspired sedan (a chair carried by people) enjoying himself. And then a camel appeared with a weasel on it, OK .. not a weasel .. it was Bobby Heenan, and he showed fear for his life as he was mounted the wrong way! After some chit-chat, all three men sat at ringside to call Wrestlemania IX. It marked the first time the opening ceremony did not include someone singing a national anthem.
---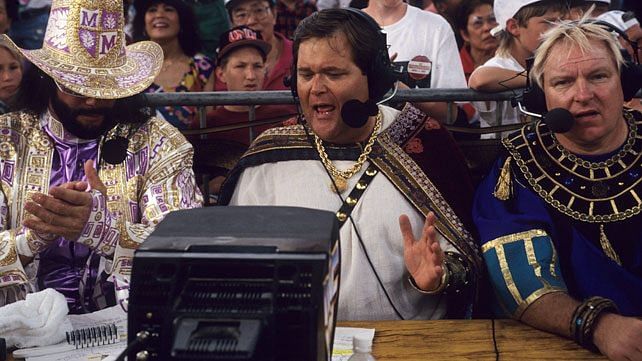 Match #1 – Tatanka (with Sensational Sherri) vs. Shawn Michaels (c) (with Luna Vachon)
WWF Intercontinental Championship
Luna Vachon made her debut and Bobby Heenan wouldn't shut up about her throughout the match. Randy Savage on commentary was immediately hilarious and he kept the hilarity going, as Jim Ross tried his best to call the action in-between. Despite having no idea why Shawn and Tatanka were battling, I thoroughly enjoyed the match. Young HBK was selling perfectly and making Tatanka look legit. Tatanka was on a winning streak at the time, so his momentum was matched with HBK's former manager Sensational Sherri, who stood in the way of Luna Vachon helping Michaels on several occasions.
Shawn was in trouble for a long time, then the momentum switched back-and-forth. I was fixated on the action, and I believe it was one of the best opening matches of Wrestlemania so far. Some may say Michaels "carred the match", but I believe Tatanka played his part, and he didn't make mistakes or slow the pace. There was no interaction between Michaels and Luna at any point, even on their entrance, but they both interacted with Sherri. Michaels fell to the outside and was counted out. As the ref counted him out, Michaels grabbed the referees leg in frustration and pulled him to the outside. Tatanka hit a strong move and pinned Michaels, only for the referee to return and declare Tatanka the winner by count-out. I completely missed the count-out initially, and wondered whether it should be a disqualification win (as HBK grabbed the ref), but it was soon confirmed.
Michaels left with the title, and Luna caught Sherri by surprise and knocked her down. Tatanka picked Sherri up, as she appeared hurt and distraught. Great match, disappointing ending. I would have accepted a Tatanka victory here with a distraction by Sherri, as that could have been the catalyst for Michaels to move up the ladder while pushing someone different like Tatanka as IC Champ. Moving on to the Wrestlemania debut of The Steiner Brothers. Scotty changed so much over the years .. Rick not so much.
---
Match #2 – The Steiner Brothers vs. The Headshrinkers (Samu and Fatu) (with Afa)
I was watching the event with a family member, and they were stoked to watch a young Rikishi portraying Fatu of The Headshrinkers. They also commented on how slim (still a large man obviously) he was compared to his Rikishi days. The referee was Bill Alfonso (ECW manager of RVD, Sabu and others), and for the second time I was fixated, as I wanted to know how well these teams worked together. At one point Samu dumped Scott to the floor on the outside with the hardest looking drop I have ever seen. I sat there chanting "holy s%$£!" as I wondered whether he was alive or not … seriously, it was that hard.
Regardless of the harsh drop, the match was full of action, and a crazy spot happened which saw Rick Steiner body slam Samu from the top turnbuckle as he sat on Fatu's shoulders! Not going to spoil the result on this one, all I'm going to say it was another solid match on a PPV labelled as one of the worst ever. And then we were taken backstage to the interesting man known as Doink The Clown. I loved this, and apparently his inspirations for the character was taken from Jack Nicholson's Joker and the movie "IT". The Doink character could have given nightmares to kids, but as we know, the character became a mere shadow (or joke) of its former self.
---
Match #3 – Doink the Clown vs. Crush

You need to be colour blind (or to be tripping on drugs) to enjoy the multi-coloured ring attires of Crush and Doink. The fans were into Crush and wanted the clown destroyed. It was close to being the worst match on the card, as Crush tried to do whatever he could to show his power and athleticism, but Doink was having none of it and slowed the pace often. Doink's punches looked as weak as Jenna Morasca's slaps (look up Morasca vs Sharmell). Despite the promising character, I'm not surprised he never received a serious push … his ring work was terrible! And the match ended in typical clown fashion, as Doink II appeared behind the referees back and assisted Doink I. Heenan billed the interference as "an illusion", while a second referee (Bill Alfonso) came down to the ring to explain what had happened to the other ref as they searched for the second clown under the ring .. only to find nothing.
And then yeah .. Todd Pettengill in the crowd, getting useless interviews from Chinese guys who can't speak English. Why was he wearing sunglasses and a cap worn backwards with his toga? Way to kill the theme Todd!
---
Match #4 – Razor Ramon vs. Bob Backlund

It's like putting John Cena against a new guy ten years from now and having him squashed in a three-minute match. Bob Backlund appeared tiny in comparison to Razor, and despite Razor portraying the heel, the crowd firmly chanted "Razor! Razor!". Backlund was in "wrestle" mode, while Razor was more about fighting.
Bob Backlund managed to perform his 1970's move set, including the infamous Atomic Drop (Razor helped to sell it too) which garnered ZERO reaction from the crowd … that's like Cena making a return ten years after his last match and getting ZERO reaction for any offense including the five moves of doom. I felt sorry for Backlund after that, and he lost with a wrestling move as Razor rolled him up for the win. Ramon was clearly over with the crowd and the match felt like a waste of everyone's time. Money Inc followed up with an interview.
---
Match #5 – Money Inc. (c) vs. The Mega-Maniacs (with Jimmy Hart)

WWF Tag Team Championship
Beefcake entered wearing his protective mask which made him look like a luchador. Hogan was sporting a vicious looking black eye and stitches on his eyebrow, which the announcers said was down to Money Inc and not the real-life jet ski incident Hogan suffered. He also looked smaller than last years Wrestlemania, where we saw he had already toned down considerably. The crowd was hot as Hogan and Beefcake made their way through Money Inc to finish their entrance. I didn't care too much for the match, as I wanted something different to previous Wrestlemania.
After Money Inc decided to walk away from the match, I enjoyed the moment when they heard the announcement to return to the ring otherwise they would lose their titles. They returned and managed to take Beefcake's mask off. In another dirty finish, the ref bumped, Hogan used the protective mask as a weapon (Jim Ross said it was made of titanium steel at one point) and the referee stayed down. Jimmy Hart turned his suit inside out to reveal referee stripes and counted the pin. The Mega-Maniacs celebrated in the ring until a second referee (Danny Davis) ran down and disqualified them for using the mask.
Such a stark contrast to previous Wrestlemania as Hogan never lost. Needless to say, this was not the last time Hogan appeared at the event. The Mega-Maniacs opened the briefcase belonging to IRS to reveal tax papers, a brick, and wads of cash. They threw the bills into the crowd and celebrated the loss. The funniest part of the match was Savage saying 'the fans are hanging from the rafters…except Caesar's Palace doesn't have rafters, but it has columns and they're hanging from the columns!'
Mr Perfect botched his interview with Mean Gene Okerlund before his match. I couldn't find a video of it anywhere .. so sad. He said the "larcissist" instead of the "narcissist", and Mean Gene did everything in his power to hold in his laughter as Perfect walked away.
---
Match #6 – Lex Luger vs. Mr. Perfect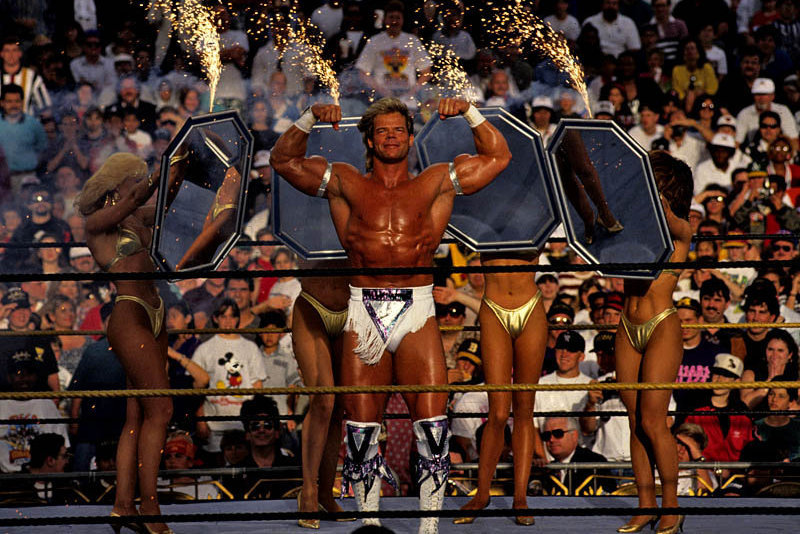 Luger was in his prime here. Mr Perfect received a large ovation on his entrance. I enjoyed the match overall, it was a nice example of technical vs. power. At one point Luger threw Perfect so hard into the corner I was expecting Jim Ross to scream "DAAAMM HE'S BROKEN IN HALF!", but no, that didn't happen. The referee made great decisions, as he frequently noticed rope breaks and Luger using ropes for leverage. This was a set up as Luger rolled Perfect into a pinning predicament, Perfect had both feet on the ropes but the referee was out of position and made the pin fall count.
Luger knocked Perfect out afterwards and left. Perfect recovered a short time later and stood up to a loud ovation. After realizing what happened, he became angry and ran to the back to confront Luger. The cameras followed him backstage, and Perfect set his sights on Luger who was talking to Shawn Michaels with his back turned. Perfect ambushed Luger (and pushed Michaels out of the way) and took it to him on the floor. Michaels interrupted and fought for the upper hand on Perfect until security split them up. Entertaining!
---
Match #7 – The Undertaker (with Paul Bearer) vs. Giant Gonzalez (with Harvey Wippleman)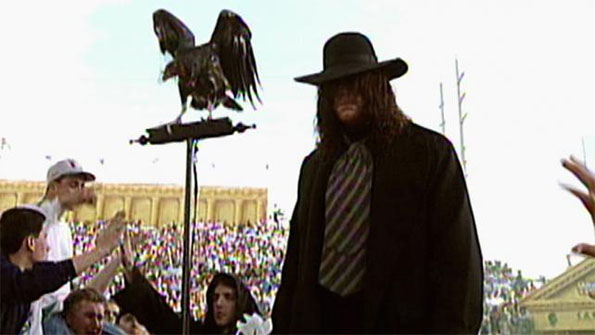 The Giant Gonzales garnered little reaction; one child looked worried though. The bodysuit was supremely distracting. Did they need to include the arse crack on there? Why did they dress him in that? Was he just a tall guy with a flabby body? Was they trying to create the illusion of strength? At least it was easy to forget during The Undertaker's entrance. He arrived on the top of a sedan carried by several bodybuilders, accompanied by Paul Bearer, a druid, and the flesh-eating vulture. Best .. Entrance .. Ever.
And then it went downhill. The Undertaker looked tiny compared to Gonzales, but he was able to move like an athlete while Gonzales hobbled around like The Great Khali. As I started to enjoy the fight, Wippleman gave Gonzales a chloroform-soaked rag, which he used on The Undertaker in front of the referee. Now it seemed obvious Gonzales never intended on winning the match, he wanted to show The Undertaker was human, but the match was so short it's not like Gonzales was frustrated by The Undertaker's resilience. It just kinda happened randomly, and that's what sucked. Gonzales soaked in the heat from the crowd as he taunted them over The Undertaker's unconscious body.
Referees and agents rushed down to ringside to lift The Undertaker on to a stretcher, and Gonzales started attacking the referees. They lifted The Undertaker on the stretcher and carted him out. Gonzales continued to taunt the fans for a while, until The Undertaker's music hit once more, and The Undertaker returned with his eyes rolled back, and a face of thunder. I didn't care about the match anymore, all I wanted was the annihilation of Giant Gonzales. The Undertaker slayed the monster, and was announced the winner by disqualification. (3-0)
You know when I said Hogan would show up again? Well here he is, cutting an interview with Mean Gene Okerlund ahead of the WWF Championship match. The commentators barely mentioned the main event throughout the show, and no interviews with Bret Hart or Yokozuna aired .. so it was odd to hear Hogan put the main event over. He said the Hulkamaniacs were firmly behind Bret, and he called Yokozuna a "Jap".
---
Match #8 – Yokozuna (with Mr. Fuji) vs. Bret Hart (c)

WWF Championship
The match was a classic speed vs power contest. Yokozuna worked well with Bret, and I was hoping for a longer match, but I was struck the most by the crowd chanting "USA!" .. even though Bret Hart's Canadian and Yokozuna's Japanese. I'm glad Heenan pointed it out, I was hoping someone would acknowledge it and not just ignore it like they would today. Mr Fuji finished it by throwing a large amount of salt at Bret Hart as he held Yokozuna in the sharpshooter. I'm sure some of the salt hit the referee (Hebner), who was completely blind to it (as usual), and the force of the throw was so fierce it knocked Hart off his feet. Yokozuna rolled over for the pinfall victory. Hogan appeared to protect Bret Hart from a possible Banzai Drop. Mr Fuji decided to issue a challenge to Hogan for a match with Yokozuna.
After Hogan initially declined the challenge to help his friend, Fuji stated the challenge would be the WWF Championship. Hogan took notice, and appeared torn on whether to help his friend, or fight to bring the championship back. The crowd was going nuts as Hogan turned to Hart, who was still selling his vicious salt wounds. Hart motioned to Hogan to accept, and Hogan took little time getting in the ring to accept.
---
Match #9 – Hulk Hogan vs. Yokozuna (c) (with Mr. Fuji)

WWF Championship
Mr Fuji's attempt at throwing salt into Hogan's face hit Yokozuna instead. Hogan knocked him down with a clothesline, followed up with the leg drop, and covered Yokozuna for the pinfall victory. Hogan claimed his last WWF Championship. The crowd loved it, and the show ended with Hogan celebrating, a sight seen several times in the Wrestlemania series. I can understand why Vince McMahon decided to put the belt back on Hogan, as he knew Hulkamania made tons of money for the WWF, and he wanted to milk as much as possible before Hogan retired (or left for WCW, like he did). It was poorly done, and today we can look back on this and immediately notice the terrible booking .. but the fans in attendance loved it, which is most important.
Did Bret Hart deserve better? Sure. Did Yokozuna deserve better? Of course. But the biggest star was Hogan in Vince's eyes. Bret's time was coming, and Hogan's move to WCW would keep his career moving forward. Although a better main event of Bret Hart vs Hulk Hogan could have happened, Vince was unwilling to turn either man heel. Also it was the first time an impromptu main event title match occurred at Wrestlemania, which shows similarities to the Seth Rollins Money in the Bank win. It was supposed to be shocking for Hogan to lose a tag team championship match earlier in the night, to show up and end the night as WWF Champion. Hulkamaniacs were all over that. As a kid in attendance, looking up to Hulkamania, I would have loved it. As someone who's seen Hogan enough for one lifetime, it was nothing I ain't seen before.
---
Conclusion
I can understand why the event garners negativity, as it was a time when fans believed Hogan should've passed the torch to Bret. At the end of the day, the decision is Vince McMahon's, and if that's what Vince wanted, then he should be to blame for the booking. Hogan has always used any political influence to his advantage, and I bet he isn't the only one to do so. Hogan's not going to turn down a WWF championship win at Wrestlemania, no matter how it's booked. Bret Hart would find his time in the sun, so it doesn't upset me that he lost.
I enjoyed the event .. although there were several dirty finishes. Wrestlemania II and IV were booked so badly, but they had memorable moments, and so does Wrestlemania IX. I enjoyed the Caesar's Palace theme, and I didn't mind the togas. Some may criticize the skimpy outfits of the girls accompanying Lex Luger, but I saw that as a way to make Lex Luger look the part … and damn(!), they looked great too.
The main event was shorter than the opening IC title match. The tag title match dragged on far too long, and why have Macho Man on commentary (although he was hilarious) when he could have been used to put someone over in the ring? Still, it was an enjoyable and unpredictable commentary team with Heenan and Savage;  and Jim Ross somehow managed to find time to call the action. Despite all the negatives I could pull out of the air, I enjoyed the event overall. It should be remembered for its historical significance, and not for the way it ended. Thanks for reading, appreciated.