This past Monday night, WWE celebrated 25 years of Monday Night RAW, an impressive feat to be sure. It was supposed to be a night that combined celebrating relics of the past while building hype for one of the big four PPV's of the year, the Royal Rumble. We began the nostalgic edition of RAW with Jim Ross and Jerry Lawler making the call live from the Manhattan Center. We then kicked things off a callback to the Stone Cold/Vince McMahon feud of the late 90s that saved the World Wrestling Federation and essentially sealed the fate of WCW. Shane and Stephanie began by celebrating and Vince McMahon came out to a thunderous pop, as WWE is his baby and rightfully deserved the adulation.
Vince played himself and the crowd to a tune as he heeled it up, mocking Brooklyn and mocking the seemingly empty gesture of him merely receiving a plaque for his work in helping to create what the WWE is today as opposed to receiving something more grandiose. Then, after claiming that he only managed to accomplish by himself with absolutely no help, his greatest in-ring performing rival, Stone Cold, came out to a greater pop, and just as if it was 1998, there were Stunners for everyone in sight and a huge beer bath to end things. It was a tremendous opening segment that looked to set the tone for the rest of the night. Unfortunately, it did anything but.
WWE immediately put themselves into a huge predicament by having RAW emanate not only from the Barclays Center in Brooklyn, but they would also have RAW taking place from the Manhattan Center, where it all began for WWE in its heyday. Once we switched from the Manhattan Center to the Barclays, we immediately had an issue on our hands. This means that both venues would have to go through stretches where they missed the action. Now, I'm not sure if fans who paid tickets to get into either the Manhattan Center or the Barclays knew which superstars or matches would take place prior to buying, but if they didn't, it was an underhanded, albeit clever, marketing tactic from WWE. Imagine what the fans in the Manhattan Center felt, watching Stone Cold and Vince McMahon having the segment of the night, watching from a screen when I'm sure they'd much rather get their money's worth by seeing them live.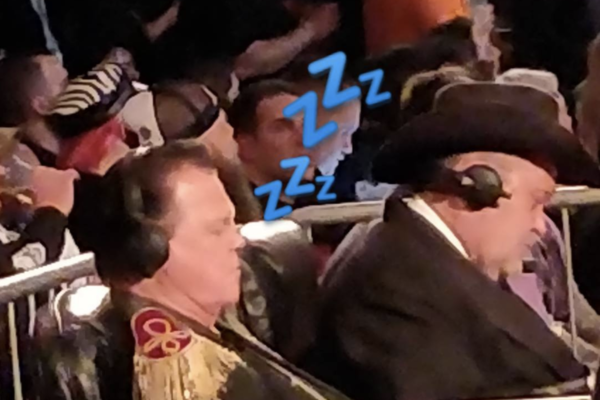 The quality of the show immediately came down to a T as we got a throwaway, garbage 8 woman tag match that was supposed to build hype for the first ever Woman's Royal Rumble match this Sunday, just in case you haven't heard. A few returns here and there, and the Manhattan Center doesn't get their first lick of anything live until about 45 minutes in when the Undertaker arrived, and now it was the Barclays Center's turn to watch. However, they can rest assured that they didn't miss anything much. The Undertaker, who hasn't been seen since his defeat at the hands of Roman Reigns, came out and said five minutes of nothing. Literally nothing. Just a clearly rehearsed speech that provided no insight on his loss from WrestleMania last year and teasing nothing for this year. No angle with Cena, no nothing.
The Manhattan Center wouldn't see any more action until Matt Hardy and Bray Wyatt wrestled a clearly half-assed, five minute, house show level sprint. It was bad, rushed and pretty dull. Also as an aside, WWE isn't doing a good job of making the "WOKEN" character work. Having him lose in that kind of match in that kind of capacity does his character no favors. If you were to take all of the segments that aired at the Manhattan Center, it would go just over 30 minutes. If you were watching from TV, then the total time to account for commercials would be just about 13 whole minutes. The limited action and pilfered quality of what those at the venue in Manhattan Center would illicit chants of "We Want Refunds" and "Bulls*t" among other pleasurable reactions. Matches from the Cruiserweights certainly didn't make amends for anything, as they were basically just sent out there to pasture.
Then, the Manhattan Center didn't get anything until DX reunited for the 200th time. The return was pretty much every single DX reunion since 2012 that you've ever seen. Scott Hall came in and did his thing, the New Age Outlaws came and did their stuff and they had their reunion ritual where they hit their finishers on some young talent looking to show them up, and this time around The Revival received that privilege. A simple Too Sweet gesture and a two minute, I think it was a match, between Gallows/Anderson and The Revival ended things, saved for the dark segments with The Miz and Seth Rollins who came afterwards. However, overall, I'm sure you get the gist. For those who said WWE didn't think this through, I tend to think in an opposite manner. I think they knew exactly what they were doing, but did it anyway because they can and if you can con fans into purchasing tickets as high as 400 dollars for action that wouldn't complete an edition of WWE Main Event, then why not do it?
All of the returns on the show were great for nostalgia trips. The women, announcers, interviewers, general managers and some mid-card guys from the past were appreciated and certainly added to the theme of RAW 25 to be sure. However, they were also faced with having to build for the Royal Rumble while incorporating talent from the past to do so, and while they did try to, the hype just wasn't there. Christian got a jobber entrance despite not being on WWE television in some time, and The Peep Show segment with Cesaro and Sheamus with Rollins and Jordan did an okay job teasing a Jordan heel turn and tension that could play into the RAW Tag Team Title match Sunday, but nothing monumental. You had a crap tag match between Rhyno/Slater and Titus WorldWide which led to the Dudleyz coming out. Can you believe that WWE couldn't have even had the Dudley Boyz segment air at the Manhattan Center?
Some of the choices in talent were also befuddling to be sure. For example, when WWE were honoring female legends, the first names that were brought were the Bella Twins, and cross my heart and hope to die I spat out my water bottle when that happened from sheer laughter. I mean, the only reason why the women's "revolution" took place was because AJ Lee was cutting promos on eye candy figures such as them to bring about change. Like, Torrie Wilson, Kelly Kelly and Maria are all good-looking and are recognizable figures but it's not like they were trailblazers. The only women who really deserved to be up there to be recognized as LEGENDS would be Trish, Jacqueline and probably McCool. Maybe WWE couldn't get women like AJ Lee (understandably), Beth Phoenix, Jazz, Victoria, Molly Holly, and most importantly, Lita to show up, but the list doesn't feel complete if those women didn't come. I mean, Alundra Blayze was doing interviews at the Mae Young Classic, but you can't bring her on for RAW 25?