Money In The Bank 2017
St. Louis, Missouri – June 18th, 2017 from the Scottrade Center
Smackdown Live Women's Championship: Naomi © vs. Lana
I honestly do not know what to expect from this match. Lana debuted two-weeks ago & WWE is already positioning her in a championship spot.
This possibly spells one thing for me, Lana might be winning the Smackdown Live Women's Championship & gets cashed-in on immediately the following Smackdown Live. The only thing that I have seen from Lana so far; is her finishing maneuver, which is not bad but, she has not had a match on WWE TV. I do not think that WWE would put the championship on her just for shock & awe but, I do believe that Lana will play a role in whoever wins the Women's Money In The Bank Ladder match, capturing the Smackdown Live Women's Championship.
Winner: Naomi Retains The Smackdown Live Women's Championship
Smackdown Live Tag-Team Championships: The Usos © vs. The New Day
This is actually a match that I am very much looking forward to. The New Day feels fresh for the first time since their 482-day reign as WWE Tag-Team Champions. I've seen on the internet that some people do not find The Usos appealing, well isn't that the point of being great heels. They do not give a damn whose in-front of them because they know they are better than The New Day & that is what makes The Usos good.
https://youtu.be/qSmk7QWYwLE
The New Day should continue to chase for a while because The Usos are doing some of the best work of their career right now. I also believe that Breezango has some unfinished business with Jimmy & Jay. The Hype Bros are also back and one of these babyface teams has to conquer The Usos but Money In The Bank, will not be the place.
Winners: The Usos Retain The Smackdown Live Tag-Team Championships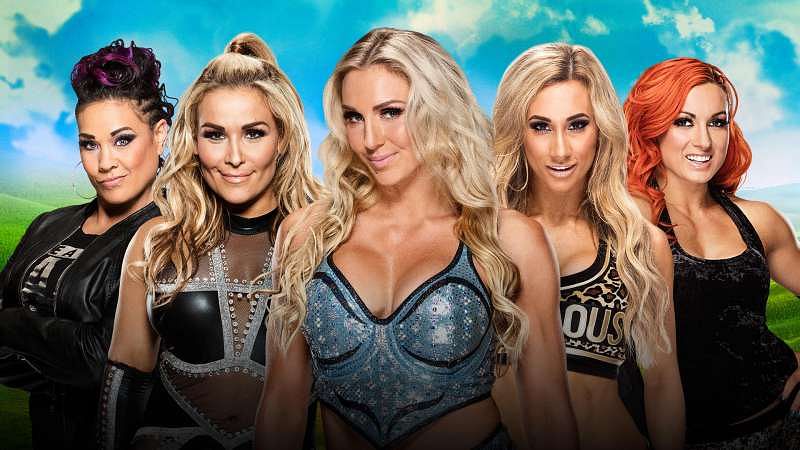 Women's Money In The Bank Ladder Match: Charlotte vs. Becky Lynch vs. Natalya vs. Carmella vs. Tamina
First & foremost, congrats to these Women on being a part of history & although things may not be as smooth on RAW side, Smackdown Live creative sure knows how to make their Women important. The first-ever Women's Money In The Bank Ladder match; I am genuinely excited for this match and hope that these five superstars hold nothing back. I know that there are probably a few people backstage who do not want them to take extreme risks, but, if that is the case, this match should have not be created.
As far as who wins the match, it is very tricky because I feel as if WWE will play up the fact that a WOMAN has never done any of the typical things that a Money In The Bank winner has done. WWE hopefully, is saving Charlotte vs. Becky until SummerSlam but until then, I think Carmella will be the one to climb the rungs & cash-in with the help of "The Welcoming Committee" to capture the Smackdown Live Women's Championship. She has momentum heading into the match as she has pinned Naomi twice. I have a feeling that Ellsworth will play a pivotal role in getting his "queen" at the top of the Women's division very soon.
Winner: Carmella Wins The Women's Money In The Bank Ladder Match
WWE Championship: Jinder Mahal © vs. Randy Orton
I am actually interested to see the story that Orton & Mahal will tell this time around. Of course, The Singh Brothers will be at ringside but I also know WWE will play up how Randy Orton's father, "Cowboy" Bob Orton Jr., will be at ringside. WWE has an upcoming tour in India and there is without a doubt that Jinder Mahal will be walking into & leaving out of that tour, the WWE Champion. Also, as much criticism as he gets & has had, Jinder is actually not a bad champion. He needs to work on his in-ring skill & use more velocity in his voice when delivering his promos, but, other than that, he has been decent thus far. Rusev will possibly be Jinder's new opponent following this Randy Orton feud. I see Rusev potentially befriending Mahal & then attempt to turn on him in the future. I do not believe Jinder will pick up the win clean, but, nonetheless he will remain champion.
Winner: Jinder Mahal Retains The WWE Championship
Men's Money In The Bank Ladder Match: United States Champion Kevin Owens vs. AJ Styles vs. Baron Corbin vs. Sami Zayn vs. Dolph Ziggler vs. Shinsuke Nakamura
This will bar none, be one of the most entertaining Money In The Bank Ladder matches that we will see just based off of the pure-athleticism that is in this match. From my personal opinion, I can X AJ Styles, Dolph Ziggler & Kevin Owens off of the list for the winners of this match. AJ Styles reasoning being; he will be in the WWE Championship picture regardless of this match & honestly does not need the MITB briefcase to do so. Shinsuke Nakamura on the other hand, I am not too fond of the way he is being currently booked. It seems as if we are being over-exposed to the superstar that he is.
As far as Money In The Bank goes, Nakamura in the long run is an inevitable WWE Champion and there is a possibility he could win this & hold it until next year or this year to cash-in, but, I feel as if it is highly unlikely WWE will give this type of opportunity to Shinsuke right now.
My two picks for this match will either be Sami Zayn or Baron Corbin. It has been rumored for months that Corbin would be a WWE Champion by the end of 2017 but it still feels as if he has not fully broken through yet. Zayn on the other hand has sort of been made into a joke on WWE TV. While Zayn in NXT was "goofy", he had the ability to turn the passion on when he needed to and that is what he is missing on the main roster. Some people say Zayn doesn't fit the look of a WWE Champion or nobody will care except for the IWC if he progresses in WWE. Winning the Money In The Bank briefcase would be crucial for Sami Zayn's career but I feel as if WWE will book him as the "courageous cash-in guy" where he walks in on the champion while he is 100% wanting a fair fight. Although its hard to deny the fact that Baron Corbin would be a great Money In The Bank holder & he would create tons of intrigue as to when he will cash in, I think WWE will finally begin the push of Sami Zayn.