I think we can agree that the Cruiserweight Classic that WWE produced over the summer was pretty damn good. We were able to see incredible matches such as Cedric Alexander vs. Kota Ibushi and TJ Perkins vs. Gran Metalik. Each match was given ample time to tell a separate story, and we saw elite wrestling prowess each and every Wednesday. The crowd who saw it live would be in for a treat every time that the best competitors in the 205 weight range could offer. We saw passion and elite story-telling every Wednesday night on the WWE Network. In the culmination of the Cruiserweight Classic, TJ Perkins took on Gran Metalik. However, before the match began, Triple H interrupted the match, and revealed the new purple Cruiserweight Championship (which looked rather gorgeous), thereby heightening the stakes even further. The winner would head into Monday Night RAW holding that championship. However, you can say that's where the wheels started to fall off.
Putting it lightly, and I mean very lightly, the cruiserweights are in a funk right now. We can look at a plethora of reasons as to why they are struggling, but the biggest reason? We have absolutely no reason to care for any of them. I'm dead serious. So we know that The Brian Kendrick was a former WWE superstar who's been given a second chance in WWE. We know that Rich Swann can dance (well, kind of). And we also know that TJ Perkins was homeless (No, I'm really serious. Did you know he was homeless?). All of these distinct characters are present in the division among others, but there is no reason to care for anything that they do. If there's one thing you've noticed, it's that the tone and quality of the matches was greatly reduced from that in the Classic. Of course, when the announcements was made that the Cruiserweights were coming to Monday Night RAW, surely no one expected them to get 15 minute matches. However, without that element of their style of wrestling, which is what made the Classic so entertaining, there's nothing to differentiate them from the rest of the roster.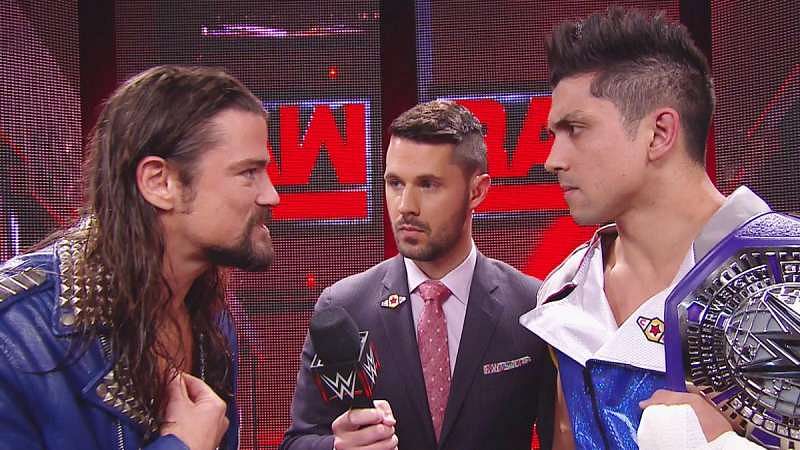 It's quite a shame really, because all the members of the Cruiserweights are very talented inside the ring. However, with talents such as Kevin Owens, Chris Jericho, Seth Rollins, Roman Reigns, Braun Strowman, Sami Zayn and all of the women to take up time on the show, the Cruiserweights are often an afterthought. What makes people excited to see them? Because the ring crew is able to change the ring to have purple ropes? Um, yay? This issue is further exacerbated by the fact that now, if you want to keep up with storylines in the Cruiserweight division, you now have to spend an extra hour on the WWE Network at 10 after you've watched Tuesday Night Smackdown LIVE. This is also assuming that you've watched Monday Night RAW. Odds are that unless you are a WWE Network fanatic or if you have too much free time on your hands, you'll find yourself bypassing that, because it's simply too much content to watch within a two day period (6 hours of content if you watch all of the shows). This is also not to mention that you may also want to invest time watching NXT for important matches such as the recent fatal four way number 1 contender's match for the NXT Championship. If you don't watch 205 Live, then you'd may be surprised as to why Alicia Fox suddenly gets wet when Cedric Alexander is around. You'll also likely miss Cruiserweight Title matches that may actually turn out to be pretty good, because they get more time than they would on RAW. This is all indicative of a bigger problem, however.
I'm sure we are all familiar with the term, "strike while the iron is hot". When something has momentum, you don't take your foot off the gas. You continue to push that idea and act on an opportunity while the conditions are favorable. However, if you also play with fire, you get burned. WWE has an issue with trying to force content down our throats. The WWE Network, for all intents and purposes, provides a subscriber with unbelievable value. With a plethora of content to choose from at your fingertips for a modest price of 9.99 a month, if you're a wrestling fanatic, the WWE Network is a must have. However, WWE decided to take what they thought was cool and popular from the summer in a fantastic Network special that spanned months, and decided to make it a part of regular programming. They hoped that the average viewer who may not be accustomed to matches such as the ones shown in the CWC would adjust, or have prior knowledge of the storylines. In spite of those hopes, WWE's plan has failed. Cruiserweights often come out to bored crowds. Sometimes, they'll occupy their time with chants to satiate themselves. At times, it appears as though the biggest fan base for Cruiserweight matches are crickets. At this point, I'm not even sure WWE is fully invested in them because the title has already changed hands three times within the span of three months. Because they aren't allowed to turn it up like they did in the summer, they are basically a smaller version of the main roster heavyweights. Only difference is, the main roster heavyweights are given a reason to either get behind them or boo them. With the Cruiserweights, it's neither.
A revelation happened at Roadblock: End of the Line. After Rich Swann defeated former Cruiserweight champions in TJ Perkins and The Brian Kendrick, Mighty Mouse, er, Neville, returned after a hiatus from WWE, and brutally assaulted both TJ Perkins and Rich Swann and was met with perhaps the biggest applause from the crowd in a segment involving Cruiserweights, and it wasn't because of his new beard. If a guy like Neville gets the applause that he got Sunday night because of attacking Cruiserweights, then isn't that sort of a sign of how low the Cruiserweight division has fallen?Neville brings more credibility, and more importantly, star power to the division. It also gives it some personality as the division has only revolved around Swann, Kendrick and Perkins for the most part. With respect to guys like Noam Dar, Jack Gallagher and Cedric Alexander, there's just no reason to care for any of them unless you watch 205 Live, and I'd bet good money odds are RAW crowds don't have the time to watch it.